Want to jump straight to the best? The best robo advisor for most people is definitely SoFi.
Money management and financial planning can be a daunting task even among the most financially-savvy individuals, so why not take advantage of Personal Capital or Quicken? Both can both help you get a better handle on your finances — you just have to figure out which ones offer the best features for you. We'll help you figure that out.
Personal Capital vs. Quicken: Overview
Personal Capital and Quicken both offer exemplary budgeting programs, but approach budgeting in completely different ways. Let's explore Personal Capital and Quicken in greater detail and see which one piques your interest.
Who's Personal Capital for?
If your ultimate objective is to invest for the long term and plan for your retirement, then Personal Capital is ideal. Though it offers excellent budgeting and financial tracking and money management features, the true benefit of using this platform comes from its wealth management and investment advisory services.
Read Benzinga's full Personal Capital Review
Who's Quicken for?
Relatively new to the concept of budgeting and money management? Quicken might be a great fit. The company has been around since the early 1980s and offers personal financial planning and management tools.
Quicken also supports strong investment tracking and performance measurement features to help you save money.
Personal Capital vs. Quicken: Platform and Ease-of-Use
Computer and web-savvy users will find both platforms intuitive and easy to use, but at first glance and each look after that, they're actually quite different.
What Personal Capital Offers
Personal Capital does online financial planning well — including investment and retirement planning. You don't have to buy access to these tools and provides a host of free tools to its members.
This happens once you create your profile and link your external money/investment accounts. You can also seek paid-for financial advisory and wealth management services from the company's professional wealth advisors.

The company offers its tools as both web-based and locally-installable apps. Currently, some features, like investment checkup, investment performance review and more are available only through the website.
You also get access to the company's Windows, iOS, Android and other mobile apps for free.Here are some significant features of Personal Capital's platform:
Centralized view of investment and other financial accounts. This includes bank/credit cards, retirement, mortgage and loans
Budgeting. They also offer income and expense tracking.
No cookie-cutter solutions. Create customized asset allocation and individualized portfolios based on your specific financial situation.
Review all your financial assets. This includes taxable and non-taxable, even those not under Personal Capital management, to receive whole picture advice on how to optimize finances.
Full range of financial planning and wealth management services. From 529 college plans, 401(k) accounts, home financing, investing and portfolio construction.
Individual stocks tax-loss harvesting opportunities. This helps you maximize your after-tax returns.
Smart indexing. This approach to portfolio construction ensures you avoid sector bubble risks.
Accessing all your linked accounts is easy through the My Accounts panel. They're all neatly grouped and organized for your benefit.
Clicking on an account group gets you more details about accounts in that group (cash, investments, credit cards and more). You can then drill down into each individual linked account from there.

Money management and investment tracking is easier with Personal Capital's free app for mobile, tablet and desktop users. One cool feature is the ability to track your spending, keep an eye on major indices and get real-time updates and alerts on your Apple Watch.
Other outstanding features include: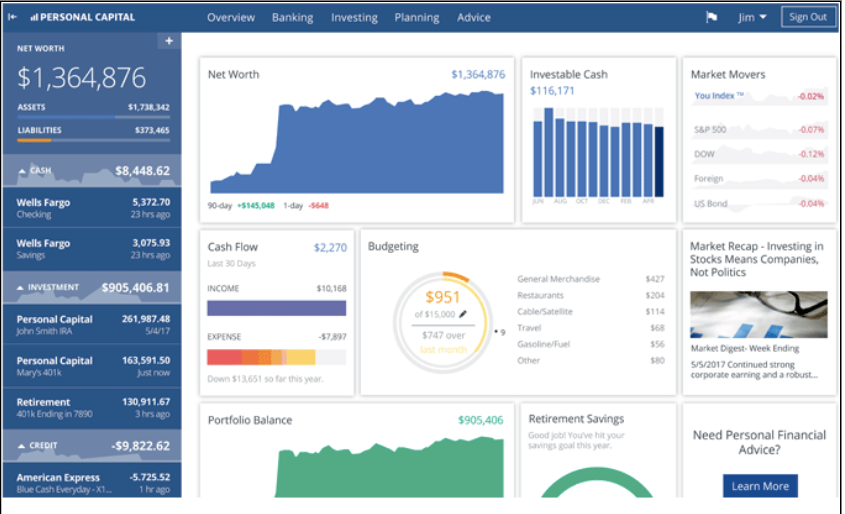 The Dashboard View offers you a snapshot of various aspects of your investments and finances, including your net worth, cash flow, portfolio allocation and balances and winners and losers.
The Fee Analyzer is a great way to assess the impact of hidden (and disclosed) fees on your investment portfolio over the long-term.
The Budgeting Widget keeps you on top of your income and spending at all times and displays the results in easy-to-understand graphical form.
Free retirement calculator and planning tools help you create, plan and manage personalized retirement plans that help you conveniently track and reach your retirement goals.
You can also add income events and anticipate special expense scenarios and see their impact on your net wealth and retirement plans. Personal Capital's Monte Carlo simulation can model projected and desired spending scenarios based on data from all your linked accounts.
What Quicken Offers
Quicken offers a suite of paid software tools to help you manage your money and stay on top of your investments.
Quicken's new Mobile Companion App is available for a range of mobile devices, including iPhones, iPod Touch and iPads for iOS 9 or higher, as well as for Android tablets and mobile devices supporting 4.1 or later versions of the OS. There is currently no mobile app for the Windows platform.
Bottom Line
Quicken offers better budgeting and tax planning features but Personal Capital gets you access to 2 dedicated financial advisors to help you develop a personalized financial strategy.
Personal Capital vs. Quicken: Pricing
Because of differences in what each platform offers, these price comparisons aren't apples-to-apples but should give you a better idea of what you'll get with your money.
Personal Capital's Pricing
Personal Capital offers managed investment and wealth advisory services on a graduating scale flat-fee basis based on the value of your assets under management (AUM).
| | |
| --- | --- |
| Amount Invested | Fee |
| First $1 million | 0.89% |
| First $3 million | 0.79% |
| Next $2 million | 0.69% |
| Next $5 million | 0.59% |
| Over $10 million | 0.49% |
The higher your AUM, the lower your fees will be. The fees are all-inclusive and cover wealth management, custody costs and trading fees. Clients also receive a wealth of free services, including financial planning and 401(k) allocation.
Quicken's Pricing
Quicken recently switched to a subscription model, which makes its software features available to members that have valid paid-up accounts for 1 or 2-year subscriptions.
| | | |
| --- | --- | --- |
| Version | 1-Year | 2-Year |
| Starter | $34.99 | $69.98 |
| Deluxe | $34.99 | $69.99 |
| Premier | $67.49 | $104.99 |
| Home and Business (Windows only) | $89.99 | $139.99 |
The software is available as a desktop offering but is also available for cloud-based access via the Quicken Mobile App or Quicken on the web.
Bottom Line
Quicken offers a paid suite of tools only. Personal Capital offers its tools for free but you pay for its optional advisory and investment management services.
Personal Capital vs. Quicken: Educational Offerings
It's important to educate yourself about your money management and financial planning tools and services.
What Personal Capital Offers
From saving for education and retirement to advice about managing and withdrawing from your 401(k) or IRA, you'll find lots of informational and educational content (blogs, videos, and articles) on Personal Capital's website. Its support site is also filled with content for beginners so newcomers can feel at ease.
What Quicken Offers
Because Quicken has been around for so long, it has a well-stocked online library of high-quality educational content. From getting started on a particular platform or version to step-by-step instructional videos, Quicken has it all.

Quicken's YouTube channel also holds a wealth of educational content. You can also find a vast network of third-party trainers online that offer educational courses on Quicken and related products.
Bottom Line
Education does play a part in deciding which product or service you prefer. Both solutions offer great online content and Personal Capital also makes its advisors available for scheduled (educational) consultations if needed.
Personal Capital vs. Quicken: Security
With so many hacking incidents making headlines today, you need to know that your personal data is safe and secure online.
What Personal Capital Offers
Personal Capital uses AES-256 encryption protocols that are more advanced compared to other similar companies. Its servers use the TLS v1.2 protocol, which is more robust than the older TLS and SSL versions still used by some banks and financial institutions.

Multi-factor authentication means that each mobile device requires an initial authentication by secure message (SMS), text or phone call before granting access to your Personal Capital account.
Additional mobile security protocols include Touch ID authentication and mobile-only PINs.

Your browsers never see your credentials. The use of industry-trusted partners like Yodlee and Verisign to store your data and credentials grants an added layer of protection against unauthorized data access. A robust bug bounty program ensures continuous scans for ways to further enhance and upgrade the company's security protocols.

To protect your data against "insider attacks," the company has a strong set of internal controls that restrict access to its servers only to individuals with the highest levels of clearance.
What Quicken Offers
Quicken also offers multi-level security to protect your data. You'll get 256-bit encryption, using Secure Socket Layer (SSL) to safeguard all data transmitted from your banks/financial institutions into Quicken.
You also have message-level integrity checking, firewall-protected servers and file-level and transaction password protection.

Quicken also offers its Password Vault for storing multiple passwords and securely managing them using a single password. The vault secures all passwords using banking industry-standard encryption.
Quicken also integrates with the Mac Keychain, which allows Mac users similar password management options. Mobile users never have their passwords or Quicken Cloud IDs saved on the physical device. Additional security features like Face ID and Touch ID are also available to mobile users.

Bottom Line
Both platforms have robust security protocols in place to ensure your personal data stays protected. Personal Capital's additional insider-attack precautions are also a confidence booster.
Personal Capital vs. Quicken: Customer Support
Getting help when you need it is vital, especially during tax time or when time-sensitive money matters need to be resolved.
What Personal Capital Offers
You can access everything you need to know through a single support portal, from known issues, troubleshooting and "how-to" questions, to retirement planning and investment checkup.
If you need access to experts, you can reach your advisory team by phone, email, chat or web conferencing.
What Quicken Offers
Quicken offers 24/7 support to its customers through a variety of channels, including live chat and phone. You'll also get a support community, error reporting and file conversion support.

Registered users have free access to these services, while higher-end version users receive priority support as part of their membership. Quicken's online site also has resources, tools and tips that help customers with common support requirements.
Bottom Line
Both platforms offer multiple support options. However, Personal Capital only makes its advisors available through scheduled chat or phone appointments.
Final Thoughts
In case you're wondering who controls your wealth, neither Quicken nor Personal Capital has access to your money. Quicken functions as an aggregator of financial data, so the question of controlling your money doesn't arise.
In Personal Capital's case, Pershing Advisor Solutions, a Bank of New York Mellon Company, acts as custodian, though it never directly handles your assets. You always own and control your wealth.

Both companies offer great budgeting apps, but if you're looking for a solution to manage your bill payments, including reminders and payment tracking, Quicken might be what you need. Personal Capital does not currently support bill payments except for credit card, loan and mortgage payments.

Quicken does not offer personalized investment or wealth management but you get access to fiduciary services with Personal Capital. This means there is a legal obligation that any advice and guidance offered is in your best interest.
Want the management of the personal finances from Quicken, but not convinced it's the right one? Check out Benzinga's top picks for the best alternatives to Quicken.
Get Matched With Up to 3 Financial Advisors
SmartAsset's free, five-minute tool makes it easy to find qualified financial advisors in your area.
The exclusive tool uses a quick survey to help SmartAsset's exclusive algorithm match you with up to three advisors. Each advisor is a fiduciary, legally bound to work in your best interest and rigorously vetted by SmartAsset. You can speak with each for free, sometimes within a matter of minutes, and choose whom you want to work with.
Hundreds of thousands of smart investors and retirees have already used SmartAsset's simple, no-cost service to find the right financial advisors for them.