1 Minute Review
Leave Your Own 1 Minute Review!
The Motley Fool is an investment and financial advising service that offers a range of paid investing newsletters and platforms that you can use to enhance your investing services. The Motley Fool's primary offering is its Stock Advisor platform, which provides you with stock picks, access to research reports, a community forum and more. Additional newsletters and platforms focused on retirement advice and stocks with high-growth potential are also available.
A paid stock choice newsletter from The Motley Fool might be right for you if you're looking for straightforward recommendations with proven track records of results. However, some of the company's offerings can be prohibitively expensive — and with an especially volatile market, now might not be the best time to buy.
Best For
Investors looking to beat the S&P 500
Investors ready to begin buying stock soon or immediately
Anyone interested in straightforward investing advice
Pros
Proven track record of returns
Higher returns on Stock Advisor and Rule Breakers picks when compared to the S&P 500
Wealth of options for long-term and retirement investors
Cons
Higher-tier plans and platforms that can be prohibitively expensive
The Motley Fool is a private investing and financial advice company offering a series of both paid newsletters and free stock news and opinion pieces. If you've ever searched for investing news, information on real estate investments or retirement advice online, chances are high that you've run into a few of The Motley Fool's journalism pieces.
Lesser known than its free offerings is the company's series of investing and retirement newsletters, which provide everything from stock pick to model portfolios that may help improve your trading and investing. Are Motley Fool's paid newsletters worth the price? Our guide to The Motley Fool's current offerings will help you decide.
The Motley Fool's primary subscription-based offering is its Stock Advisor platform, which provides investors with a number of advice classifications and services to improve investing results. Stock Advisor members get access to Motley Fool's entire series of 171 stock recommendations, which the company claims consistently beats the results of the S&P 500. Motley Fool claims that investors that followed their stock selections provided in the Stock Advisor program since its inception have seen a return of over 500% of their initial investment when compared to the 122% return that the S&P 500 brought in during this time.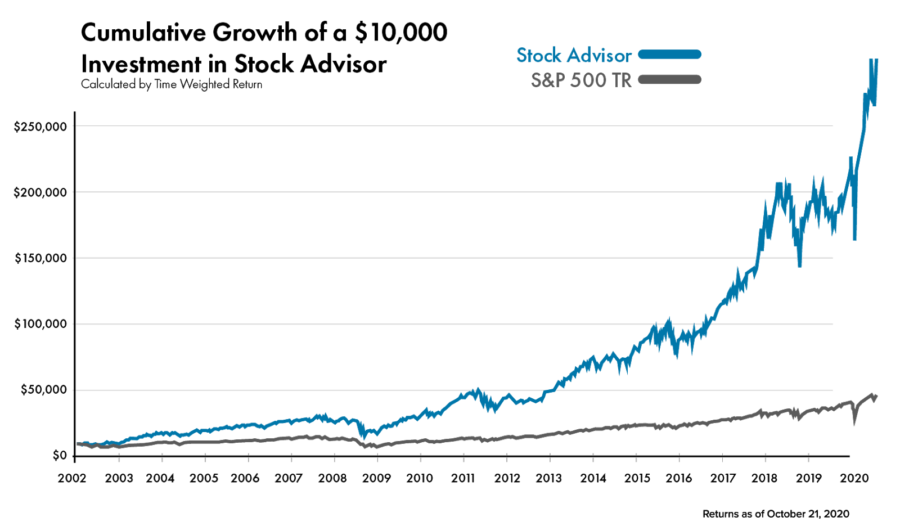 Picks from Motley Fool Stock Advisor service have regularly outperformed the results of the S&P 500 since the service's inception.
Some features that you'll gain access to when you join the Stock Advisor platform include:
Monthly stock picks: Probably the most notable feature of becoming a Stock Advisor member is access to The Motley Fool's monthly stock picks. Each month, the company recommends 2 stocks to buy during that month, directly from company founders Tom and David Gardner. You'll also have access to the company's history of recommendations, which can allow you to build up your portfolio if you're just getting started as an investor.
Stock Advisor has recommended some of the country's biggest stock picks for handsome returns.
Stocks recommended in the monthly stock picks have historically outperformed the S&P 500. For example, Motley Fool first recommended that investors consider purchasing stock in Zoom Video Communications (NASDAQ: ZM) in July 2019. Since that time, the price of Zoom's stock has risen from around $93 per share to about $376 per share in November 2020 — a return of about 304%. Other previous Motley Fool Stock Advisor picks include Amazon, Inc. (NASDAQ: AMZN) and Netflix (NASDAQ: NFLX). If you're looking for straightforward stock recommendations each month, Stock Advisor definitely delivers.
Favorites: The Favorites section of the Stock Advisor platform allows you to keep track of stocks that you're considering adding to your portfolio and monitor performance over time. You can even link your own brokerage account to access buy and sell recommendations for stocks that you already own. If you're an established investor who already owns stock, this feature can help you more effectively manage and refine your portfolio.
Research: While some investors will be happy with simple stock picks given the Stock Advisor's track records, others prefer to investigate in detail why each stock is being recommended. In the Research section, you can browse reports that detail why Motley Fool advisors believe that each recommended stock is likely to increase in value. You'll also learn a little more about the factors that advisors consider when they select hot stocks, which can provide you with information that you can use to choose your own stocks outside of Stock Advisor selections.
Stock Advisor also offers in-depth research related to the stocks that you add to your favorites list. For example, if you've chosen Tesla (NASDAQ: TSLA) as a stock on your favorites list, your Stock Advisor Research section can help you read more about developing self-driving vehicle technology.
Community Forum: Stock Advisor users also gain access to the Stock Advisor Community Forum, which is active with both new investors and seasoned professionals who have been using the service for years. If you're new to investing, the forum can serve as an excellent place to network with other investors, share insights into your portfolio and monthly picks, as well as have common questions answered quickly.
With simple access, a proven track record of positive performance and plenty of bonus research and community features, the Stock Advisor platform is a great place for quick stock picks and more in-depth education alike.
In addition to the Stock Advisor platform, Motley Fool also offers a series of newsletter options. Although some newsletter options are not currently open to new subscribers, the company offers a range of options that cater directly to specialized investing interests. Some of our favorite newsletter options currently available include:
Rule Breakers: The Rule Breakers newsletter focuses on stocks with a high potential for fast growth. The newsletter includes access to 2 stock picks per month in the high-growth sector, as well as 10 timely buys chosen from over 300 growth-oriented stock picks. Picks from the Rule Breakers newsletter have seen an average return of 293% since inception compared to the S&P 500's 90% according to data published by The Motley Fool.
The Rule Breakers newsletter focuses on companies with the potential for high growth.
Rule Your Retirement: Rule Your Retirement is The Motley Fool's monthly newsletter and online education center focused on providing you with simplified retirement investing advice. Rule Your Retirement's primary feature is its model portfolios — when you access the platform, you'll be able to choose from 3 model retirement portfolios, with mixed risk tolerance levels to fit your investing needs. The monthly newsletter includes mutual fund and ETF recommendations, tips for maximizing your Social Security benefits and education on trending retirement topics.
Motley Fool also offers a series of additional platforms and investing education tools, ranging from its Everlasting Portfolio (allows you to invest alongside Motley Fool CEO Tom Gardner) to its Cloud Disruptors 2020 (focuses specifically on tech stocks with high growth potential). The company's One pass and Premier pass programs provide access to multiple platforms and investing newsletters at discounted rates, but are currently closed to new members.
Pricing for Motley Fool's services and newsletters are as follows:
Stock Advisor: Gain access to all of the Stock Advisor features we reviewed above for $199 per year. That evens out to about $16.58 per month, and you'll also have access to 9 Bonus Reports from the company when you sign up now. Get it for $99/year here.
Rule Breakers: Access to the Rule Breakers newsletter is currently priced at $299 for 1 year of access. This price averages out to about $25 per month. Get it for just $99 using our discount here.
Rule Your Retirement: Access to the Rule Your Retirement newsletter and education platform is currently priced at $149 per year. This price evens out to about $12.41 per month.
Discovery: Everlasting Portfolio: Access to the Discovery: Everlasting Portfolio platform is currently priced at $2,999 per year. This price equals about $250 per month.
Cloud Disrupters 2020: Access to the benefits of the Cloud Disruptors 2020 plan is currently priced at $1,999 per year. This price evens out to about $166.58 per month.
Looking for a more affordable way to get access to the Stock Advisor platform? Investors who are new to Stock Advisor can currently save 50% on their 1st year of membership by signing up through Benzinga's special promo link here. Simply click the link, enter your personal and payment information and enjoy instant access to the Stock Advisor platform and its benefits.
The Motley Fool currently offers 2 methods that you can use to get in contact with its customer service team:
By phone: Contact Motley Fool's customer service team by phone at 877-629-2589. The company provides customer service by phone between 9 a.m. and 5 p.m. EST Monday through Friday.
By email
The Motley Fool also offers a comprehensive FAQ section that includes answers to some of the most common investing and analysis questions. The FAQ section even includes a set of promoted articles that can teach you a little more about how The Motley Fool chooses investments and how premium services can help enhance your investment choice.
Getting started with Motley Fool is exceptionally simple. To get a feel for the company's investing style and tone, we recommend that you browse a few free articles before considering one of Motley Fool's paid plans.
If you do decide to invest in a paid newsletter or platform access, you'll be able to begin using features in as little as 5 minutes. Simply choose your plan or newsletter, enter some payment and personal information and get started exploring investment choices and recommendations.
If you decide that a Motley Fool subscription isn't right for you, canceling your plan is also simple. To cancel your plan, simply call customer service for assistance turning off auto-renewal. If you cancel your Stock Advisor subscription within the first 30 days of service, you'll receive a 100% refund on your purchase.
So, should you consider purchasing a subscription to one of Motley Fool's newsletters or platforms? Motley Fool's Stock Advisor picks have produced consistent results, year after year. When you compare these average returns to the returns you'd see if you invest in the S&P 500 index, an investment in the Stock Advisor platform can pay off in the long term. The company also has a wealth of information on its website available for free on topics like retirement and real estate investing.
The Motley Fool's services aren't for everyone. Yearly pricing plans can quickly get expensive, especially for higher-tier options like the Everlasting Portfolio. If you aren't ready to begin investing, you're worried about current events and how they will affect the market or you don't have money to start investing with Motley Fool Stock Advisor selections, we recommend waiting to enroll in a newsletter until you can begin after receiving your stock picks. This will help you get the most out of your initial investment.
Frequently Asked Questions
What are the best websites for financial advice?
Benzinga recommends MetaStock, Morning Star and the Wall Street Journal.
Answer Link
What are the drawbacks of using The Motley Fool?
Its higher-end platforms and plans are expensive.
Answer Link