Benzinga Money is a reader-supported publication. We may earn a commission when you click on links in this article.
Learn more.
If you want to know where money is flowing in the stock market, you must become a master of volatility. Informed investors can use volatility to make money whether a stock goes up or down, and sophisticated investors always understand how volatility affects a portfolio.
Get started with our list of the best volatile stocks.
Highlighted Volatile Stocks:
Overview: Volatile Stocks
The coronavirus pandemic created a level of unprecedented volatility in the stock market. At the beginning of the pandemic, stock market circuit breakers were triggered 4 times between March 9 and March 18, 2020. Circuit breakers halt all trading if an index falls by 7%. The last time they were triggered at all was in 1997.
The Dow Jones Industrial Average also suffered a single day record 1,031-point loss on February 25 — a record it broke the very next day with a 1,100 point loss. Unlucky stocks such as Exxon (NYSE: XOM) also triggered individual circuit breakers for themselves with huge selloffs.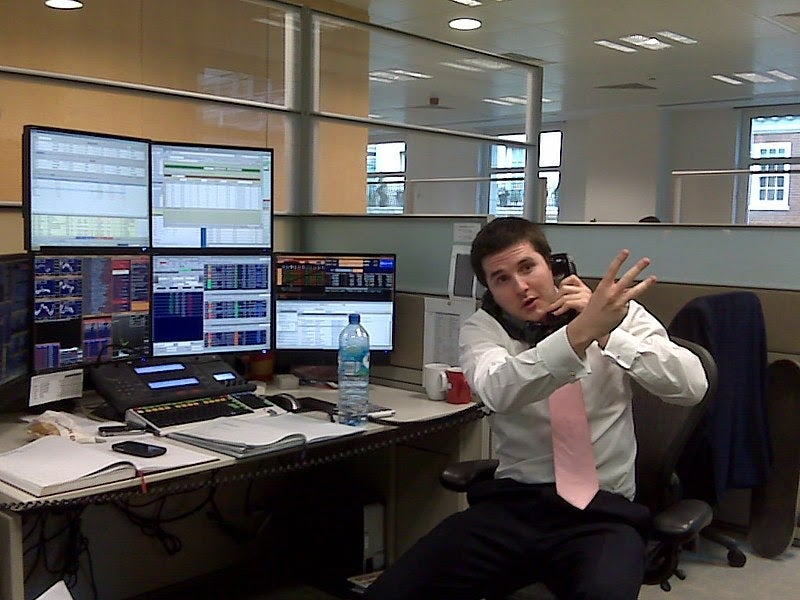 Attribution: Wikimedia
The VIX, an index that measures market volatility based on option premium pricing, shot up to record levels. The closing level on the VIX reached 82.69 on March 16, 2020, breaking the record of 80.74 set on November, 21, 2008. To give context, the VIX usually falls in a range between 18 and 35. It's known as the "fear gauge" and spikes during times of crisis.
Consumer activity usually falls in volatile market corrections, and the pandemic response was no different. Unemployment levels rose to 13.0% from 3.8% in 4 months with 14 million people suffering loss of employment.
Price volatility historically produces a more emotionally-driven market and larger dissociations between stock price and company value. Companies with cash flow shortfalls may not be able to survive a severe impact, especially the retail companies most severely affected by drops in consumer spending. Brands like JCPenney (OTC: JCP), Hertz (NYSE: HTZ) and Chesapeake Energy (NYSE: CHK) all filed for bankruptcy within weeks of each other. Surprisingly, all 3 stock prices received huge boosts despite the news — with Chesapeake briefly spiking to $77.50 on June 8.
Some analysts make a living trying to explain volatility and its effect on the market. For example, JPMorgan Chase tried to quantify the effects of President Donald Trump's tweets on the market. But no one has a simple answer about how to use volatility to trade successfully. Savvy investors understand the different ways to measure volatility and which philosophy to apply to a market scenario.
Best Online Brokers for Volatile Stocks
Succeeding in a wild market means good execution. Your execution depends largely on the broker you choose. Here is a list of the best online brokers for volatile stocks.
If you want to specialize in volatile stocks under $5, you may need to consider a broker that specializes in penny stocks. Not all brokers provide access to over-the-counter (OTC) markets and pink sheets.
1 Minute Review
Webull, founded in 2017, is a mobile app-based brokerage that features commission-free stock and exchange-traded fund (ETF) trading. It's regulated by the Securities and Exchange Commission (SEC) and the Financial Industry Regulatory Authority (FINRA).
Webull offers active traders technical indicators, economic calendars, ratings from research agencies, margin trading and short-selling. Webull's trading platform is designed for intermediate and experienced traders, although beginning traders can also benefit.
Webull is widely considered one of the best Robinhood alternatives.
Best For
Active traders
Intermediate traders
Advanced traders
Pros
Commission-free trading in over 5,000 different stocks and ETFs
No account maintenance fees or software platform fees
No charges to open and maintain an account
Leverage of 4:1 on margin trades made the same day and leverage of 2:1 on trades held overnight
Intuitive trading platform with technical and fundamental analysis tools
Cons
Does not support trading in options, mutual funds, bonds or OTC stocks
1 Minute Review
Chase You Invest is the retail brokerage arm of JP Morgan Chase, the largest bank in the United States. While most of the firm's products are targeted toward wealthy clientele, You Invest gives novice investors a chance to learn about markets, select the best securities and plan for future goals like retirement. No futures, forex, or margin trading is available, so the only way for traders to find leverage is through options. 
Not all investors will appreciate the basic setup and simplistic trading suggestions, but plenty more want to learn about markets but just don't know where to get started. Chase You Invest provides that starting point, even if most clients eventually grow out of it.
Best For
Investors using Chase banking products
Mobile traders
Retirement savers
Pros
Easy to navigate
Functional mobile app
Cash promotion for new accounts
Cons
No forex or futures trading
Limited account types
No margin offered
1 Minute Review
TradeStation is for advanced traders who need a comprehensive platform. The brokerage offers an impressive range of investable assets as frequent and professional traders appreciate its wide range of analysis tools. TradeStation's app is also equally effective, offering full platform capabilities.
Best For
Advanced traders
Options and futures traders
Active stock traders
Pros
Comprehensive trading platform and professional-grade tools
Wide range of tradable securities
Fully-operational mobile app
Cons
Confusing pricing structure to leave new traders with a weak understanding of what they pay
Cluttered layout to make navigating TradeStation's platform more difficult than it should be
Features to Look for in Volatile Stocks
Put-call ratio. You can tell how the market expects a stock to move through the number of puts versus the number of calls on a particular date. A larger proportion of calls to puts means a bullish sentiment and vice versa.
Most active by share volume. Huge spikes in the number of people buying or selling a stock may point to a trend you can take advantage of.
Most advanced or declined. Many people like to look for stocks that went up or down by the highest percentages on the day. Ideally, individual volatilities will revert to the market mean for the day, giving an investor the chance to profit from a turnaround.
Volatile Stocks to Watch Out for This Year
Here are a few of the best volatile stocks to watch out for this year.
Attribution: Needpix
Simon Property Group (NYSE: SPG)
The Simon Property Group is the largest mall operator in the U.S. and the largest real estate investment trust (REIT). Commercial and residential real estate is in an uncomfortable limbo because of the coronavirus, and the SPG ticker reflects it.
Simon's stock lost around 66% of its value when COVID hit, and it has been fluctuating between the low 40s and mid 90s since then. The real estate sector faces additional pressure from the work-at-home industry with stocks like Zoom (NASDAQ: ZM) hitting new all-time highs.
Urban One (NASDAQ: UONE), (NASDAQ: UONEK)
Protests and civil unrest throughout the U.S. flow into the business community. Investors are voting with their money, and 1 of the beneficiaries of high interest in social relations is Urban One.
The entertainment conglomerate focuses its content on Black Americans. Its stock flew from a $1 to $2 penny stock to a $54 high with daily swings of 100% up or down, give or take a few percent.
The company has 2 different classes of shares. UONE are the class A shares and UONEK are the class D shares. The only real difference between the 2 is voting rights.
Ideaya Biosciences Inc. (NASDAQ: IDYA)
The biotech industry was ground zero for market shocks in early 2020. Traders yanked their money in and out of the market on news of vaccine trials and COVID-19 casualty reports. Ideaya Biosciences has been 1 of the more volatile participants in the melee.
Before the coronavirus, IDYA was just another one of the biotech stocks under $10 with relatively uninteresting news based swings. Investors doubled its price in 1 week based on an oncology partnership with GlaxoSmithKline.
Exxon Mobil (NYSE: XOM)
Forcible quarantine during the pandemic caused society to use a lot less energy. Investors realized this and punished the entire energy industry, most notably Exxon.
The company hadn't exactly been on the public's good side anyway, so it's only saving grace was its consistently positive earnings per share reports. The stock still plummeted by more than 50% from its 52 week highs and has been shuffling between the low 30s and mid 40s.
Carver Bancorp Inc. (NASDAQ: CARV)
The banking industry took a hit during COVID, and Carver couldn't avoid the shrapnel. It was in penny stock range before the crisis and lost half of its value once COVID hit.
Investors found it and boosted it 10 times from June 8 to June 15 based on adjustments the company made for its clients during the pandemic. As it stands, Carver may be 1 of the most underrated bank stocks under $20.
Most Volatile Movers of the Day
Take a look at these high flyers, big losers and premarket movers to see where the market's money is going.
Gainers
Session: Jun 30, 2020 4:00 pm – Jul 1, 2020 3:59 pm
Symbol
Open
Close
Change
Change %
Volume
ALTM


Altus Midstream

0.63
11.05
10.41
1642.94%
32.33K
ODP


Office Depot

2.35
22.80
20.45
870.21%
58.80K
TNP


Tsakos Energy Navigation

2.01
10.95
8.94
444.78%
82.73K
MYOS


Myos Rens Technology

0.88
2.50
1.62
183.75%
110.35M
LMNL


Liminal Biosciences

10.50
22.70
12.20
116.19%
87.35K
YRCW


YRC Worldwide

1.85
3.24
1.39
75.14%
34.08M
SUNW


Sunworks

0.61
1.05
0.44
72.48%
35.30M
MMLP


Martin Midstream Partners

1.19
1.94
0.75
63.03%
2.30M
ATHE


Alterity Therapeutics

1.19
1.83
0.64
53.36%
21.34M
ETNB


89bio

19.93
28.89
8.96
44.96%
86.05K
AKRO


Akero Therapeutics

24.92
33.31
8.39
33.67%
1.65M
MKGI


Monaker Group

1.95
2.60
0.65
33.33%
13.59K
LKCO


Luokung Technology

0.66
0.85
0.19
28.58%
22.78M
AXGN


Axogen

9.24
11.71
2.47
26.73%
2.42M
WRN


Western Copper and Gold Corporation Common Stock

0.87
1.10
0.23
26.43%
61.46K
NMTR


9 Meters Biopharma

0.57
0.72
0.15
25.66%
8.12M
MTSL


MER Telemanagement Solns

1.27
1.55
0.28
22.03%
77.27K
SNSS


Sunesis Pharmaceuticals

0.26
0.32
0.05
19.74%
6.85M
APTX


Aptinyx

4.17
4.96
0.79
18.94%
90.43K
TTOO


T2 Biosystems

1.27
1.51
0.24
18.90%
63.51M
Losers
Session: Jun 30, 2020 4:00 pm – Jul 1, 2020 3:59 pm
Symbol
Open
Close
Change
Change %
Volume
IAC


IAC/InterActiveCorp

323.40
106.85
-216.55
-66.96%
5.75M
TRPX


Therapix Biosciences

0.63
0.33
-0.30
-47.78%
3.11M
ROSEU


Rosehill Resources

0.83
0.45
-0.38
-45.99%
61.33K
ROSE


Rosehill Resources

0.72
0.41
-0.31
-43.48%
3.27M
GEVO


Gevo

0.80
0.49
-0.31
-38.98%
9.20M
POLA


Polar Power

4.96
3.16
-1.81
-36.39%
5.46M
APEX


Apex Glb Brands

1.12
0.72
-0.40
-35.31%
1.59M
AEZS


AEterna Zentaris

0.80
0.54
-0.26
-32.50%
1.44M
DUOT


Duos Technologies Group

7.00
4.92
-2.08
-29.71%
1.83K
TRXC


TransEnterix, Inc. Common Stock

0.54
0.38
-0.16
-29.50%
8.28M
INO


Inovio Pharmaceuticals

26.95
19.76
-7.19
-26.67%
57.15M
BRBS


Blue Ridge Bankshares, Inc. Common Stock

20.75
15.42
-5.33
-25.69%
0.85K
CPSH


CPS Technologies

2.42
1.83
-0.59
-24.38%
63.21K
RWLK


ReWalk Robotics

1.76
1.37
-0.39
-22.16%
1.12M
HCCHU


HL Acquisitions

19.79
15.67
-4.12
-20.82%
1.84K
PHCF


Puhui Wealth Investment

6.23
4.96
-1.27
-20.39%
11.21K
XELA


Exela Technologies

0.55
0.44
-0.11
-20.39%
6.54M
MKD


Molecular Data

2.95
2.38
-0.57
-19.38%
18.96K
AGMH


AGM Gr Hldgs

25.76
21.00
-4.76
-18.48%
27.84K
KTOV


Kitov Pharma

1.11
0.91
-0.20
-18.30%
28.34M
Uncertain Markets, Certain Profits
Volatility must be welcomed at a time like this. And although fundamentals seem unimportant in a volatile time, this may be exactly the time to trust them.
Someone will take home profits from every market, no matter how volatile. Patience, study and more patience will make you more likely to be a winner.
Benzinga's #1 Breakout Stock Every Month
Looking for stocks that are about to breakout for gains of 10%, 15%, even 20% potentially or more? The only problem is finding these stocks takes hours per day. Fortunately, Benzinga's Breakout Opportunity Newsletter that could potentially break out each and every month. You can today with this special offer:
Hire a Pro: Compare Financial Advisors In Your Area
Finding the right financial advisor that fits your needs doesn't have to be hard. SmartAsset's free tool matches you with fiduciary financial advisors in your area in 5 minutes. Each advisor has been vetted by SmartAsset and is legally bound to act in your best interests. If you're ready to be matched with local advisors that will help you achieve your financial goals, get started now.