Check out our investing software - Benzinga Pro!
Mobile payment apps are safe, user-friendly and convenient and offer features that can help you save time and money.
With hundreds of apps to choose from, you might be wondering which ones are best. We've done the legwork for you by compiling a list of our top mobile payment app picks as well as the valuable features they offer.
Quick Look: The Best Mobile Payment Apps
Bank of America
Ally Bank
PayPal
Gyft
Splittr
LevelUp
How Do Mobile Payment Apps Work?
Before we dive into a discussion about mobile payment apps, here are two definitions to know.
A mobile payment can be made through an electronic device such as a smartphone or tablet, or through a bank or credit union's mobile website.
You can download mobile payment apps so you can make mobile payments on the go. They're automatically linked to your bank account or credit card.
Using a mobile payment app is easy. First, determine what kind of mobile payment app you need. Are you looking for a basic app that can pay other people? Or do you want an app that allows you to track your budget, pay for purchases or split restaurant bills? Once you've chosen an app, here are the next steps:
Step 1: Download the app
Follow instructions to download the app to your smartphone or other devices. Only download apps from official stores such as Google Play Store, the App Store or the app's secure website.
Step 2: Add your information
Enter pertinent information such as your name, phone number and payment information (such as a debit card or checking account). You'll also need to create a unique username and password (use a mix of upper and lowercase letters, numbers and special characters).
You'll be registered with your bank or app provider once you enter this information.
If multiple layers of security are available, choose this option. For example, you can log in to PayPal with a username and password, but you can also add a second layer of security such as a unique security question or a text notification each time you want to log into your account.
Step 3: Send a payment or make a purchase
Log into the app and follow the instructions for sending a payment or making a purchase. Typically, you'll need to fill in the recipient's name (a person or business), along with the amount you're paying and the date you'd like to make the payment.
You should be able to save your information within the app if you don't want to have to log in each time.
Step 4: Transfer funds
If everything looks correct, hit the "submit" button to electronically transfer funds. You should receive a confirmation text, email or notification on the app itself letting you know the payment was successful.
Features of the Best Apps
Not all mobile payment apps are created equal. Many companies have added unique features to compete for your business and entice you to download apps. Here are a few standout features of some of our favorite mobile payment apps.

Financial assistant
Wouldn't it be nice to have a financial assistant to help you with your everyday banking needs? They can help with tasks such as:
Paying bills and sending money
Locking and unlocking your debit card
Finding a specific transaction, even if it was 6 months ago
Checking your credit store
Money transfer
Money transfers mean that you can send money to anyone in just seconds. You don't even need to download the app in some cases if the feature is already included in your bank or credit union's services.
Ideally, there are no fees, you can cancel scheduled payments and your recipient doesn't need the app to receive your money.
Security
Security is always a concern, a fact that an app addresses through its distinctive safety features. When you make a purchase, you're given a device-specific number and unique transaction code.
Your card number is never stored on your device when you use Apple Pay or another secure payment system, and your card number will never be shared with merchants.

Our Top 5 Picks
We've reviewed hundreds of mobile payment apps using metrics related to ease of use, price, security, customer ratings and more.
Best Overall: Bank of America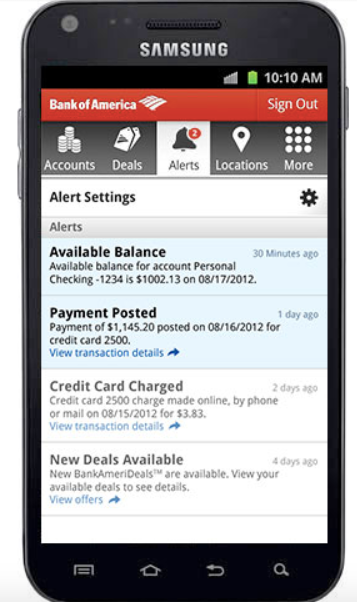 Bank of America's mobile payment app is top-rated by J.D. Power and Associates.
It's also rated #1 Overall in Online Banking Functionality by Dynatrace's Banker Scorecard in 2018 and #1 in categories such as ease of use.
In addition to Erica, an interactive virtual financial assistant, its mobile payment app also.
You can check your balance, view statements and transfer money between accounts.
We think the Bank of America mobile app is worth downloading, as it's received high marks from both customers and reviewers.
Ally Bank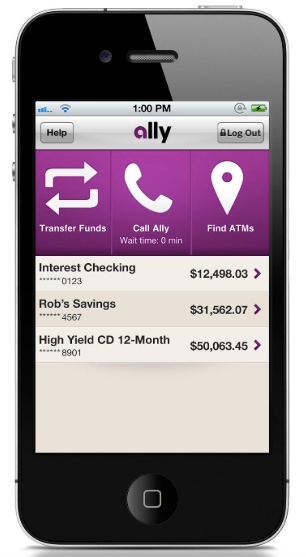 Ally Bank is an online-only bank that boasts over $95 billion in customer deposits.
Ally Bank offers 24/7 customer service support, competitive interest rates, including 0.10% annual percentage yield (APY) on checking accounts and rewards/cash back with certain purchases. Ally's mobile payment app gives you access to:
View account balances
Transfer funds
Make deposits
Locate ATMs
Use Ally Assist, a virtual financial assistant
There are no monthly account minimums and no monthly maintenance fees, so this app is a winner in our book.

PayPal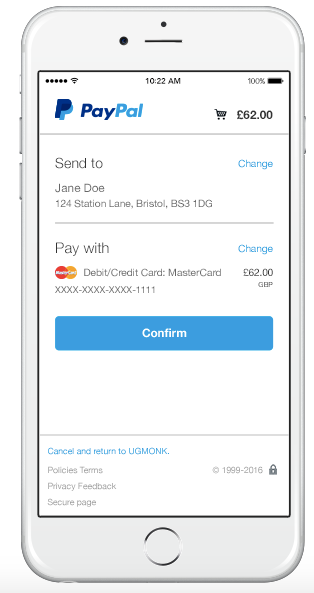 PayPal is a reputable digital wallet service that was introduced more than 20 years ago and is a trusted form of payment for many vendors including eBay, Etsy and Poshmark.
PayPal's mobile app that garnered 4.8 out of 5 stars from the App Store and offers multiple layers of security for sign-in, including unique security questions and text message confirmations.
PayPal allows you to send, receive and access your money from almost anywhere. If you send or request money using the Friends and Family category, you won't have to pay any fees.
If not, PayPal charges $0.30 per transaction plus 2.9% of the amount you receive. It's easy to set up and use and you can use it across the globe.
Bonus Picks: Specialty Mobile Payment Apps
In addition to our Top 5 Best Picks, here are a few fun specialty payment apps you might want to consider.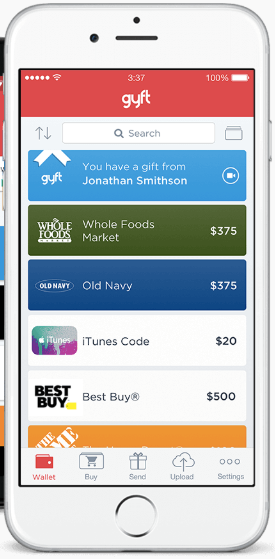 Gyft
Gyft is a mobile wallet app that lets you upload and store gift cards you've received.
With Gyft you can:
Upload gift cards and track balances
Send, redeem and receive gift cards
Pay using your phone
Record video messages to go with gift cards you send
Earn rewards point on future purchases
The Gyft app is free to download and Gyft doesn't charge any fees.
Splittr
Have you ever been frustrated at the thought of splitting expenses with friends or family members for things such as restaurant bills, trips or household costs? Splittr is a free app you can use to connect with people you're sharing expenses with, and it does the calculating for you to let everyone know exactly who owes what.
No registration is needed
Works offline
You can sync with friends or family members
Supports all currencies
A few caveats to keep in mind:
You can't pay using the Splittr app
It's only available on the App Store for iOS devices
Premium lifetime membership is $3.99
LevelUp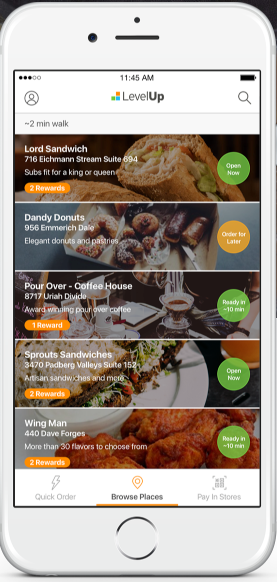 LevelUp, a subsidiary of GrubHub, allows users to link debit or credit cards to a unique QR code on the app.
With this app, you can order food from local restaurants that accept LevelUp and your order will be ready in 7-15 minutes.
You'll receive a message when your order is ready and where to pick it up.
You pay for your food by scanning the app at a LevelUp terminal in the restaurant. LevelUp is free to download.

Grab your Mobile Apps and Go
Mobile payment apps have replaced wallets full of cash. Your cellphone probably goes everywhere with you, so be sure to download payment apps to keep track of your money and to help you stay within your budget.
Still not sure what mobile app to use? Check out Benzinga's guides to the best PayPal alternatives, the best budgeting apps and the best banking apps.