Real Estate Offering Update: CityVest Has Launched Catalyst Access Fund With 20%-25% Target Annual Returns (Accredited Investors Only).
While the rest of the country's real estate was losing ground in 2020, real estate investments in Memphis were rising. Federal Housing Finance Agency (FHFA) data showcased Memphis as the 4th fastest rising market in the nation. Experts actually began to grow skeptical, wondering if the city's 9% rise in the past year was sustainable compared to the national average growth rate of 5.1%.
The steady growth in the Memphis market puts the burden of proof in the skeptics' corner. If you are looking to invest passively in a strong and steady real estate market, Memphis may just have the deals that you are looking for.
Why Invest in Memphis?
Real estate in Memphis benefits from steady growth with plenty of upside still left in the future. Memphis still has the slowest 5 year appreciation in real estate of the top 10 metropolitan statistical areas. This tells us that many investors have yet to discover the potential here, although smart money is already growing the market. Memphis now has the best of both worlds — a viable expectation of short-term appreciation without paying a premium to get in the market.
The Real Estate
The Memphis Area Association of Realtors (MAAR) reports that the average Memphis home price enjoyed a year-over-year increase from $168,000 to $178,000. This translates to around 6% growth, which is consistent with the 33% growth the city has experienced over the past 5 years. FHFA analysts still consider Memphis quite affordable because the housing increase corresponds closely to income.
Memphis is a good place for newer investors because the market comes without the volatility of bigger markets like Atlanta, Los Angeles and New York. Both local and federal data agree that real estate growth in Memphis is sustainable. Combine this with record breaking lows in interest rates, and you have a ripe opportunity to buy.
The People
Memphis is the 2nd largest metro area in the region in terms of size. Around 43% of the people living in Memphis are tenants rather than homeowners. This doesn't necessarily translate to large amounts of turnover. The jobs, transportation, culture and entertainment available in Memphis keep people interested and create stable income for landlords.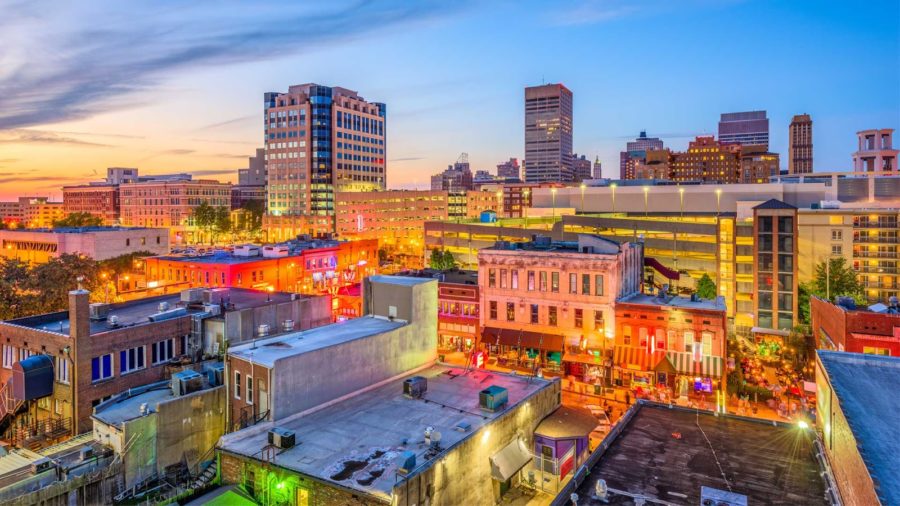 Attribution: Outfront Media
The net outflow that occurred between 2010 and 2018 of -2.5% seems to have slowed, partly due to a good environment for employment. Before the pandemic, Memphis functioned at a full employment rate.
Bloomberg gives Memphis the distinction of being the No. 1 metro area for jobs over the past decade. Family-led homes dominate the landscape. The Memphis Chamber reports that Memphis will enjoy a 2.3% growth rate through 2023, translating to 30,000 new residents. The percentage of people who are ripe for renting — commonly recognized as those between 25 and 54 — will remain at around 40%.
The Culture
Young Millennials love the opportunity for cutting-edge jobs in Memphis from the Federal Reserve Bank, American Residential Services, Gibson Guitars, Perkins Restaurant and Bakery and the Memphis National Airport. But when the Memphis population isn't expanding its employment number by 1.4%, it is participating in a rich, vibrant culture that works wonders for low turnover.
There is a long history of music and movies in the city. Memphis is known as the Home of the Blues and the Birthplace of Rock 'n Roll. Its NBA basketball team the Grizzlies gave it another nickname: Grind City. All of these attractions keep renters coming even as the city suffers short-term home shortages.
Memphis Real Estate Market Forecast
Most experts predict that Memphis could enjoy rising housing prices over the next 3 years. The average sale price of a home was up 14.1% to $154,000, and this trend is expected to continue. Even as the average price per square foot goes up in a similar way, it is still relatively easy to find deals in the Memphis market. On average, homes sell for 2% below list price.
Memphis is currently a seller's market, which means prices will probably hold in the current range. Distressed homes are expected to stay level over the next year at 2.3 homes per 10,000. The median list price per square foot of around $37 should remain consistent as well. The most popular type of real estate investment in the city are 3- and 4-bedroom single-family homes.
Investing Passively in Memphis
Platforms like DiversyFund offer passive real estate investing in Memphis. Passive real estate investment is a good option if you would rather just find a good property management company and collect rent.
Learning more about real estate stocks and how to invest in REITs are 2 ways to invest without living in the city. Because Memphis has relatively low rental turnover, passive investors have an opportunity to manage a property successfully from a distance.
Best Passive Real Estate Investing Platforms
Be sure to check out our DiversyFund review and compare it to other platforms. Make sure that you test different platforms to find the option that feels most intuitive.
Fees
Between 8% and 10% of the purchase price
Minimum Investment
$5,000
1 Minute Review
Roofstock is a registered real estate broker and marketplace specializing in single-family rental properties. Unlike its competitors, Roofstock isn't selling shares of properties through trusts or LLCs — they're connecting buyers and sellers directly. Roofstock properties are carefully vetted by a qualified home inspector and come with a rental income guarantee. That's right, Roofstock will pay you rent even if your property stays vacant.
Financial data on each property is available even to those who are not clients and nonaccredited investors are welcome to join free of charge. Cash and financing options are available when making a purchase, but Roofstock will tack on their own fees in addition to closing costs.
As the solitary owner of your property, you'll be expected to fund repairs out of your own pocket. Still, Roofstock is a great way to get a foot in the door of the real estate industry and their fees are much lower than most of the competition.
Best For
Nonaccredited investors
Real estate investors with limited capital
Investors looking for income through rental properties
Pros
Free to sign up
No investment minimum
Ownership of real assets
Low fees 30-day money back guarantee
Cons
Single-family homes only
Need to finance repairs yourself
Requires down payments

1 Minute Review
-NOTICE- Benzinga has been alerted that Diversyfund has suspended its monthly dividend. This review will be updated once we investigate these changes to the platform's dividend payments.
DiversyFund isn't your average crowdfunding platform. You'll find that the company puts a twist on the traditional everyday crowdfunding platform, beyond anything you can find online with a simple Google search. You only have to look under DiversyFund's skin one layer to surmise that DiversyFund is a conscientious developer and sponsor and helps hedge risk through improved vetting.
DiversyFund offers a multifamily real estate investment trust, the DiversyFund Growth REIT, and its main goals are to increase cash flow and resale value. It'll automatically give you access to multi-million dollar real estate assets.
Best For
Those looking for an alternative investment beyond stocks and bonds
Individuals who aren't sure they want to be landlords in the traditional sense
Investors who aren't accredited
Pros
Only need to pony up $500 to get started
Open to investors all over the world
No expensive broker fees
Cons
You'll only be able to access "blind pool" investments, which means that you can't opt out of specific properties
There's only one real investment option, the DiversyFund Growth REIT
Minimum Investment
$25,000
1 Minute Review
Crowdstreet is an online real estate investment platform that lets investors choose from a wide range of real estate investment offerings to crowdfund. Crowdstreet investors are free to buy into managed funds, individual buildings or even build a bespoke investment portfolio that includes both kinds of deals.
CrowdStreet's platform has a diverse range of property types, ranging from multifamily to office, industrial, self-storage and others.
Best For
Accredited investors
Long-term investors
Investors looking to diversify from stocks
Pros
User-friendly interface
Diverse investment offerings
Great investor resources
Proven performance history
Many offerings eligible for inclusion in self-directed IRA
Cons
Accredited investors only
Most offerings require a $25,000 minimum investment
Invest in Memphis Real Estate
Investors are quickly uncovering the potential of this relatively quiet metro giant. Get in on the opportunity now. If you are looking for a good deal in real estate, Memphis could be the city for you.
Accelerate Your Wealth
Arrived Homes allows retail investors to buy shares of individual rental properties for as little as $100. Arrived Homes acquires properties in some of the fastest-growing rental markets in the country, then sells shares to individual investors who simply collect passive income while waiting for the property to appreciate in value over 5 to 7 years. When the time is right, Arrived Homes sells the property so investors can cash in on the equity they've gained over time. Offerings are available to non-accredited investors. Sign up for an account on Arrived Homes to browse available properties and add real estate to your portfolio today.