FREE Trial with Benzinga Pro happening right now!
Plenty of investors dabble in penny stocks. These are low-priced offerings, which are typically stocks that may later become lucrative or shares of small publicly-owned companies. Penny stocks are also known as OTC stocks, micro-cap stocks, nano-cap stocks or OTC stocks.
Why Learn How to Trade Penny Stocks?
Despite the risks with this type of trading, there is also the potential for high returns on your investment. Let's look at some of the more compelling reasons to learn how to trade penny stocks.
Low Price Per Share
Perhaps the biggest appeal of penny stocks is the fact that you can buy into them for a very reasonable amount. While the per-share price is not always less than $1, it often is. The typical range is anywhere from $0.01 to $2, but most experts consider a penny stock anything that trades for less than $5 per share. Given these extremely low prices, you can buy a large number of shares for an amount that won't break the bank.
According to penny stock trader and self-made millionaire Tim Sykes, who hit the million-dollar mark by age 22 after investing $12,415 of his bar mitzvah money, this is best accomplished through a strong online broker who will be able to steer you toward the best bets and away from scams and shortfalls.
When setting out to learn how to trade penny stocks, keep liquidity in mind. You can calculate the amount of money that goes through the company on a daily basis by multiplying the number of shares traded by the price. Stay away from illiquid stocks that can experience a lot of turbulence — going that direction is a good way to lose money.
Ease of Purchase
Since penny stocks are common shares, it's relatively easy for a member of the public to purchase them. What's more, the low buy-in price, as outlined above, presents a lower barrier to entry for the beginning investor. You can buy more shares at an easier-to-swallow cost with the goal of generating higher income.
Here are a few indicators of a good income-producing penny stock:
A strong strategy in place: Successful companies want to transcend their standing as a penny stock, so the goal is to expand their business and find their footing on a major exchange. Along the way, they need to be able to repay investors and build (or rebuild) a longstanding business.
The ability to make money: It doesn't matter how low the share price is, if a company is not making money — or worse, losing it — you don't want to invest in it. Period.
A cache of cash: Strong businesses have assets or cash on hand — or better yet, both — to pay their debts. They don't need to dip into reserves to make sure they've got matters covered.
You can buy penny stocks through a broker or on your own. A few more things to keep in mind as you prepare to make a purchase:
If you're seeking information that caters specifically to the penny stock market, try the National Quotation Bureau and OTC Bulletin Board.
Initial public offerings are a great time to buy penny stocks as companies are moving into public ownership and are expected to grow over time. However, do your due diligence and read all associated information about the company before investing.
Try Google Finance or Yahoo Finance for financial information on a wide variety of companies.
Return on Investment
Penny stocks offer the opportunity to gain big on your investment — under the right circumstances. If you've purchased a stock at 10 cents per share and it goes up 10 cents, you've made 100% return. Great, right? Absolutely, but keep in mind that stocks also go down, so you can lose as easily as you can gain. A few tips on minimizing loss:
Begin with a minimal investment. Don't throw it all into this category until you really understand what you're doing. Many advise that you make penny stocks no more than 10% of your portfolio to minimize risk.
Diversify your portfolio. Counterbalance the risks taken with penny stocks by leaving the majority of your investments in less turbulent territory like a Standard & Poor's 500 index fund.
Know the volume. The higher it is, the easier it will be to sell stocks and get a return on your investment.
Our Top Trading Courses
Benzinga has collected a list of excellent stock-trading courses that will help you hone your ability to make money through penny investments. We've organized it in order of ability, from beginner to intermediate to advanced. Take a look.
Best Penny Stock Trading Courses for Beginners
Looking to learn more about trading penny stocks? If you're just starting out, we've got a few great course listings for you.
Start Day Trading Penny Stocks in 60 Minutes
All Levels • 16 videos • 2.2 hours
Udemy Start Day Trading Penny Stocks in 60 Minutes
Who it's for: Beginners looking to start making money trading penny stocks
Price: $14.99
Do you have 1 hour? This course gets you started right away making money by trading penny stocks. Not only will you learn the basics of day trading, but you'll grow to have a better understanding of what stocks to trade and how to limit your investment risk. What's more, you'll get a sense of the psychological requirements to be a professional day trader and learn ways to maximize profit. The course will prepare you to dive into a trading simulator and practice what you've learned — making the most out of these strategies to garner some cash.
How To Day Trade — My Biggest Strategies Revealed by Warrior Trading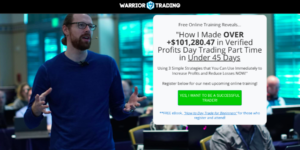 Join Ross Cameron, CEO of Warrior Trading, for a special online training. You'll get a chance to learn how to:
Find the right stocks to trade in ten minutes or less — without trade alerts
Reduce risks
Achieve a high win rate even on a small trading account
Join Cameron at Warrior Trading to learn how to produce big wins and virtually squash losses in around 90 days.
Best Intermediate Penny Stock Trading Courses
Once you have a little bit of experience under your belt, you can continue to learn. Here are a few options.
The Wolf of Penny Stocks

Who it's for: Traders looking to continue to refine their skills
Price: Free
This online course has 7 lessons in its Trading School. You'll learn how to trade, set up charts, conduct fundamental analysis, place a trade and hone in on the best penny stocks. These lessons are free, including charts that depict the type of work you'll be doing and the kind of analysis in which you'll engage.
ClayTrader: The Trading Freedom Pathway

Who it's for: Intermediate traders who are looking to grow their skills over time
Price: $497
You'll go beyond the basics here to learn more tools, create a plan and grow consistent with your approach. You'll learn "robotic trading" (lack of emotion), risk versus reward, and shorting for profit while getting the opportunity to receive live guidance along the way.
Day Trading Academy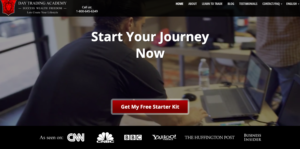 Who it's for: Penny-stock traders who want to incorporate day trading into their careers
Price: Free
Traders of all stripes will get use out of this course, which covers everything from the basics to more advanced training. Their unique trading programs allow side-by-side analysis with a professional trader.
Best Advanced Penny Stock Trading Courses
Think you're a penny-stock master? You still shouldn't stop learning.
Penny Stocks King: How 2 really Trade Penny Stocks (6 Hours)
Beginner • 54 videos • 6.4 hours
Udemy Penny Stocks King: How 2 Really Trade Penny Stocks
Who it's for: Advanced penny-stock traders who want to refine their technique
Price: $10.99
While this course is "not for experts," it is for more advanced masters of the penny-stock craft who want to learn to make calls like experienced traders, draw trendlines on stock charts and come up with a complete DIY strategy to buy and sell penny stocks with ease.
SkillSuccess Ultimate Penny Stock Day Trading Masterclass

Who it's for: Those interested in continuing to learn the ins and outs of trading
Price: $199
Continue to refine your skills with this soup-to-nuts course that covers common stock market patterns and technical analysis, taught by a full-time stock trader and investor "on a mission" to help others avoid mistakes he's made along the way.
How Can I Make Money on Penny Stocks?
Start slow and build your way up, using some of our suggested courses. Along the way you will continue to add to your toolbox of resources. Remember to stay up on current information as market conditions always change.

Southern New Hampshire University Online
SNHU Online Offers:
Flexible schedules
Affordable tuition
Online tutoring
Access to electronic research materials
Specialized academic advising
Supportive online community