Jump straight to Webull! Get real-time market data, analysis tools and $0 commissions.
REITs offer investors a simple and accessible way to put their money into the real estate market without becoming a landlord or investing tens of thousands of dollars at once. Thankfully, buying REITs is just as easy as buying stocks. We'll go over REIT types, how to buy REITs, some of the REIT fees you might pay, the pros and cons you'll need to consider before you buy and some things to look for when analyzing REIT investments.
What is a REIT?
REIT stands for real estate investment trust. REITs are companies that invest in or finance income-producing real estate, and provide a return to investors through dividend payments and long-term appreciation. Most REITs operate in a very simple way: they use your money to purchase commercial or residential space, rent that space out to tenants and distribute the income to shareholders.
REITs offer investors the ability to invest in large real estate portfolios by simply purchasing shares. Instead of having to contribute massive amounts of capital, locating deals and managing properties, REIT investors are able to take advantage of the benefits of investing in real estate as easily as buying stocks in any other company.
REITs get special tax treatment by the internal revenue service (IRS) by following very specific guidelines. For one, they're required to pay out at least 90% of their taxable income to investors in the form of dividends. This makes REIT investing an excellent source of passive income.
A dividend is a portion of profits that the company pays out to shareholders. Each share of stock in a REIT entitles you to a particular dividend based on the company's income. For example, if you own 1,000 shares of a REIT that pays out 50 cents in a dividend each quarter, you'll receive a total of $500 per business quarter. Most REITs pay out dividends every quarter, but some pay out monthly. You'll see your dividends in your brokerage account as they're issued.
Types of REITs
REITs fall into one of two categories; equity REITs and mortgage REITs.
Equity REITs
Most REITs fall into the equity REIT category. These REITs primarily invest in physical properties, and earn income through rental payments. Equity REITs are further classified based on the types of properties they invest in. These include:
Residential real estate – Multifamily properties, single-family homes, and mobile home parks
Retail properties – Shopping malls, grocery-anchored shopping centers, and single-tenant retail properties
Industrial – Factories, warehouses, cold storage, and distribution centers
Health care – Senior housing, skilled nursing, hospitals, medical office buildings, and life sciences
Lodging and hospitality – Hotels and resorts
Infrastructure – Cell towers, fiber optics routes, and other data networks
Data center – Data center s either leasing rack space or kilowatts
Diversified – Portfolios that include multiple property types
Timber – Income generated from trees being cut on the property for lumber
Specialty – Property types that don't fall into the typical categories, such as private prisons, casinos, etc.
Equity REITs receive cash flow each month from the rental income, which allows them to pay dividends to investors and grow their portfolio through acquisitions and developments. They also profit from long term capital appreciation as their properties increase in value over time.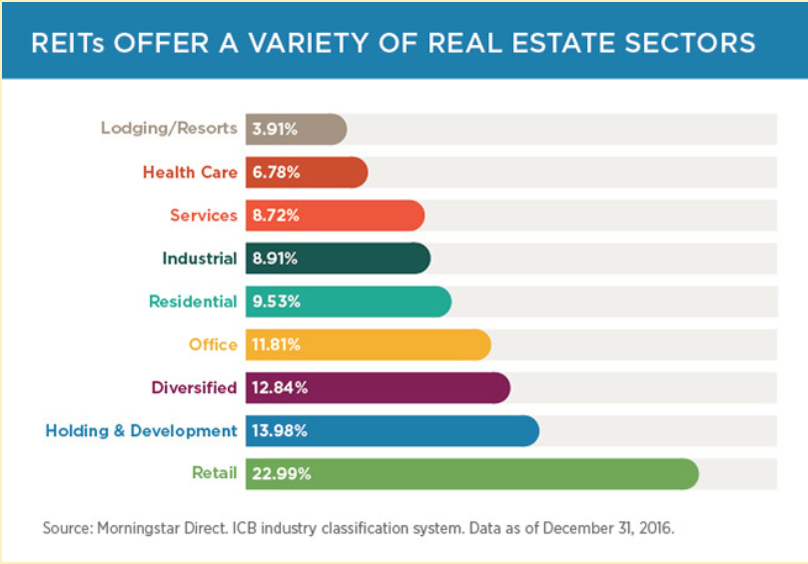 Mortgage REITs
A mortgage REIT invests in debt secured by real estate. Mortgage REITs profit from the interest payments they receive from mortgage loans they either originate or purchase.
Mortgage REITs typically offer a higher dividend yield than equity REITs, but also come with a higher level of risk. Most of these REITs use short-term loans with low interest rates to purchase or fund long-term debt. Since the interest they receive on long-term loans is higher than what they're paying on their short-term debt, the REIT profits from the difference in the two interest rates.
However, they have to continuously refinance their short-term debt in order to hold onto the long-term mortgages. This exposes these REITs, and their investors, to added risk if the short-term interest rates begin increasing at a faster rate than long-term interest rates.
A mortgage REIT's business model is focused primarily on income since the mortgages they invest in don't increase in value over time like a real estate asset.
Private REITs
Private REITs are not listed on public exchanges and are exempt from SEC registration. You'll need special access to invest in this type of REIT. These REITs can fall into either the equity REIT or mortgage REIT category, although most private REITs are equity REITs.
Some Private REITs we consider excellent include:

Best For
Low Cost Real Estate Investing
Best For
Low Cost Real Estate Investing
1 Minute Review
DiversyFund isn't your average crowdfunding platform. You'll find that the company puts a twist on the traditional everyday crowdfunding platform, beyond anything you can find online with a simple Google search. You only have to look under DiversyFund's skin one layer to surmise that DiversyFund is a conscientious developer and sponsor and helps hedge risk through improved vetting.
DiversyFund offers a multifamily real estate investment trust, the DiversyFund Growth REIT, and its main goals are to increase cash flow and resale value. It'll automatically give you access to multi-million dollar real estate assets.
Best For
Those looking for an alternative investment beyond stocks and bonds
Individuals who aren't sure they want to be landlords in the traditional sense
Investors who aren't accredited
Pros
Only need to pony up $500 to get started
Open to investors all over the world
No expensive broker fees
Cons
You'll only be able to access "blind pool" investments, which means that you can't opt out of specific properties
There's only one real investment option, the DiversyFund Growth REIT

Best For
Small Account Real Estate Investing
Best For
Small Account Real Estate Investing
1 Minute Review
Looking to diversify your portfolio and get into real estate? A real estate investment trust (REIT) that owns income-producing real estate may be a great place for you to start. Streitwise is a REIT that specializes solely in commercial real estate and has a low entry investment requirement of $1,000. Based in Los Angeles, Streitwise was created in 2017 by three veteran real estate investors who were frustrated that there wasn't a good option for unaccredited investors to get into the commercial real estate market.
Streitwise focuses on investing in low-risk rental commercial real estate aimed at providing clients with consistent high-yield returns. The team invests in markets that are steadily growing and offer low-risk potential outcomes. While they're still young and growing, the founders have built their business based on solid experience coupled with a vision for the future of investing. If you're looking to diversify your current investment portfolio but feared real estate was too lofty a goal, Streitwise is worth exploring.
Best For
Investors looking to diversify
Investors with less than $200k in annual income
Passive traders
Pros
Consistent quarterly dividends
Low, transparent fees
Low investment minimum
Convenient and easy to use
Cons
Young company
Projections are uncertain
Limited portfolio
Limited technology
Why Invest in REITs
A simple way to invest in real estate: REITs provide access to the real estate market without the capital and time requirements of traditional methods of real estate investing.
Long-term performance: REIT performance is competitive with other stocks, but with a higher rate of return than most fixed-income investments.
Dividend income: REITs provide significant dividend income compared to most other publicly traded stocks. Since REITs are required to pay out 90% of their taxable income to investors, well-performing REITs can provide consistent and predictable returns through dividends.
Diversification: REITs are an excellent way to diversify an investment portfolio with real estate, which is a market that typically has little correlation with other stocks.
Investing in REITs Step by Step
Investing in REITs is just as easy as investing in the stock market. Let's take a look at how you can start your investment journey today.
Step 1: Research REITs.
You shouldn't invest in the first REIT you see on your trading app. Research REITs that buy property in the area you're most interested in. Compare sectors, price, dividend data, dividend yield and analysts ratings before you decide which REIT to buy. Remember that if you buy a non-publicly traded REIT, you might need to pay REIT fees to the management team.
Step 2: Place an Order Through Your Broker.
Buying publicly-traded REITs is just like buying a share of stock. Log into your brokerage account, search for the REIT you want to buy by symbol and place a buy order. When someone is selling a share of the REIT you want at the price you've specified, you'll see it in your account. Never purchased a share of stock before? Before you buy your first stock, you'll need to open a brokerage account. Luckily, it's never been easier to open a brokerage account online.
Step 3: Monitor Your Investment.
Just like any other stock, your REIT will rise and fall in value. You can monitor your progress and portfolio growth on your brokerage account. When you receive a dividend, you'll see it as a pending deposit in your account.
Analyzing a REIT
It's important to understand how a REIT differs from other types of stocks and how their financials are reported. You have to dig a bit deeper to fully understand how well a REIT is performing.
Funds From Operations (FFO)
A REIT's FFO provides a more accurate picture of the company's earnings than their net income or Earnings per Share (EPS). FFO removes non-cash expenses, like depreciation, and gains or losses from the sale of property.
Depreciation is a major expense that gets reported on a REIT's financial statements, which can make their reported net income extremely misleading. Depreciation is a non-cash expense, meaning that it doesn't actually affect their true bottom line. When a REIT purchases a property, the cost of that building on that property gets written off over the course of several years. This is referred to as depreciation. Residential rental properties are depreciated for 27.5 years, and commercial real estate is depreciated for 39 years.
For example, if a REIT purchases an office building for $20 million, they will get a depreciation deduction of $512,821 each year they own that property for up to 39 years. While that deduction lowers their taxable income, it doesn't actually reduce the amount of cash they earned at the end of the year.
Gains and losses from selling real estate can also distort a REIT's financial picture. If a REIT has negative cash flow on their real estate portfolio for the year, but realizes a significant gain on selling a few properties, a poorly performing REIT can look like it's doing well. Likewise, a loss from selling a poorly performing property can make a well-performing REIT look like it had a bad quarter or year.
FFO takes depreciation, gains and losses out of the picture to provide a more accurate view of the REIT's performance. REIT investors typically look at FFO per share instead of EPS, and the p/FFO ratio instead of the p/e ratio.
FFO Payout Ratio
Similar to how EPS doesn't provide an accurate picture of a REIT's true earnings, calculating a REIT's dividend payout ratio by using EPS will also give a flawed view on how safe a REIT's dividend payments are. Instead of using EPS to calculate a REIT's dividend payout ratio, simply replace EPS with FFO per share.
Debt/ EBITDA Ratio
REIT's are required to pay out at least 90% of their taxable income to shareholders as dividends. This means that REITs are limited on the amount of cash they can hold onto, so their ability to grow is highly dependent on their ability to access debt.
A REIT with a high debt/EBITDA ratio will not only have a harder time accessing low-interest financing to acquire new properties, they also have a higher percentage of their income going toward debt payments. This puts the REIT at higher risk, and also makes it more likely that they will have to issue more shares and dilute its investors' equity.
Net Asset Value (NAV)
Determining the net asset value of a REIT requires advanced knowledge and a significant amount of time. Unlike the ratios and calculations discussed above, NAV isn't a simple calculation when it comes to real estate companies.
The net asset value of a REIT is the true value of the REIT's assets minus its liabilities. Since real estate is depreciated over time, a REIT's balance sheet won't provide an accurate value of the properties they own. To determine the value of their properties, you have to look at the individual properties a REIT owns to understand what the market value is on that specific property type, property class, and its location. This is determined based on a capitalization rate, or cap rate.
You then have to determine the net operating income (NOI) of their real estate portfolio, and apply a weighted cap rate to the entire portfolio of properties. This will provide a fair estimate of the value of the real estate. From here, you subtract the REIT's liabilities, then add their cash-on-hand and the value of any land they own that's held for development.
Information like FFO and debt/EBITDA ratios aren't typically provided on most REIT quote pages, so you may have to look at the company's supplemental reports or their 10-Q and 10-K filings which you can find in the SEC's EDGAR database.
REIT ETFs
An ETF, or exchange traded fund, is a popular option for investing in REITs without having to put in the work to analyze each REIT you're interested in. A REIT ETF is a fund that invests in REITs, and sometimes other real estate stocks.
While REIT funds do charge fees that dip into the total returns, many investors still find that they have a higher rate of return when investing in an ETF. This is because the fund managers work full-time to maximize profits by finding the best REITs to buy, and the right time to buy or sell. This can lower the overall risk and provide long-term gains.
What Are the Pros and Cons of Investing in REITs?
Let's take a look at a few of the pros and cons that come with investing in REITs.
Pros
Cons
Higher dividends: REITs are required by law to pay out at least 90% of their taxable income in dividends. This means more profit for you as the shareholder.

Easy purchase process: Interested in investing in real estate but don't have the time, down payment or credit score to buy a rental property? REITs give you an easier way to invest.

Access to more types of property investment: Unless you have a few hundred thousand dollars lying around, you can't invest in a commercial property or a medical care facility on your own. REITs pool your funds together with other investors, allowing you to invest in more types of properties.
Higher taxes: REITs usually pay out higher dividends than competing stocks. While this can be great for your wallet in the short-term, REIT dividends aren't taxed at the lower qualified dividend rate that most stock dividends are. This means you'll need to put away more money for taxes.

Long-term investments: If you're looking for a way to mask fast cash, REITs might not be for you. It can take years to recoup your investment through dividends, even if your REIT of choice is relatively affordable.
Real Estate Stock Gainers
Session: Jun 11, 2021 4:00 pm – Jun 14, 2021 3:59 pm
Real Estate Stock Losers
Session: Jun 11, 2021 4:00 pm – Jun 14, 2021 3:59 pm
Investing the Right Way
It's important to remember that the dividends you earn from your investment in a REIT are taxable income. When you receive a dividend, you'll want to set aside a percentage of your earnings for future tax considerations. Keeping careful records of received payments can help you avoid fraud and accidental financial malfeasance.
Turn to Webull
0 Commissions and no deposit minimums. Everyone gets smart tools for smart investing. Webull supports full extended hours trading, which includes full pre-market (4:00 AM - 9:30 AM ET) and after hours (4:00 PM - 8:00 PM ET) sessions. Webull Financial LLC is registered with and regulated by the Securities and Exchange Commission (SEC) and the Financial Industry Regulatory Authority (FINRA). It is also a member of the SIPC, which protects (up to $500,000, which includes a $250,000 limit for cash) against the loss of cash and securities held by a customer at a financially-troubled SIPC-member brokerage firm.