Are you looking to buy an IPO? With Sofi Active Invest you can participate in upcoming IPOs before they trade on an exchange.
Southeast Asia delivers a compelling mixture of profitability potential and fundamental confidence. A major reason why the area attracts investor dollars is its burgeoning technology infrastructure.
Tech firms like Indonesia's Tokopedia, which specializes in e-commerce, are exploding in popularity due to expanding internet integration. Learn how to buy Tokopedia IPO stock now.
When is the Tokopedia IPO Date?
Tired of the same old stock recommendations? The Tokopedia initial public offering (IPO) promises to be among the most anticipated public debuts.
You won't find an official date on the IPO calendar just yet. Management continues to contemplate which is the best course of action: a traditional IPO or reverse merger via a special purpose acquisition company or SPAC.
SPACs are blank check companies that have no operations of their own. Instead they undergo an IPO for the sole purpose of identifying a merger target. Once combined, the private merger target automatically becomes a publicly-traded company.
In December 2020, Tokopedia confirmed that it hired Morgan Stanley (NYSE: MS) and Citigroup (NYSE: C) as IPO advisors.
However, should the Indonesian firm elect to go public via a reverse merger, rumors suggest that Bridgetown Holdings (NASDAQ: BTWN), a Peter Thiel and Richard Li-backed SPAC, may be interested in facilitating the deal.
Tokopedia Financial History
Just recently, media reports indicated that Tokopedia and Gojek, a company that offers on-demand multiservice platforms and digital payment solutions, inked a conditional sales agreement for a merger. If so, the development isn't surprising. In February of this year, Bloomberg noted that the 2 companies were finalizing terms for a merger.
Should the 2 companies make good on the reports and combine, experts peg the value of the entity at $18 billion. However, Tokopedia's management refused to confirm the deal, stating that "the news is inaccurate and purely speculative."
Both Tokopedia and Gojek have long expressed finding a merger deal to forge an alluring package in the American IPO market. With competition heating up among Indonesian tech rivals, the entity that strikes first could end up with most of the spoils.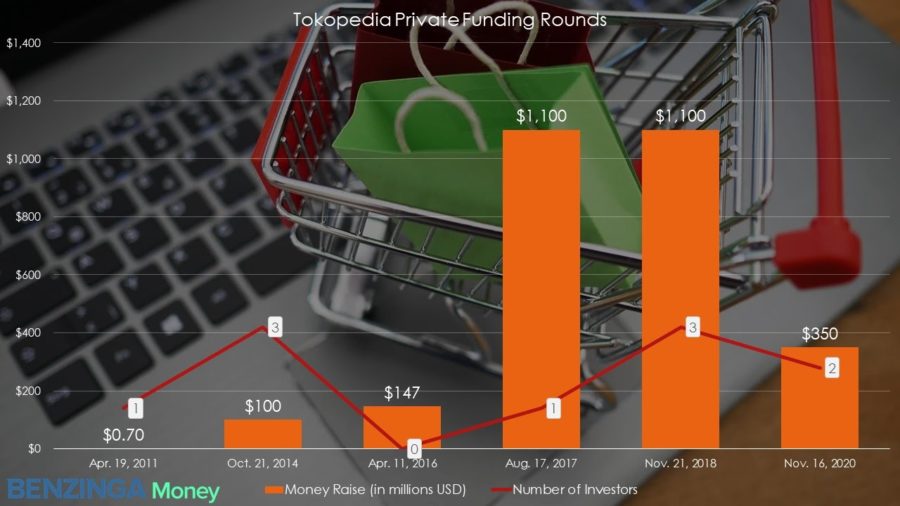 Moreover, Tokopedia by itself represents a strong opportunity. In its private funding rounds, the tech firm hauled in nearly $2.8 billion. Major backers, such as Alibaba Group (NYSE: BABA) and Softbank Group (OTCMKTS: SFTBY), provided most of the funds.
Tokopedia Potential
Among upcoming IPO opportunities, investors rank Tokopedia as highly anticipated. Primarily, this is because of Southeast Asia's booming internet economy. According to Reuters, this connected market hit $105 billion, in large part to the coronavirus pandemic forcing consumers to remain at home.
People naturally converted their spending habits to online channels and contactless services such as food delivery. Gojek happens to leverage one of Southeast Asia's biggest food delivery apps, making a combined Tokopedia-Gojek entity incredibly relevant.
Better yet, Indonesia, Malaysia, Vietnam, Singapore and the Philippines added 40 million new internet users in 2020. This brings the total user count to 400 million – more people than exist in the U.S. This suggests that Southeast Asia has an internet penetration rate of 70%.
Industry experts anticipate that this pivotal part of the world will generate $309 billion in gross merchandise value by 2025. That's up $9 billion from last year's forecast. Given that e-commerce in the region alone increased 63% to $62 billion, the updated expectation seems reasonable.
How to Buy Tokopedia IPO Stock on the Open
The Tokopedia IPO brings a twist to the public debut narrative in that it could go either way: a traditional IPO or a reverse merger via a SPAC. Both have pros and cons.
Should the company go public using the traditional route, most investors won't have access to buy Tokopedia shares at the initial offering price. Unfortunately, this is because IPO underwriters offer these attractive equity units for institutional investors and power brokers that have an extensive history of IPO participation.
But the benefit of buying the Tokopedia IPO on its first trading day is that with such a compelling opportunity, buyers will likely bid up shares strongly.
On the other hand, if Tokopedia engages in a reverse merger, you can guess which SPAC will take the company public. If you're right, you could make a hefty profit.
However, after the merger announcement, the identified SPAC would likely have already soared in value, increasing the opportunity cost for the IPO.
Step-to-step guide:
Pick a brokerage.

Before you learn how to buy stocks, you must first pick a brokerage with which you want to conduct the business of trading. Thanks to increasing competition, you have ample choices. Most brokerages feature similar incentivizes to join, such as commission-free trading.

Select a brokerage that fits your needs, lifestyle and anticipated growth. For instance, if you're busy pursuing other professional endeavors, you may want to consider the convenience of a mobile trading app.

On the flipside, if you want to pursue trading for a living or foresee exploring other avenues, such as trading options or futures contracts, you should look into brokerages with full-spectrum services.

Decide how many shares you want.

Prior to your first trade, you should decide how many shares you want to purchase. The actual count is of course a personal decision, encompassing variables such as risk tolerance and budget size.

Please note that the stock market conducts transactions under share count, not dollar amount. To make the conversion, take the dollar amount you want to invest and divide that by the market price of the target stock. Whatever is the whole number represents the shares you can purchase.

Choose your order type.

Due to the constant fluctuation in price, stock market transactions use different order types, depending on how you want to acquire shares. Further, you should familiarize yourself with basic market terminology.

Here are the terms you need to know:

Bid: The bid is the maximum price a buyer is willing to pay for a stock. It is always lower than the ask.
Ask: On the other end, the ask is the minimum price that a seller is willing to accept. It is always higher than the bid.
Spread: The spread is the difference between the bid and ask. The bid-ask spread is important for 2 reasons. First, it represents the profitability margin for market makers who acquire and distribute stocks. Second, the spread is the de-facto indicator of market liquidity, with narrower spreads indicating high liquidity while wider spreads suggesting lower liquidity.
Limit order: If you want transparency and total control over your orders, you should elect a limit order, which executes a trade only at a predetermined price. However, its drawback is that no guarantee exists that the target stock will reach said price.
Market order: If you prefer a guarantee of fulfillment within normal trading hours, you should consider deploying a market order, which executes a trade at the next available price. But the disadvantage is that a market order fulfills at the terms least favorable to you.
Stop-loss order: A stop-loss order is a safety valve to protect the value of your portfolio. Essentially, it's a market order in reverse, exiting you out of your position at either a predetermined price or the next available price, whichever comes first. However, the risk is that the next available price could come first in a gap-down session, meaning that you could exit at a much-lower-than-anticipated price.
Stop-limit order: A stop-limit order is basically a limit order in reverse. It will exit you out of your position only at a predetermined price. But the drawback of this order type is that if the stock never reaches the specified price, you would have been better off initiating a stop-loss order.

Execute your trade.

Once you're ready to go, follow these steps for a market order.

• Select action type (buy or sell).
• Enter the shares you wish to acquire (or sell).
• Make the request.

Limit orders are identical to market orders with the exception that you will also enter your desired price of execution.
Best Online Brokers
Below is a list of best brokers to help you narrow your search.
An International Offer Worth Pursuing
While U.S.-based stocks generally provide the most stability, they are based on a mature economy and bring less growth potential.
Southeast Asia is an exploding technology market. Tokopedia represents one of the biggest companies in the region, and its upcoming IPO is an event you don't want to ignore.