Want to claim 6 FREE stocks? Head over to Webull to get started.
The Starbucks Corporation (SBUX) is one of the most widely-recognized coffee chains in the world—with operations in over 28,000 locations in upwards of 70 countries, the Seattle-based coffeehouse conglomerate is a worldwide phenomenon.
If you're looking to get in on a slice of the pie of profits, investing in Starbucks stock is a great way to become a partial owner in the company. Once you get the hang of purchasing SBUX, you'll see it's easier than ordering your morning latte.
Why Invest in Starbucks?
There are thousands of coffee retailers in operation, but none is quite as ubiquitous as Starbucks. However, the company hasn't reached its position on the market just by brewing a great cup of coffee—when you invest in Starbucks, you're also investing in the following principles:
The power of branding
If you've ever been to a Starbucks, you probably already know that the company is selling much more than just coffee and scones—it's selling an image. Starbucks continuously maintains its brand through standardized décor, and the company is constantly reinventing its menu to suit popular tastes.
Some of its beverages have even become cultural icons in and of themselves. For example, Starbucks invented "pumpkin spice latte season," and its holiday peppermint beverages are equally as popular…and of course, who could forget the massive rush over the limited edition Unicorn Frappuccino
Ethically sourced ingredients
Unlike some other coffee chains, Starbucks goes out of its way to ensure that its coffee beans are ethically sourced. Fifteen years ago, the company developed the Coffee and Farmer Equity (C.A.F.E) Practices criteria, a rigorous list of social and environmental standards that farming operations must pass if they wish to sell their coffee to Starbucks. For twelve consecutive years, the company has been named one of the World's Most Ethical Companies by the Ethisphere Institute—an honor bestowed to only 135 companies in the world.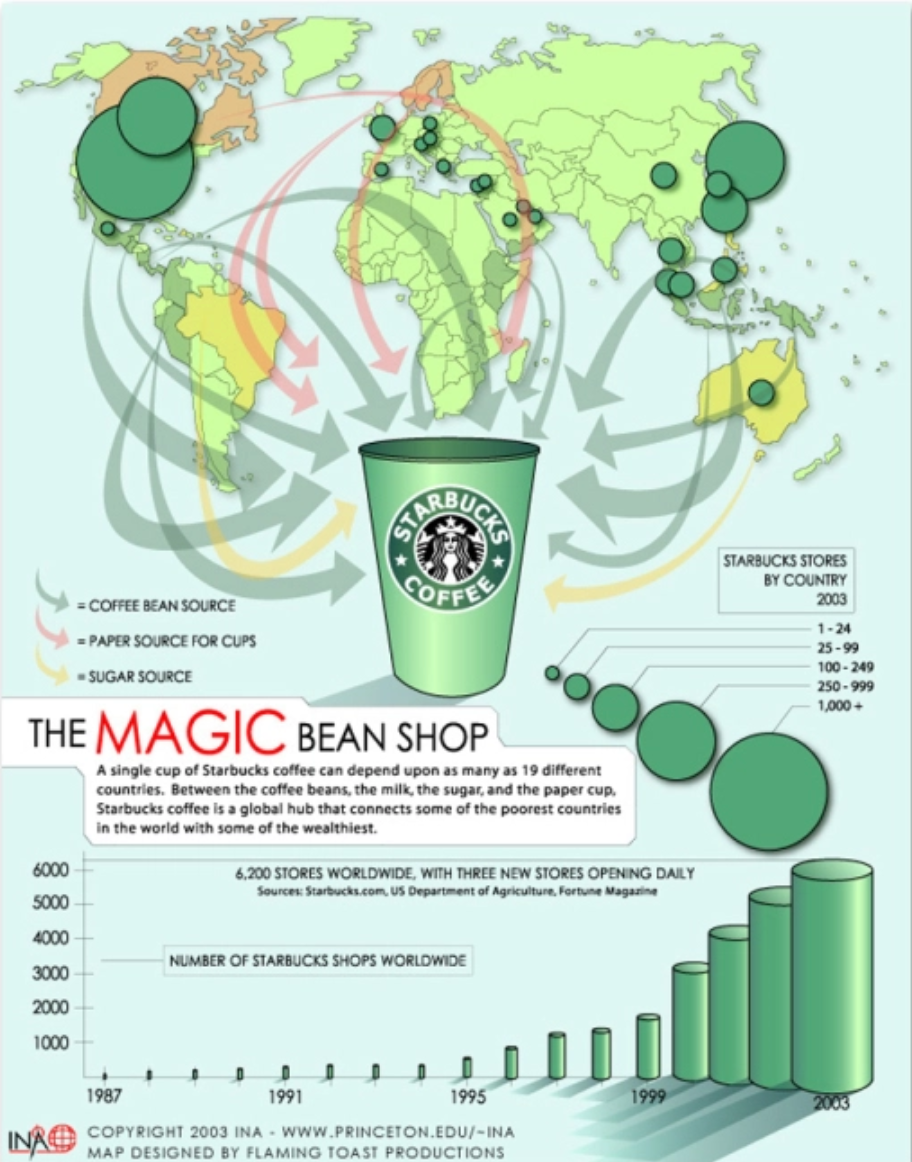 Corporate social responsibility
Starbucks' ethics don't end with its coffee beans—it's also committed to improving the lives of employees as well. The company offers 401(k) matching plans, medical/dental insurance, and even adoption assistance for both full and part-time employees. Starbucks has even partnered with Arizona State University to reimburse tuition for employees who choose to pursue their bachelor's degree online.
Sound like a company you can get behind? Use the following steps to invest in Starbucks stock.
How to Buy Starbucks (SBUX) Stock
Consider buying directly from the company

Starbucks offers a program to allow investors to purchase stock directly from the company—no brokerage firm required. The program is called the Direct Stock Purchase Plan, and you'll need to create an account with Starbucks' partner Computershare to make your first buy.

For more information, visit Computershare's website or give its customer service team a call at 1-888-835-2866 (U.S. and Canada only).

If you're interested in using a brokerage instead, continue to Step 2.

Choose a broker

If you're looking to invest in Starbucks stock the traditional way, your first step is to choose a stockbroker or brokerage firm to complete your buys. Luckily, you no longer have to take a trip to Wall Street to find a broker to work with; platforms like E*Trade, TD Ameritrade, Ally Invest, and countless others have digitized their processes, allowing you to buy and sell stocks online after opening an account.

You'll want to consider a number of factors when choosing your broker, including minimum balances, commissions, fees and educational resources. It's impossible to name a single "best" broker because each firm does some things right and some things wrong. Don't be afraid to "shop around" for brokers before you decide on a firm.

Place an order

After you've chosen your broker and opened an account, it's time to put in a request to buy a stock. Decide how many shares of Starbucks stock you'd like to buy, specify an order type, and place a buy request with your broker.

Understand your rights as a shareholder

As soon as your broker completes the buy, you are officially a shareholder of the Starbucks Corporation. As a shareholder, you own a piece of the company—no matter how small—and you are entitled to dividends from the profits made.

Check out Starbucks dividend and stock split history page to learn more about the company's dividend payout schedule. Though the coffee chain states that future dividends are subject to approval by its board, representatives anticipate payment on a quarterly schedule.
 
Best Online Brokerages
Check out Benzinga's list of the best online brokerages that allow you to open an account from the comfort of your living room. Or, you can take a look at some of our favorites below. 

Best For
Socially Responsible Investing
1 Minute Review
Ally Invest is a comprehensive broker offering easy access to domestic markets. Combining a wide range of charting tools with an easy-to-master platform, Ally is a solid choice for both new and experienced investors. Ally's mobile app is particularly impressive for investors who already bank with Ally, offering seamless compatibility between accounts. While more experienced investors might be disappointed with Ally's beginner-oriented educational center, they're bound to love Ally's wide range of technical tools and rock-bottom pricing.
Best For
Investors who already bank with Ally and want to streamline between accounts
Beginners looking for easy-to-follow educational tools
Stock investors looking for affordable access to low-priced options and commission-free stock trading
Pros
Streamlined interface that's easy to use and quick to master — even for beginners
Wide range of unique tools that makes analyzing securities simple
Seamless integration between mobile and desktop offerings, especially for Ally Bank account holders
Diversified managed investment portfolios with a low minimum and no advisory fees
Impressive ETF screening tools that make it easy to find your next fund
Cons
No fee-free mutual funds
No access to futures trading

1 Minute Review
E*TRADE is an online discount trading house that offers brokerage and banking services to individuals and businesses. One of the first brokers to embrace online trading, E*TRADE not only survived both the dot-com bubble and Recession — it thrived. You can choose from two different platforms (one basic, one advanced). E*TRADE is a suitable broker for traders of most skill levels, whether you want to buy mutual funds and hold them for decades or dabble in options swing trading. E*TRADE offers a library of research and education materials to help you out.
Best For
Active traders
Derivatives traders
Retirement savers
Pros
Sophisticated trading platforms
Wide range of tradable assets
Exceptional customer service
Cons
Limited currency trading
Higher margin rates than competitors
No paper trading on its standard platform

Commissions
$0
$6.95 for OTC Stocks
1 Minute Review
This publicly listed discount broker, which is in existence for over four decades, is service-intensive, offering intuitive and powerful investment tools. Especially, with equity investing, a flat fee is charged, with the firm claiming that it charges no trade minimum, no data fees, and no platform fees. Though it is pricier than many other discount brokers, what tilts the scales in its favor is its well-rounded service offerings and the quality and value it offers its clients.
Best For
Novice investors
Retirement savers
Day traders
Pros
World-class trading platforms
Detailed research reports and Education Center
Assets ranging from stocks and ETFs to derivatives like futures and options
Cons
Thinkorswim can be overwhelming to inexperienced traders
Derivatives trading more costly than some competitors
Expensive margin rates
Place an Order 
Though the specifics of how to place an order will depend on the trading platform you're using, you can watch the video below to see an example:
Conclusion
Though buying a stock may not seem like a big deal, purchasing stock in a company makes you a partial owner of the corporation. One of the biggest mistakes that beginners make is exerting too much effort fruitlessly searching for the tech company that's the next Amazon.com or the tiny healthcare company that's going to discover the cure for diverticulitis and explode in value.
Instead, focus on investing your money in companies whose mission you believe in—but remember to
keep your education
at the forefront of your trading decisions and never invest more than you're willing to lose.How