Want to claim 6 FREE stocks? Head over to Webull to get started.
Now Open!
33.34 – 35.01
21.65 – 141.5999
34.21
593.19M
20.33M/30.07M
20.20B
593.19M
/0%
0.000
362.16M
Roblox Corp. (NYSE: RBLX) released nearly 199 million shares for trading on the New York Stock Exchange on March 10, 2021. Roblox had delayed its initial public offering and now will list its shares directly instead of going the IPO route. Roblox Corp. lists under the ticker RBLX on the NYSE. While the Roblox stock release date has come and gone, you should consider investing in this exploding and profitable market.
Roblox, an online gaming platform created in 2004, allows users to design and create multiplayer games and share them with friends and other users. Roblox offers a free-to-play multiplayer program supported through in-game purchases using "Robux," the platform's digital currency.
Although Roblox has a long history, it recently experienced an explosion of growth resulting from the COVID-19 pandemic as more users explored online gaming communities. Today, Roblox has more than 160 million active users and more than 50% of kids in the U.S. under age 16 play the game.
When Did Roblox Release Its IPO?
Roblox amended its documents to postpone its IPO to February 2021 from Q4 of 2020, then filed an additional amendment, pushing the IPO date to March 10, 2021. Roblox had initially filed for a standard IPO but later opted for a direct listing after DoorDash and Airbnb priced their IPOs below the stock opening prices.
Roblox officially IPO'd March 10, 2021 with a price of $45 per share.
Roblox Financial History
Roblox underwent its first fundraising effort in 2005 when it gained $560,000 in a Series A. Roblox continued to gain funding in proceeding years. In February 2020, the company raised $150 million in Series G, led by venture capital firm Andreessen Horowitz. Roblox currently has an estimated valuation of $29.5 billion, with its most recent fundraising effort drawing in $520 million in a new round of funding that occurred in January 2021.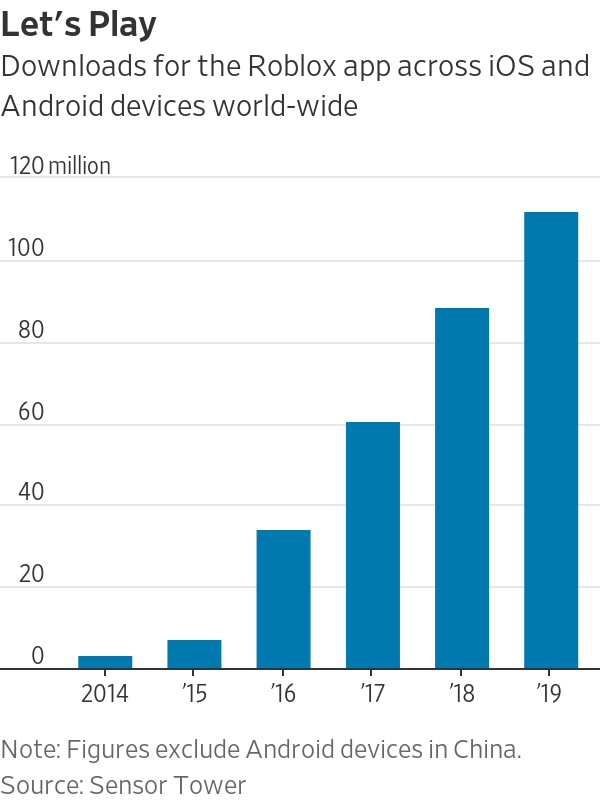 Roblox has a history of successful fundraising efforts in addition to its high download numbers, which exploded during the onset of the COVID-19 pandemic.
In addition to a history of successful venture funding, Roblox's sales have been impressive — especially as 2020 came to a close. Roblox recently announced that its revenues in the first 3 quarters of 2020 reached $613.9 million, more than $25 million than the company's previous estimate of $588.7 million. The company also revised its net losses from the same period from $213.3 million to $194.5 million. The company saw an annual revenue bump of more than 70% when compared to September 2019.
Roblox Potential
The gaming industry has been one of the winners of the onset of the COVID-19 pandemic, with video game sales and stocks outpacing the market at large. Roblox's influence over its younger players also doesn't end online — Roblox has consistently held its position as one of the top-grossing apps on both the Apple and Google app stores.
While it's impossible to deny that Roblox has childrens' attention now and has received generally positive reviews from critics, it has still drawn complaints from parents. In particular, the in-game chat system has been criticized for its loose filter, which fails to completely censor inappropriate content.
In addition to chat features, Roblox has also been panned for its inability to completely remove sexual content from the game. Though sexual content is not allowed on Roblox, the user-generated format of the platform has made it more difficult for the company to completely cut inappropriate games, outfits and features. This issue will require closer attention from developers as the game's user base continues to expand.
How to Buy Roblox (RBLX) Stock
If you are already familiar with how to buy stocks, you likely had everything you need when the IPO was announced. You can track updates on Roblox by following the New York Stock Exchange (NYSE) ticker for Roblox. Never bought a share of stock before? Our guide will help you invest in Roblox's offering and be prepared for your first day of trading.
Pick a brokerage.

As a retail investor, you cannot buy and sell shares of stock directly on the market of your choosing. Instead, you'll need to work through a broker, a financial service company authorized to buy and sell stocks on your behalf according to your instructions.

If you live in the U.S., you won't have trouble locating a broker that can help you invest in a direct listing. Roblox began trading on the NYSE after listing, which every broker offering accounts in the United States supports. This means that you can shop around for brokers and deciding where you'd like to open an account. Some of the factors you may want to consider when you decide where you'd like to open a brokerage account might include:

• Commissions and fees: Some brokers offer commission-free trading, while others charge a small fee when you buy or sell a share of stock. Check each broker's fee schedule so you aren't surprised by trading fees.
• Account types: Do you need to open a Roth IRA, a taxable brokerage account or a different type of trading account? Familiarizing yourself with the types of brokerage accounts can help you choose the best option in terms of tax reporting.
• Access to additional market types: If you're only interested in buying and selling shares of stock that trade on American markets like the NYSE and the Nasdaq, you can typically choose any broker based in the U.S. If you'd like access to foreign markets, cryptocurrency markets or forex trading, choose a broker that offers access to all of the assets you want to add to your portfolio.

Decide how many shares you want.

Next, take a look at the current trading price of Roblox's stock and decide how many shares you'd like to purchase. Roblox opted for a direct listing rather than a traditional IPO, which means that shares will be sold at whatever rate the market determines they're worth.

If you chose to invest in Roblox on the date of its listing, it would've been a good idea to set a budget before the market opened for the day. As is the case with any other stock, don't invest more money than you can afford to lose — it's normal for stocks to dip in value after their initial opening.

Choose your order type.

Once you've decided how many shares of Roblox stock you want to purchase, you can place an order to buy stock through your broker's platform. Most brokers offer access to multiple types of orders. Learn a few of the most common buy orders you'll see.

• Market orders: A market order executes as soon as possible at the current market rate.
• Limit orders: A limit order executes if the price of the stock reaches the limit price you specify when you place the order.
• Trailing stop orders: Trailing stop orders are executed when the price of the stock you're buying rises above a certain percentage or dollar amount at the current market rate.
• Stop orders: Stop orders are executed at the current market rate when the price of the stock you're buying rises above a set price.

The types of orders that you'll have access to will vary depending on the broker you have an account open with.

Execute your trade. 

As soon as you place your order through your brokerage platform, you can relax. Your broker will take care of filling the order on your behalf. 
Best Online Brokers
Not sure where to begin your search? Consider a few of the best brokers we work with below.
Buying Roblox Stock
Though Roblox is currently riding high on a wave of new users, it's important to remember that the current gaming craze isn't guaranteed to last forever. The Roblox stock release date was just the beginning of an investment journey that you can undertake at any time.
If you decide to invest in Roblox, take a long-term approach to evaluate the company. Many stocks decline in value after their initial offerings, so you may want to wait until the has depreciated so that you are not overpaying.