Want to jump straight to the best? Most of our users prefer Interactive Brokers for stock trading.
–
38.475 – 61.71
5.61B
2.75K/27.94M
299.96B
5.61B
1.6/3%
35.360
5.61B
Pfizer could rake in $19 billion from the COVID-19 vaccine in 2021. The company will generate income from the vaccine in the coming years because shot effectiveness may only work in individuals for a year or two. Don't forget that the company has 92 drugs in clinical trials for oncology, rare diseases, vaccines, inflammation, immunology and more.
These strong results have pushed Pfizer's stock prices higher, which may create an opportunity for investors as trials continue. If you're considering investing in Pfizer stock but don't know how to begin, our guide will help you learn more, choose a broker and invest in your first set of shares.
How to Buy Pfizer (NYSE: PFE) Stock
Whether you're buying stocks under $20 to day trade or you're looking for more expensive long-term investments, you'll follow the same process to buy most types of stock. Let's take a look at how to get started investing.
Pick a Brokerage

As a retail investor, you cannot buy and sell shares of stock directly from the companies offering them. However, you can easily access the market through an online broker, which can then buy and sell shares of stock on your behalf, according to directions from you.

Dozens of brokers offer access to the world's markets online.

Decide How Many Shares You Want

After you open your brokerage account, fund your account with the amount of money that you want to invest. Take a look at the current share price of the stock you want to buy and how prices are trending. Calculate how many shares you're interested in purchasing using the current market price as a guide. Remember, there is no guarantee that your investment will increase in value — so never invest more money than you can comfortably afford to lose. 

Choose Your Order Type

After you decide how many shares of stock you'd like to buy, it's time to choose your order type. There are multiple types of orders you can place through your broker, and the order type you choose may dictate how quickly your order is filled and how much you'll pay for each share of stock. Let's take a look at a few key terms and order types you should know before you invest. 

Execute Your Trade

After you've placed your order through your brokerage platform, sit back and relax — your broker will fill the order as the order type you've chosen specified. If you set a limit order that cannot be filled, the broker may cancel the order at the end of the day. You'll usually receive a notification on your platform or by email when your order is filled.  
Best Online Brokers
If you don't already have a brokerage account, consider a few of the best brokers we recommend below.
Order Types
Bid
The bid price shows the highest price that a buyer is willing to pay for a select share of stock. It is not an order type, but it's important to know the current bid so you can decide how much to offer for each share.
Ask
The ask price is the lowest price that someone who owns the stock you want to buy is willing to sell a single share for. Like the bid price, the ask price isn't an order type, but knowing the current ask price can help guide you when deciding how much to offer for each share.
Spread
The spread (or bid-ask spread) is the difference between the bid price and the ask price. If you're buying or selling generally illiquid assets, pay closer attention to the bid-ask spread — a large spread can cause you to pay more when purchasing a stock or sell it for less than you anticipated if you're using a market order. Many illiquid stocks under $10 have larger bid-ask spreads, which can quickly cut into profits.
Limit Order
A limit order is a type of stock trading order that tells your broker that you want to buy a set number of shares of stock at a specific price. If you set a limit order to buy 100 shares of Pfizer stock at $40 per share, for example, your broker will only execute the order if shares of Pfizer stock can be purchased for $40 per share or less. If the price rises above $40, the order might not be executed. Limit orders impose strict pricing control but are less likely to be filled when compared to market orders.
Market Order
A market order is a type of stock order that tells your broker that you want to purchase a select number of shares of stock at the current market rate. When you place a market order, you won't need to specify a price that you want your order to be executed at because your broker will execute the order as soon as possible at whatever price the market is dictating.
Market orders are more likely to be filled than limit orders, but pricing can be variable — you could end up paying a higher price than you see on your brokerage platform as the market fluctuates.
Stop-Loss Order
A stop-loss order is a type of sell order that tells your broker that you want to sell a security if it falls to a certain price. Say you buy 100 shares of stock for $1. You aren't sure if the stock will increase or decrease in price, but you can't afford to lose more than 5% of your initial investment.
In this instance, you might place a stop-loss order at $0.95. If the price of the stock you bought falls to $0.95 per share, your broker will automatically sell your lot at $0.95 per share. Stop-loss orders help investors limit their losses if a security decreases in value after purchase.
Stop-Limit Order
A stop-limit order combines the features of a limit order and a stop order. A stop-limit order gives an investor control over the price of a stock they'd like to purchase over a set period of time.
Imagine that Pfizer stock is currently trading at $40 per share and showing upward momentum. An investor who places a stop-limit order to buy the stock might set a limit price of $50 and a stop price of $45. If the price of Pfizer stock moves above the stop price of $45, the order turns into a limit order that will be executed so long as each share can be purchased for less than $50. If the price rises above the limit of $50 per share, the order will not be filled.
Pfizer Stock History
Headquartered in New York City, Pfizer is among the country's oldest pharmaceutical manufacturers, founded in 1849. Like many companies, Pfizer's stock peaked shortly before the onset of the novel COVID-19 virus, reaching a high price of $40.51 per share on January 13, 2020. The company's stock tumbled to $29.01 per share on March 16, as COVID-19 concerns peaked.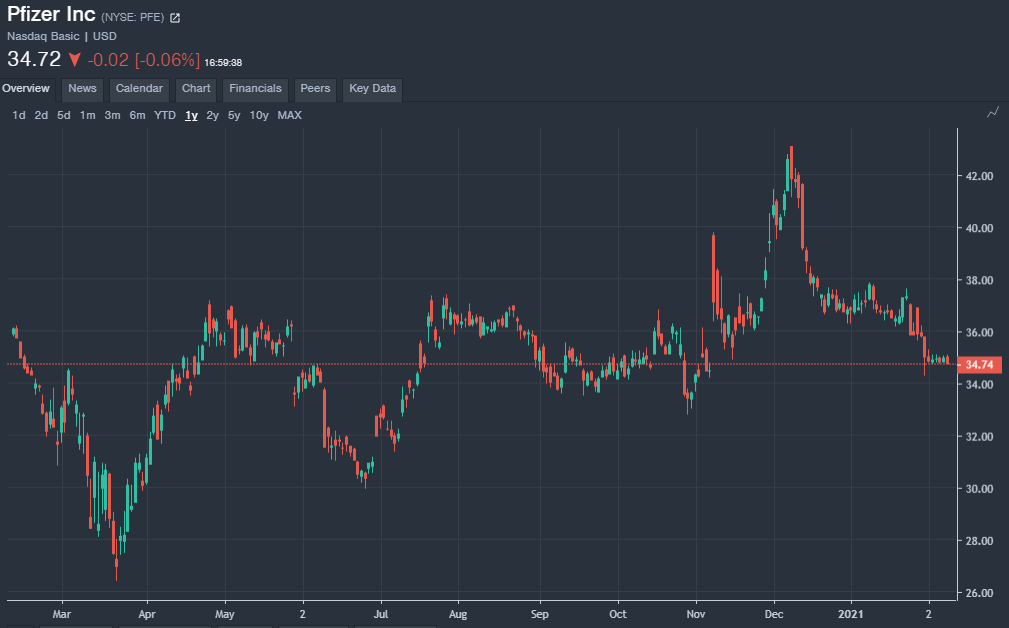 Pfizer's stock has rebounded exceptionally well since the onset of COVID-19 concerns.
Interest in Pfizer stock has sharply increased since November 9, 2020, when the company announced that its experimental COVID-19 vaccination was showing up to 90% efficacy rates. The stock rose 8% on this date, peaking at a price of around $40.75 per share. The stock at publication is trading at $38.78 per share following a sell-off beginning on November 10.
Pros to Buying Pfizer Stock
Many investors are keeping their eyes on Pfizer for the company's experimental COVID-19 vaccination. Although the vaccine isn't likely to be available to the general public before multiple new rounds of testing are completed, results of preliminary tests are showing 90% efficacy rates, well above the FDA's threshold of 50% efficacy for COVID-19 vaccination candidates.
The company has announced that it plans to manufacture up to 50 million doses of the vaccine in 2020 and up to 1.3 billion doses in 2021 if the company's emergency application with the FDA is approved.
The global COVID-19 pandemic has had a major effect on the market as well as the health and safety of millions of men and women around the world. An approved emergency application and patent could cause Pfizer's stock to skyrocket.
Cons to Buying Pfizer Stock
Even if the company's emergency application is approved by the FDA (it currently has not), there is no guarantee that this will have a meaningful effect on the stock's price. Pfizer has agreed to supply the U.S. government with doses of the vaccine at $19.50 per dose, and strong public pressure to keep the vaccination widely available may push this price down more.
Pfizer is not the only company developing a treatment for COVID-19. For example, biotech pharmaceutical company Moderna (NASDAQ: MRNA) is set to announce efficacy rates of its own trial vaccine in as little as a few weeks. Pfizer is also working on the vaccine in conjunction with BioNTech, a Turkish-German biotechnology company, which means that any profits will be split between the 2. Building hype on the initial announcement might cause the stock's price to crash if a competitor is approved by the FDA first.
Investing in Pharmaceuticals
Unlike penny stocks under $5, Pfizer has a company history dating back more than 170 years. This means that, even if COVID-19 trials don't move on as hoped, the stock isn't likely to be delisted or tank anytime soon. However, it's important to remember that every stock has the potential to decrease in value at any time — so be sure to never invest more than you can comfortably afford to lose, no matter what you're buying.
From the Newsdesk: