Benzinga Money is a reader-supported publication. We may earn a commission when you click on links in this article.
Learn more.
Jump straight to Webull! Get real-time market data, analysis tools and $0 commissions.
Canada was the 2nd country in the world to legalize cannabis in October 2018, causing the multi-billion dollar market to develop. Sales of medical and recreational cannabis continued to grow through the COVID-19 pandemic.
In this environment, OrganiGram Holdings Inc. (NASDAQ: OGI) (TSX: OGI) rose as a leading producer of high-quality, indoor-grown cannabis.
Are you thinking about investing in premium cannabis? This short guide will show you how to buy stocks, including OGI.
If you are a first-time investor, you need an account at a brokerage with access to NASDAQ and/or the Toronto Stock Exchange (TSX). You can pick one from our list of the best brokers.
Step 1: Pick a brokerage.
Select a brokerage first. This will depend on your personal preferences and/or your location. Commission-free brokers have been on the rise in recent years, making investing more affordable for beginners. If you like to read through the latest news and research, you might consider a full-service broker instead. Benzinga provides a comprehensive overview of the best brokers below.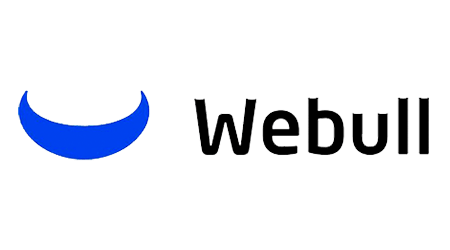 Best For
Intermediate Traders and Investors
Best For
Intermediate Traders and Investors
1 Minute Review
Webull, founded in 2017, is a mobile app-based brokerage that features commission-free stock and exchange-traded fund (ETF) trading. It's regulated by the Securities and Exchange Commission (SEC) and the Financial Industry Regulatory Authority (FINRA).
Webull offers active traders technical indicators, economic calendars, ratings from research agencies, margin trading and short-selling. Webull's trading platform is designed for intermediate and experienced traders, although beginning traders can also benefit.
Webull is widely considered one of the best Robinhood alternatives.
Best For
Active traders
Intermediate traders
Advanced traders
Pros
Commission-free trading in over 5,000 different stocks and ETFs
No account maintenance fees or software platform fees
No charges to open and maintain an account
Leverage of 4:1 on margin trades made the same day and leverage of 2:1 on trades held overnight
Intuitive trading platform with technical and fundamental analysis tools
Cons
Does not support trading in mutual funds, bonds or OTC stocks

1 Minute Review
Robinhood is the broker for traders who want a simple, easy-to-understand layout without all the bells and whistles other brokers offer. Though its trading options and account types are limited, even an absolute beginner can quickly master Robinhood's intuitive and streamlined platform. On the other hand, more advanced traders might be frustrated by Robinhood's lack of technical analysis tools, a feature that's now nearly universal across other platforms.
Best For
Beginner traders
Mobile traders
Pros
Streamlined, easy-to-understand interface
Mobile app with full capabilities
Can buy and sell cryptocurrency
Cons
Almost no trading analysis tools available
Only taxable brokerage accounts available
No option to open a retirement account
No access to mutual funds, forex or futures trading
Limited customer service

1 Minute Review
This publicly listed discount broker, which is in existence for over four decades, is service-intensive, offering intuitive and powerful investment tools. Especially, with equity investing, a flat fee is charged, with the firm claiming that it charges no trade minimum, no data fees, and no platform fees. Though it is pricier than many other discount brokers, what tilts the scales in its favor is its well-rounded service offerings and the quality and value it offers its clients.
Best For
Novice investors
Retirement savers
Day traders
Pros
World-class trading platforms
Detailed research reports and Education Center
Assets ranging from stocks and ETFs to derivatives like futures and options
Cons
Thinkorswim can be overwhelming to inexperienced traders
Derivatives trading more costly than some competitors
Expensive margin rates
Step 2: Decide how many shares you want.
The number of shares depends on the amount of capital you invest and the share price. As OGI currently trades around $4, every $100 invested gets you 25 shares of the company. Some brokers offer fractional share ownership, but since the price of a single OGI share remains low, this should not be a deciding factor. The amount invested depends on your risk tolerance, but you should consider keeping a single stock under 5% of your portfolio allocation. OGI, a growth stock, offers higher potential returns at a higher risk.
Step 3: Choose your order type.
Be careful when placing a trade because not all order types are the same. A market order buys the designated amount at the next available price. If you have a designated entry price, you should consider a limit order. It will buy (or sell) the stock at a specific price or better until your order gets fulfilled.
Bid: The maximum price a buyer is willing to pay for a stock at the moment.
Ask: The minimum price that a seller is willing to accept at the moment.
Spread: The difference between the bid and ask. For example, if the bid for OGI is $3.99 and the ask is $4.01, then the spread is $0.02.
Step 4: Execute your trade.
If you are buying shares for the first time, try out the broker's demo account. Once you have calculated how many OGI stocks you want to buy, you can set an order. On average, OGI has a volume of 67 million shares per day so you shouldn't have too many liquidity-related problems. You own the shares from the moment your order gets filled, so keep an eye on your broker statements.
OGI Stock History
OrganiGram Holdings Inc. was founded in 2010 in Moncton, Canada as a medical cannabis provider, then expanded into the recreational cannabis market. The company produces high-quality, indoor-grown cannabis and extract-based products.
OGI went public in 2014 and has a market cap of $870 million. The company currently operates only in Canada and employs 588 employees. Shares of OrganiGram Holdings Inc. trade on NASDAQ and the Toronto Stock Exchange under the ticker symbol OGI.
The stock recently went on a parabolic bullish move but immediately retracted, but note that the bullish breakout is confirmed by heavy volume. Furthermore, price is consistently reacting from round numbers as support or resistance as indicated on the chart below.
Technical analysis teaches you not to chase the price in such a situation. Observe reaction from the price level like $2, $3 or $4 before making your decision.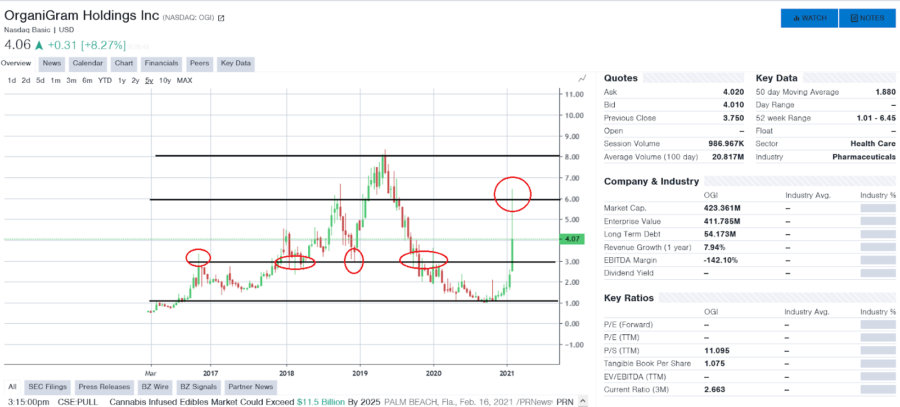 Screenshot from Benzinga Pro on 2/16/2021
Pros to Buying OGI
Cannabis remains one of the most promising growth stories. Read through some reasons why you might want to buy OGI:
Booming market: Despite the pandemic, cannabis sales were up by 75%, growing from CA$150 million to CA$261 million. The cannabis market was worth $20.5 billion in 2020 and could reach $90 billion by 2026, representing a compound annual growth rate (CAGR) of 28%.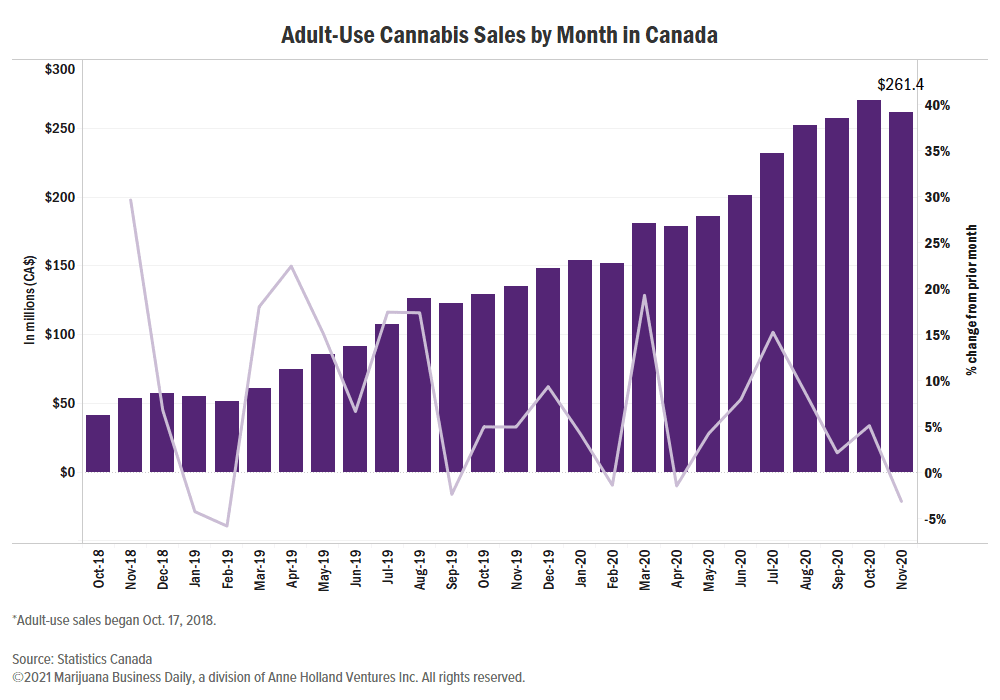 Source: (Statistics Canada/Mjbizdaily)
Quality product: OrganiGram regularly ranks high among competitors at the annual Canadian Cannabis Awards (CCA). Known for its innovative approach, one of the recent additions to its product portfolio includes Edison RE:MIX THC powder — dissolvable cannabis powder for beverage use.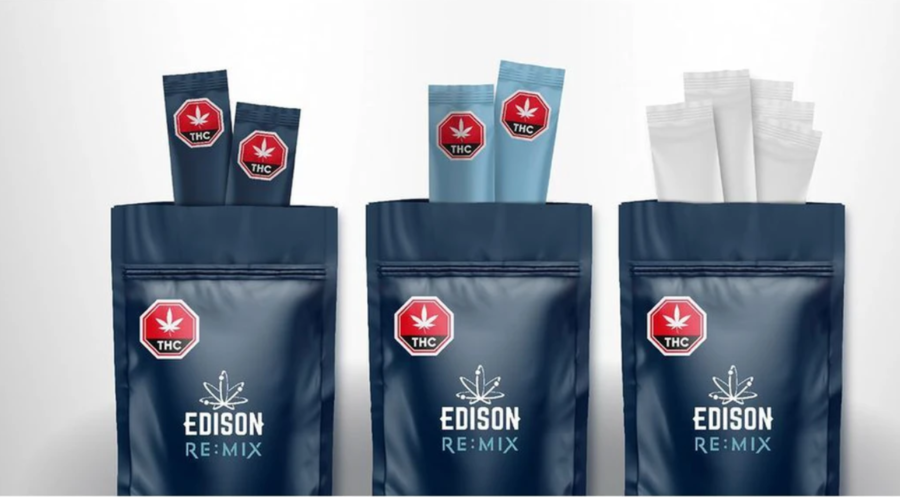 Source (Businesswire)
Successful restructuring: The company reacted to the 2020 downturn by cutting costs and laying off 25% of its staff. In addition to strengthening relations with its credit provider, Bank of Montreal, OrganiGram has a healthy balance sheet. Short-term assets exceed both its long- and short-term liabilities.
Low short interest: After the GME saga, heavily shorted stocks caught the eye of the market. However, with only 3.62% of the float shorted, it seems you won't find many bets against OGI. Heavy buying volume in the recent upward move confirms the bullish stance of the market. Furthermore, records show no insider selling, just insider buying in the last year. Insiders sell for various reasons but they generally buy for only one reason — they expect the stock to go up.
Cons to Buying OGI
Learn more about the risks you might consider with OGI stock:
Poor historical performance: OrganiGram was listed on the NASDAQ in 2014 at a price of $2.02. Recently, it closed at $3.75, representing an unimpressive gain of 86% over 6 years. An investment to the S&P Index in the same period of time returned 245%. Furthermore, the stock's historical low at $0.16 equals the 92% drawdown from the IPO price. Recent earning calls have not shown optimism either, as the company missed earnings forecasts through 2020.
Oversupplied market: Despite the growth of the market, Canada stockpiled cannabis too fast. Current unsold inventory stands at over 1 million kilograms. This inventory could put extra pressure on falling cannabis prices. OGI has had to write down millions of dollars in unsold inventory.
Aphria and Tilray merger: Aphria and Tilray will merge to create the largest Canadian cannabis company by far. As OrganiGram is a niche competitor, the market leader will have a clear advantage in the competitive environment, especially when it comes to economies of scale.
Stock dilution: OrganiGram has steadily increased its share float. Until this trend breaks, new investors risk the dilution of their shares.
Strong Niche Player in a Growing Market
Cannabis remains a strong growth story with a huge opportunity depending on the potential for federal U.S. legalization.
Despite short-term challenges, OGI presents a promising niche story as one of the leading innovators in the premium cannabis market.
Turn to Webull
0 Commissions and no deposit minimums. Everyone gets smart tools for smart investing. Webull supports full extended hours trading, which includes full pre-market (4:00 AM - 9:30 AM ET) and after hours (4:00 PM - 8:00 PM ET) sessions. Webull Financial LLC is registered with and regulated by the Securities and Exchange Commission (SEC) and the Financial Industry Regulatory Authority (FINRA). It is also a member of the SIPC, which protects (up to $500,000, which includes a $250,000 limit for cash) against the loss of cash and securities held by a customer at a financially-troubled SIPC-member brokerage firm.