If you're looking for an established token with a low circulating supply and a lot of potential, OKB token just might be for you. OKB token is the utility token for the crypto exchange OKEx, one of the leading crypto exchanges by volume.
OKB has a market cap of just over 1.6 billion and is ranked number 72 on CoinMarketCap, giving it plenty of room to grow. OKB token is up over 300% for the year but still down over 40% from its all-time high set on May 3, 2021. Depending on how Bitcoin performs moving forward, OKB has a good chance of setting a new all-time high over the next few months.
Disclosure: ²Sum of median estimated savings and rewards earned, per user in 2021 across multiple Coinbase programs (excluding sweepstakes). This amount includes fee waivers from Coinbase One (excluding the subscription cost), rewards from Coinbase Card, and staking rewards. ³Crypto rewards is an optional Coinbase offer. Upon purchase of USDC, you will be automatically opted in to rewards. If you'd like to opt out or learn more about rewards, you can click here. The rewards rate is subject to change and can vary by region. Customers will be able to see the latest applicable rates directly within their accounts.
What is OKB Token?
OKB token is a global utility token for OKEx that operates on the OKChain blockchain and relies on proof-of-stake consensus. Investor Star Xu founded OKEx in 2014; OKEx is a world-leading crypto spot and derivatives exchange based in Malta. OKEx has over 20 million users and is available in over 200 countries.
OKEx and the OK blockchain foundation released the OKB token in March of 2018. When it was initially released, OKB was running on the Ethereum blockchain as an ERC-20 token. On Feb. 11, 2020, OKEx announced the launch of OKChain, which is an OKEx owned public blockchain. OKEx then migrated OKB from the Ethereum blockchain to OKChain.
The OKB token is used to make payments on the OKEx exchange. By holding it, you also receive trading fee discounts. Holding it will also give you access to the OK Jumpstart initial exchange offering (IEO) platform. You will also have voting rights for new tokens to be listed on OKEx.
Brief History of OKB Token
The OK Blockchain Foundation and Maltese crypto exchange OKEx launched the OKB token in March 2018 as a direct listing on OKEx. OKB has a circulating supply of only 60 million with a 300 million total supply. The maximum supply is 1 billion, but 700 million of those are locked up until next year.
OKB token has a buyback and burn program to help keep the price of the token high. Every three months, 30% of the income from OKEx spot trading fees is used to buy back tokens which are then burned, reducing the total supply. To date, over 34 million OKB tokens have been burned. The all-time high for OKB token is $44.17, set on May 3, 2021.
How to Buy OKB Token
Now that you have read some specifics about the OKB token, you may be wondering. How do I buy it? Keep reading; the information that follows will help answer how to buy OKB tokens.
Open an online account.

The easiest way to buy OKB tokens is to open an account at either FTX or Gate.io. Both are very well-established and reputable exchanges, with each having a vast selection of cryptocurrencies and offering many other services.

Opening an account at either is very straightforward and only takes a few minutes. Once you have opened your account, you will be able to link your bank account so that you can transfer fiat to start making purchases. You can also use a debit or credit card to deposit funds into your account or make purchases.

Buy a wallet.

If you are going to start buying OKB tokens or any other cryptocurrency for that matter, it is best not to store them on an exchange. It is generally safer to transfer them into some sort of a cryptocurrency wallet.

Your wallet selection will be determined by how secure you want it to be and how active you are with your cryptocurrencies. If you are more of a buy-and-hold investor, a cold storage hardware wallet would be best for you. On the other hand, a hot storage software wallet might be more convenient if you are an active trader.

Make your purchase.

Okay, now you have opened an account at a crypto exchange and have a hardware or software wallet. The next step is to buy some OKB tokens and transfer them to your wallet. You can purchase OKB with funds you transferred in via your bank or a debit or credit card.

A word of caution about transferring your OKB tokens or any cryptocurrency is always to make sure you are transferring to the correct wallet address. Another tip is to always double and triple-check the address you are sending to for correctness. It is good practice to check the first 4 and last 4 characters to ensure they are correct. Transferring to an incorrect address would be a terrible way to lose cryptocurrency.
Best Crypto Wallets For OKB
Best Hardware Wallet: Trezor
The Trezor hardware wallet was the first Bitcoin hardware wallet when it launched in 2014. It offers both the security of a cold storage wallet and the ability to spend with the convenience of a hot wallet.  Because you can disconnect it from the internet, a cold storage wallet is the most secure way to store your cryptocurrencies. The Trezor supports over 1000 cryptocurrencies and comes in 2 models: the Trezor One and Trezor Model T.
Best Software Wallet: Coinbase Wallet
The Coinbase team developed Toshi in 2017, and it was the first iteration of the Coinbase wallet. Coinbase dropped the Toshi name in 2018, and the wallet became known from then on as the Coinbase wallet. The Coinbase wallet supports over 500 coins and tokens as well as NFTs. The wallet is available as a mobile application and also as a Google Chrome extension. For convenience, it is also possible to link the mobile wallet with the Chrome extension.
The Coinbase wallet is one of the most secure software wallets that you can find. One of the essential security features used is Secure Enclave. Secure Enclave is a chip in your phone that secures your biometric data like touch ID or face ID.
One of the most critical features of Secure Enclave is a private key generated on the Secure Enclave cannot leave the Secure Enclave. Coinbase wallet also uses 2-factor authentication and SMS authentication via a verified phone number to access the wallet. You can also create a 4-digit security pin to secure your wallet further.
The Coinbase wallet is decentralized and, as such, can be connected to decentralized exchanges, DeFi protocols, and other crypto apps. Also, you do not need a Coinbase account to use the Coinbase wallet.
BZ
Bonus Section
Watch Bitcoin for clues to where the rest of the crypto market is heading. If the price of Bitcoin moves significantly higher from here, the price of the OKB token could easily set a new all-time high over the next couple of months.
Trade, Sell or Convert your OKB Token
The decision to trade, sell, or even convert your OKB tokens is a personal decision each person must make for themselves. A lot will depend on if this is just a quick trade or a longer-term investment. It will also depend on your average price (are you sitting on a profit or a loss?), how large your position is, and even overall market conditions. Trading and selling can be part of the same process or completely different. Buying and selling are both a part of trading, but selling is also part of long-term investing.
Another option other than selling your OKB tokens would be to convert them to another cryptocurrency. On FTX exchange, you can convert from the wallet page, choose OKB token, then click on convert, which will bring up the convert panel.
Next select OKB from the selection in the "From Coin" area. Then you will enter the coin or token you would like to convert into. The last step is entering how many of your OKB tokens you want to convert. If you're going to convert all of them, just click on MAX. On FTX exchange, there is no fee for conversions.
FTX Conversion Panel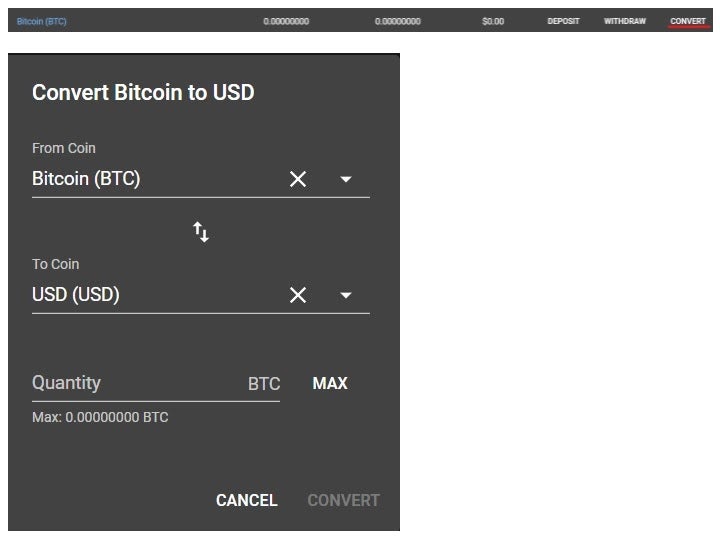 Current Crypto Prices
The whole crypto market made a fantastic run from October 2020 through April of this year. We saw Bitcoin peak at just under $65K on April 14, 2021, but over the next few months, Bitcoin and much of the rest of the crypto market experienced a significant pullback. After a typically bad September, Bitcoin has now rebounded to set a new all-time high. However, that rebound
caused Bitcoin to become a bit overextended and, as expected, led to a slight pullback.
Where Bitcoin goes from here is still unknown, but a period of consolidation before continuing higher would be healthy. The rest of the crypto market is a mixed bag, with some altcoins near all-time highs and others still significantly below. Bitcoin still seems to lead the market, so keep an eye on Bitcoin for clues to where the overall market is heading.
Is OKB Token a Good Investment?
OKB token has a lot of positives going for it. It is a well-established utility token that is part of one of the largest crypto exchanges in the world. It currently has a small circulating supply; but, how this is affected by unlocking the additional 700 million tokens next year is unknown. OKB token can be considered a solid investment, especially if a dollar-cost averaging into a position. 
The Crypto Rocketship: Weekly Newsletter
Exclusive Crypto Airdrops
Altcoin of the Week
Insider Interviews
News & Show Highlights
Completely FREE