The NBA has recently teamed up with Dapper Labs to create a digital version of NBA trading cards. However, these digital collectibles aren't cards at all.
Instead they're collectible in-game highlights from NBA players called Top Shots. NBA Top Shot releases packs of Top Shots on its website every so often, and they sell out quickly. The technology that makes these digital collectibles possible are non-fungible tokens.
Unlike most NFTs, Top Shots aren't ERC-721 tokens, instead these collectibles are NFTs on the Flow Blockchain, a blockchain created by Dapper Labs for NFTs. After Dapper labs clogged the Ethereum network in 2017 with Cryptokitties, they opted to create their own blockchain network for Top Shot.
Typically, non-fungible tokens use Ethereum's blockchain to make it impossible to duplicate the collectible. Ethereum tokens used for digital art, concert tickets and collectibles all use the ERC-721 token standard for Ethereum tokens. What makes ERC-721 tokens special is that they're non-fungible, meaning that each token is capable of holding a distinct value.
NBA Top Shots NFTs
The NBA Top Shots are digital collectibles that may be the next evolution of trading cards. However, these collectibles hardly resemble a physical NBA trading card. Top Shots main feature is player highlight video clips.
For example, the Lebron James Dunk Top Shot features Lebron James dunking on the Houston Rockets. This Top Shot is particularly sought after and extremely limited –– the highest sold edition sold for north of $200,000. Other Top Shots are as cheap as $5, and you can view the transaction history for each collectible to get an idea of how its value has changed over time.
How to Buy NBA Top Shots NFT
Make an NBA Top Shot account. 

To make an NBA Top Shot account, visit nbatopshop.com and click sign up. You can sign up with an email or by connecting your google account to the website.

Next you'll be prompted to copy a one-time code you can use to recover your account –– make sure to save this somewhere safe in case you ever need it. After this, you'll be greeted with some videos explaining what NBA Top Shots are and how to go about purchasing them. 

Buy a wallet (optional).

If you plan on holding your NBA Top Shots NFTs for the long term, you should transfer your collectibles to your Dapper Wallet. Dapper makes a special wallet to use for the Flow Blockchain, and you can download it from Dapper's website. Cryptocurrency wallets are a much safer way to store your crypto assets; leaving your NFTs or cryptocurrency on an exchange puts your assets at risk of being hacked. Since these NFTs are on the Flow blockchain, you can't store your Top Shots on an Ethereum wallet like other NFTs.

Buy a piece from the collection.

You can either buy singular Top Shots on the secondary marketplace or purchase card packs from NBA Top Shots directly. Currently, all card packs are sold out and often sell out extremely quickly after the release.

NBA Top Shot has 2 types of card packs: a base set and a Rising Stars pack. The base set sells for $9, while the Rising Stars pack retails for $199 and gives you a much better chance at a rare collectible.

If you're unable to buy a pack of Top Shots when they're released, then you'll need to buy the collectibles on the secondary marketplace. Purchasing from the secondary marketplace also lets you choose which card you want to buy.
Best Crypto Wallets
Here are the best software and hardware wallets to store your NBA Top Shot NFTs.
Best Software Wallet: Dapper
Dapper has its own unique software wallet you can store your NFTs on securely. The application is free to use, and you can create a new software wallet in just a few minutes. Since this software wallet works specifically for the Flow blockchain, you can't store Ethereum-based NFTs in this wallet. If you try to send other types of NFTs to your Dapper wallet, your collectibles will be lost in the blockchain transaction.
Best Hardware Wallet: Ledger Nano S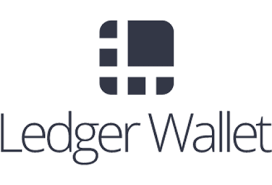 buy now
securely through Ledger Hardware Wallet's website
1 Minute Review
Launched in 2014, Ledger has transformed into a fast-paced, growing company developing infrastructure and security solutions for cryptocurrencies as well as blockchain applications for companies and individuals. Born in Paris, the company has since expanded to more than 130 employees in France and San Francisco.
With 1,500,000 Ledger wallets already sold in 165 countries, the company aims at securing the new disruptive class of crypto assets. Ledger has developed a distinctive operating system called BOLOS, which it integrates to a secure chip for its line of wallets. So far, Ledger takes pride in being the only market player to provide this technology.
Best For
ERC-20 tokens
All experience levels
Pros
Easy to set up and use
Supports more than 1,500 different digital assets
Tamper proof
Portable
Long-lasting battery
Bluetooth connectivity features
The safest way to store your NFTs and cryptocurrency is with a hardware wallet. Hardware wallets are physical devices that store your cryptocurrency offline, making it impossible for your assets to be stolen by online hackers.
Ledger is one of the most well known hardware wallet producers on the market. They offer a few products, most notably the Ledger Nano S and the Ledger Nano X. Both these hardware wallets serve the same function, but the Nano X is Ledger's more premium wallet.
The Ledger Nano S comes in at an affordable price for most crypto investors, coming in at just over $50. If you opt for the Ledger Nano X, expect to pay north of $100.
Best Cryptocurrency Exchange Platforms
Cryptocurrency exchanges let you purchase crypto using your bank account. In order to buy Ethereum, Bitcoin or Bitcoin Cash, you'll need to use a cryptocurrency exchange. Alternatively, if you know someone who owns cryptocurrency, you could buy it directly from them and have the seller send the crypto to your cryptocurrency wallet.
Some popular exchanges that make it easy to buy and sell cryptocurrency are Gemini, Coinbase and eToro.
Coinbase is especially secure. It stores 98% of investors funds in a hardware wallet, leaving the other 2% on the exchange for liquidity. These exchanges all have easy to use interfaces and support all 3 of the cryptocurrencies that NBA Top Shots accepts.
Current Crypto Prices
Non-fungible tokens have gained popularity alongside the current cryptocurrency bull market. The entire cryptocurrency market cap has appreciated hundreds of billions of dollars this year alone.
Typically, large market capitalization cryptos are less volatile than small market cap coins and are regarded as a less risky investment. To get an idea of the cryptocurrency market sentiment, you can monitor how the price of large cryptocurrencies like Bitcoin and Ethereum are moving.
NBA Top Shots or Traditional Cards?
Since NBA Top Shots are digital collectibles, they can offer more than traditional trading cards. These collectibles are cube-shaped, and each face of the cube has different features. The collectibles feature in-game clips of different basketball players, as well as game records and a picture of the player featured on the card. 
If NBA Top Shots replace NBA playing cards in the future, the initial releases will likely be worth a lot of money someday, like rare trading cards from the 1950s.
Frequently Asked Questions
When did NBA Top Shot start?
NBA Top Shot started in October 2020. Since its inception, the company has transacted over $230 million of Top Shots on its website. The company is a joint venture between the NBA and Dapper Labs, the developer of the popular crypto game, CryptoKitties. 
Answer Link
Top Shot is a platform where you can buy and sell digital basketball collectibles. It's powered by the Flow Blockchain made by Dapper Labs, and it uses non-fungible tokens to authenticate its digital collectibles. If a token is non fungible, then each token can hold a distinct value, allowing for collectibles like trading cards to be tokenized on the blockchain.
Answer Link