Want to claim 6 FREE stocks? Head over to Webull to get started.
Micron Technology, Inc. (NASDAQ: MU) celebrated its 40th birthday this year and also reached its highest market capitalization, $72.62 billion, on May 29. Since then, the market has turned bearish, and Micron, one of the world's leading memory solutions companies, is trading below $50 billion.
Micron at a glance
Micron was founded in 1978 by four individuals in the basement of a dental office in Boise, Idaho. In its early days, its core business involved consulting for semiconductor companies. It had only one customer, Mostek, and the loss of this contract led to a new chapter for Micron. The company began producing DRAM chips. In 1984, it broke ground on its first fabrication site in Boise.
Micron's innovative success helped the company to reduce costs and stay in the game during periods when memory chip prices were low. Micron used periods of the chip market downturn to acquire assets:
1998 it purchased Texas Instruments' worldwide memory operations.

2002 it acquired Toshiba's commodity DRAM operations.

2010 it acquired Numonyx B.V., STMicroelectronics, N.V., and Francisco Partners.

2013 it acquired Elpida Memory, Inc. and Rexchip Electronics Corporation.

2015 it acquired Tidal Systems, Convey Computer, and Pico Computing.

2016 it acquired Inotera Memories.
History of MU
J.R. Simplot, an Idaho potato farmer, was one of Micron's first investors. In 1980, he invested $1 million in Micron, and the company went public in 1984 at a price of $14 per share and since its Initial Public Offering (IPO), it underwent three stock splits:
5-to-2 split (April 19, 1994)

2-to-1 split (May 23, 1995)

2-to-1 split (May 2, 2000)
An investment of $100 in Micron at its IPO price of $14, without reinvesting dividends, would be worth around $3,000 at the October 12 close price of $42.47 per share.
Why purchase Micron?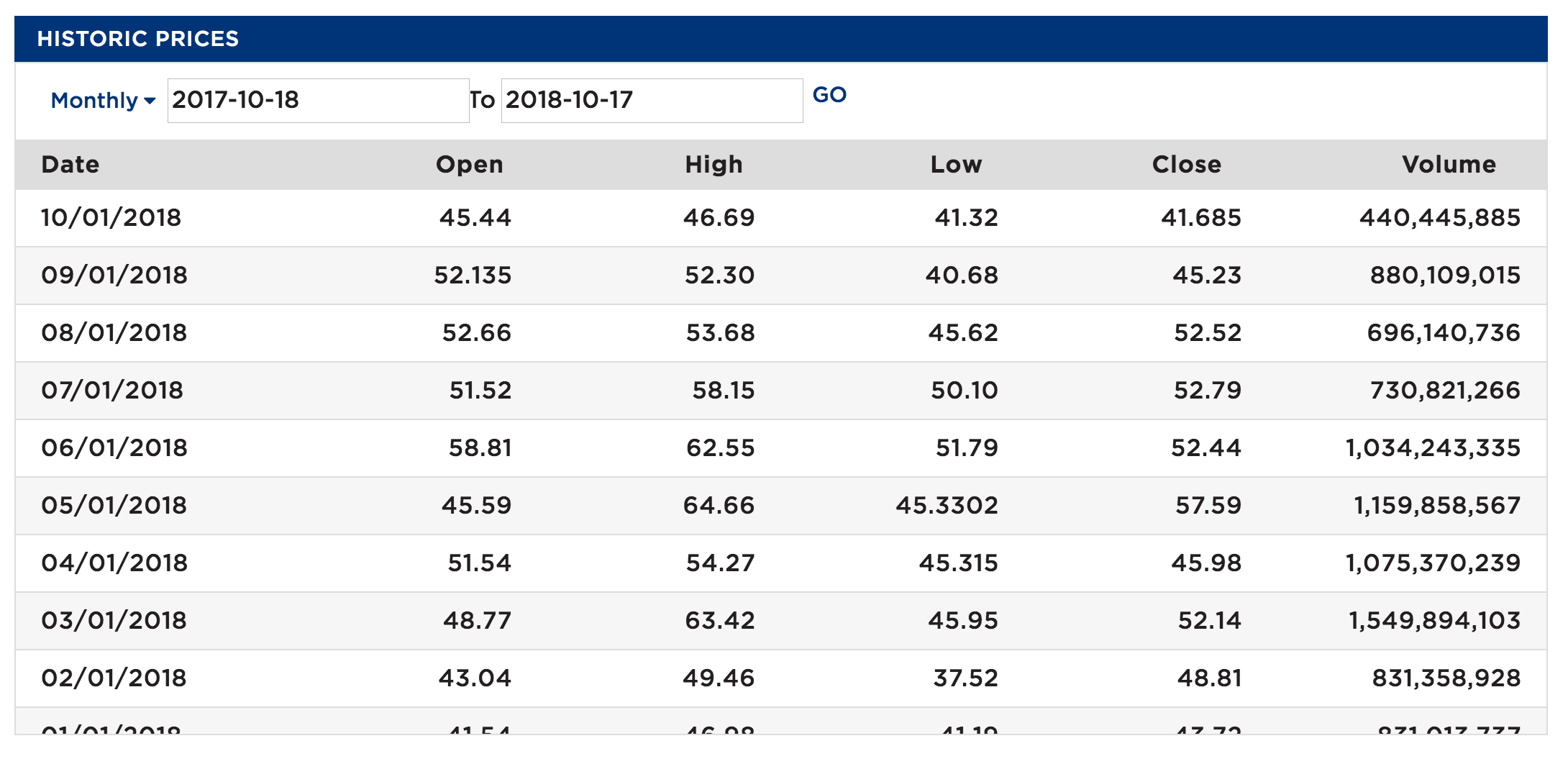 Pros of purchasing Micron stock:
Low forward price-to-earnings ratio. The next year price-to-earnings is 4.02.

Double-digit sales growth. Micron grew sales at the five-year average of 14.1% and in the last year, increased sales by almost 50%.

Micron has significantly decreased its debt in the last year.

The company unrolled an aggressive stock repurchase program of $10 billion.
Cons of purchasing Micron stock:
The memory chips price is cyclical and NAND and DRAM memory could see a decrease in the next year.

Several analysts reduced their price targets for the stock.

Micron has factories in China and might be affected by tariffs.
How to purchase MU
Here's how you can buy Micron Technology shares today.
Decide on the size of the investment

When you are buying a stock, you should know how it fits your portfolio. Technology stocks can be volatile and could increase the total risk of your portfolio. It is very important to be comfortable with the risk, so adjust the size of the investment according to your risk tolerance.

Pick a broker

With Benzinga's help, you can find a suitable broker for you. All you have to do is open an account, transfer money and place a buy order.

Buy the stock

The easiest way to buy a stock is to place a market order. With a market order, you get your shares at the current market price. This means that you will pay the ask price that is available at the moment of the purchase.

Buying shares like this can lead to some slippage from the price you wanted. There is also a possibility of placing a limit order. With this type of order, fix a price you want and if the market trades lower and hits your price, you'll buy the shares.
Best Online Brokers
 Don't have a brokerage account? Don't worry. Here are a few of Benzinga's favorites

Best For
Socially Responsible Investing
1 Minute Review
Ally Invest is a comprehensive broker offering easy access to domestic markets. Combining a wide range of charting tools with an easy-to-master platform, Ally is a solid choice for both new and experienced investors. Ally's mobile app is particularly impressive for investors who already bank with Ally, offering seamless compatibility between accounts. While more experienced investors might be disappointed with Ally's beginner-oriented educational center, they're bound to love Ally's wide range of technical tools and rock-bottom pricing.
Best For
Investors who already bank with Ally and want to streamline between accounts
Beginners looking for easy-to-follow educational tools
Stock investors looking for affordable access to low-priced options and commission-free stock trading
Pros
Streamlined interface that's easy to use and quick to master — even for beginners
Wide range of unique tools that makes analyzing securities simple
Seamless integration between mobile and desktop offerings, especially for Ally Bank account holders
Diversified managed investment portfolios with a low minimum and no advisory fees
Impressive ETF screening tools that make it easy to find your next fund
Cons
No fee-free mutual funds
No access to futures trading

1 Minute Review
E*TRADE is an online discount trading house that offers brokerage and banking services to individuals and businesses. One of the first brokers to embrace online trading, E*TRADE not only survived both the dot-com bubble and Recession — it thrived. You can choose from two different platforms (one basic, one advanced). E*TRADE is a suitable broker for traders of most skill levels, whether you want to buy mutual funds and hold them for decades or dabble in options swing trading. E*TRADE offers a library of research and education materials to help you out.
Best For
Active traders
Derivatives traders
Retirement savers
Pros
Sophisticated trading platforms
Wide range of tradable assets
Exceptional customer service
Cons
Limited currency trading
Higher margin rates than competitors
No paper trading on its standard platform

Commissions
$0
$6.95 for OTC Stocks
1 Minute Review
This publicly listed discount broker, which is in existence for over four decades, is service-intensive, offering intuitive and powerful investment tools. Especially, with equity investing, a flat fee is charged, with the firm claiming that it charges no trade minimum, no data fees, and no platform fees. Though it is pricier than many other discount brokers, what tilts the scales in its favor is its well-rounded service offerings and the quality and value it offers its clients.
Best For
Novice investors
Retirement savers
Day traders
Pros
World-class trading platforms
Detailed research reports and Education Center
Assets ranging from stocks and ETFs to derivatives like futures and options
Cons
Thinkorswim can be overwhelming to inexperienced traders
Derivatives trading more costly than some competitors
Expensive margin rates
Future outlook for Micron
All indicators point to Micron as being undervalued, but some could say that it's cheap for a reason. A decline in Micron's profit, under the impact of the expected decline in DRAM and NAND prices and the US-China tariffs could change the ratio and make the stock less attractive.
Although the company faces some headwinds, it's also financially stable enough to overcome these difficulties. It recently lowered its debt and it has an attractive share repurchase program, which could provide some support for the stock price. If you plan to buy Micron, it could be a good idea to do it gradually. There's no need to rush in to buy, especially since the market is currently under pressure.