Benzinga Money is a reader-supported publication. We may earn a commission when you click on links in this article.
Learn more.
| Symbol | Company | % Change | Price |
| --- | --- | --- | --- |
| BNTX | BioNTech | | $109.99 |
Shares of German pharmaceutical company BioNTech SE (NASDAQ: BNTX) have been on a steady price climb since the company's partner Pfizer (NYSE: PFE) announced that its trial vaccination for the COVID-19 virus was showing efficacy rates of over 90%. BioNTech co-Founder and Chief Executive Ugur Sahin has shown confidence in the trial vaccination, telling the BBC that he believed the vaccination has the potential to bring about a "normal winter" by next year.
Though BioNTech and Pfizer are unlikely to announce that their vaccines are available at your local pharmacy anytime soon, BioNTech's rising stock prices may provide an opportunity for investors. If you're considering investing in BioNTech stock but aren't sure where to begin your research, start with our complete guide to brokers, investment possibilities and more.
How to Buy BioNTech (NASDAQ: BNTX) Stock
No matter if you're searching for stocks under $20 to add to your portfolio or more expensive, longer-term investments like BioNTech stock, you'll follow the same basic process when you invest. Here's how to get started.
Pick a Brokerage
As a retail investor, you cannot buy and sell shares of stock directly on an exchange like the New York Stock Exchange or the NASDAQ. Instead, you'll make your investments by working through a broker, which is a financial company licensed to buy and sell shares of stock on your behalf. You'll provide instructions to your broker through the broker's online platform, and the broker will then execute the order on your behalf.
If you already have a brokerage account, log into your online platform before proceeding. If you don't have a brokerage account, consider choosing 1 of our favorite providers below and open an account.
1 Minute Review
Webull, founded in 2017, is a mobile app-based brokerage that features commission-free stock and exchange-traded fund (ETF) trading. It's regulated by the Securities and Exchange Commission (SEC) and the Financial Industry Regulatory Authority (FINRA).
Webull offers active traders technical indicators, economic calendars, ratings from research agencies, margin trading and short-selling. Webull's trading platform is designed for intermediate and experienced traders, although beginning traders can also benefit.
Webull is widely considered one of the best Robinhood alternatives.
Best For
Active traders
Intermediate traders
Advanced traders
Pros
Commission-free trading in over 5,000 different stocks and ETFs
No account maintenance fees or software platform fees
No charges to open and maintain an account
Leverage of 4:1 on margin trades made the same day and leverage of 2:1 on trades held overnight
Intuitive trading platform with technical and fundamental analysis tools
Cons
Does not support trading in mutual funds, bonds or OTC stocks
1 Minute Review
TradeStation is for advanced traders who need a comprehensive platform. The brokerage offers an impressive range of investable assets as frequent and professional traders appreciate its wide range of analysis tools. TradeStation's app is also equally effective, offering full platform capabilities.
Best For
Advanced traders
Options and futures traders
Active stock traders
Pros
Comprehensive trading platform and professional-grade tools
Wide range of tradable securities
Fully-operational mobile app
Cons
Confusing pricing structure to leave new traders with a weak understanding of what they pay
Cluttered layout to make navigating TradeStation's platform more difficult than it should be
1 Minute Review
This publicly listed discount broker, which is in existence for over four decades, is service-intensive, offering intuitive and powerful investment tools. Especially, with equity investing, a flat fee is charged, with the firm claiming that it charges no trade minimum, no data fees, and no platform fees. Though it is pricier than many other discount brokers, what tilts the scales in its favor is its well-rounded service offerings and the quality and value it offers its clients.
Best For
Novice investors
Retirement savers
Day traders
Pros
World-class trading platforms
Detailed research reports and Education Center
Assets ranging from stocks and ETFs to derivatives like futures and options
Cons
Thinkorswim can be overwhelming to inexperienced traders
Derivatives trading more costly than some competitors
Expensive margin rates
Decide How Many Shares You Want
After opening your brokerage account, you'll need to add funds to trade with. Most brokers allow you to do this by linking your bank account and initiating a direct transfer through your brokerage platform. If you've just opened your brokerage account, you might need to verify your bank account before you can start a fund transfer.
Take a look at the current price of BioNTech stock and decide how much money you can afford to invest. Calculate how many shares you can purchase with your investment funds using the current market price of a single share of stock. Remember that there is no guarantee that BioNTech's stock will increase in value — so never invest more money than you can afford to lose.
Choose Your Order Type
After deciding how many shares of stock you want to buy, place an order through your broker's platform. An order is a set of instructions that tells your broker which stock you want to buy and the price that you want to buy it at. The best brokers offer you a wide range of order types, so understanding the difference between each type is important. The order that you choose can affect how much you pay for each share of stock.
Bid
The bid price is the highest price that a buyer is currently willing to pay for 1 share of any given stock. Though a bid price isn't a type of order, tracking how the bid price is changing can help you buy in at the most advantageous time.
Ask
The ask price is the lowest price that an investor is willing to sell a single share of any given stock for. Like the bid price, the ask price can help you decide when is the best time to place your order.
Spread
The spread is the difference between the bid price and the ask price. Be sure to pay special attention to the spread if you're buying or selling a less liquid asset with a lower daily volume. Some stocks under $10 have high bid-ask spreads, which can cause you to pay more for a single share of stock than you anticipated or sell it off for less.
Limit Order
A limit order is a type of order that tells your broker that you want to purchase stocks at or below a certain price point. For example, imagine that shares of BioNTech stock are currently trading at $100 per share. You might place a limit order for 100 shares of BioNTech at $100 per share.
Your broker will execute the order only if it's possible to purchase each share for $100 per share or less. If the price of BioNTech stock rises above $100 per share, the broker won't fill the order. Limit orders are less likely to be filled when compared to market orders but they offer you the benefit of knowing exactly how much money you'll pay for each share you invest in.
Market Order
A market order is an order type that tells your broker that you want to purchase a select number of shares of a stock at the current rate — no matter what that price is. When your broker receives a market order, they will fill the order as soon as possible at the current market price.
Market orders are more likely to be filled than limit orders. However, you could pay more for each share than the price you see on your brokerage account when you place the order because market prices are constantly fluctuating.
Stop-Loss Order
A stop-loss order is a type of sell order that prevents you from excessive loss. Stop-loss orders execute if the price of a stock falls to a certain level.
For example, imagine that you purchase 10 shares of stock for $100 per share. You could set a stop-loss order for $95, which means that your broker would automatically sell your shares if the price of the stock falls to $95. This prevents you from losing more than 5% of your initial investment.
Stop-Limit Order
A stop-limit order combines characteristics from both a limit order and a stop order. This type of order gives you more control over the conditions you'd like to place an order under.
For example, imagine that shares of BioNTech are currently trading at $100 per share and showing upward momentum. You might place a stop-limit order with a limit price of $115 and a stop price of $105. In this example, if the price of BioNTech hits $105 per share, the order turns into a limit order, and your broker will execute the order so long as shares can be bought before the limit price of $115 is reached.
Execute Your Trade
After you've placed your order, you can sit back and relax. Your broker will execute the order as you've directed. If you've placed an order that cannot be filled by the end of the day, your broker will usually cancel the order.
BioNTech Stock History
Headquartered in Mainz, Germany, BioNTech is a pharmaceutical company with a history dating back to 2008. Prior to its partnership with Pfizer, the company specialized in creating individualized cancer immunotherapies, vaccinations and protein replacement therapies. BioNTech's vaccinations rely on the manipulation of messenger RNA.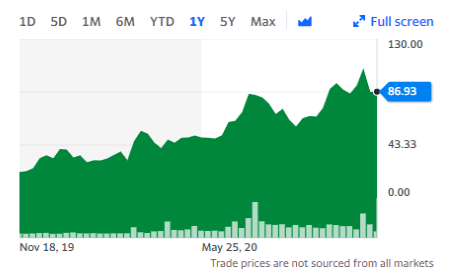 BioNTech's stock has seen steady upward momentum, even through the COVID-19 pandemic.
BioNTech's stock has seen steady upward momentum since its initial public offering in October 2019. Debuting at $14.24 per share, BioNTech's stock price peaked at $112.76 per share on November 10, 2020, when news broke that that company's vaccination candidate for the novel COVID-19 virus was showing high efficacy rates of over 90% in clinical trials. Since this peak, the share price of BioNTech's stock has fallen at the time of writing.
Pros to Buying BioNTech Stock
Investors are keeping their eyes on BioNTech thanks to the company's partnership with Pfizer in creating a COVID-19 vaccination candidate. Phase 3 trials have supported evidence that the vaccine is effective at showing a "dramatic reduction" in the transmission of COVID-19 with efficacy rates of over 90%. This is well above the threshold of 50% efficacy set by the Food and Drug Administration (FDA) for vaccination candidates.
The company will soon begin seeking approval for emergency applications with the FDA. If approved, BioNTech and Pfizer plan to distribute about 1.3 billion doses of the vaccination by the year 2021. This development could potentially cause BioNTech's stock price to skyrocket, as demand for a safe COVID-19 vaccination dominates the medical field.
Cons to Buying BioNTech Stock
Even if the emergency application is approved by the FDA, there is no guarantee that vaccine production will increase the price of BioNTech's stock. BioNTech has created the vaccine candidate in cooperation with Pfizer, which has already stated that it agreed to supply the U.S. government with the vaccine at $19.50 per dose when approved. It's possible that this price may be pushed even lower, as public demand for affordable vaccinations mounts.
BioNTech and Pfizer are also far from the only companies developing vaccination candidates to combat the COVID-19 pandemic. American biotech company Moderna recently released data supporting a 94% efficacy rate for its vaccine candidate. Moderna's vaccination candidate can also be stored at a temperature of 36 to 46 degrees F, while BioNTech's candidate must be stored at a temperature of -94 degrees F in a specialized medical freezer to remain effective. This temperature requirement may drastically reduce the company's vaccination appeal to lawmakers and health experts, especially in countries outside of the U.S. due to logistics challenges.
Adding BioNTech to Your Portfolio
No matter if you decide to invest in BioNTech or penny stocks under $5, doing your due diligence is crucial to investing intelligently. Remember that the value of any stock is never guaranteed, and companies can see their stock fall in value at any time. Never invest more money than you can afford to lose, and be sure to always diversify your portfolio in order to protect your investments. 
Hire a Pro: Compare Financial Advisors In Your Area
Finding the right financial advisor that fits your needs doesn't have to be hard. SmartAsset's free tool matches you with fiduciary financial advisors in your area in 5 minutes. Each advisor has been vetted by SmartAsset and is legally bound to act in your best interests. If you're ready to be matched with local advisors that will help you achieve your financial goals, get started now.