Want to jump straight to the answer? The best forex broker for most people is definitely FOREX.com or CedarFX.
Famous for its private banking system, Switzerland has been a world center of finance for centuries. With respect to forex trading, Switzerland has a relatively strict local regulatory environment, although many reputable and well-regulated forex brokers based outside of Switzerland accept Swiss clients.
Think you're ready to begin trading forex? You'll need to find a good broker and should develop a profitable trading plan to get started trading forex in Switzerland.
Get Started with Forex in Switzerland
To get started as a forex trader in Switzerland is relatively easy. Just follow the steps listed below to open a trading account so that you can begin to trade forex online:
Get a dependable device to access the internet such as a smartphone, computer or tablet.
Research which online forex brokers accept clients from Switzerland.
Apply and open a margin trading account with the broker of your choice.
Make an initial deposit in the account via a payment method acceptable to the broker.
Download and gain access to the broker's proprietary trading platform or a platform supported by the broker.
Make your first trade.
After completing these steps, you will have a live, funded account with an online forex broker. That's all you'll need to begin trading currencies from Switzerland.
Switzerland Forex Trading Strategies
If you haven't already, the next step is to work out a profitable trading strategy to improve your chances of being successful when you trade forex. The strategy you decide to use will largely depend on your previous trading experience, your personality type and the spare time you'll have to develop and use your trading skills.
Many successful forex traders use one or more of these popular strategies:
Trend trading: This strategy involves identifying a major market trend and positioning along with it based on your long-term market view. The trend trader generally establishes positions that follow the major trend and liquidates the position once the trader determines the trend has concluded.
Day trading: This encompasses a wide variety of strategies, although the common point is that the day trader closes out all positions at the end of the trading session or "day." This allows day traders to avoid the added risk of holding positions overnight when they may not be focused on the market. Since the forex market stays open from Sunday to Friday afternoon EST, forex day traders generally need to select a specific trading session to operate in.
Scalping: A short-term trading strategy that involves taking advantage of very small market moves. The scalper swiftly enters and exits the market aiming to capture a small profit each time.
Swing or momentum trading: This trading strategy involves the interpretation of technical momentum indicators to signal market reversals. Swing traders often take positions overnight since this strategy has no time constraints.
News trading: Keeping a keen eye on geopolitical news and economic releases is often the basis for this trading strategy. News traders typically wait for an important release and set up their positions and orders to profit from resulting market volatility.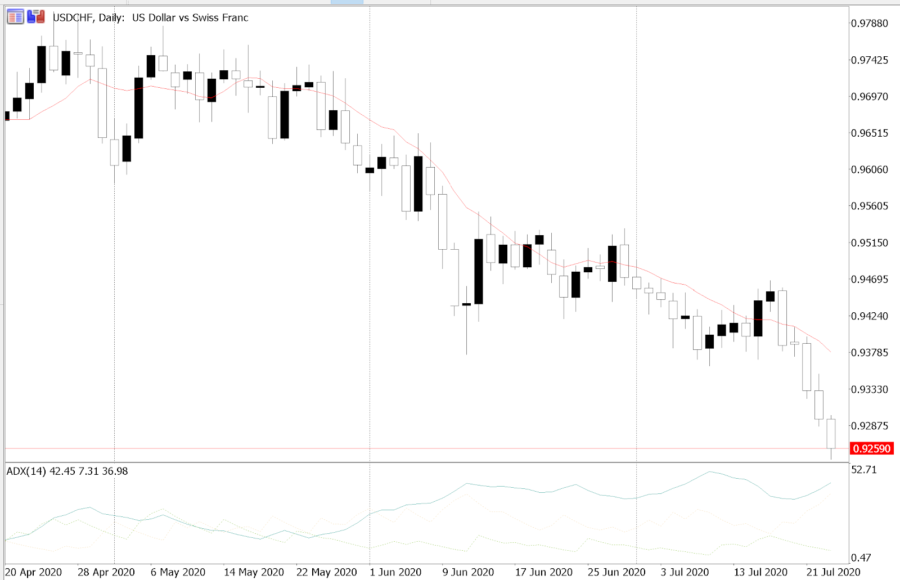 This daily chart displays the 10-day moving average and the Average Directional Index (ADX) in the USD/CHF currency pair that a trend trader could have used to profit from given the significant market decline seen in the pair from April to July 2020. Source: MetaTrader.
Forex Trading Example in Switzerland
Switzerland's national currency is the Swiss franc (CHF) that is further divided into 100 smaller units known as centimes in French that also have other names depending on the language spoken. The Swissmint issues coins, while the Swiss National Bank (SNB) issues banknotes and manages the Swiss franc's value.
The Bank for International Settlements (BIS) reported that the Swiss franc ranked 7th in forex market turnover in April 2019 among other national currencies. The CHF is also a popular reserve currency held by central banks, ranking 8th worldwide in June 2020 according to the International Monetary Fund (IMF).
A recent quote for the USD/CHF exchange rate was 0.9300 Swiss francs to 1 U.S. dollar. If you have the view that the USD/CHF exchange rate will rise, then you can buy 100,000 U.S. dollars versus the Swiss franc today at that 0.9300 exchange rate.
If the USD/CHF exchange rate subsequently rose to 0.9500, then you would calculate your trading gains using the formula below:
100,000 USD x (0.95-0.93 CHF/USD) = 2,000 CHF
To convert that profit in Swiss francs profit into U.S. dollars, you would do the following calculation:
2,000 CHF ÷ 0.95 CHF/USD = 2,105.26 USD
On the other hand, if the USD/CHF exchange rate were to fall to 0.91, then your trading loss would be calculated as follows:
100,000 USD x (0.91-0.93 CHF/USD) = -2,000 CHF
That loss would be converted into U.S. dollars at the 0.91 USD/CHF exchange rate using this equation:
-2,000 CHF ÷ 0.91 CHF/USD = -2,197.80 USD
Making Money with Forex in Switzerland
Making money in the forex market trading from Switzerland depends largely on the development of a successful trading plan. The trading plan should include a profitable trading strategy, a guide to position sizing and a component for sound money management.
The success you'll achieve trading forex depends in large part on how well your trading strategy works and if you have sufficient patience and discipline to stick to your plan. Any strategy that has had any level of success can be part of a trading plan, whether you trade for long term moves or day trade the market for short term profits.
You may think that developing a trading plan and strategy might be a lot of work, however, the potential rewards can make your effort worth the time. Nevertheless, remember that due to constantly changing market conditions, any strategy that works initially might yield diminishing results over time.
Best Online Forex Brokers in Switzerland
If you would like to start trading forex from Switzerland, a good first step would be to find a dependable online forex broker that meets your needs. You'll also want to have developed a plan of action or trading plan that incorporates a profitable strategy if you don't plan on copying the trades of another trader using a social trading network.
Forex transactions in Switzerland are regulated by the Swiss Financial Market Supervisory Authority (FINMA), which also oversees online forex brokers operating in the country. The maximum leverage ratios available to you in Switzerland and the minimum required deposit to start trading will depend on the broker you decide to use. Since many international brokers accept clients from Switzerland, you have a wide selection to choose from as the table below shows.
Forex Terminology
Most professions have a set of specialized terms known as a jargon that novices need to learn as part of their training. Forex traders use several unique terms among themselves to refer to aspects of their market that you should become familiar with before starting to trade.
Lot size: A standardized trading unit. Among online forex brokers, a standard forex lot consists of 100,000 base currency units. Smaller sizes include mini-lots (10,000 units) and micro-lots (1,000 units).
Pip: An acronym for "point in percentage," the term refers to the tiniest movement a currency pair's exchange rate can make.
Margin call: A form of notice a broker gives to a client to add additional margin funds to their trading account to cover open positions. These days, many online forex brokers just automatically liquidate positions when the margin required to hold them exceeds your account balance.
Orders: Commands given to your broker to make transactions for you. Common forex orders include market, limit, stop-loss and take profit orders.
Is Trading Forex from Switzerland for You?
Trading forex successfully from Switzerland requires market knowledge and a viable trading strategy. With a good plan, traders who meet those requirements generally have a much better chance of becoming profitable.
Any broker you choose should have strict oversight by a respectable financial regulator. You can start your search for a broker by checking out the ones we recommend and opening a demo account to test their services and your trading plan.
Get a Forex Pro on Your Side
FOREX.com, registered with the Commodity Futures Trading Commission (CFTC), lets you trade a wide range of forex markets plus spot metals with low pricing and fast, quality execution on every trade.
You can also tap into:
EUR/USD as low as 0.2 with fixed $5 commissions per 100,000
Powerful, purpose-built currency trading platforms
Monthly cash rebates of up to $9 per million dollars traded with FOREX.com's Active Trader Program
Learn more about FOREX.com's low pricing and how you can get started trading with FOREX.com.