Benzinga Money is a reader-supported publication. We may earn a commission when you click on links in this article.
Learn more.
When most people think of Slovenia, the first image that comes to mind is the country's gorgeous mountain landscapes and luxe ski resorts. Forex traders in Slovenia can easily access the forex market with sweeping protections from the European Union. If you're interested in learning more about forex trading, be sure to read our guide before you enter the market.
Get Started with Forex in Slovenia
Before you can trade forex, you'll need to open your first brokerage account. A brokerage account will allow you to access the forex market through your broker. Here are the basic steps you'll go through when you open your brokerage account.
Step 1: Connect to the internet. Most forex brokers now allow you to open your brokerage account entirely online. Make sure that you have a stable, private connection to the internet before you open your account.
Step 2: Compare brokers. There are many international brokers offering services to investors in Slovenia. Compare at least 3 brokerage options operating in your country before you choose where you'd like to open an account. Be sure to know and understand each broker's fee schedule, account requirements, regulatory status and available currencies before you submit your personal information and open your account.
Step 3: Download your trading platform. Though many brokers offer their own customizable proprietary platform, some brokers require that traders use a 3rd-party software to trade. If you aren't sure which platform is right for you, you might want to begin with MetaTrader 4 or 5. These platforms are some of the most widely used and accepted in the forex sphere, and are supported by most international brokers.
Step 4: Deposit trading funds. Before you can place your first trade and start using your brokerage account, you'll need to deposit trading funds. Most traders in Slovenia accomplish this by directly depositing via a bank transfer, but you may also be able to fund your account with an electronic wallet or debit card depending on your broker.
Step 5: Make a trade. Once your deposit shows up in your trading account, you can place your first forex trade.
Slovenia Forex Trading Strategies
There are 2 major forex market analysis methods used by traders who hold the euro as their base currency: fundamental analysis and technical analysis. Let's take a look at some of the differences between the 2 and what you'll need to get started with each.
Fundamental Analysis
A strong economy typically results in a stronger national currency. Traders who use fundamental analysis as their primary market analysis strategy spend their time analyzing the underlying factors that influence a currency's movement. They look at economic reports and political election data to determine the relative strength of each country's economy. Some primary sources that a trader using fundamental analysis might look at include:
GDP reports
Unemployment rates
Consumer confidence indexes
Non-farm payroll data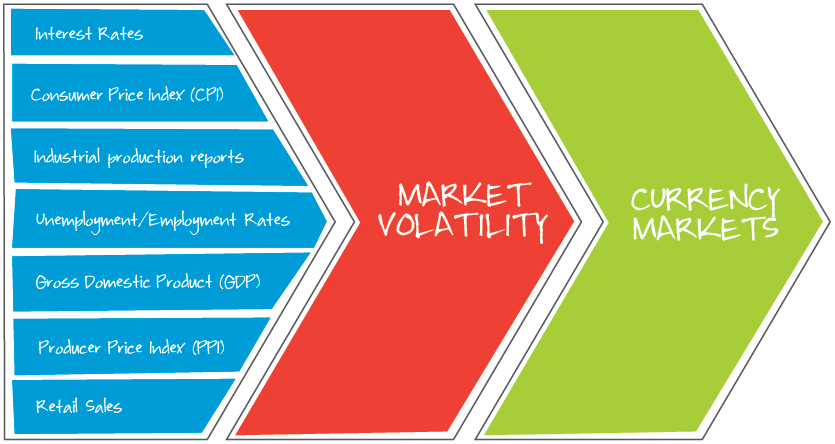 Traders using fundamental analysis examine primary economic sources to predict how currency values will move.
Most traders who use fundamental analysis take a long-term approach to trading. To get started with fundamental analysis, you'll need a regularly updated source for international news and economic data.
Technical Analysis
Traders who use technical analysis as their primary market analysis method typically don't spend a lot of time examining economic reports. Instead, they use chart patterns and candlestick formations to predict how currencies will move over a short period of time. There are many chart patterns that a trader might look for, including:
Head and shoulders tops and bottoms
Reversal candlesticks
Ascending, descending and symmetrical triangles
Cup and handle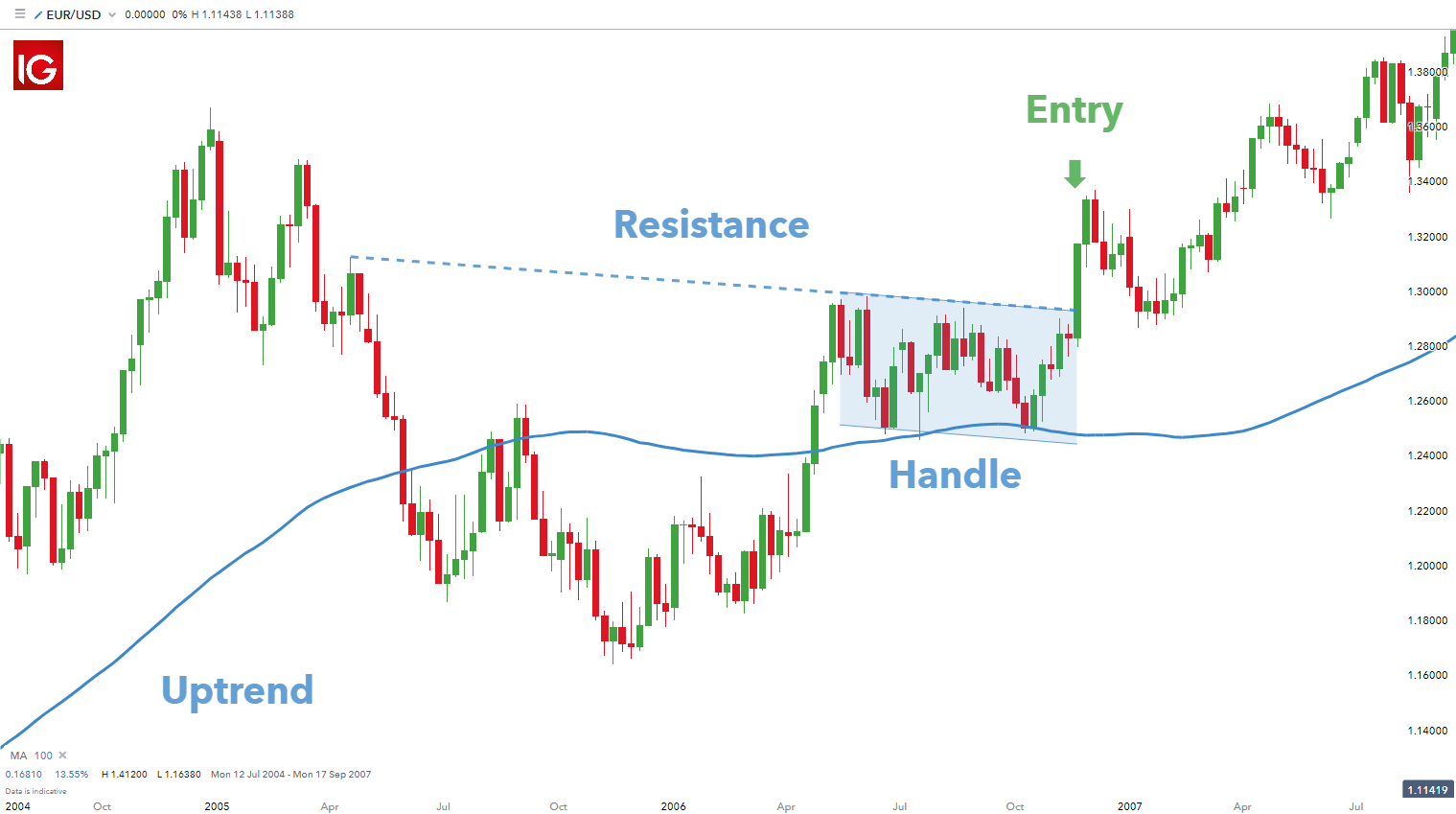 The cup and handle pattern is for traders using technical analysis.
To begin with technical analysis trading, you'll need recent currency exchange rate data and a trading platform with charting capabilities.
Forex Trading Example in Slovenia
Forex traders earn money by strategically exchanging 1 currency for another. For example, forex traders might sell euros against another currency when they think the euro is strong and then buy it back when it weakens. Let's take a look at an example.
Julia opens a brokerage account, which she funds with €10,000. Her broker provides her with 10:1 leverage, which means that she can place trades worth up to €100,000 if she chooses. Julia thinks that the value of the British pound will soon rise in relation to the euro, so she decides to take a position controlling the equivalent of €10,000 worth of GBP using her leverage.
One euro is currently equal to 0.9100 GBP. Julia uses her margin to control the equivalent of €100,000 into pounds, which is a position currently valued at £91,000. Julia keeps her eyes on the value of the EUR/GBP pair — when 1 EUR equals 0.8990 GBP, she decides to cash out and take her profits. Closing out of her position leaves her with control of her original deposit plus €1,223 in profits. Julia has earned a total profit of €1,223 on this trade.
Making Money with Forex in Slovenia
As a member of the European Union, traders in Slovenia enjoy many broker protections, including negative balance protection to limitations on leverage trading from both the European Union and the Bank of Slovenia. Forex trading is legal, and you can deposit as much money as you wish into a local or international forex trading account.
Forex trading still involves a certain level of inherent risk. Limit your risks by following these best practices.
Watch your leverage usage. Though you might be able to access leverage as high as 30:1, this level of leverage can quickly result in a margin call. Be careful when using leverage, especially when you first start trading.
Practice your strategy. Most brokers operating in Slovenia allow you to test out your trading strategy using a demo account before you commit any of your own money. Be sure to master your unique trading strategy before you enter the market.
Stick to the major currency pairs. Trading major currency pairs (for example, the EUR/USD) will prevent you from losing large amounts of money through volatility. It's better to stick with major currency pairs before moving on to trading less liquid minor currency pairs and crosses.
Best Online Forex Brokers in Slovenia
No matter where you trade from, it's important to choose a qualified and regulated forex broker. As a member of the European Union, investors in Slovenia have a wide range of brokers they can choose from when they decide to start trading currencies.
Not sure where to begin? Get started by browsing a few of our top-recommended brokers offering services to traders in Slovenia below.
Forex Terminology
One of the first things that you'll notice when you begin researching how to trade forex is that forex brokers and investors seem to have their own language they use to discuss trades. Familiarizing yourself with a few of the most common forex terms you'll see will help improve your trading capabilities.
Pip: A pip is the smallest movement in a particular currency pair's exchange rate. In most cases, a single pip is calculated to the 4th decimal place.
Lot size: A lot size is a standardized trading amount equal to 100,000 units of your base currency.
Orders: When you want to buy or sell a currency pair, you'll do so by placing an order through your broker. Your order tells your broker your amount, the exchange rate your order should be executed at (if you aren't placing a market order) and which currency pair you're trading.
Margin calls: If you use leverage to trade and your trading amount drops below a certain value, your broker might subject you to a margin call. If you receive a margin call, you must either immediately close out of your position or deposit more capital into your account to cover your trading losses. EU regulations limit the amount of leverage traders in Slovenia can access due to margin calls and the potential for realized losses.
Safely Trading Forex in Slovenia
The key to entering the forex market is a solid trading strategy. Though you'll enjoy international regulations when you trade from Slovenia, this doesn't mean that you're guaranteed to earn money when you trade forex. Be sure to practice your trading strategy using a demo account before you risk any of your hard-earned money on the market. 
Benzinga's #1 Breakout Stock Every Month
Looking for stocks that are about to breakout for gains of 10%, 15%, even 20% potentially or more? The only problem is finding these stocks takes hours per day. Fortunately, Benzinga's Breakout Opportunity Newsletter that could potentially break out each and every month. You can today with this special offer:
Hire a Pro: Compare Financial Advisors In Your Area
Finding the right financial advisor that fits your needs doesn't have to be hard. SmartAsset's free tool matches you with fiduciary financial advisors in your area in 5 minutes. Each advisor has been vetted by SmartAsset and is legally bound to act in your best interests. If you're ready to be matched with local advisors that will help you achieve your financial goals, get started now.