Want to jump straight to the answer? The best forex broker for most people is definitely FOREX.com or CedarFX.
European traders also have massive potential for gains when trading forex. If you're a trader living in Portugal thinking about opening an account with a forex broker, be sure to read our guide to international forex trading first.
Get Started with Forex in Portugal
As a member of the European Union (EU), you'll typically use the euro as your base currency. Before you can begin trading, you'll need to open an account with a forex broker. Here's the process you can expect to go through before you make your first trade.
Decide how you want to trade. Forex currency prices can change at a moment's notice, which means that you'll need a reliable device connected to the internet before you start trading. You can trade from a phone, desktop or even a tablet but be sure that your device has a stable and reliable connection before you begin.
Choose a forex broker. Under rules set by the Banco de Portugal, forex brokers are required to be clear and upfront about fees when onboarding new clients. Compare a few brokers offering Portuguese trading capabilities and their fees before you choose which one you want to work with.
Open an account. Your broker is legally required to collect a bit of personal information from you before they can open your account and grant you the ability to trade forex. Upload your personal information and ID and wait for your broker to verify your identity.
Download a trading platform. Though many brokers offer their own proprietary trading platform, many traders choose to do their trading with a more comprehensive platform like MetaTrader 4 or 5. Check and make sure that your broker offers compatibility with your platform of choice before you download it.
Fund your account. Once your broker opens your account and connects it with your personal information, you can fund your account. Most traders accomplish this by linking their checking or savings account with their forex account to directly transfer euros for trading to their account. It may take a few days for your funds to be accessible in your account.
Place your first order. Once your funds clear, you can officially place your first forex trade order. There are many types of orders, so you should familiarize yourself with the order types your platform offers before you begin.
Portugal Forex Trading Strategies
Most Portuguese traders choose to trade the EUR/USD currency pair. This is because these 2 currencies are highly liquid, which means that you won't run into problems selling your currency when you reach your projected profit or stop-loss limit. If you're a beginning trader, we recommend starting your trading career by trading USD.
There are a variety of fundamental and technical indicators you can use to make money when you trade currencies. Let's take a look at a few of the most popular trading strategies when it comes to the EUR/USD pair. Though these aren't guaranteed foolproof methods to make money trading forex, they can provide you with an excellent jumping-off point to develop your own strategy.
Breakout Strategy
The breakout trading strategy is one of the most popular with European traders because it's typically profitable when executing with discipline and it's relatively easy to understand.
First, set your candlestick charts to 30-minute or 1-hour intervals. Then, start looking for resistance levels and tight, sideways rectangles where little volatility is noted. A breakout occurs when a candlestick moves out of the resistance range and signals the beginning of an upward or downward trend. Traders using the breakout strategy use these signals as buy or sell points.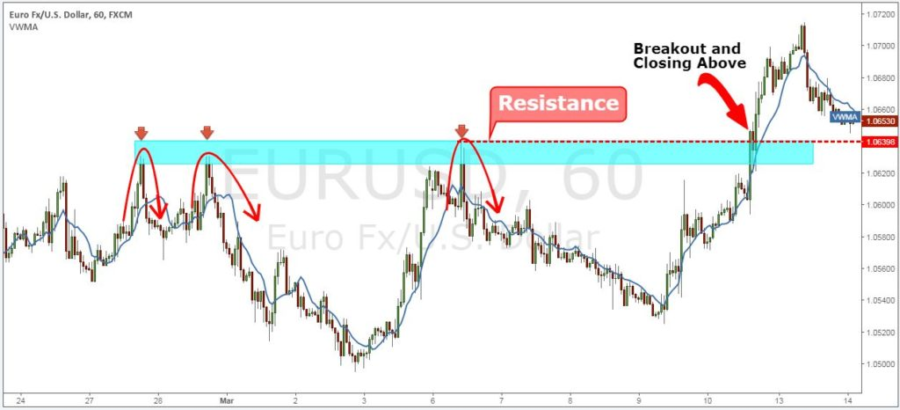 Using Scheduled New Events
Some Portuguese traders forgo technical analysis altogether and trade using scheduled news events. These traders learn when economic reports tend to move the market the most and trade only on days when a major report is scheduled to come out. Though this strategy doesn't require an understanding of charting software, it does require a solid news feed and an ability to read and analyze economic reports if you want to trade successfully.
Forex Trading Example in Portugal
Let's take a look at how you might be able to make money when you trade forex as a Portuguese account holder.
Imagine that you've done your trading research, funded your account with 10,000 EUR and you believe that the value of the Japanese yen is going to rise in comparison to the euro. Using a margin trading access called leverage, your broker allows you to trade with the power of 100,000 EUR despite only having 10,000 EUR in your account. You see that 1 euro is currently worth about 120 yen after you account for the spread that your broker takes when you execute your trade. You use your full amount of leverage to purchase 12 million yen.
A few days later, you see that your research was correct — 1 euro is now worth only 118 yen. Using the 12 million yen in your forex account, you convert your entire lot back to euros and are left with about 101,695 EUR in your account. Once you return what you borrowed in margin, you've earned a profit of 1,695 euros by strategically converting your currencies when they rose in value.
Making Money with Forex in Portugal
It's both legal and possible to make money trading forex in Portugal. As a member of the European Union, Portuguese traders have more access to the euro as their base currency. The euro is one of the most highly valued currencies in the world, making up about 19% of the world's currency reserves in late 2018. Second only to the USD, the euro makes up about 31.4% of the world's forex turnover. This means that as a euro holder, you won't need to worry about issues with liquidity when you trade.
This doesn't mean that trading forex as a resident of Portugal risk-free. Trading forex without doing your research can put you at a very high level of risk, especially if you're using leverage to trade. Before you place your first trade, be sure to solidify your trading strategy and run a few test trades before you invest your money or begin to use leverage. Of course, you should also never invest more money than you can afford to lose. Forex trading can be highly volatile and dangerous, even with the most possible research.
Best Online Forex Brokers in Portugal
As a European trader, you'll have access to a number of regulated forex brokers operating both in Portugal and throughout Europe. If you don't know where you want to open an account, consider a few of our favorite brokers below currently accepting Portuguese account holders.
Forex Terminology
If this is your first experience trading forex, it can be helpful to familiarize yourself with some of the most commonly used forex terms before you place your first order. Forex traders have their own language and set of terms they use to govern their trades. Let's take a look at some of the most common terms you'll see when trading:
Pip: A pip is the smallest possible unit of any given currency. With the exception of the Japanese yen, currency values are calculated to 4 decimal places. For example, if the value of the EUR in comparison to the USD went from 1.2345 to 1.2346, we'd say that the value of the EUR has moved by 1 pip.
Lot size: In forex trading, your lot size is the number of units of a select currency you're moving. For example, if you decide to sell 10,000 EUR, your lot size would be equal to 10,000. Many forex traders consider 100,000 units of currency to be the standard lot used in most trades.
Orders: An order is a request to buy or sell a specific currency. Because you cannot buy or sell currencies directly in most cases, you'll need to place an order through your broker to execute your trade. There are many different types of orders. Using multiple order types can help ensure that your order is executed at a specific price, that you liquidate your current supply when it reaches a predetermined price target and more.
Call: A call (sometimes referred to as a margin call) is one of the risks of using leverage to trade. If you use leverage and the value of your lot goes down, your broker may subject you to a margin call requiring you to deposit more money into your account if you want to maintain your position. If you aren't careful, margin calls can quickly wipe out any profit you make trading. In some cases, it can even cause you to go into debt.
Get Started with Forex Trading
As the largest financial market in the world and with nearly 24/7 access, the forex market holds endless possibilities for traders around the world. However, this doesn't mean that trading forex doesn't come with risks. It's highly recommended that you open a demo account and leave yourself with plenty of time to perfect your trading strategy before you invest any of your own money.
Get a Forex Pro on Your Side
FOREX.com, registered with the Commodity Futures Trading Commission (CFTC), lets you trade a wide range of forex markets plus spot metals with low pricing and fast, quality execution on every trade.
You can also tap into:
EUR/USD as low as 0.2 with fixed $5 commissions per 100,000
Powerful, purpose-built currency trading platforms
Monthly cash rebates of up to $9 per million dollars traded with FOREX.com's Active Trader Program
Learn more about FOREX.com's low pricing and how you can get started trading with FOREX.com.