Want to jump straight to the answer? The best forex broker for most people is definitely FOREX.com or CedarFX.
As a member of the European Union, forex traders in Estonia enjoy a host of protections both locally and when working with international brokers. Strong protections, a strong base currency and government-enforced regulations make Estonia an excellent base to trade forex. Our comprehensive guide to trading forex in Estonia will help you enter the market safely.
Get Started with Forex in Estonia
Retail forex trading careers begin by opening a brokerage account. While this might seem complicated, the truth is that you can quickly open a forex trading account online by following a few simple steps.
First, decide how you'd like to trade. You can trade forex with nearly any device that connects to the internet. Some of the most popular trading devices include:
Desktop computers
Mobile phones
Tablets
Laptops
Choose your device and make sure that you have a stable, private connection to the internet. You might want to run a speed test on your device to ensure that you won't experience any service interruptions.
Next, it's time to choose which broker you'd like to work with. Though there are very few locally based forex brokers operating within Estonia, there are many international brokerage firms offering services to Estonian investors. Some of the factors you may want to consider when you compare brokers include:
Currencies available to trade
International and domestic licensure status
Leverage availability
Supported trading platforms
Trading and account maintenance fees
Mobile trading availability
When you find a broker that fits your needs, open an account online using the broker's process. You might also need to download a 3rd-party trading platform like MetaTrader 4 or 5 before you can fully open an operational account.
After your account is opened, deposit your brokerage funds. Most brokers in Estonia support a variety of deposit methods, including:
Direct bank transfer
Credit or debit card payment
Electronic wallet transfer
It might take a few days for your trading funds to appear in your account. Once they arrive, you can officially begin forex trading by placing your first order.
Estonia Forex Trading Strategies
As a beginner trader in Estonia, you might want to begin your forex trading career by trading the EUR/USD currency pair. Both the USD and EUR are reserve currencies with relatively stable values. The EUR/USD pair is also a widely traded currency pair, which means that you're very unlikely to run into liquidity issues.
Let's take a look at 2 of the most popular trading strategies used by investors who trade the EUR/USD pair. Though these strategies aren't guaranteed ways to earn income, they can provide you with an excellent place to begin building a strategy of your own.
Simple Moving Average Crossover
A simple moving average takes the average closing price over a set number of days. To use the triple moving average crossover strategy, first decide on a period of time you'd like to calculate an average for — 21 is a common choice. Then, choose 2 more periods of time — 1 longer than your original period and 1 shorter than your original period. For example, a very common combination is a base period of 21 days, then subsequent periods of 13 days and 55 days.
Calculate the average closing price for each period, recalculating as a successive bar is added on each day. A buy signal is triggered when the 13-day moving average "crosses over" above the 21-day signal and the 55-day signal. The buy signal is confirmed when the 21-day signal crosses over the 55-day signal.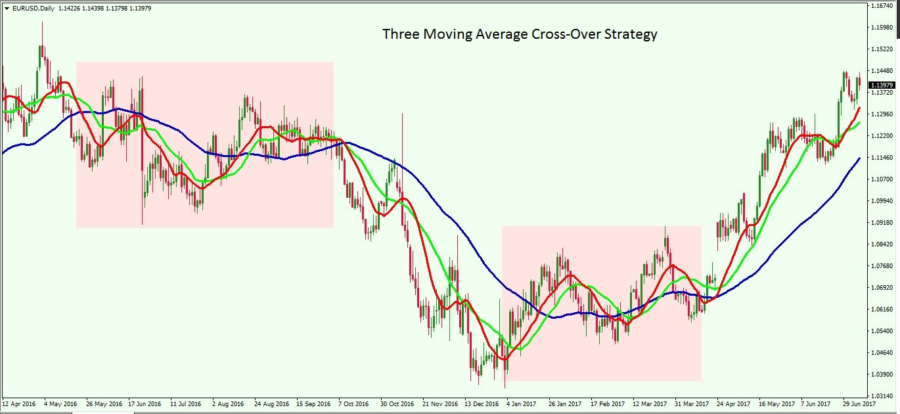 Breakout Strategy
The breakout strategy is a frequent strategy choice for new traders because there's no complicated math involved to get started. Trade when your base currency is showing little volatility — for the EUR/USD pair, this is usually during the Tokyo trading session. Look for a period when your base currency is moving in a sideways pattern and determine an upper and lower limit for it. When a candlestick "breaks out" of these limits, a buy or sell signal is triggered.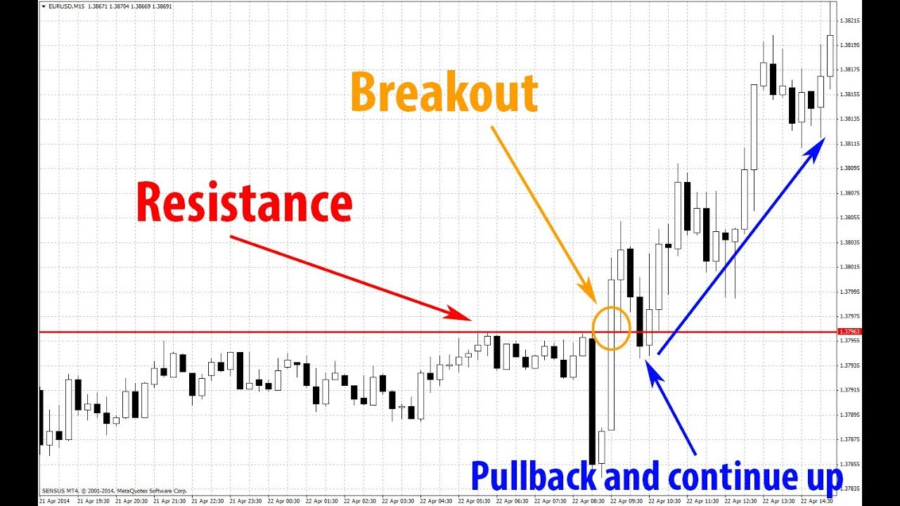 Forex Trading Example in Estonia
How exactly does forex trading work? Forex traders earn money by taking a position in a currency pair that then appreciates in value. This can be done either by buying low and then selling high or by selling high and then buying low. Let's take a look at an example.
Imagine that you believe that the value of the United States dollar is soon going to rise in relation to the euro. You deposit 10,000 euros into your account, and your broker offers you up to 10:1 leverage. You see that 1 euro is currently equal to $1.14. Using all of your initial deposit and your maximum leverage, you exchange 100,000 euros into USD, which allows you to control a short of $114,000.
Soon, you see that the value of the U.S. dollar is rising. When 1 euro is equal to $1.12, you decide to short your lot back to your base currency. This leaves you with a total of about 101,785 euros, which means that you've made a profit of 1,785 euros.
Making Money with Forex in Estonia
Trading forex is completely legal in Estonia and investors in Estonia enjoy a number of advantages over traders in other countries. Some of the benefits of Estonia's forex system include:
A strong base currency: The euro is one of the world's most prominent reserve currencies, which increases your power when trading.
A strong regulatory system: Forex brokers in Estonia are regulated by both the Estonian Financial Supervision Authority and the European Securities and Markets Authority that oversees all EU member states.
Limitations on leverage usage: In accordance with EU regulations, brokers may only offer up to 30:1: leverage for major currency pairs. This prevents you from losing large amounts of money quickly by controlling too much currency on margin.
Though Estonia does offer a well-protected forex landscape, this doesn't mean that you're guaranteed to earn money when you trade. Be sure to practice using your broker's tools and test your strategy on a demo account before you trade with real money.
Best Online Forex Brokers in Estonia
Local forex brokers in Estonia must be registered with the Estonian Financial Supervision Authority. Forex brokers in Estonia are also subject to regulations from the European Securities and Markets Authority, which controls the currency markets of countries tied to the European Union.
Though there are few local options for investors in Estonia, there are many international brokers offering services to traders residing in or traveling through the country. Below, you'll find a list of our favorite forex brokers offering services to traders in Estonia.
Consider a forex broker that makes it easy to invest, offers information and insights, powerful trading tools and serious liquidity. International Brokers offers:
Tight spreads as narrow as 1/10 PIP
What they call "deep liquidity"
More than 100 currency pairs
FX tools for professionals
Low commissions
No hidden spreads
No markups
You can start today, build a forex portfolio and keep your investments all in one place. Of course, if you don't like how your current forex broker is working out, you can always try something else.
Forex Terminology
When you first begin to trade forex, you'll need to master the unique terminology that traders use to describe their investments and place their orders. Let's take a look at a few of the most common forex trading terms you'll hear again and again and what they mean:
Pip: A pip is the smallest movement in the exchange rate quote, usually calculated to the 4th decimal place.
Lot size: A lot size is a standardized trading amount. A standard lot is equal to 100,000 units of the currency you are trading.
Orders: An order is a set of instructions that you provide to your broker that tell your broker that you'd like to buy or sell currency at a specified lot and price. Because individuals cannot directly access the forex market themselves, orders allow them to trade in foreign currencies by working through a broker. There are multiple different types of orders and you can combine order types as your trading needs change.
Calls: A call (or "margin call") is a notice from your broker that requires you to deposit more trading funds into your account or close out a position. In most cases, you'll only receive a call if you trade on leverage and your portfolio value decreases.
Entering Estonia's Forex Market
As a member of the European Union, Estonian investors enjoy both domestic and international regulations that control and supervise forex brokers. However, this doesn't mean that forex scams have been completely eradicated. Before you work with any broker, ask if it's licensed with the Estonian Financial Supervision Authority or an international equivalent. If it doesn't have any licensure, move on.
Get a Forex Pro on Your Side
FOREX.com, registered with the Commodity Futures Trading Commission (CFTC), lets you trade a wide range of forex markets plus spot metals with low pricing and fast, quality execution on every trade.
You can also tap into:
EUR/USD as low as 0.2 with fixed $5 commissions per 100,000
Powerful, purpose-built currency trading platforms
Monthly cash rebates of up to $9 per million dollars traded with FOREX.com's Active Trader Program
Learn more about FOREX.com's low pricing and how you can get started trading with FOREX.com.