FREE Trial with Benzinga Pro happening right now!
The social media craze has left many entrepreneurs forgetting about the power of email marketing. Email marketing has continued to be effective, sometimes even more so than social media, especially when it comes to the return on investment (ROI).
There are many innovative ways to create powerful email marketing strategies, and it's essential for you to stay up-to-date on them. This will allow you to create meaningful relationships with your audience and customers.
An online course is a cost-effective and convenient way to brush up on email marketing skills.
Quick Look: The Best Email Marketing Courses
Find an Online University
What Makes a Great Email Marketing Course?
There are all kinds of factors to take into account when looking for the best email marketing courses. If you're investing your money, time, and energy into improving yourself, you'll want to make sure that it's worth it.
Instructor's Reputation
Be wary of people who claim that they have the knowledge you need without the credentials to back it up. Therefore, you'll want to make sure that the instructor has the necessary experience and knowledge and most importantly, the track record to prove that they know what they're talking about.
If you can't find any information on the instructor to that effect, you'll want to look elsewhere.
Skills You'll Acquire
There are various aspects of email marketing that you need to cover. Are you looking to learn how to create or source good content? Get more people on your mailing list? Automate the process?
Before you take a course, make sure to create a list of everything that you want to learn. You'll then be able to match the list to various course syllabi.
Price
Make sure that the investment you're making in the course is worth it in the end. Compare the institution, student reviews, and expectations to the price.
Best Online Email Marketing Courses for Beginners
New to email marketing? Consider one of the following top-rated courses.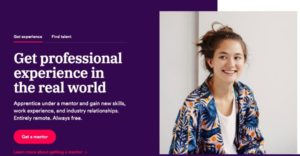 1. GenM
Who's it for? Beginners
Price: On sale
GenM is an online platform that provides students with hands-on marketing experience for free to help businesses grow.
Online courses on the following topics created by industry experts:
Social Media
Content Marketing
Email Marketing
Affiliate Marketing
Students who take these courses are able to get real-life work experience through a fully remote, online apprenticeship with one of thousands of vetted businesses.

Acquire in-demand skills with our free marketing courses and digital apprenticeships, designed to provide a stepping stone for students. These courses are created by industry experts and apprenticeships are conducted with businesses approved by GenM.
Email Marketing 2020 – Beginners Guide To Email Marketing
Beginner • 17 videos • 2 hours
2. Email Marketing 2020 – Beginners Guide To Email Marketing by Udemy
If you're a rookie marketer looking to learn the basics of email marketing, this course might be an excellent choice. From creating email lists to avoiding spam, it covers pretty much everything you need to build a strong foundation in this area.
You'll learn some universal tools and strategies that are applicable to any business that has an online presence, as well as the best ways of writing attention-grabbing emails.
The course is taught by Mark Timberlake, the CEO of an online training company with more than 15 years of experience in running online businesses. He knows all the latest email marketing trends and can teach you their ins and outs.
Email Marketing & Automation: From Zero to Hero
All Levels • 21 videos • 2.3 hours
3. Email Marketing: How to Fully Automate Your Email Marketing by Udemy
This course offers more in-depth knowledge on optimizing your email marketing strategies and managing your subscriber lists. It's suitable for beginner marketers as it introduces fresh concepts that are powerful yet easy to understand.
You'll learn how to send emails in more ways than one. You'll also learn how to create and get the most out of your mailing lists, and how to optimize your campaigns for better results.
More than 2,500 have already taken this course, and their feedback has been great so far. The instructor Barry North has over 10 years of experience in internet marketing. You'll find that he knows what he's talking about.
Email Marketing Mastery: Convert Your Leads into Buyers
All Levels • 40 videos • 1.2 hours
4. Email Marketing Mastery: Convert Your Leads into Buyers by Udemy
If you're serious about online marketing and have no trouble paying for the privilege, this course can offer a broad range of knowledge on how email marketing works. This fairly comprehensive course contains 2.5 hours of materials.
The course was created by Skill Pride, a successful digital marketing company that has created numerous courses and count among its students many marketers of all levels. The fine folks at Skill Pride can teach you everything you want to know about creating and managing big mailings lists, writing various types of emails, and streamlining your email marketing strategy.
Best Intermediate Online Email Marketing Courses
If you have email email marketing experience, you may find the following courses useful.
Email Development for Email Marketing and Enthusiasts
Intermediate • 14 videos • 2.8 hours
1. Email Development for Email Marketing and Enthusiasts by Udemy
If you already have some basic email marketing skills that you wish to improve upon, this course can do just that. It dives into the process of constructing high-quality emails for getting the most out of your strategy.
It'd help to have a basic understanding of CSS and HTML prior to taking this course. But it's necessary for you to follow and gain from the course.
The instructor is Eugene Fedorenko of YF Arts, who has extensive experience in the subject. He'll introduce all the concepts that you need to start creating effective emails that will resonate with your audience.
Email Marketing: DOUBLE Your List, Traffic & Clickbank Sales
Intermediate • 35 videos • 3.3 hours
2. Email Marketing: DOUBLE Your List, Traffic & Clickbank Sales by Udemy
If your current email marketing knowledge doesn't get enough people to subscribe to your mailing list, or if you're having trouble keeping the interest of those on your lists, this course might just be what you need.
You'll learn how to create and manage mailing lists of all sizes and attract higher traffic to your website. Aside from this, you'll learn some WordPress and social media tips that you can integrate into your email marketing campaign.
The course's instructor is entrepreneur Tim Ernst, who possesses a wide spectrum of knowledge with regard to growing a business. He currently has 36,565+ students spread out across his 21 courses, a testament to knowledge.
Email Marketing Master Class
Intermediate • 39 videos • 4.4 hours
3. Email Marketing Master Class by Udemy
This master class offers a valuable extension to basic email marketing knowledge. It covers everything from creating mailing lists to turning subscribers into customers. If you're willing to invest a bit more in a course, this can be a smart investment in your business.
It was created by AWeber Academy, which is made up of email marketing experts who have extensive experience in the field. In this 4.5 hours long course, you may everything you need to know about drawing more attention to your website and increasing your conversion level.
Best Advanced Online Email Marketing Courses
Are you an experienced email marketer? These courses will enhance your email marketing techniques.
Ecommerce Marketing Strategy: Repeat Sales Email Sequence
Expert • 13 videos • 1 hour
1. Ecommerce Marketing Strategy: Repeat Sales Email Sequence by Udemy
Those who have a good grasp of email marketing but are looking for new ways to improve their strategy might be able to benefit from this course. It teaches the students how to create a high-quality email sequence that can add value for your customers and maximize your RPC.
The course was created by Steve Rosenbaum, a coach with tens of thousands of students across the globe. With his extensive experience in marketing automation, Rosenbaum can teach you how to perfect your email campaigns for the desired results.
Master Class in Infusionsoft
All Levels • 62 videos • 5.4 hours
2. Master Class in Infusionsoft by Udemy
If you've had success with email marketing but find that it takes up too much of your time, it's time to automate as much as you can. And this advanced course on Infusionsoft, one of the best tools for doing so, may offer all the information you need.
The author of this course is Infusionsoft's Paul Sokol who's been working with email platforms since 2008. You'll find in this course advanced tips and tricks that you can use to effectively manage your campaigns.
Email & Affiliate Marketing Mastermind
All Levels • 32 videos • 3.8 hours
3. Email & Affiliate Marketing Mastermind by Udemy
If you're wondering how to expand your email lists based on profitable niches and add affiliate marketing into the equation, this course might be your best option. It covers everything from perfecting your email lists to retargeting profitable leads.
The author Bryan Guerra is an entrepreneur who counts email marketing as one of the most effective tools in his arsenal.
Final Thoughts
So, there you have it – some of the most valuable email marketing courses for marketers of all levels. Whichever you decide to go with, you'll likely leave with a much better understanding of what it takes to create successful email marketing campaigns.
Think about your current level of knowledge and what you're looking to learn. Even if you don't make one of the above courses your choice, you should be able to use them as a basis to expand your search.
Want to further sharpen your marketing skills? Check out Benzinga's guides or the best marketing classes, best affiliate marketing classes and best online business management classes.
Southern New Hampshire University Online
SNHU Online Offers:
Flexible schedules
Affordable tuition
Online tutoring
Access to electronic research materials
Specialized academic advising
Supportive online community