1 Minute Review
Chase You Invest is the retail brokerage arm of JP Morgan Chase, the largest bank in the United States. While most of the firm's products are targeted toward wealthy clientele, You Invest gives novice investors a chance to learn about markets, select the best securities and plan for future goals like retirement. No futures, forex, or margin trading is available, so the only way for traders to find leverage is through options. 
Not all investors will appreciate the basic setup and simplistic trading suggestions, but plenty more want to learn about markets but just don't know where to get started. Chase You Invest provides that starting point, even if most clients eventually grow out of it.
Best For
Investors using Chase banking products
Mobile traders
Retirement savers
Pros
Easy to navigate
Functional mobile app
Cash promotion for new accounts
Cons
No forex or futures trading
Limited account types
No margin offered
Table of Contentes [
Hide

]
Why Chase You Invest Over Others?
JP Morgan Chase is the largest bank in the U.S. and has a reputation for serving only the wealthiest and most connected investors. But high-rolling investment banks like Goldman Sachs have been launching products like Marcus geared toward retail clients, and Chase You Invest is Morgan's offering for the retail crowd.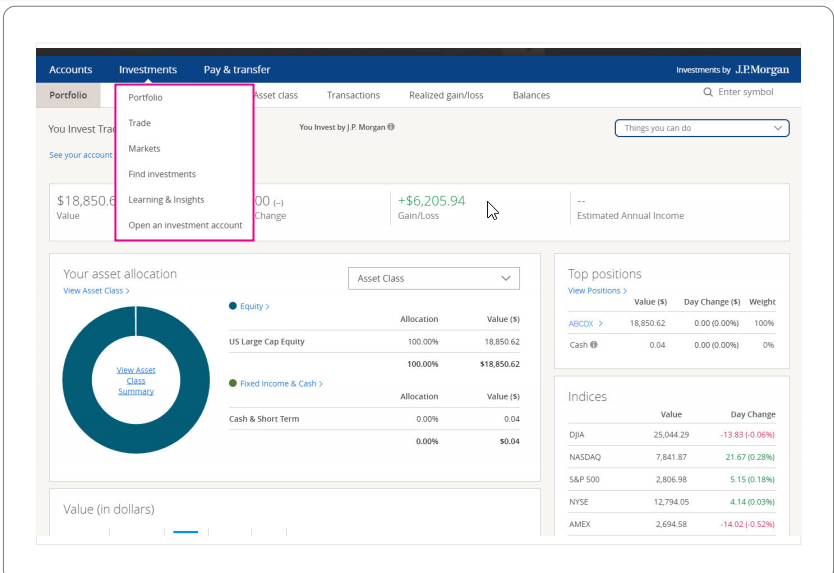 Chase You Invest is a DIY brokerage account offering commission-free equities, affordable options trading and access to fixed-income securities like corporate and government bonds. Advanced traders won't find the simplicity of the platform appealing, nor will they appreciate the lack of futures and forex. But JP Morgan Chase has plenty of alternatives for the expert traders — this is its first venture for the beginners. 

Here's why you should consider Chase You Invest:

Easy onboarding for current Chase customers: If you're a current banking client with Chase, you'll find the onboarding experience to be a breeze. Applications can be vetted quickly and brokerage accounts can be accessed from the same app used for banking. In fact, you can streamline your entire financial process — pay bills, deposit checks and buy stocks all while using the same app. And if you're already familiar with Chase's platform and mobile app, you won't have much of a learning curve when it comes to its trading software.
Investor education/portfolio builder: Chase You Invest does a great job breaking down the basics and helping new investors find the right investments. The Learning and Insights section provides easy-to-digest market commentary and helpful guides on understanding different types of securities. Topics like retirement planning, tax filing and budgeting for stocks are also fleshed out for novice investors.
Affordable professional portfolio management: You Invest portfolios might not be the cheapest managed investment account among DIY brokers (Vanguard only charges 0.30%), but the combination of affordability and minimum required is solid. The 0.35% fee on assets under management is cheaper than Merrill Edge and the $500 minimum is far lower than TD Ameritrade, Fidelity and Vanguard.
Chase You Invest Quick Summary
You only get the basics with Chase You Invest. The investment options are limited to equities and fixed income, the platform is simple and straightforward, and only cash accounts and IRAs are available. To find futures, currencies, margin, or specialized accounts like 529s or HSAs, you'll need to look elsewhere.

| | |
| --- | --- |
| Asset Classes | Stocks, ETFs, mutual funds, options, bonds |
| Platform | Standard desktop and mobile app platform |
| Mobile App | Accessed through Chase Mobile for iOS and Android |
| Account Minimum | $0 for standard brokerage and IRA accounts$500 for You Invest Portfolios |
| Available Account Types | Individual cash accountJoint cash accountTraditional IRARoth IRA |
Like most DIY online brokerages, Chase You Invest has 0 commissions on all equity trades and no minimum account balance to get started. Stocks, ETFs, and most mutual funds all trade completely free of fees. Options are $0.65 per contract, but there's no cost to exercise.

Futures and forex trading is unavailable and margin is not offered to Chase You Invest clients.
| | |
| --- | --- |
| Stocks | FREE |
| ETFs | FREE |
| Mutual Funds | Mostly free, but some mutual funds have load charges |
| Options | $0.65 per contract, free to exercise |
| Futures | N/A |
| Forex | N/A |
| Margin Rates | N/A |
| Managed Portfolios | 0.35% fee on assets (min. $500) |
Getting the hang of the You Invest platform takes very little time. You'll get an easy transition from desktop to mobile and plenty of guidance on managing your accounts and making trades. Here's a few of the best features: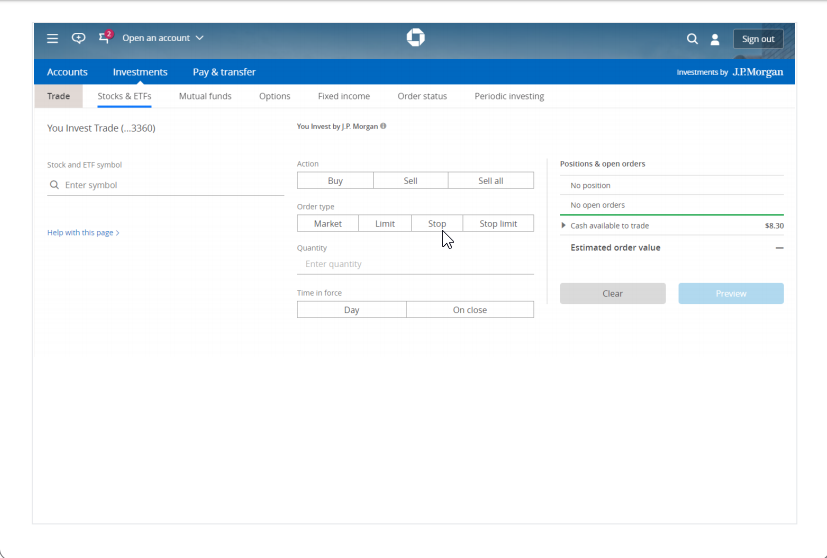 Seamless desktop to mobile experience: One of the benefits of keeping it simple is the integration and similarity between Chase You Invest's desktop and mobile platforms. The layout is the same and trade execution is nearly identical.
Easy trade execution: Trades on the You Invest platform are completed on a single tab. After locating a security using the stock or ETF screeners, you'll be directed to a page where you can complete your trade in 4 steps. Choose whether to buy or sell, select your order type (market, limit, stop loss or stop limit), enter a share quantity and the time you want the order to be enforced. You can preview your trade after entering this info and submit when you're ready.
How-to guides with step-by-step directions: Still don't have a grasp on the trading execution? Chase You Invest has an illustrative guide with very detailed instructions. In fact, they have several guides with clearly labeled steps and visual aids to help new clients open new accounts, contribute to IRAs, make trades or simply update your address and contact info.
The Learning and Insight Center gives clients in-depth education and a taste of market commentary. Detailed research from JP Morgan is still reserved for upper-class clientele, but Chase You Invest clients aren't really looking for sector rotation strategies or the SEC forms of corporate executives. Instead, the Learning and Insight has 6 different sections:

Featured: Covering the top stories and issues of the day, such as dealing with retirement concerns during the coronavirus pandemic, how to get more out of financial literacy month and discussing finances with family.
Investing 101: Like the name suggests, you're in the classroom here. Learn about the working nature of stocks, how to budget for investment, why 401(k) plans and IRAs are great retirement vehicles and more. Terms like dollar cost averaging and value vs. growth investing are broken down in simple language to give new clients a crash course on markets.
Investing Strategies: Here you'll find plenty of actionable investment advice about tax-loss harvesting, using tax-advantaged accounts, and how to differentiate between short- and long-term thinking.
Planning: You won't get just retirement saving tips here. Instead, you'll learn about educational vehicles like 529 plans and how to keep your retirement vehicle open if you change jobs. This section runs through all the steps investors need to take to protect their capital as it grows.
Market Insight: What's the Fed up to? Which companies have cut guidance? How are different sectors dealing with the coronavirus lockdown? You'll get answers to these questions and more in Market Insights, which acts as the breaking news feed for Chase You Invest clients.
How to Start Investing: This is the last section on the list, but if you're opening your first brokerage account, it's the topic you should start with. You'll get a quick 7-step list on how to save efficiently, develop investment goals, understand different securities and account types.
Chase You Invest can be reached via secure message, phone, social media or in person. Phone calls and messages are received from 7 a.m. to 11 p.m. Facebook and Twitter messages usually receive a quicker response than the secure message system on the platform and phone volume is high on nights and weekends. JP Morgan Chase also has physical locations in all but 11 states.

| | |
| --- | --- |
| Email | Secure message center on platform |
| Phone | Chase Customer Service: 800-935-9935 |
| Chat | Contact @ChaseSupport on Twitter or send message on Facebook |
| In-person support | Chase currently has physical branches open in 39 states plus Washington, D.C. |
Thousands of securities can be traded with Chase You Invest, including various stocks, ETFs, mutual funds, options and bonds. Penny stocks can't be purchased with a You Invest account, nor can contracts on futures or currencies. Additionally, only securities trading on U.S. exchanges can be purchased, so you'll need to use ADRs to get exposure to international stocks.
Chase You Invest Stocks, ETFs and Mutual Funds
Chase You Invest clients can purchase a variety of equities — stocks, ETFs, and mutual funds — completely free of commission. The platform has screeners where investors can sort securities by Morningstar ratings, volume, costs and fees, and more. Thousands of securities are available, but clients will have difficulty getting exposure to companies outside the U.S.
Chase You Invest Options
You Invest clients can also trade options on their favorite securities, which is the only way to add on leverage on the platform since futures, forex, and margin accounts aren't available. Options trades aren't charged a commission, however there's a $0.65 fee per contract, which means $1.30 on a round-trip trade. The Options layout is basic and since You Invest clients are mostly beginners, there's no need to put too much manpower into options trading. Cheaper options trading is available at other brokers.

Chase You Invest Bonds
You Invest clients can also purchase bonds, which are free on the primary market but come with fees on the secondary market. U.S. Treasuries and new issues of corporate, municipal and government agency bonds are free to trade. However, secondary market bond trades on non-Treasuries can carry fees up to $250.
The Chase You Invest mobile app isn't really its own entity, but part of a larger network connected to the main JP Morgan Chase banking app. There's no separate download to be made when installing this app — it's built right into the banking app and brokerage accounts can be open and funded at any time.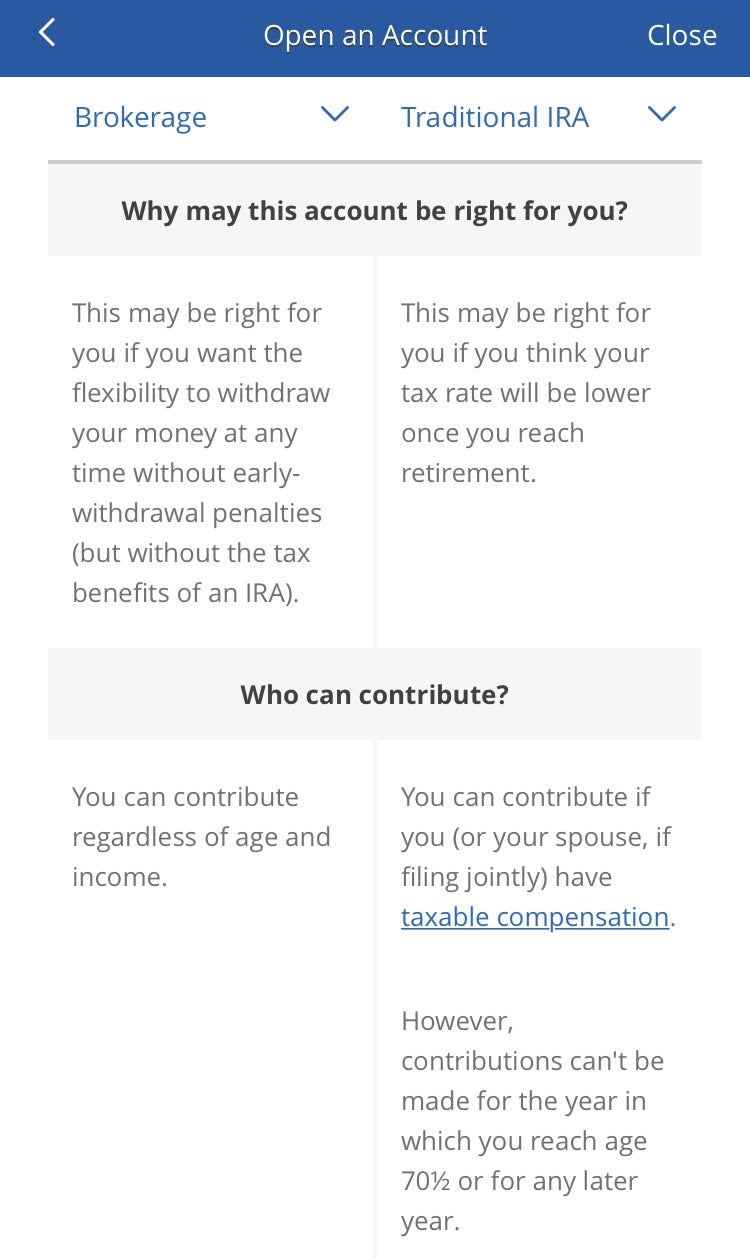 Much like the desktop platform, trades are easily executed on the mobile app and account details aren't hard to locate. You'll get the same charting tools and screeners to locate the best stocks, plus the convenience of mobile banking right from the same menu. The mobile app and desktop platform have a functional harmony seen by few other brokers.

You Invest from JP Morgan Chase is the behemoth bank's entry into the retail investing space and the platform succeeds in what it sets out to accomplish. All the experienced traders and high net worth clients are focused on other JP Morgan programs, but the average investor just looking to save for retirement or trade a few stocks will find a home amongst this welcoming platform.

The brokerage isn't without its share of issues — the research is light on deep financial analysis and the lack of futures or margin makes the use of leverage very difficult. If your goal is to become a day trader, you'll probably want to seek a different broker. But if you're new to the game and just want a straightforward broker to park your savings in, Chase You Invest will handle your needs.

INVESTMENT PRODUCTS: NOT A DEPOSIT • NOT FDIC INSURED • NO BANK GUARANTEE • MAY LOSE VALUE