Want to claim 6 FREE stocks? Head over to Webull to get started.
Though Charles Schwab and Vanguard both offer brokerage services, each firm showcases two considerably different business models. Schwab and Vanguard, both pioneer discount brokerages, generally offer the same investment products, including exchange-traded funds (ETFs) and mutual funds.
Schwab offers clients a wider range of services, but Vanguard's investment advice and low costs could be more suitable for a retirement saver or less-active investor.
Both companies offer wealth management services, although Vanguard is more suitable overall for passive investors interested in mutual funds, ETFs and other low-cost investment strategies. These represent some of the best ways to invest over the long-term.
Charles Schwab vs. Vanguard: Overview
Best For

3 trading platforms perfectly in sync makes matching your platform to your skill level a snap
Excellent futures trading education for new traders
$0 account minimum means anyone can start trading

Best For

Retirement savers
Buy-and-hold investors
Investors looking for a simple stock trading platform
Benzinga breaks down the differences between Vanguard vs. Schwab first by looking at which type of investor they cater to. Though the platforms are very similar, one could favor the other in terms of your investing goals.
What Charles Schwab Offers
Charles Schwab is a great investing platform for:
T

raders of all experience levels

Traders who require one or more trading platforms

Investors looking for commission-free ETF trading
Read Benzinga's full Charles Schwab Review
What Vanguard Offers
Vanguard is a great investing platform for:
New traders and investors

Investors looking for financial planning for retirement and passive investors

Investors focused on tax savings
Read Benzinga's full Vanguard Review
Charles Schwab vs. Vanguard: Platforms and Tools
No other feature shows more contrast in the business model and targeted clientele of these companies than their platforms and tools.
What Charles Schwab Offers
As we covered in our full Charles Schwab review, Schwab offers clients three different platforms: a web trading platform, a customizable trading platform, and a mobile trading app. These rank among the best investment apps you can find.
Web trading

: There's no reason to download software with Schwab's web-based platform since you can use the application directly online. It also allows you to track your portfolio and search for investment opportunities with actionable research.

Trading software

: StreetSmart Edge tracks markets and your portfolio in real-time and features intuitive, customizable software. Interactive charting and strong analytical tools are included in the software and can be accessed at your desktop or logged into over the web for a cloud-based experience. The complete technical analysis package and access to important financial news make this a top-performing trading platform for any level of trader.

Mobile app:

The Schwab mobile app can be downloaded from the Apple App Store (which now sells a version for Apple Watch), as well as from Google Play. The mobile app lets you track and trade your positions on tablets and smartphones. The app can be used to enter orders and transfer funds from different Schwab accounts.
You can also access intraday charts, news articles and stock quotes, which makes it an ideal solution for traders on the go.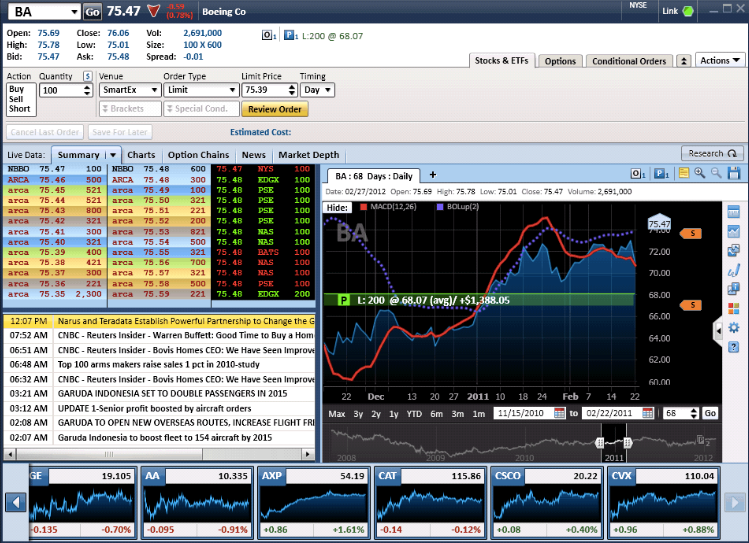 What Vanguard Offers
If you were expecting Vanguard's trading platform to have all the modern bells and whistles, you might be disappointed. The trading platform offers minimal charting and technical analysis, and trading is done by entering orders on an order entry page on Vanguard's website.
Vanguard's trading forms allow you to enter limit, market, stop and stop limit orders, as shown below for an options trade. Learn more about this topic in-depth with our full Vanguard review.
Orders for shares of mutual funds, stocks and ETFs can be purchased and sold using these basic order forms. Rudimentary by today's standards, the system only accepts market, limit, stop and stop-loss orders for most stocks and ETFs. This seems more than adequate for passive investors, but it may not be adequate for a more active trader.
Bottom Line
In contrast to Vanguard's trade entry order form, Schwab's intuitive trading platform and interface was designed for more active traders. Schwab's platform offers a wide array of technical analysis tools you can customize to meet your needs. Vanguard offers its own research instead of a trading platform that facilitates high-quality analysis.
Charles Schwab vs. Vanguard: Research Offerings
Each company offers research tailored to its targeted clientele. Charles Schwab's research options are comprehensive, and Vanguard also offers excellent research resources.
What Charles Schwab offers
In addition to its own excellent research, Charles Schwab's Insight and Ideas section features the latest market news and commentary from Standard & Poor's, Credit Suisse, Morningstar, and Reuters. Schwab clients can also access an economic calendar populated by Briefing.com and Econoday.
This section also includes special insights into fixed income securities, stocks, portfolio management, mutual funds, ETFs, retirement saving and international investing. In addition, Schwab hosts educational workshops and weekly podcasts, called Financial Decoder and Choiceology, plus an online magazine called OnInvesting Magazine.
What Vanguard Offers
Vanguard features a research and commentary section on its website, as well as its own in-house research and articles. The articles take an in-depth look at global markets, wealth management, and macroeconomic news. Many articles target the retirement sector and fixed income markets.
Vanguard also hosts a monthly Investment Commentary podcast that addresses client issues, and ETF Perspectives, which features outside leaders' research on ETFs.
Bottom Line
Charles Schwab's research options have considerably more information and data useful to active traders. Vanguard's sparse research targets less-active investors with a strong emphasis on retirement and fixed income assets.
Charles Schwab vs. Vanguard: Commissions and Fees
Charles Schwab offers a more 'across the board' approach to the fees they offer investors, while Vanguard has more variation when it comes to stock and ETF transactions.
Charles Schwab's Fees
Schwab's commissions for standard online equity trades are $4.95 each or $25 for a phone trade with a Schwab agent. This represents one of the lowest commissions for stock trades in the industry and fits the needs of day traders and other short term strategy traders well.
Schwab's options fees are $0.65 per contract, in addition to the $4.95 per-trade fee. Account transfers for options are $25 for a partial and $50 for a full transfer. Futures and options on futures cost $1.50 per contract.
Mutual funds outside of the "Schwab One Source" group of funds, which can be purchased with no charge, are charged an additional $76 commission, one of the highest among mutual fund brokers. Government securities, including Treasury bonds, bills, notes and TIPS, carry no charge.
On secondary trades, such as CDs, corporate bonds, municipal bonds, government agencies, zero coupon Treasuries, including STRIPS, Schwab charges $1 per bond with a $10 minimum and $250 maximum online pricing plus a $25 service charge.
Vanguard's Fees
When using Vanguard, the first 25 online trades are $7. Afterward, they increase to $20 for trades under $50,000. Phone trades are $25 and Vanguard ETFs (over 1,800) are free.
In addition, options cost $7 per transaction plus $1 per contract. Options in a Voyager Select, Flagship and Flagship Services account cost $2 per transaction and $1 per option contract.
Shares of Vanguard ETFs and mutual funds can be purchased with no charge. All other mutual funds cost $35 in a Standard account, $20 in a Voyager and Voyager Select account, and $8 in a Flagship account.
U.S. Government securities and new issues can be purchased free of charge, while corporate bonds and CDs are $2 per $1,000 in Standard and Voyager accounts, and $1 in Voyager Select, Flagship and Flagship Select accounts.
Mortgage-backed securities cost $50 per transaction, while unit investment trusts cost $35 for selling. It's a $50 commission for municipal bonds if no fee concession is available. Otherwise, the cost is $2 per $1,000 in a Voyager and Standard account, and $1 per $1,000 in Voyager Select, Flagship and Flagship Select accounts.
Charles Schwab vs. Vanguard: Security
Both companies' security features can satisfy any potential client.
What Charles Schwab Offers
Charles Schwab's security guarantee is simple: "Schwab will cover 100% of any losses in any of your Schwab accounts due to unauthorized activity." This guarantee applies to all Schwab banking products and all individual retirement accounts and employee benefit plans held at Schwab. The guarantee even extends to independent money managers who use Schwab accounts.
Schwab protects its client accounts with advanced encryption technology through the use of extended validation certificates. The company constantly monitors its layered security program to protect client's accounts and data.
Accounts at Schwab are covered by the Securities Investor Protection Corporation (SIPC) which ensures up to $500,000 for segregated accounts with a limit of $250,000 for uninvested cash balances. In addition, for large-balance Schwab accounts (up to an aggregate $600 million) insurance is issued by Lloyds of London.
What Vanguard Offers
Vanguard's security features depend on web browser technologies like Transport Layer Security (TLS) with version 1.1 or higher required to access accounts. In addition, Vanguard has an extended validation Secure Sockets Layer (SSL) certificate from Comodo, a leading internet security company. Vanguard depends on its clients to be vigilant and report any unauthorized or suspicious activity in their accounts to fraud@vanguard.com or to a toll-free number.
Accounts at Vanguard can rely on the Securities Investor Protection Corporation (SIPC), which ensures up to $500,000 for segregated accounts with a limit of $250,000 for uninvested cash balances. In addition, for large-balance Vanguard accounts (up to an aggregate $250 million) insurance is issued by Lloyds of London.
Bottom Line
Both companies offer considerable security measures. Nevertheless, Schwab's security closely monitors its customer accounts for any suspicious activity, while Vanguard asks its clients to be vigilant and report discrepancies in their account activity.
Charles Schwab vs. Vanguard: Customer Support
Customer service at both companies can be accessed during business hours. Schwab offers 24-hour phone support while Vanguard does not.
What Charles Schwab Offers
Charles Schwab offers its clients 24-hour phone support, a live chat line, email support, and personal consultation and support at any one of the 300 Charles Schwab branch offices.
What Vanguard Offers
Before the advent of online investment platforms, personal brokers and account managers kept clients informed and current on their investments via telephone, which remains the case with Vanguard. The firm also offers customer service hours between 8 a.m. and 10 p.m. EST Monday through Friday with no live chat service.
Vanguard's client support center page on its website gives the user a choice of 16 boxes with different FAQs describing IRAs, brokerage services, ETFs, etc. While some of the FAQs link to online pages, others require the client or potential client to mail in a request for information from Vanguard's headquarters.
Bottom Line
Compared to Schwab, Vanguard falls short in the area of customer service. Vanguard has no online chat feature, and you can only call Vanguard business hours, which puts Vanguard clients at a distinct disadvantage.
Charles Schwab vs. Vanguard: Tradable Asset Classes
Both companies offer many of the same investment products, but Schwab offers a broader range of products than Vanguard.
What Charles Schwab Offers
Charles Schwab offers trading in the following asset classes: mutual funds, exchange-traded funds (ETFs), money market funds, stocks, international stocks, bonds, fixed income products, options, futures, and annuities.
What Vanguard Offers
Vanguard offers trading in Vanguard mutual funds and ETFs, other companies' funds and ETFs, individual stocks, CDs and bonds.
Bottom Line
Despite Vanguard's limited product line, the variety within the individual choices could be sufficient for passive investors. On the other hand, Schwab's tradable assets could accommodate traders of all levels and experience.
Charles Schwab vs. Vanguard: Ease of Use
A simple, easy-to-use investment platform can be a valuable asset to most investors, although some might prefer more advanced features for market analysis.
What Charles Schwab Offers
Schwab's website is accessible and easy to navigate. Schwab's trading platform features an intuitive interface and a wide range of research tools. For example, Schwab's platform features technical analysis capabilities that most traders will find very useful and intuitive enough to start using immediately.
What Vanguard Offers
Vanguard's order entry interface is very straightforward for just about any investor to use but seems somewhat antiquated. Its interface lacks a market analysis function, but Vanguard compensates by providing one-on-one client services. This makes it an especially easy choice for unsophisticated and passive investors who do not wish to learn how to analyze markets themselves.
Bottom Line
Schwab's website, platforms and trading tools show considerable superiority to Vanguard's for more advanced traders. However, Vanguard's order entry web page may seem easier for some investors than using Schwab's more complex platform.
Final Thoughts
Vanguard has a considerable edge in ETFs and mutual funds. Both companies offer some of the same services but clearly cater to two different types of investor.
Charles Schwab excels in its stock execution, trading platform and wide variety of tradable assets, which makes it ideal for medium- and short term traders.
In contrast, Vanguard excels in wealth management and stresses the relationship with an account executive. Although it discourages short term trading through its notably simplistic order form trading method, the company currently has over $5 trillion under management.
Both brokers rank among the top in their respective fields but cater to completely different types of investors and traders. Schwab's services cater to traders and investors of any experience level, while Vanguard is more appropriate for long-term investors and retirement savers.
Overall, your investment experience level, style and objectives will help determine which is the best online brokerage for you.