Benzinga Money is a reader-supported publication. We may earn a commission when you click on links in this article.
Learn more.
Jump straight to Webull! Get real-time market data, analysis tools and $0 commissions.
Amazon or eBay might be the first companies to pop into your head when you think of e-commerce. But a small startup with humble beginnings in Ottawa has elbowed itself into the e-commerce A-list thanks to an aggressive strategy and tireless fundraising.
It's online store creator Shopify, which recently celebrated its 15th birthday. Like Amazon, Shopify was born out of frustration over legacy platforms by forward-thinking entrepreneurs who envisioned a better way to do business.
Today, Shopify reports over 800,000 client stores in 175 different countries. The company's clients moved $41 billion worth of merchandise in 2018. Shopify is clearly making its mark on global e-commerce, but how does it compare with competitors like Amazon? First, you'll need to know how Shopify operates and who the company competes against.
Quick Look: How to Buy Shopify Stock
Step 1: Create an investment plan with the stock you want to purchase.
Step 2: Figure out how much you want to invest in Shopify.
Step 3: Select a broker you want to purchase the stock through.
Step 4: Find your entry point.
Step 5: Make your trades.
Shopify History and Stock Performance
Shopify began not as a marketplace, but as an online store for snowboarding equipment. Founded by Tobias Lütke in 2004, the original store was called Snowdevil. Lütke created Snowdevil over dissatisfaction over the state of e-commerce in the post-dot-com bubble. Lütke built Snowdevil in 2 months and launched the platform out of his garage with his friend Scott Lake.
By 2006, Snowdevil's success made Lütke refocus his efforts from snowboarding apparel to e-commerce as a whole. The software underlying his system was the real secret sauce. At the time, most small businesses didn't have a way to sell merchandise over the internet. Many didn't even have websites. Lütke created a platform of interconnected stores where sellers could reach buyers all over the globe. Soon after, Jaded Pixel, the predecessor to Shopify, was launched.
Jaded Pixel received $450,000 in capital from various sources later in 2006 and Lütke called upon computer design expert and long-time friend Dan Weinand to be the third founder of his new company: Shopify.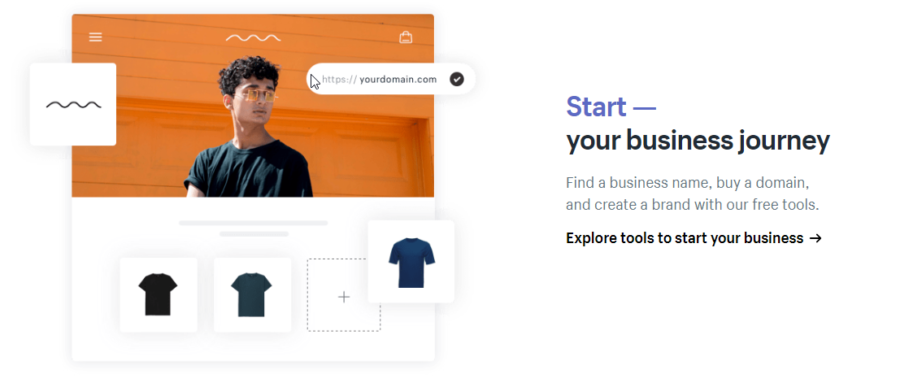 Shopify hosted over 120,000 different retailers by 2014 and earned $105 million in revenue, greasing the skids for an IPO. On May 21, 2015, Spotify went public under the very appropriate stock symbol SHOP.
Underwriters valued the company at $1.27 billion and priced the offering at $17 per share. Needless to say, the underwriters shot a little low on their initial valuation. On the first day of trading, SHOP shares skyrocketed to $28 but remained in a trading range of $23 to $33 for the first 12 months on the market.
Shopify finally broke through the $40 mark in August 2016, nearly 15 months after going public. Breaking out of this range proved to be the catalyst for SHOP shares to climb to unprecedented heights. On August 21, 2016, Shopify closed at $41.52 per share. By August 21 of the following year, Shopify's stock had more than doubled to $103.74. The plucky former snowboarding retailer now found itself in competition with juggernauts like Amazon and eBay.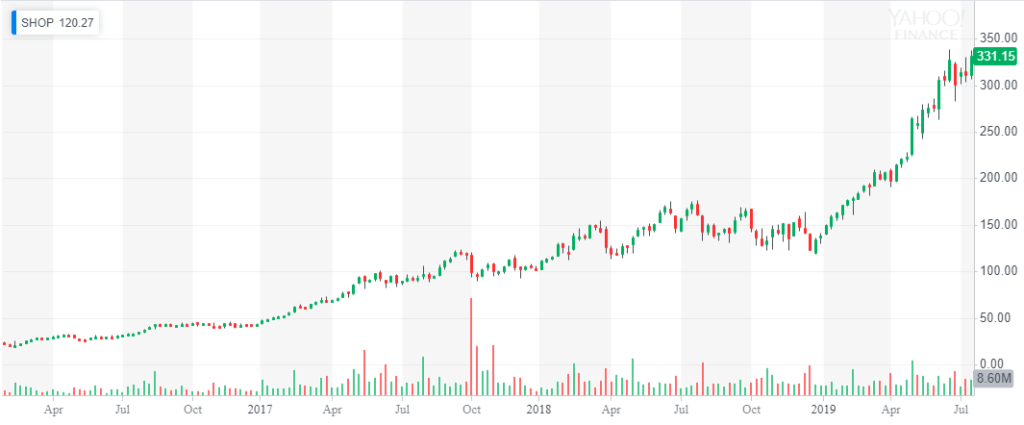 Shopify's biggest supporters couldn't have envisioned the meteoric ascent of SHOP shares beginning in late 2018. Shopify opened at $121.38 and closed at $130.21 on December 26, a solid 7% gain on the day. But this day marked the last time Shopify shares would ever close below $130 again. Since the beginning of 2019, SHOP has skyrocketed from $137 per share to $331 per share on July 18, 2019.
Since its IPO, Shopify is up an astonishing 1,117%. Amazon shares are up 361% in that same timeframe. Today, Shopify shares hover right near all-time highs and the company has a market cap of nearly $37 billion.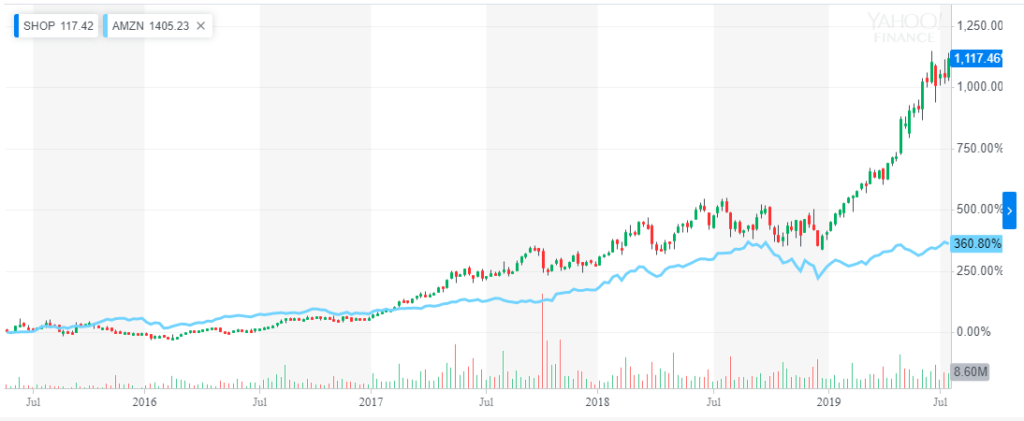 How much steam does the company have left? Some analysts have raised concerns about Shopify's debt levels and its reliance on third-party payment processors.
Here's how it works: The Shopify platform enables clients to build an online business by securing a domain name, advertising merchandise and procuring shipping arrangements. You can create a website or use Shopify to sell products or services.
Online stores are completely customizable and have features for tracking inventory and managing payments. You can also print reduced-cost shipping labels from the U.S. Postal Service, UPS and DHL Express. Shopify charges a monthly subscription fee to subscribe to these services, along with various other fees for payment processing and credit card sales. Clients can choose 1 of 3 different service tiers:
Basic Shopify: Basic Shopify costs $29 per month and gets you a basic store setup with website and blog, two staff accounts, 24/7 support and access to sales channels. The Shopify point-of-sale app and discounted shipping rates are included.
Shopify: Shopify costs $79 per month and includes all the features of the basic account, plus 5 staff accounts, gift cards, professional reports, cubic pricing from USPS and reduced fees on credit card sales and payment processing.
Advanced Shopify: Advanced Shopify costs $299 per month and includes all features from both Basic Shopify and Shopify. Advanced also includes 15 staff accounts, sophisticated reports, third-party shipping calculations and the steepest discounts on shipping and credit card fees.
Future Outlook for Shopify
Does Shopify have a place in your portfolio? There are a few pros and cons to weigh before buying shares.
Why You Might Want to Buy It
Incredible growth story: Shopify's story is the American Dream, only this time from Ottawa. From a small snowboarding store to a massive e-commerce platform closing in on 1 million clients, Shopify continues to expand. Just recently, the company launched Shopify Capital, a funding arm that backs online stores with the most potential.
Exceptional management: Its founder remains CEO of the firm and his vision on e-commerce has never wavered. Management remains committed to growth while providing a service that helps small and midsize businesses reach new clients.
Increasing revenue: Plenty of facts back up the bull case for Shopify as well, including its ever-expanding revenue numbers. Shopify has increased total revenue by 38% or more in each of the last 4 years. In fact, Shopify's total revenue in Q1 of 2019 was nearly double its entire annual revenue from 2015.
Considerations Before You Buy
Here are a few serious considerations you'll need to examine before you pull the trigger on Shopify stock:
Shopify loses money yearly: Despite expanding revenues, Shopify still burns through cash at a rate that alarms some analysts. It's reported over $1 billion in annual revenue for 2018 but still lost nearly $65 million.
Potentially overvalued stock: Shopify is up over 1100% since its IPO, but how much more room is there to run for a company with a high client churn rate and no profits?
Analyst downgrades: Several analysts have downgraded the stock since May of this year, including Morgan Stanley, Guggenheim, Roth Capital and CIBC. The stock hasn't received an upgrade since RBC Capital in February.
How You Can Buy Shopify Stock Right Now
Shopify has been one of the most exciting stocks to follow over the last few years, but like any investment, you need to measure the pros and cons beyond the headlines before putting any capital to work. Shopify has a unique business model and charismatic leadership.
On the flip side, e-commerce is competitive and the company doesn't have any profits to show for its growth. Have you determined that the good outweighs the bad with Shopify and want to invest? Here are the next steps to take.
Step 1: Build an Investment Blueprint
Just like a house, an investment without a blueprint will be cursed by the whims of the builder's emotions. Putting a plan down on paper takes your emotions out of the game and lets you focus on the facts. Why are you investing in Shopify? Are you hoping for a quick 10% gain or do you believe the company is worth holding for a decade?
Devise a plan with notable goals and determine how much you're willing to lose before pulling the plug on the investment. A trading blueprint is most helpful when sailing through a steep decline.
Step 2: Determine How Much to Invest
Once you have a trading plan, figure out how much of your cash to devote to SHOP shares. Remember, you never want to put too many capital eggs in one basket. Investing in individual shares is much riskier than buying ETFs or index funds, so evaluate your risk tolerance and determine how much you want to invest. You can always trim or add to your position later, too.
Step 3: Find a Low-Cost Broker
It's time to find some SHOP shares. Buying individual stocks can be expensive, so look for a low-cost brokerage that won't hurt your trade with commissions. Online-only brokerages like Robinhood and Webull offer trading completely free of commissions.
If you'd feel more comfortable with a legacy brokerage firm, look for one with trading commissions under $5 per trade. Charles Schwab, Ally Invest and E*TRADE all have commissions in this range. Nothing hurts a well-planned investment more than transaction costs, so always keep a close eye on the fees you're paying.
Here are a few of our favorite online brokers for beginners.
Step 4: Identify an Entry Point and Review Your Plan
Identify an entry point to maximize your trading profits. Here's where technical analysis comes in handy. Using concepts like support and resistance, try to locate an entry point where the stock seems to be gaining steam.
There's nothing worse than buying right at a resistance level and seeing your investment drop immediately after executing the trade. It's also a good idea to review your trading plan at this point, just so you have your goals fresh in mind during the trade execution stage.
Step 5: Execute Your Trade
Once you locate an entry point, it's time to execute your trade. Enter the number of shares you want to purchase and the type of order you'd like to place. Limit orders are more effective at controlling your costs since a trade is only executed once the shares reach a certain price. A marker order will simply fill as soon as possible at the best available price.
Where Does Shopify Fit in Your Portfolio?
Shopify shares have been on quite a run since their IPO and 2019 has been especially kind to shareholders. Buying a "hot new stock" is always tantalizing, but even home-run companies like Shopify deserve some scrutiny before making an investment. Always develop investment guidelines and weigh the pros and cons before buying shares. Will Shopify still look as appealing in 2020? Only careful research will uncover that answer.

Starting to build out your stock portfolio? Benzinga has you covered with resources on the best online brokers for beginners, and some of the best investing courses to help expand your understanding of how to trade.

Turn to Webull
0 Commissions and no deposit minimums. Everyone gets smart tools for smart investing. Webull supports full extended hours trading, which includes full pre-market (4:00 AM - 9:30 AM ET) and after hours (4:00 PM - 8:00 PM ET) sessions. Webull Financial LLC is registered with and regulated by the Securities and Exchange Commission (SEC) and the Financial Industry Regulatory Authority (FINRA). It is also a member of the SIPC, which protects (up to $500,000, which includes a $250,000 limit for cash) against the loss of cash and securities held by a customer at a financially-troubled SIPC-member brokerage firm.