Want to claim 6 FREE stocks? Head over to Webull to get started.
A true investing wizard, Buffett has gained worldwide notoriety as one of the most valued investors of all time—and with a net worth of just over $90 billion, its difficult to argue with his place in the history books.
However, Buffett's expertise lies in more than just his wizard-like perceptions of the stock market; able to explain complicated concepts to the everyday investor, there's plenty that can be learned by examining the life experience and advice of Warren Buffett.
The Best Warren Buffett Books To Get Right Now:
Buffett's recommended investing titles:
The Best Warren Buffett Books:
Buffett's Most Famous Quotes
"Remember that the stock market is a manic-depressive."
As anyone who has examined the market can tell you, an equity's value can change at a moment's notice. Stick to your trading strategy and remain rational in the face of an ever-changing market, and you'll keep the big picture within sight.
"Price is what you pay. Value is what you get."
All too often, stock market investors hesitate because they believe that they need to find the next Bitcoin or Amazon.com stock. Buffett advises that investors take a slightly different approach and invest in companies whose mission they believe in.
As a man who's made major money investing in companies like Apple, General Motors, and Mastercard, this is sound advice.
Buffett's Recommended Investing Titles
The secret to Buffett's high-profile career? Reading! Buffett has famously attributed much of his success to his insatiable reading habit. "I just sit in my office and read all day," Buffett once famously told a reporter. "That's how knowledge builds up, like compound interest." A few of the titles recommended by Buffett include: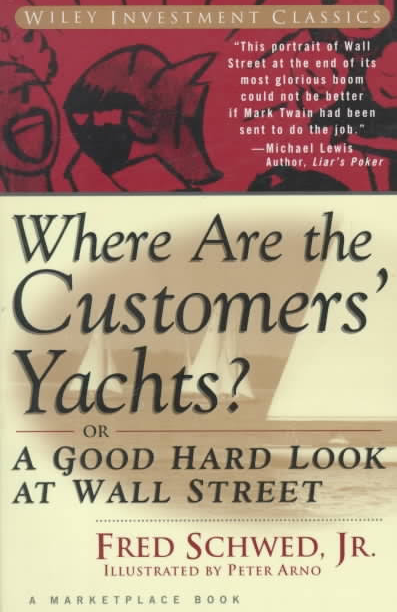 1. Where Are the Customers' Yachts? by Fred Schwed
Buffett is no stranger to Wall Street criticism and controversy. An attention-grabbing title that comes from a question asked by an investor visiting New York in the year 1940, Where are the Customers' Yachts? takes a hard look at the hypocrisy demonstrated by many of the world's top investors.
Buy it on Amazon: Paperback, Hardcover, or Audiobook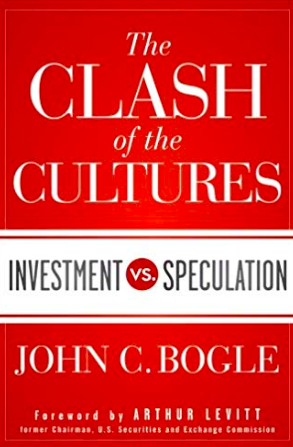 2. The Clash of the Cultures by John Bogle
Penned by the founder of investing powerhouse Vanguard, The Clash of Cultures examines how the increasing interconnectivity of the world is eroding many of the principles of long-term investing in favor of short term gain and instant gratification. An outspoken advocate of holding long-term equities, there's little question why Buffett holds the words of Bogle in such high regard.
Buy it on Amazon: Kindle or Hardcover
3. Jack: Straight From The Gut by Jack Welch
Straight From the Gut is the autobiography of Jack Welch, former leader of General Electric. A must-read for managers, Straight From the Gut offers effective tips for better management, which Buffett has stated is one of his secrets to deciding which businesses are worth investing in.
Buy it on Amazon: Audiobook, Kindle, or Paperback
The Best Warren Buffett Books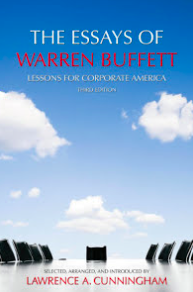 1. The Essays of Warren: Lessons for Corporate America by Warren Buffett
Many investors are surprised to learn that a man as prolific as Warren Buffett has never written a book or autobiography. However, his collection of annual letters written to Berkshire Hathaway shareholders contains plenty of advice and understanding for investors of all industries.
Though editor Lawrence Cunningham has made some executive decisions to sew the letters together, Buffett's collection of essays contains all his own works of wisdom organized by topic. Essays of Warren Buffett: Lessons For Corporate America aims to spread the philosophy of one of the world's greatest investors beyond the boundaries of his corporate reach—and the book does its job effectively with the assistance of a strong tone of voice and digestible "chunks" of information coordinated by Cunningham.
Buy it on Amazon: Kindle or Paperback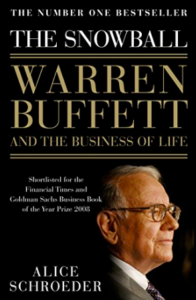 2. The Snowball: Warren Buffett and the Business of Life by Alice Schroeder
The Snowball was written with the assistance of Buffett's corporation, and it offers one of the few glances into the investor's life that pulls directly from his perspectives and insights from behind closed doors. The title "Snowball" comes from the metaphor of a snowball that grows exponentially as it rolls down a hill—and further acts as a simile to communicate the massive extent to which Buffett's portfolio has grown. Through corporate associates of Buffett, personal friends, family members, and the man himself, Schroeder has created over 900 pages of erudite wisdom on Buffett, covering every topic from his marriage to his thoughts on the future growth of the economy. Largely considered to be one of the most important and comprehensive books written on Buffett's life, readers will find plenty of gems from Schroeder's thousands of hours spent with the investing legend within the pages of Snowball.
Buy it on Amazon: Audiobook, Kindle, or Paperback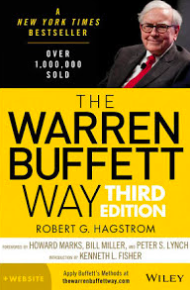 3. The Warren Buffett Way by Robert G. Hagstrom
Despite the avalanche of information at the fingertips of today's investor, many who trade stocks struggle to see a profit. Yet Warren Buffett has managed to navigate every conceivable market position over the course of his 60-year-and-counting career. Enter The Warren Buffett Way, a guide to understanding the trading philosophy of Buffett. The Warren Buffett Way isn't just a great choice for readers who are interested in learning more about Buffett's life—the book also contains plenty of educational insights on value investing that are useful and easy-to-understand for both the novice investor and the seasoned veteran alike. Hagstrom breaks down the "rules" for selecting stocks that have brought Buffett success and applies Buffett's trading philosophy to the current market.
Buy it on Amazon: Audiobook, Kindle, or Hardcover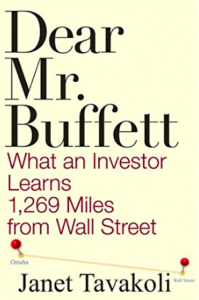 4. Dear Mr. Buffett: What an Investor Learns 1,269 Miles from Wall Street by Janet Tavakoli
Dear Mr. Buffett is not an autobiography of Buffett, though the Berkshire Hathaway CEO plays a major role in the development of the story's narration. Financial analyst and structured finance expert Janet Tavakoli sat down with the man who predicted the recession before it happened—the titular Mr. Warren Buffett himself—to learn about how his enduring investing principles and indicators allowed him to not only predict the crash but to thrive in it. If you've ever wanted to learn more about the Great Recession and the mortgage crisis of 2008 (and how abuse by some of Wall Street's biggest names contributed to the meltdown), Dear Mr. Buffett will offer an eye-opening look at the darker side of the investing industry.
Buy it on Amazon: Audiobook, Kindle, or Hardcover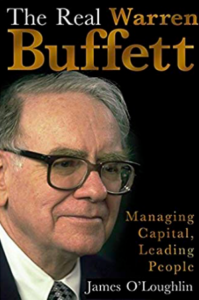 5. The Real Warren Buffett: Managing Capital, Leading People by James O'Loughlin
One of the often-spoken of characteristics that have contributed to Buffett's success is his innate ability to effectively manage both his employees and his business' capital. Despite being one of the world's most prolific investors and undisputedly one of the wealthiest humans to ever live, those who know Buffett personally report that his enduring sense of humility and humbleness has contributed to his quiet success and ability to make rational financial decisions even when faced with nearly unlimited access to capital. The Real Warren Buffett can be an invaluable asset to managers and venture capitalists—especially those who are looking to avoid the overconfidence and greed that have caused many investors in the past to lose large sums of money by getting too big for their budgets.
Buy it on Amazon: Audiobook, Kindle, or Hardcover
6. The Warren Buffett Stock Portfolio by Mary Buffett and David Clark
There are a few questions that every new stock market investor has before they make their first trade. When is the right time to buy? How can I tell if I'm getting a good deal? Will this stock rise in value—or will I be left broke a week from today?
The Warren Buffett Stock Portfolio lays out the rules that Buffett has used to craft his billion-dollar stock portfolio, and helps readers apply Buffett's investing ideas to their own life and trading. The book places less emphasis on the life of Buffett, instead focusing on his "rules" for investing and offering practical advice for novice equity buyers. Especially useful for new stock market investors, The Warren Buffett Stock Portfolio can be a powerful tool to help those getting a foothold in the market learn how to buy, when to buy, and what to look for when deciding if a stock will rise in value with Buffett's actual portfolio as a guide.
Buy it on Amazon: Audiobook, Kindle, or Hardcover
Final Thoughts
Though a countless number of pages have been devoted to detailing the life of Warren Buffett and his rise to success, understanding his story is not enough to make another stock market success story. Place more importance on the lessons that Buffett has taught you—buy stock in companies that you believe in, hold stocks for long periods of time for maximum returns, and take pride in your ability to trade rationally.
Ready to get started crafting your own stock portfolio? You'll first need to create a brokerage account. Check out Benzinga's guide to the best stock brokers to get started.