Saving for retirement seems impossible to conquer, no matter what your age. Luckily, there is an endless number of print and online resources that can make your journey towards retirement a bit more manageable. We've gathered some of our favorite books on retirement planning and investing, along with some tips for identifying the retirement planning book that's right for your needs. Consider picking up one of these helpful guides at your local bookstore or library.
Best Retirement Planning Books:
How to Choose the Best Retirement Planning Books
What makes a retirement planning book worth reading? Though each individual author will maintain his or her own unique tone and advising strategy, the best books all share these common characteristics:
Different strategies for younger and older investors: The best way to invest will largely depend upon how close you are to retirement when you begin. Younger investors have the added benefit of compound interest and time on their side; because they have more years to allow their money to grow before they reach retirement age, they can afford to take more risk. Older investors may have to put off their retirement if the market takes a turn for the worse and they've placed their money into volatile equities, so investors closer to retirement will want to make more conservative investments when it comes to their retirement accounts. Be very wary of retirement planning books and financial experts who advertise a one-size-fits-all strategy to saving and investing—you probably aren't getting the best advice possible for your unique situation.
A fun and engaging writing style: Planning for retirement doesn't have to feel like work. The best retirement planning books place the voice of the author front and center, employing an interesting and unique writing style to keep you turning pages. You wouldn't read a boring novel—so don't force yourself to "tough it out" through a snooze fest.
Easy-to-follow and up-to-date advice: Interest rates have plummeted, tech stocks have skyrocketed, and we all have computers in our pockets—the world changes, and the best retirement advice changes along with it. If your retirement planning book is old enough to remember writing checks or life before the internet, chances are high it doesn't have advice that is still relevant to saving for retirement in the digital age.
Realistic claims: Honest retirement planning books will tell you up front that saving for your golden years is a long and intense process that won't happen overnight. Be very wary of retirement planning "gurus" who claim to have the secret to retiring in five years or the next Amazon or Apple stock—these so-called "experts" are more than likely trying to sell you a scam.
The Best Books to Help You Plan Your Retirement
Based on the criteria above, here are the picks for the best retirement books.
1. How Much Money Do I Need to Retire: Uncommon Financial Planning Wisdom for a Stress-Free Retirement by Todd Tresidder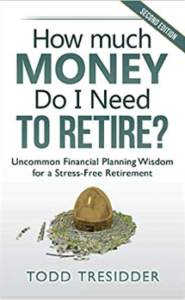 Before you can plan for retirement, you should know how it works. And where traditional retirement falls short. Todd Tresidder, financial coach and owner of Financialmentor.com, has created the ultimate behind-the-curtain look at modern retirement planning for readers in How Much Money Do I Need to Retire? The 2nd edition, newly updated for 2020, covers 3 models for estimating how much money you need to retire, when you may only be getting one method from financial planners. Tresidder wants readers to get a better understanding of how retirement savings actually works, so they have confidence in their plan and their needs
How Much Money Do I Need to Retire? covers multiple topics retirement planners need to know– how much to actually save for their lifestyle, how to ensure they don't outlive their savings, creating a fulfilling life in retirement and the steps to take in the last 5-7 years before retirement so they're fully prepared and ready. Straight-forward and conversational, Tresidder points out risk you may be missing in your current retirement planning and guides you to workable strategies to retire wealthy with confidence
Get it on Amazon
Kindle edition: Buy it now
Paperback edition: Buy it now
2. The New Retirementality: Planning Your Life and Living your Dreams… At Any Age You Want by Mitch Anthony
Does the idea of working into retirement scare you? The New Retirementality author Mark Anthony wants you to challenge everything you think you know about retirement. Anthony believes that retirement is an artificial "finish line," and expounds upon the mental, physical, and financial dangers of quitting work just because you've blown out the candles on your 66th birthday cake. This doesn't mean that Anthony advocates throwing investing to the wind and indulging in the pleasures of today—rather, the author encourages readers to create their own custom plan towards retirement and to rethink what it means to be retired.
Retirementality is unique because it's not a step-by-step how-to book—instead, Anthony focuses on teaching readers how to think for themselves and identify the type of retirement that will help them feel personally fulfilled.
Get it on Amazon
Kindle edition: Buy it now
Paperback edition: Buy it now
3. The Total Money Makeover by Dave Ramsey
One of the world's most recognized names in finance and investing, Dave Ramsey has built a book, podcast, and YouTube empire with his old-school investing advice. Ramsey advocates a simple set of rules for saving for retirement: "stop the excess spending, get out of debt, and start investing for the future." The Total Money Makeover offers readers a detailed plan to take control over their finances through easy-to-follow steps that require absolutely no prior technical or investing knowledge.
Though some of the advice that Ramsey offers is questionable (for example, he believes that there are no circumstances that a credit card is useful), the foundation of Total Money Makeover is a solid starting point for investors who prefer a straightforward writing style and no-jargon approach to saving and investing. Total Money Makeover is best used by investors who are new to saving and those who have a student loan, credit card or auto loan debt they need to tackle before they get serious about retirement.
Get it on Amazon
Kindle edition: Buy it now
Paperback edition: Buy it now
Hardcover edition: Buy it now
4. Women's Worth: Finding Your Financial Confidence by Eleanor Blayney
As the number of households headed by women continues to grow, Women's Worth offers a frank and honest look at the challenges female investors face that separate them from their male counterparts. Passionate and knowledgeable about investing, Blayney uses clear examples and concise explanations to help female investors bridge the gap between themselves and catch up on their retirement planning.
Blayney isn't afraid to address the gender-specific issues that women face when saving for retirement, including the wage gap and the fact that many women take time off from their careers to support a family. Empathetic yet professional, Women's Worth is a must-read for female head-of-households who are unsatisfied with their current retirement plan.
Get it on Amazon
Kindle edition: Buy it now
Hardcover edition: Buy it now
5. The 5 Years Before You Retire by Emily Birken
Though most retirement guides focus on saving early, the last five years before you retire contain some of the most important decisions you'll make before you enter your golden years. The 5 Years Before You Retire offers a basic yet comprehensive picture of what older adults can do to improve their savings quickly without pushing off their retirement.
The first half of the book also includes worksheets and forms that you can use to create a more personalized picture of what saving looks like for you and your family. If you're the hands-on type, you'll likely enjoy The 5 Years Before You Retire.
Get it on Amazon
Audiobook: Buy it now
Kindle edition: Buy it now
Paperback edition: Buy it now
6. Your Money or Your Life by Joe Dominguez and Vicki Robin
For newer investors who are looking for a unique perspective on saving, Your Money or Your Life offers broad-based financial guidance with a borderline sarcastic twist for readability. Your Money or Your Life focuses on the idea that men and women have a limited amount of "life energy" that can be devoted towards working, saving and spending, and aims to help consumers adjust their priorities to focus on making the most out of the energy that they expend by investing in appreciating assets.
Interesting, engaging, and jam-packed with supplementary photos, charts, and graphic design, Your Money or Your Life is an excellent choice for investors who are looking for comprehensive financial advice that covers more than just where to put their money and when to do it.
Get it on Amazon
Audiobook: Buy it now
Kindle edition: Buy it now
Paperback edition: Buy it now
7. The Behavior Gap: Simple Ways to Stop Doing Dumb Things With Money by Carl Richards
Do you let your emotions get in the way of saving money? Do you frequently splurge on "impulse buys" that depreciate in value almost immediately? Have you purchased an equity, watched it decrease in value, panicked and sold it, only to find that it later recovered—and perhaps was even worth more than for what you originally bought it? If you said "yes" to any one of these questions, The Behavior Gap is right for you. The Behavior Gap covers a crucial yet often-ignored component of trading and saving: the mindset of the investor.
Richards does an excellent job of communicating the importance of long-term trading strategies, offers a simple explanation of market cycles and why a decrease in equity value isn't something to fear and helps investors formulate a plan of action that will keep them out of the "herd mentality" that causes consumers to buy when the market is high and sell when prices are low.
A holistic look at finances wrapped in a captivating package, The Behavior Gap is a retirement planning guide for both short- and long-term investors who have already grasped the basics of investing but who have yet to see the returns they need.
Get it on Amazon
Audiobook: Buy it now
Kindle edition: Buy it now
Paperback edition: Buy it now
8. AgeProof: Living Longer Without Running Out of Money or Breaking a Hip by Jean Chatzky
Americans are living longer than ever before—and traditional retirement advice has not quite caught up with this trend towards longevity. AgeProof: Living Longer Without Running Out of Money or Breaking a Hip is based around a simple concept: all the money in the world means nothing if you're too sick and tired to enjoy your money during retirement. Penned by resident TODAY show financial expert Jean Chatzky, AgeProof uses clever health analogies to help readers gain a better grasp on both their retirement savings and their physical wellness.
For example, authors use the calories-in-calories-out principle of weight loss to help teach savings skills to manage cash flow and understand investing strategies. Equal parts health advice and financial wisdom, AgeProof is an easy-to-understand introduction to investing that readers of all ages and knowledge levels will be able to latch onto.
Get it on Amazon
Audiobook: Buy it now
Kindle edition: Buy it now
Paperback edition: Buy it now
Final Thoughts
There's no "right" or "wrong way to retire. Are you more of a DIY investor? Benzinga has a host of retirement planning resources, news, and information available to you at the click of a button. To get started, check out our roundup of the best IRA providers of 2018 to open your first retirement account or our guide to the best investments retirees can make if you're already living out your golden years.
Frequently Asked Questions
What are the stages of retirement?
The stages include pre-retirement, full retirement, disenchantment, reorientation and reconciliation.
Answer Link
What are the best retirement books?
Benzinga recommends "How Much Money Do I need To Retire," "Women's Worth," and "The 5 Years Before You Retire."
Answer Link
Related content: FutureAdvisor Review