Benzinga Money is a reader-supported publication. We may earn a commission when you click on links in this article.
Learn more.
Want to jump straight to the answer? The best pet insurance provider for most people is definitely Spot or Pumpkin.
When you love your pets like family, you want to make sure they're protected. Many pet owners have turned to pet insurance to help give them peace of mind for the health of their beloved family members.
But which pet insurance is best? Benzinga has put together a guide to help you pick the best pet insurance in Maryland.
The Best Pet Insurance in Maryland:
Pet Insurance in Maryland: An Overview
It's no secret that pet bills can become quite costly. Before making a decision about whether pet insurance is for you, it's important to understand the average cost of pet bills and pet insurance.
Number of households with pets: 85 million
Amount spent on pet bills annually: $1,070 for cats; $1,270 for dogs
Average cost of pet insurance annually: $300 for cats; $540 for dogs
What Does Pet Insurance Typically Cover?
Think of pet insurance as you would think of high-deductible health insurance for yourself. You take out these types of plans to help cover you in case of an emergency, right? Most pet insurance plans are designed to do the same thing — it's there if your pet experiences a serious illness or accident.
Like your health insurance, you can choose a deductible for your pet's health insurance coverage. The deductible is the amount of money you will have to spend on covered services before your insurance company will reimburse you. Pet insurance companies also allow you to select a reimbursement percentage on your plan. The percentage you choose is the percentage of the vet bill you will receive as a reimbursement. These factors affect your monthly pet insurance premiums.
Pet insurance typically does not cover preexisting conditions. Some pet insurance companies and plans may offer terms that allow for coverage of a preexisting condition in some cases. For example, some plans may offer coverage for a condition that has existed previously if it returns after your pet has shown no signs or symptoms of the condition for 6 months.
Most pet insurance plans cover:
Accidents. An accident is when your pet gets injured or has an emergency due to an unforeseen circumstance. This can include bite wounds from other animals and broken bones or torn ligaments due to running or playing too hard. This coverage also extends to vet visits due to your pet swallowing an object or toxic substance.
Illnesses. Your pet insurance plan should cover both minor and major illnesses. Common minor illnesses are infections such as ear infections and urinary tract infections. Pet insurance plans also offer coverage for major illnesses such as arthritis, cancer and hypothyroidism. You can expect your pet insurance to cover everything from the initial vet visit for diagnosis to the treatments your pet needs for their illness.
Implanting a microchip. Microchips are a wonderful addition to pet care and can bring peace of mind. A microchip is a small chip that is inserted under the skin between your pet's shoulder blades. If your pet ever wanders off, a vet or animal shelter can use a device to scan for a microchip. The microchip will give the scanner important information about the pet and your contact information. This implantation is becoming more and more common among animal rescues to help reunite pets with their families.
Vet services. If your pet visits the vet for a covered accident or illness, your coverage should also extend to common vet services. This includes diagnostic testing such as blood work, MRIs, ultrasounds and X-rays. It also includes treatments such as sutures, medications and surgery.
Some pet insurance companies offer plans that cover an even wider range of services. Be aware that some companies only offer coverage for these items as optional add-ons to your pet's base coverage. Some additional options you may see are:
Alternative treatments. If your pet is diagnosed with a covered condition, you may want to try some alternative treatment options. Some pet insurance companies offer coverage for therapies such as acupuncture, chiropractic care, hydrotherapy, laser therapy and rehabilitative therapy.
Behavioral issues. Some pets experience behavioral issues that are due to conditions such as anxiety. If your pet is exhibiting a behavioral issue, you should visit your vet to try to find the underlying cause and a suitable treatment plan. If this becomes a concern for you, you should look for a pet insurance plan that offers coverage for behavioral issues.
Congenital and hereditary conditions. Most pet insurance companies include coverage for conditions and birth defects that your pet may have inherited. These types of conditions may be common in some breeds.
Exam fees. When selecting your pet insurance company, be sure to check whether your plan covers vet exam fees. Some pet insurance plans cover exam fees when you visit the vet for covered reasons. Others will not reimburse you for the vet exam fees.
Prescriptions. Like humans, sometimes pets require prescriptions to keep them at their best. Some pet insurance companies offer coverage for prescription food, medications and supplements. These items need to be prescribed by your vet for a covered condition.
Preventive care. Generally your pet's preventive care is not covered by pet insurance. Preventive care refers to annual wellness exams with your vet, vaccines, preventive medication such as flea, tick and heartworm and regular screenings. Some pet insurance companies do offer preventive care coverage to help you manage your pet's necessary yearly expenses.
Pet insurance companies do not offer coverage for breeding costs or cosmetic procedures such as declawing or tail docking.
Most pet insurance companies operate on a reimbursement basis. After you visit your vet's office, you submit a claim to your pet insurance company. If the company accepts your claim, the money you spend at your visit is counted toward your deductible. After you've met your deductible, your pet insurance company will reimburse you for covered services.
Best Pet Insurance in Maryland
Now that you're familiar with what pet insurance tends to cover, it's time to break down the best pet insurance you can get in Maryland. You can enroll in coverage for cats and dogs, and many pet insurance companies offer discounts for enrolling multiple pets.
Pros
Multiple pet discount
Covers prescription food and supplements
No upper age limit for coverage enrollment
30-day money-back guarantee*
More reimbursement options: 70%, 80% and 90%
Cons
Doesn't cover exotic pets
1. High-Quality Pet Insurance: Spot Pet Insurance
Spot Pet Insurance is the No. 1 pet insurance provider recommended by Cesar Millan, the leading expert in dog behavior. Some insurance highlights:
Up to 90% reimbursement on eligible vet bills
No age cap on coverage
Plans start as low as $1 a day* — that's less than a cup of coffee!
You can customize your coverage and can even add special Spot-On coverage. Coverage options include accidents, behavioral issues, dental disease, illnesses, preventive services and even hereditary and congenital conditions.
Spot's claims service is easy. Just visit your vet, send Spot the bill and get reimbursed.
Take 30 seconds to fetch your free quote now.
*Rates vary based on plan type, species, breed, age and location

Pros
Discount for bundling
Access to vetted companies
Cons
Doesn't directly offer home insurance
Mobile app doesn't support home insurance
2. Progressive: Best for Bundling with Other Insurance Products
Progressive pet insurance offers the unique option to bundle your pet's insurance with other Progressive products.
You may be able to save money by adding your pet's policy to auto, rental and other policies.
Progressive offers accident-only, accident and illness and wellness routine care pet insurance plans. From these options, you can select 3 different levels of coverage depending on your pet's needs

Best For
Extensive Coverage
Pros
No upper age limit
Multiple pet discount
An extensive list of covered procedures
Cons
Plans only cover cats and dogs — no other pet types
3. Pumpkin Pet Insurance: Best for Variety
You'll find Pumpkin Pet Insurance offers a variety of the best pet insurance on the market. This insurer offers a wide range of traditional pet insurance and optional preventive care coverage. Every Pumpkin Pet Insurance policy has a 90% reimbursement rate.
You'll find policies for both dogs and cats. If you need the nitty-gritty on coverage details, your best bet is to get a sample quote to see exclusions clearly outlined.
Customer service is ready to answer your pet insurance questions. Pumpkin's customer service team can be reached by:
Calling 1-866-ARF-MEOW, Monday to Friday from 8 a.m. to 8 p.m. EST
Emailing help@pumpkin.care
Pumpkin's new online chat feature will be available soon.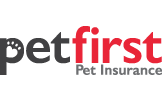 Starting Rate
$24- $115 per month
Best For
Chronic Conditions
4. petfirst: Best for Basics
petfirst is an affordable option for pet parents looking for basic coverage.
This company covers vet exam fees and the basic needs for most pets, including accidents, illnesses and surgeries.
Plans are economical but the insurer does not offer a routine wellness and preventive care option.
Should You Get Pet Insurance?
Pet insurance can offer you peace of mind by knowing that you have some financial protection if your pet experiences a serious accident or illness. If you're willing to invest by paying monthly premiums for your pet's insurance to help give you that peace of mind, pet insurance can be a worthwhile investment.
If you decide to get pet insurance, it's important that you compare the plans offered by various pet insurance companies. Only you can decide which plan and level of coverage are right for the needs of you and your pets.
Get started now with a free quote from 1 of our recommended providers.
First-Class for Your Pet?
SPOT Pet Insurance knows that your pets are part of your family. SPOT offers the highest quality pet-centric coverage and first-class service for pet insurance. 
SPOT works hard to earn your trust with a clear explanation of benefits and responsive associates ready to answer your questions. SPOT even sends "get well" notes for your pets and provides access to telehealth resources.