Sometimes the cost of everyday life means you have little left over to save for a large purchase. Blooming interest can make it hard to get on top of debt. A personal loan can be a good solution for either of these situations. You can apply for personal loans through your credit union, your bank or an online lender. Find a lender today using our list of trusted sources.
Best Personal Loans in Alabama
Applying for a personal loan online has many benefits, including the ability to easily compare personalized offers from various lenders and managing your loan from your phone. Check out some of our trusted sources for digital lending.
Credible
Use Credible to find custom-fit personal loan options from multiple lenders. You can compare loans side-by-side for free using Credible.
Comparing your offers won't hurt your credit score. The process takes less than 2 minutes, and you can choose the lender with the best terms and rates. Personal loans with Credible fund a variety of financial goals, like big trips or weddings, or to consolidate debt and improve your credit.
You'll find personal loan options with fixed, competitive rates with terms that range from 2 to 7 years. Loan amounts range from $1,000 to $100,000.
Aside from personal loans, you compare credit cards, home loans and mortgage refinancing, or student loans and student loan refinancing from lenders across the board.
SoFi
SoFi is a fee-less online lender offering several different types of loans. You can apply for a personal loan, a home loan, student loans or refinancing. SoFi also offers several investment products and spending accounts. You can also use SoFi as a credit monitoring tool or to apply for small business financing.
Personal loans from SoFi can fund home renovations or pay for medical procedures and emergency expenses. You can also reconsolidate your debt.
Applying for loans from SoFi is simple and fast online. Loans ranging from $5,000 to $100,000 are available with flexible terms and a fixed rate.
When SoFi says fee-less, it means there are no origination fees, no prepayments fees and no late fees. You'll pay less overall, and you can put your money toward repaying it as quickly as you'd like.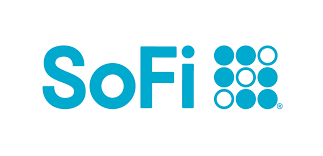 Disclosure: Fixed rates from 6.99% APR to 21.78% APR. APR reflect the 0.25% autopay discount and a 0.25% direct deposit discount. SoFi rate ranges are current as of 3/24/22 and are subject to change without notice. Not all rates and amounts available in all states. See Personal Loan eligibility details. Not all applicants qualify for the lowest rate. Lowest rates reserved for the most creditworthy borrowers. Your actual rate will be within the range of rates listed above and will depend on a variety of factors, including evaluation of your credit worthiness, income, and other factors. See APR examples and terms. The SoFi 0.25% AutoPay interest rate reduction requires you to agree to make monthly principal and interest payments by an automatic monthly deduction from a savings or checking account. The benefit will discontinue and be lost for periods in which you do not pay by automatic deduction from a savings or checking account.
Payoff
Payoff is an online service with a personal loan designed specifically for debt consolidation. You can use a lower interest Payoff loan to pay down high-interest credit card balances. Paying 1 set monthly payment at a low, fixed rate over a set number of installments makes debt management easier.
Loans range from $5,000 to $35,000 with fixed rate APR. Terms fall between 2 to 5 years with origination fees of 0% to 5%.
Unlike many lenders, Payoff is clear about its borrower standards. Check out its website to see if you meet them.
A loan from Payoff is a great way to tackle debt and improve your credit score. Your FICO score may see as much as a 40-point boost by raising your overall credit limit and lowering your credit utilization.
APR
Fixed 5.99% – 24.99%.
Loan Amounts
$5,000 – $40,000
Origination Fee
0%–5% of the loan amount
1 Minute Review
Happy Money offers personal loans that allow you to more efficiently consolidate high interest payments. Happy Money was previously known as Payoff. The company was founded in 2009 and has since helped fund over $3.5 billion in loans. Happy Money is a financial company that works with approved lending partners to fund loans. Happy Money designed its Payoff Loans to provide borrowers with the financial freedom and power to be matched with a lending partner. Benzinga reviews Happy Money Loans as a way for people to consolidate debt with potentially lower APR rates. 
Best For
People with lower credit scores
Credit card debt consolidation
Pros
No prepayment fees
Potentially lower APR rates starting around 5.99%
Improve credit score
Cons
Personal loans only available for credit card debt
Personal Loan Considerations
A personal loan can help you improve your credit or cover a large expense by providing 1 lump cash payment. Look for loans with minimal fees, good rates, and terms that make sense for your specific financial situation. Meeting the repayment terms of your loan is important for your credit health, and you can face consequences if you don't. Also, be wary of too-good-to-be-true or predatory loans, especially online. Use a trusted lender to avoid any trouble.
Personal Loans vs. Credit Cards
Use a credit card if you need consistent access to relatively low amounts of credit. A personal loan is better for covering large, one-time expenses or to pay off multiple debtors. Personal loans tend to have fixed terms and rates, while credit cards come with variable rates and open-ended terms. Consider your unique needs before deciding which is best for you.
Find a Personal Loan Today
Get funding for a special expense or start working on your credit score with a personal loan. Apply for one online from any of our lenders or at a branch from one of our brick-and-mortar institutions.