Most of our users get purchase loans and refinance from New American Funding.
Ready to find the best jumbo loan for your needs? Our guide to the best mortgage companies that offer jumbo loans will make it a little easier to move into the home of your dreams.
Best Jumbo Mortgage Lenders:
Best Jumbo Mortgage Lenders
Now that you understand what you'll need to get a jumbo loan, it's time to take a closer look at individual lenders. Let's take a look at some of the best mortgage lenders that offer jumbo loan options. 
1. New American Funding
Jumbo loans are available for primary residences, vacation homes, or investment properties.
New American Funding follows a standard closing process, meaning the time to close will depend on the client and loan type. You can choose to start with a prequalification or preapproval. Prequalification doesn't involve verifying your income. Preapproval means underwriters have reviewed your income and assets and are reasonably confident you will qualify for a home loan.  

Get started
securely through New American Funding's website
Avg. Days to Close Loan
31-40
1 Minute Review
New American Funding offers conventional, proprietary and government-backed mortgages. Its variety of mortgage options make it worth checking out, especially if you have unique financial needs. It also offers options for refinancing and tapping into your home equity. Its products aren't available to New York or Hawaii residents.
Best For
Self-employed individuals
Those with lower credit scores
Those who want access to a variety of mortgage options
Pros
Offers several mortgage options
Website and app to manage your mortgage
Educational resources like calculators, blogs and home buyer guides
Cons
Not available in New York or Hawaii
2. Rocket Mortgage®
Quicken Loans is one of the largest mortgage providers in the country. Rocket Mortgage® can help you quickly and easily apply for a jumbo loan through its Rocket Mortgage® platform. Rocket Mortgage® by Quicken Loans® has streamlined the mortgage process to a few simple steps. Most applicants will receive a decision in just a few minutes, and you may qualify for up to $3 million through the Quicken Loans jumbo loan program. You may even qualify with just 10% down.
Quicken Loans® also offers FHA, VA, USDA and conventional loans.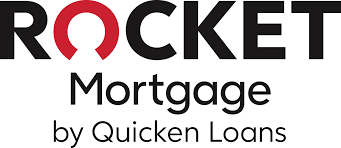 Avg. Days to Close Loan
30
1 Minute Review
Rocket Mortgage is one of the best mortgage lenders on the market, making it easy to apply for a home loan entirely online. Its streamlined preapproval process and quick access to customer service set it apart from other online lenders. Rocket Mortgage offers a large variety of mortgages and is backed by the largest mortgage lender, Quicken Loans. Whether you need help or know exactly what you're looking for, Rocket Mortgage matches you with the right mortgage type and helps you quickly complete your online application.
Best For
Homebuyers who are looking to complete the mortgage application process on their own
Homebuyers who have found their dream home and are looking to move through the approval process quickly
Homebuyers with good credit scores looking to review their mortgage options
Current homeowners looking to refinance within the next few months
Pros
Rocket Mortgage allows you to move at your own pace, guiding you through each step of the process. After you answer all the application questions, Rocket Mortgage lets you know if you're approved and show your personalized mortgage recommendations
You can submit checking and savings account information, tax returns and other financial documents online — a feature that sets Rocket Mortgage apart from online competitors
RateShield allows you to lock in your Rocket Mortgage approved rate for up to 90 days
The home loan application process can be completed in minutes, allowing you to find out if you qualify for a mortgage right away
The online software allows you to navigate through the entire home buying process, from approval to home closing. Once you're approved and you make an offer on your home, Rocket Mortgage offers online tools that will help you move through the rest of the closing process
Cons
While Rocket Mortgage has customer specialists ready to answer your questions and provide guidance, if you prefer sitting across from a person when filling out financial forms, this lender might not be right for you
You can't easily view all of Rocket Mortgage's home loan options prior to applying. It offers conventional, FHA, USDA and VA loans, but you'll need to apply to find out more about the mortgage types within these offerings and which ones you're eligible for
3. Luxury Mortgage
Your lender needs to know that you have a consistent, steady income when you borrow money. This is especially important for a larger jumbo loan, which may reach millions of dollars. You might find it difficult to get the jumbo loan you need because lenders see your fluctuating income as unreliable or they may not consider nontraditional business assets.
Luxury Mortgage provides individualized mortgage solutions if you're self-employed. Luxury Mortgage's flexible Asset Qualifier home loan considers nontraditional sources of income and assets — perfect for business owners who have a large percentage of cash tied up in work-related assets. You can borrow up to $6 million with an Asset Qualifier loan and your credit score can be as low as 580 points.
Luxury Mortgage is licensed to lend in Connecticut, Georgia, Illinois, Maryland, Massachusetts, Michigan, New Hampshire, New Jersey, New York, North Carolina, Pennsylvania, South Carolina, Tennessee, Texas, Virginia, and Washington.
Avg. Days to Close Loan
30 – 40
1 Minute Review
Luxury Mortgage offers standard products like conventional loans, VA loans, Jumbo loans and FHA loans. It also has more specialized products like bank statement loans, asset qualifier mortgages and no doc investment property loans. If you've had a hard time finding a mortgage due to erratic income, being retired or buying an investment property, Luxury Mortgage is worth a look.
Best For
Self-employed professionals
Retirees
Investors
Condo buyers
Pros
Wide variety of mortgage products
Niche products like bank statement loans
Works with many state home buyer assistance programs
Cons
Only available in 29 states
4. SoFi
SoFi is an online mortgage provider that offers conventional, jumbo and government-backed mortgages. SoFi has streamlined the mortgage application process down to the absolute basics — most people will be able to apply for loans in as little as a few minutes. You'll be able to borrow up to $1.5 million with 10% down and no PMI. 
5. Veterans United
You already know that a VA loan is a type of government-backed mortgage loan that allows veterans and active members of the armed forces to buy a home with no money down and no private mortgage insurance. Private mortgage insurance is money you pay to a lender in the event that you default on your mortgage. Did you know that you can also get a VA jumbo loan to buy a more valuable property as well?
Check out Veterans United. Veterans United offers 30-year VA jumbo loans at interest rates comparable to regular VA loans. Veterans United allows you to finance up to $3 million in a home loan with a low down payment and looser credit requirements. The team at Veterans United can also help you learn more about the VA loan process and assist you in getting the paperwork you need to secure your loan.

Get started
securely through Veterans United Mortgage's website
Avg. Days to Close Loan
30
1 Minute Review
Veterans United focuses on helping veterans and current service members find the right mortgage for their needs. It's licensed in all 50 states and the District of Columbia and is the top VA lender in the country. If you're currently serving or if you're a veteran, Veterans United is worth considering due to its outstanding customer service and range of mortgage options.
Best For
Current service members
Veterans
First-time home buyers
Pros
24/7 customer service
Offers VA purchase and refinance loans
Offers credit consulting through its Lighthouse Program
Cons
Branches in only 18 states
Financing Your Future Home
Finding the right mortgage loan doesn't need to be confusing. Start by comparing at least a few different lenders working in your area for current interest rates, loan types offered, customer service quality and loan application process. Remember, a mortgage loan can be a 30-year commitment. Take some time to ensure that you've got the best loan for you and your family.
Get Ready for Take Off
Rocket Mortgage® is an online mortgage experience developed by Quicken Loans®, America's largest mortgage lender. Rocket Mortgage® makes it easy to get a mortgage — you just tell the company about yourself, your home, your finances and Rocket Mortgage® gives you real interest rates and numbers. You can use Rocket Mortgage® to get approved, ask questions about your mortgage, manage your payments and more.
You can work at your own pace and someone is always there to answer your questions — 24 hours a day, 7 days a week. Want a fast, convenient way to get a mortgage? Give Rocket Mortgage® a try.