Want to jump straight to the answer? The best forex broker for most people is definitely FOREX.com or CedarFX.
The stock market is big, but the forex market is much bigger. In fact, with a daily trading volume of over $5 trillion USD, forex is the largest financial market in the world and that can mean a massive opportunity for traders – whether you're in London, Birmingham, or Manchester. Many of the leading forex brokers in the U.K. are based overseas.
This isn't a bad thing. It means that in addition to being regulated by the Financial Conduct Authority (FCA), overseas brokers may also be subject to local regulation, adding an extra layer of oversight.
Best Forex Brokers in the UK
Take a look at our favorite brokers in the UK.
1. FXCC
FXCC offers support for forex and CFD investors, allowing up to 70 currency pairs. In addition, 8 popular cryptocurrencies are available, spot palladium, gold and silver. You can even invest in Brent and WTI oil.
FXCC sits at number 1 on our list with a wide range of features, including:
MT4 trading platform
Extremely low pips
24/5 customer service via live chat, phone, email or fax
Multilingual support
In addition to the expansive list of trading options, you also have analytical and charting tools that will point you in the right direction. Regulated, secure and diverse, FXCC will help you get started or simply grow as a forex investor.

Best For
Forex and CFD Traders
1 Minute Review
FXCC provides brokerage services for forex and CFD traders with more than 70 currency pairs; spot platinum, palladium, gold and silver; 8 of the top cryptocurrencies including Bitcoin, Ethereum, Litecoin and Ripple; 12 of the world's leading stock indices; and spot WTI and Brent crude oil. 
The broker supports the popular MetaTrader 4 trading platform with multiple terminal capabilities and a multi-account manager. You can also access the FXCC MT4 platforms on Android and iOS smartphones and tablets. FXCC employs an electronic communications network/straight-through processing (ECN/STP) model, so you get tight forex dealing spreads from top Interbank liquidity providers. 
In addition to access to daily market analysis and market education resources, you can get a 100% first deposit bonus of up to $2,000 when you open an FXCC XL account. If you want to check out this broker's services and trading platform, just open a free demo account with no minimum deposit.
Best For
MetaTrader 4 traders
Forex and CFD traders
Pros
ECN/STP broker model
100% first deposit tradable bonus
Free Virtual Private Server (VPS)
Supports MetaTrader 4
Has an offshore subsidiary for high leverage trading
Cons
Does not accept U.S. based traders or U.S. citizens as clients
Only supports 1 trading platform
2. IG Markets
IG Markets has quite a few trading options and powerful platforms. Use MT4 or the proprietary platform IG Group created for its customers. You get low spreads on your investments, and the minimum deposit is only $250. Try a demo account if you want to learn more about forex investing, or reach out to the customer service team 24/5.
You can also partake in:
Autochartist
Technical analysis tools
Several indicators
When you place orders, you can set your bracket and limit orders any way you like. In short, the site makes it easy for you to protect yourself, especially when investing in volatile assets. Plus, IG Markets is truly a global brand, offering multilingual support.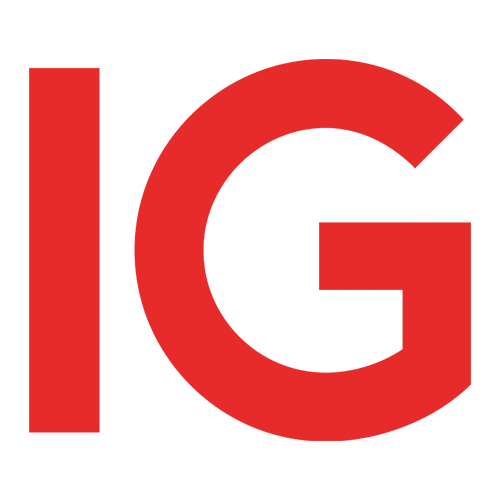 1 Minute Review
IG is a comprehensive forex broker that offers full access to the currency market and support for over 80 currency pairs. The broker only offers forex trading to its U.S.-based customers, the brokerage does it spectacularly well. Novice traders will love IG's intuitive mobile and desktop platforms, while advanced traders will revel in the platform's selection of indicators and charting tools. Though IG could work on its customer service and fees, the broker is an asset to new forex traders and those who prefer a more streamlined interface.  
Best For
New forex traders who are still learning the ropes
Traders who prefer a simple, clean interface
Forex traders who trade primarily on a tablet
Pros
Easy-to-navigate platform is easy for beginners to master
Mobile and tablet platforms offer full functionality of the desktop version
Margin rates are easy to understand and affordable
Access to over 80 currency pairs
Cons
U.S. traders can currently only trade forex
Customer service options are lacking
No 2-factor authentication on mobile
3. FOREX.com
FOREX.com is regulated by several jurisdictions, including the U.K., U.S., and Japan, which ensures that the company's business activities are well-monitored, a plus for traders of any level.
With more than just forex trades on tap, Forex.com also offers traders opportunities to trade key indexes or even cryptocurrencies.
An expansive learning center, packed with educational information, coupled with three trading platforms ranging from advanced to mobile, make Forex.com a solid choice for traders of any level of expertise.
Tight spreads help reduce trading costs while 24-hour live support ensures that questions or issues can be quickly resolved.
4. Interactive Brokers
IBKR offers 100+ currency pairs on 23 currencies: USD, AUD, CAD, CHF, CNH, CZK, DKK, EUR, GBP, HKD, HUF, ILS, JPY, MXN, NOK, NZD, PLN, RUB, SEK, SGD, TRY, ZAR and KRW (with special conversion functionality).
The FXTrader provides an optimized trading interface with tools built for the currency markets, including real-time streaming quotes, up and down indicators, trading volumes, pending trades, executions, positions, and average price plus P&L.
Large-Sized Order quotes are specific to the order quantity entered are generated based upon an aggregation of quotes provided by interbank dealers to help get the best execution possible and minimize market impact.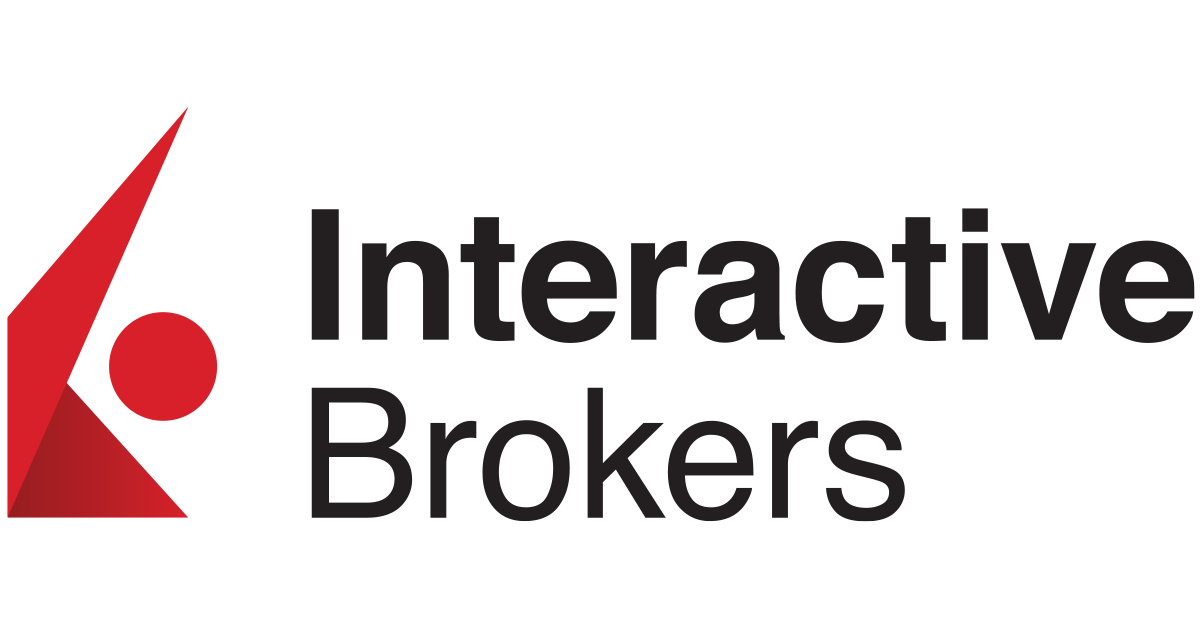 get started
securely through Interactive Broker's website
Best For
Sophisticated Investors
1 Minute Review
Interactive Brokers is a comprehensive trading platform that gives you access to a massive range of securities at affordable prices. You can buy assets from all around the world from the comfort of your home or office with access to over 135 global markets. Options, futures, forex and fund trading are also available, and most traders won't pay a commission on any purchase or sale.  
IBKR is geared primarily toward experienced traders and investors but now with the availability of free trades with IBKR Lite, casual traders can also acclimate to IBKR's offerings.
Best For
Access to International markets
Active traders
Sophisticated investors
Detailed mobile app that makes trading simple
Wide range of available account types and tradable assets
Pros
IB SmartRouting searches for the best firm price at the time of your order
Trade on 135 markets, in 33 countries & 23 currencies worldwide
Invest globally in stocks, options, futures, currencies, bonds and funds from a single integrated account
Select from 24 currencies as a base currency for your account
5. Moneta Markets
Moneta Markets is designed for all traders from beginners to experts. Using MT4, MT5, WebTrader and AppTrader, you can use this platform for either its access to the markets, its analytical tools or both.
As you get to work on Moneta Markets, you also enjoy:
No deposit fees
Low spreads
Islamic accounts
A wide range of financial tools
There are over 45 FX pairs, 15 indices, 15 commodities markets, over 135 CFD options and a wise range of research tools. You can easily learn about these investments as you search the site, and you can continue to expand or diversify your portfolio on the go.
With 24/5 customer support via email or over the phone, you can manage your account with ease. Plus, you can get up to a 50% deposit bonus on a maximum $500 deposit. Scalpers, swingers and long-term traders will find this platform to be more than helpful.

1 Minute Review
Moneta Markets allows users to trade on primary financial instruments that include forex, share CFDs, indices, commodities and cryptocurrencies through their custom web and mobile platforms. However, due to CFTC regulations that make it impossible for US citizens to trade with offshore brokers, the platform is unavailable for US traders.
Best For
Beginners, intermediate and advanced traders
Scalpers, swingers and long-term traders
Traders looking for an all-in-one trading platform.
Islamic traders looking for a swap-free trading platform.
Pros
4 platforms: MT4, MT5, next-gen WebTrader and AppTrader platforms
Wide range of financial instruments
Outstanding analytical and educational tools
Very competitive low spreads
50% deposit bonus on $500+ live trading account
$0 deposit fees
It does not require any download
Cons
Unavailable for US clients
Offshore regulators may not guarantee adequate protection
6. Swissquote
When you want to invest in the foreign currency markets, you can turn to Swissquote, a firm that went public in 2000 and offers a massive range of tradable assets. Using robo advisors and quantitative management techniques, you get quality results from the platform.
Designed for financial professionals, active day traders, CFD traders, derivatives traders and anyone who wants powerful trading options and elaborate tools, it works for anyone who is serious about building their portfolio and growing wealth. You can set up private and business accounts, and you will benefit from several features like:
MetaTrader 4
MetaTrader 5
Autochartist
Plugins
Advanced Trader
FIX API
With 3 account types and reasonable minimum balances, you can also trade stocks, ETFs, OTC Swiss derivatives, structured products, bonds and even themed products.
Best For
Contract for Difference (CFD) Traders
1 Minute Review
Established in 1996 in Gland, Switzerland, Swissquote Group Holding Ltd. (SWK: SQN) is a Swiss banking group that has become one of Switzerland's leading providers of online foreign exchange (forex) trading and financial services. The company went public in May 2000, and its stock trades on the SIX Swiss Exchange under the symbol SQN. 
Swissquote provides a wide range of financial services in Switzerland and the rest of Europe, the Asia-Pacific region and the Middle East. The company maintains offices in Bern and Zürich, Switzerland, London, Luxembourg, Malta, Dubai, Hong Kong and Singapore. It employs 952 people.
Swissquote offers clients extensive resources to trade foreign currency and other assets as well as providing excellent trading platforms with a wide variety of research tools. 
Best For
Forex traders
Finance professionals
Contract for difference (CFD) traders
Derivatives and commodity traders
Pros
Wide range of tradable assets
Excellent trading platforms
Quantitative asset management (QAM)
Robo-Advisor for automated trading
7. Pepperstone
Investing with Pepperstone gives you the opportunity to build a diverse portfolio that accesses many different markets. With 24/7 customer service and a robust educational hub, you can trade in:
Over 60 forex pairs
Over 60 stock CFDs
Stocks
Crypto
You can use up to 500:1 leverage for your investments, and you can use MetaTrader or cTrader depending on your preferences.
Read Benzinga's full Pepperstone review.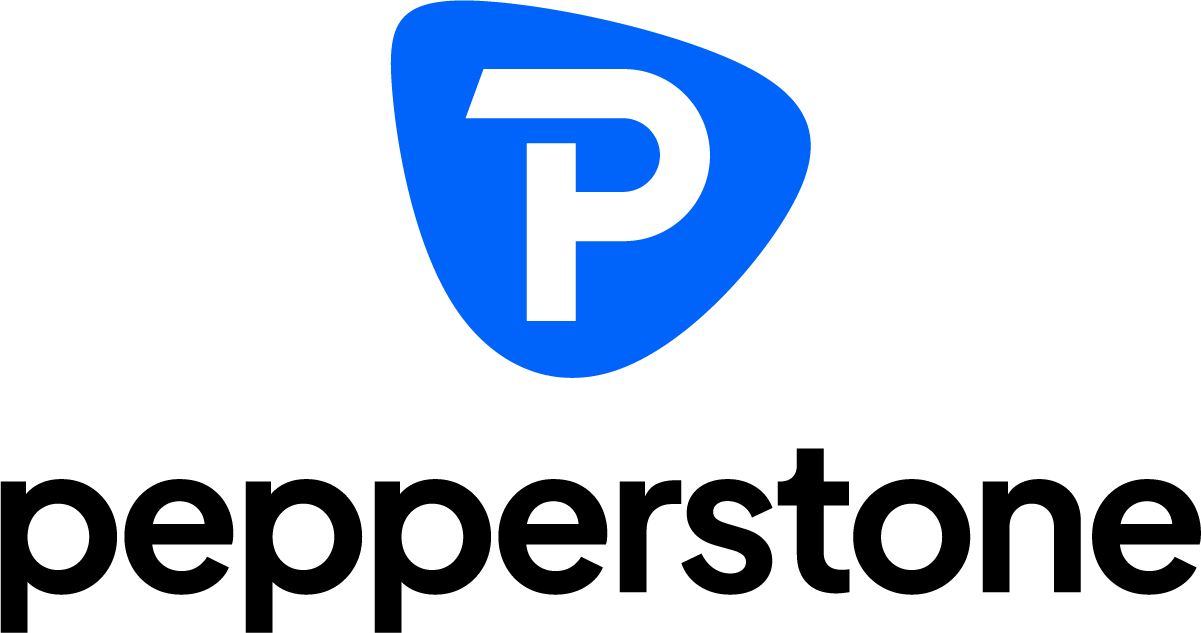 Account Minimum
AUD$200 or equivalent
1 Minute Review
Pepperstone is an Australian broker focused on providing international forex, CFD and cryptocurrency trading. Though U.S. traders currently cannot open an account with Pepperstone, the broker remains an affordable and comprehensive option for international traders. 
Pepperstone offers traders access to over 61 forex markets, over 60 CFDs for index funds and stocks and 5 cryptocurrencies. Leverage options with Pepperstone are extensive; you may qualify for up to 500:1 leverage when trading currencies and up to 5:1 leverage when trading cryptocurrencies, for example.
There are a few areas where Pepperstone can afford to improve. We'd love to see Pepperstone add its own trading platform in the future instead of relying entirely on 3rd-party platforms. We'd also love to see direct stock and fund purchase options in the future. Despite these flaws, Pepperstone remains a very strong choice for international traders.
Best For
International traders interested in trading CFDs from foreign markets and currencies
Traders who are already familiar with the MetaTrader or cTrader platforms
Traders who are looking for leverage when trading cryptocurrencies
Pros
Access to over 61 forex pairs and over 60 stock CFDs
Leverage available for both forex and cryptocurrency trading
Wide range of educational tools and courses that both beginners and experts can use
24/7 customer service
Cons
Not currently available to U.S. traders
No option to purchase stocks, bonds or mutual funds directly; only CFDs are available
What is Spread Betting?
Among the forex brokers, there is some overlap between forex trading and spread betting, two very different types of trades even though both can involve currency. Spread betting makes it easy to bet on a range of potential outcomes with a specific expiry date (contract end date). As an advantage to other types of trades, there is no capital gains tax.
However, there is no asset of value held, either. Spread betters are simply speculating on market movements without taking a position in a currency.
UK Forex Trading Strategies
There's plenty of money flowing through the U.K. forex market, but successful trading is more likely with a proven strategy. Take a look at some of the ways that people trade forex.
Using Momentum
Momentum indicators are very popular because they indicate the possibility of a trend. Crossover lines on a momentum indicator provide entry and exit guidance. Momentum is considered a lagging indicator. You'll enter a trade after a trend begins, but there is less chance of being wrong about the trend.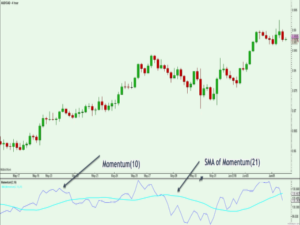 Attribution: Forex Training Group
Trading Breakouts
When a price breaks away from a previous range, moving past the extremes of that range, it's a breakout. Investors who move on this pattern hope that the price will continue to move in the breakout direction because it has broken the resistance of the previous range.
Return to Mean Strategy
If you notice a currency pair is trading in a range around a certain price, you may employ a return-to-mean strategy to pull a profit from your investment. When the product moves away from the mean, you make a trade that assumes it will return to that mean at some point.
Retracement: Even during a strong trend, prices hardly ever move up or down in a straight line. At some point in a rally, investors will take profits. The stock will experience a retracement, also known as a pullback. Retracement investors look to make money from the pullback rather than the rally.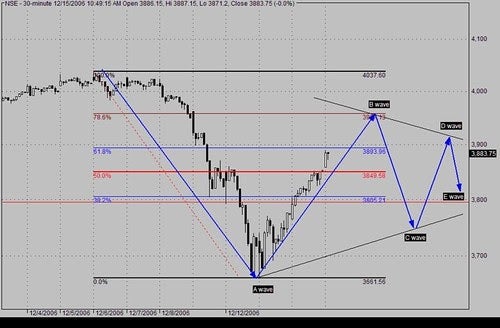 Attribution: Flickr
Reversal
If you think that a price is rising or falling on fake news or people are overreacting to something, you may invest in a reversal. Reversal traders want to be ahead of the market and they make use of momentum indicators and technical cues like double tops or the head and shoulders pattern
Carry Trading
A carry trade is a trade augment, meaning that it usually isn't a primary strategy. If you hold a trade overnight, you can take advantage of the interbank interest rate of the currency you purchased. Also, if you buy a high-interest currency with a low interest one, you pocket the difference.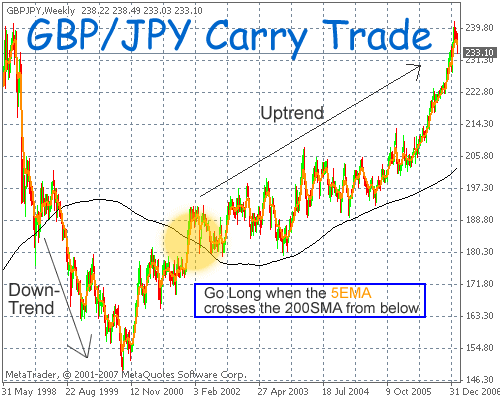 Attribution: About Currency
Pivot Points
You can trade off of the highs, lows and price reversals during the day if you're good at determining support and resistance levels in a trading range. These pivot points are important points where people expect price action to change. As a result, those price points often become self-fulfilling prophecies.
Understanding the Forex Market
The value of one currency compared to the other within a pair is called the exchange rate. For example, £1 will currently purchase $1.32 USD. Actually, the exchange rate is 1.3177 and the distinction can be important, particularly with high volume trades. Quick facts:
The exchange rate is carried out to four or five decimal points in forex trades.
Quotes you find online might only use two decimal points for simplicity.
The fourth decimal place is called a PIP, a Percentage In Point.
The fifth decimal is called a fractional pip or "pipette."
The Japanese yen is the exception and is quoted to 2 decimal points; the third decimal point is the fractional pip.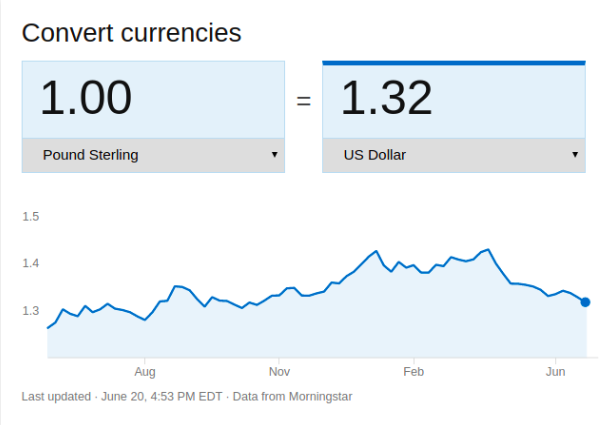 Because currency trades 24 hours per day and exchange rates are driven by supply and demand, rates change throughout the day. Over time, these changes can be sizeable. On larger trades, even small movements in price can mean a dramatic gain or loss.
Top traded currencies
Most of the trades in forex revolve around these four currencies:
USD (U.S. dollar)
EUR (Euro)
JPY (Japanese yen)
GBP (British pound sterling)
Lot sizes
Trades are executed in lots, which refers to the size of the order. A standard lot is 100,000 units of a currency, such as $100,000 USD.
Standard lot = 100,000 units (1 lot)
Mini lot = 10,000 units (.1 lot)
Micro lot = 1,000 units (.01 lot)
Nano lot = less than 1,000 units (varies depending on quantity.)
Some brokers offer trades in nano lots, which are less than 1,000 units but could be any number below 1,000. While a full lot may seem like a massive amount of money, through leverage, it isn't uncommon for traders to control mini lots or even standard lots (100,000 units) of a currency.
Types of orders
Forex trading often uses the same types of orders most commonly used in stock trading. Unless performing complicated trades, these four trades represent the order types used in most forex trades. Other types of orders may not be supported by all brokers.
Market order: fills your order at the best available price
Limit order: fills your order only at a specific price and won't execute if that price is not reached
Stop order: sells your holdings at a specific price and won't execute if that price is not reached
Stop loss order: sells your order automatically at a specific price to avoid further losses
Forex Trading Risks
Like any type of trading, forex has risks, some of which are unique to forex. Many of these risks are beyond the control of traders, but by understanding where the risks are many times risks can be averted or abated.
Exchange rates
Forex markets can move rapidly and changing rates can make a trade unprofitable quickly. This risk is amplified if using leverage but can be mitigated in part by using stop loss orders that allow traders to exit a position and limit losses when a predetermined rate is reached.
Leverage
1:50 leverage means that you can trade up to 50 times your account value. A margin is a related term. If your broker allows 1:50 leverage, your account must have 2% of the trade you want to make. Margin = 100/leverage, so 50 times leverage = 2% margin required.
Leverage provides the ability to multiply gains by the leverage amount — but losses work on the same formula, so a small move in currency values can trigger faster losses and possibly a margin call that forces you out of your position or requires an additional deposit. Some brokers offer leverage up up to 1:1000 or higher.
Volatility
Volatility, sometimes also called variability, refers to the fluctuation in price quotes during a given time period. Traders who want to open or close a trade may find difficulty in executing the trade at the desired price and may also find part of their trade quantity at a higher or lower price (or unfilled) due to volatility.
Interest rates
Interest rates set by central banks, such as the prime rate in the U.S. have a direct effect on currency values, often causing price changes based on news that could signal a change in interest rates.
Sovereign risk
While the risk is lower with major currency pairs such as GBP/USD or crosses such as GBP/JPY that represent currencies from countries with stable government finances, a country that fails to make its interest payments on debt or fails to make principal payment can change the value of its currency through its failures, causing the currency to lose value rapidly.
Counterparty risk
In a forex trade there is a risk that the other party in the transaction, typically the broker, doesn't meet their obligation. Forex traders in the UK are advised to choose a broker that is regulated by the Financial Conduct Authority (FCA).
Some brokers are merely registered with the FCA, an important distinction. Still, FCA regulation isn't a silver bullet that can protect traders against any event. FCA regulation focuses on trading integrity and assures traders that funds in their accounts with an FCA regulated broker are kept separate from the broker's own funds and are not subject to loss if the broker becomes insolvent.
Liquidity risk
In some extreme cases, there may be very few other parties interested in buying or selling. This creates a problem if traders need to build or exit positions and if sufficient volume needs to be traded into a low liquidity market, a buyer or seller can change the price for that currency for later trades by changing supply and demand through their own buying or selling activity.
Forex Trading Example in the UK
Let's say EUR/GBP is trading at 0.85060/0.85080 and you think the price will rise. The margin rate of this currency pair is 3.23% and you want to purchase €10,000. You will only need £274.78 in your account.
Keep in mind that it is possible to lose more than £274.78 because you are leveraging with margin (borrowed money from your forex broker).
The EUR/GBP price does actually move up. In 2 hours, it's trading at 0.86130/0.85150. This is a move of 105 points, and your profit is (€10,000*0.86130)-(€10,000*0.85080), or £105.
How we Made our Selections for Best Forex Brokers
1. Spreads
Unlike stock trading, forex trading isn't usually burdened by commissions or similar fees. Instead, brokers are compensated by using a spread, a gap between the bid and ask prices, that allows them a profit on each trade.
While not the only consideration, spreads matter because they affect the profitability of trades. Wider spreads can have the effect of higher trading costs. Rollover fees or swap rates, which represent the difference in interest rates between the two currencies in a pair held overnight aren't considered as a cost because a rollover fee can be either a fee or a payment to the trader. They work both ways.
2. FCA regulation
While the trades themselves aren't monitored, brokers that are FCA-regulated provide an extra margin of safety because their business practices are monitored.
There are examples of forex brokers that have become insolvent due to rapid changes in currency prices and exposure through leverage granted to traders and margin calls that haven't been covered. FCA regulation assures that funds for trading accounts are kept separate from the broker's own funds.
3. Cash management
The ease of funding trading accounts and getting your money back out are important considerations. Forex trading benefits from the ability to manage balances nimbly and to fund your account in a number of ways. When it's time to take profits out, that process should be equally simple.
4. Tools
Forex traders come in all forms, from beginner to expert, and everywhere in between. Trading tools that help traders to understand price movements or the mechanics of a trade are expected. Brokers or trading platforms should have charting, historical data, news, and other tools available for traders.
5. Customer support
When a problem or question arises for traders, it's important that there's a way — or several ways — that traders can get support. The forex trading market has evolved, making the platforms or brokers with better trading tools more appealing.
Final Thoughts
Massive swings aren't unusual in forex trading. Fortunately, many platforms offer demo accounts that allow traders to learn at their own pace or to test trading strategies without risk of using their own capital.
Whether you're new to trading or a seasoned pro, whether you're a high-leverage risk taker or a more conservative trader, there's a forex broker that's the best fit — and in many cases, the broker you choose will continue to meet your needs as your account grows.
Get a Forex Pro on Your Side
FOREX.com, registered with the Commodity Futures Trading Commission (CFTC), lets you trade a wide range of forex markets plus spot metals with low pricing and fast, quality execution on every trade.
You can also tap into:
EUR/USD as low as 0.2 with fixed $5 commissions per 100,000
Powerful, purpose-built currency trading platforms
Monthly cash rebates of up to $9 per million dollars traded with FOREX.com's Active Trader Program
Learn more about FOREX.com's low pricing and how you can get started trading with FOREX.com.