FREE Trial with Benzinga Pro happening right now!
If you want to get into the world of finance or brush up your skills, new knowledge is at your fingertips. Sure, you can read finance books or stock market books. But for a comprehensive learning experience, taking a course may be your best bet. You can take a traditional course on a college campus but it takes time to travel somewhere to go to a class. Busy professionals may find that investing courses or financial analysis courses online are a better option.
Featured Courses:
Best Financial Analysis Courses
What to Look for in a Financial Analysis Course
Finding an online course on your topic of choice may be easy, but finding one that's worth your time and money may be an entirely different story. You might want to consider all of these variables first:
Price
Course prices may be the first thing you think about as you contemplate online education. Fortunately, there are many avenues that don't require college acceptance or tuition and the courses cost anywhere from zero to hundreds of dollars in some cases.
Instructor's Knowledge or Reputation
Next, your potential instructor's qualifications are an important consideration. But this factor may be more important than finances and money considerations. You want your instructor to have proven experience in the field and know what he or she is talking about.
In addition, you also want to look for instructors that have some technical aptitude. Even if you aren't taking a computer course, the instructor needs to know how to work the program interface you'll be using and the tools available in it. Find out who your potential instructors are and what past students have said about them.
Regardless of the course syllabus, if you know more than your instructor, it goes without saying that you won't learn anything new.
Specific Skills Taught
The financial analysis field is relatively broad. As you check out new classes, make sure the course offers exactly what you're looking for. Which financial analysis discipline does the course cover? Is it the right level for you? Don't get stuck in a class that's below your knowledge level or one that you can't use. Narrow down your education priorities first before you look for a class.
That way when you come across the right one, you'll know it.
Best Financial Analysis Courses for Beginners
New to financial analysis and searching for foundational knowledge? These course selections are the perfect starting point.
1. Financial Analysis for Decision Making by edX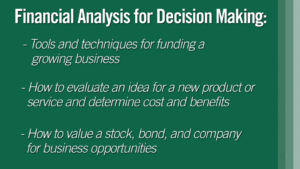 Like most edX courses, the "Financial Analysis for Decision Making" class is free to audit. You will have access to all the course training videos and assignments.
The fee is $99 for a certificate of completion. This class is led by Mark Potter, Professor of Finance at Babson College. With areas of expertise like finance, investments, money management, and portfolios, he's a good choice for learning the basics of financial analysis.
Furthermore, this course is part of a series called Business Principles and Entrepreneurial Thought X. So if you like this one, you can sign up for more in the series.
2. Financial Accounting Part 1 by LinkedIn Learning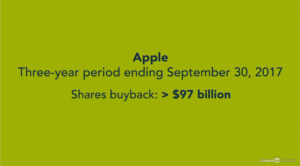 Who's It For? Beginners
Price: On sale
Financial analysis is about how to read and analyze financial accounting. If you're a beginner who wants to jump into business finance, this course may be a good idea. "Financial Accounting Part 1" gives you the basics about finances and accounting, including analysis.
Brought to you by Brigham Young University and taught by the Stice brothers, this course is designed as a foundational class for financial accounting. Although this class is meant for beginners, it is an MBA-level course with real-life case studies and insights. With over three hours of lecture, this short course may be just what you need to get started in financial analysis.
The Complete Financial Analyst Course 2020
All Levels • 349 videos • 18.3 hours
3. The Complete Financial Analyst Course 2020 by Udemy
This comprehensive course is meant for all levels and it covers a multitude of topics including financial math, business analysis, financial statement analysis and accounting. This course also teaches students how to use Microsoft Excel and PowerPoint in financial analysis. No experience is necessary but you do need to have the required software to take the course:
Microsoft Excel 2010 or higher
Microsoft PowerPoint 2010 or higher
The course is taught by 365 Careers, a provider of finance courses via Udemy which has experience training with top firms like Citibank, PayPal and Apple. Keep in mind that the course is long. However, like other Udemy courses, you receive a certificate of completion once you complete it as well as lifetime access. If you find that it's more than you bargained for, there's a 30-day money-back guarantee. Get this course
Best for Intermediate Financial Analysts
If you have financial analysis experience, you may find the following courses useful.
1. Financial Analysis: Introduction to Business Performance Analysis by LinkedIn Learning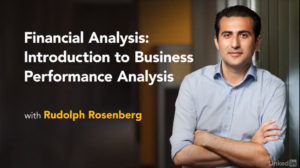 Who's It For? Intermediate
Price: On sale
If your specialization is business performance analysis, this course may be a good one to take. This intermediate-level course is the first in a series that LinkedIn Learning offers for financial analysis. It introduces key concepts that you can build upon if you decide to take the other ones in the series.
Taught by Rudolph Rosenberg, he shares over two decades of experience with finance and business with his students. The course is relatively short, at only 20 minutes total. However, this class is only meant to be a stepping stone to his other courses about analyzing top and bottom lines with Excel.
Mastery in Financial Statement Analysis
Intermediate • 13 videos • 3.6 hours
2. Mastery in Financial Statement Analysis by Udemy
Data interpretation is only part of the story when it comes to financial analysis. If you want to learn how to manipulate raw data, this class may be for you.
"Developing Financial Analysis Tools" by Udemy helps students develop skills to manipulate raw data as well as study financial markets and analyze trends. This is an intermediate course, so students are expected to know basic financial concepts. Additionally, analysts who want to learn how to solve quantitative finance problems may find this course useful.
Stock Market Investment: Applied Financial analysis
Intermediate • 40 videos • 5.8 hours
3. Stock Market Investment: Applied Financial Analysis by Udemy
Everyone can use a little financial analysis know-how in their lives. "Stock Market Investment: Applied Financial Analysis" may help you get a leg up with your investments. Stop relying on broker tips and learn how to analyze a company's financials yourself.
This course is for intermediate learners. If you do decide to enroll, you should have basic knowledge of accounting and business concepts. Furthermore, the class is relatively short at only 5.5 hours of on-demand video instruction. When you complete the course, you'll receive a certificate of completion. Like most Udemy courses, you'll also have full access for life.
Best for Advanced Financial Analysts
Are you an expert in financial analysis? These courses will enhance your financial anlysis skills.
Financial Modeling: Build a Complete DCF Valuation Model
All Levels • 86 videos • 3.9 hours
1. Financial Modeling: Build a Complete DCF Valuation Model by Udemy
Financial analysts use trends and ratios, but they'll have to utilize various valuation models to make sense of the hard data. This financial modeling course is specifically geared towards investment bankers and corporate finance practitioners.
It teaches students how to build a discounted cash flow (DCF) model to value a company. The course is taught by 365 Careers and offers two hours of on-demand video. Included with the fee is a certificate of completion as well as full lifetime access. And if it turns out that the class isn't for you? You can always get your money back with Udemy's 30-day guarantee.
Python for Financial Analysis and Algorithmic Trading
All Levels • 122 videos • 16.9 hours
2. Python for Financial Analysis and Algorithmic Trading by Udemy
If you want to have a powerful tool for financial analysis, check out "Python for Financial Analysis and Algorithmic Trading."
This course covers topics such as NumPy, Pandas, and Matplotlib for data analysis and visualization. Learn Python fundamentals and how to use it for financial analysis with a focus on stock trading. Instructor Jose Portilla guides students through the process of financial analysis using Python.
Although this course is for all levels, it is recommended that you already know basic statistics, linear algebra and some programming in Python. You also need to be able to have a working copy of the program.
Final Thoughts
If you want to learn new skills, you can read a book. However, books may not provide the same type of interactive instruction that an online course in financial analysis can. Books also don't give you a certificate of completion when you finish. Boost your resume or perform more efficiently at your current job with an online class. Even if you're a finance student, you can still benefit from learning the basic principles of financial analysis to help you with assignments in your classes.
Master the art of trading with Benzinga's signature course, "How to Trade Stocks." Learn how to read charts and make winning trades in the market through simple, actionable strategies.
You'll learn from the following modules:
Why Trade?
Picking a Broker
Trading Strategies
Price Studies
Technicals and Indicators
Developing a Schedule and a Plan
Trading Psychology
Get Benzinga's actionable stock trading advice for only $47 and see your income skyrocket!