FREE Trial with Benzinga Pro happening right now!
Brushing up on economics is useful for a variety of reasons. You can enroll in a course in order to boost your career if you work in a related field. Economics proficiency can provide you with a host of new opportunities, whether you're looking for a promotion or a new job. Completing a class in this subject may help with your current and future coursework if you're a student.
There are also options for people who work in fields that aren't related to economics, finance or politics. For instance, you could complete a course in health economics or the economics of education. Doing so will give you more options at work.
Some people complete economics courses for personal rather than professional reasons. Understanding economic models and conditions can help you become more informed about public policy. It's also a good way to approach your own investment decisions.
Quick Look: Best Economics Courses
Find an Online University
What Does a Great Economics Course Look Like?
Learning economics online is an excellent option. You can set your own pace and incorporate your studies into your current routine. However, some online classes don't offer enough value. It's important to gauge the quality of a course before you invest time and money in it. Here are a few of the factors you should take into consideration.
Instructor
Before you decide on a course, you may want to find out who is teaching it. What are the teacher's credentials? Many universities offer online economics classes. You can also enroll in classes taught by independent experts such as journalists.
In both cases, it's a good idea to look into the lecturer's level of experience. Explore his or her publication history and any online teaching method reviews. If possible, sample a teacher's teaching style before you commit to a course.
Understanding economics isn't too difficult when you have the right study materials at your disposal. You should opt for an instructor who impresses you from the get-go, as there's a wide variety of options out there.
Price
There are many free econ courses available for people who simply want to expand their current knowledge. If this is the case for you, you could download archived lecture notes and exams from MIT economics courses.
This is only one of many excellent options. Getting a certificate is a priority for some. If that's the case for you, you'll probably need to pay to enroll in a course. Enrollment fees vary a great deal. They depend on the length and complexity of the course, the level of engagement you can expect from your instructor and more. Unfortunately, some of the options available online might be overpriced.
Always double-check the reputation of the instructor before you invest in a costly high-level course.
Range of Skills Taught
You can attend econ courses at a beginner, intermediate or at an advanced level. Higher-level courses are usually more expensive but that isn't always the case. Assess the scope of the course before you decide to join.
Are there any prerequisites for enrollment? Which topics will the course cover and will you gain practical skills in addition to understanding the theory? You might discover that a specialized econ course is more useful to you than a generic one. For example, you might want to zero in on microeconomics, or you might want to learn about economic models that apply to your profession.
But if this is the option you prefer, you should make sure the course covers basic concepts before moving on to your area of interest.
Best Online Economics Courses for Beginners
New to economics and searching for foundational knowledge? These course selections are an excellent place to start.
Economics in 10 Principles
All Levels • 11 videos • 0.9 hours
1. Economics in 10 Principles by Udemy
Aimed at high school and college students as well as non-econ professionals, this course focuses on the basics of economics. It provides you with 10 economic tools that you can apply in both personal and professional contexts.
The main goal is to equip you with the knowledge you need to make sound financial decisions. In addition to an hour of video, there are 12 downloadable resources to work from.
2. Economics: Consumer Demand by edX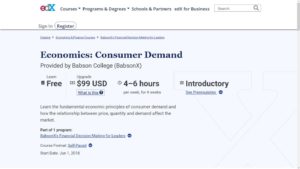 To understand how markets work, you have to grasp the basic principles behind consumer demand. This four-week course covers the topic thoroughly, and it's taught by a professor at Babson College. Demand is analyzed on the level of individual economic choices, workplace decisions and policy.
Economics: Consumer Demand is an excellent choice if you want to improve your business strategy. In addition to a very strong theoretical background, you'll gain the tools you need to identify market changes.
Economics : Behavior of Buyers and Sellers & Product Pricing
Beginner • 66 videos • 1.8 hours
3. Economics: Behavior of Buyers and Sellers & Product Pricing
Here's a comprehensive microeconomics course that focuses on practical applications. It offers a number of real-life examples that help clarify the principles of supply and demand.
Because it's filled with specific examples, this class is popular among MBA students who want some clarity. It's also geared toward marketing and sales professionals, as well as anyone else who has an interest in pricing topics. There are no prerequisites for enrolling in this course.
Best Intermediate Online Economics Finance Courses
If you have economics experience, you may find the following courses useful.
1. Fundamentals of Macroeconomics by edX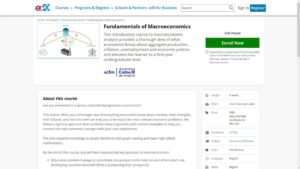 This six-week course covers macroeconomics at the first-year undergrad level. It's led by two highly-ranked instructors from Universidad Carlos III de Madrid.
This Spain-based research university focuses on economics and its graduates are known to have exceptionally high job placement rates. Fundamentals of Macroeconomics is a comprehensive course with no prerequisites beyond high school mathematics. It covers a wide range of topics, such as savings, the banking system, and economic fluctuations.
Completing this course enables you to continue studying macroeconomics. You will also have the basic knowledge necessary for studying other branches of economics.
Econ 101: The Complete Intro to Economics For Beginners
All Levels • 66 videos • 4.3 hours
2. The Complete Economics Masterclass – Learn Basic Economics by Udemy
If you're looking for a concise and comprehensive course that covers both microeconomics and macroeconomics, this could be the best option for you.
It's open to beginners as well as people with an intermediate-level understanding of the subject. In addition to covering pricing decisions, this course explains monopolies, oligopolies, exchange rates and other aspects of everyday life. Do you feel that there are some gaps in your understanding of economic concepts? Enrolling in this course might be the best option for you.
(17) Economics courses (35 hrs) incl. Indian & US Economies
All Levels • 296 videos • 34.6 hours
3. 5 Economics Courses in 1 by Udemy
5 Economics Courses in 1 by Udemy is extremely popular and it's updated constantly to reflect real-world changes. It offers analyses of current economic questions.
There is a special focus on the U.S. and U.K. economies, but the course also covers the economic conditions in some other countries. The course is intended for anyone who wants to understand the reasons behind Brexit and other recent political changes. In addition to debates on macroeconomics, it can give you a good foundation in microeconomics.
It features 10 hours of video as well as a number of workbooks at no additional cost.
Best Advanced Online Economics Courses
Are you an expert on economics? These courses will enhance your economics knowledge.
1. Macroeconomics for a Sustainable Planet by edX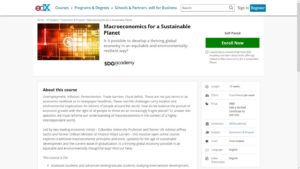 This is an intermediate/advanced-level course that covers both the theory and applications of traditional macroeconomics.
You will gain the tools needed to understand GDP, investment principles and the changing labor market. What makes this course stand out is the focus on environmental issues and sustainability. It is aimed at people who have some understanding of economics.
But if your focus is on ecology, this course could be what you need to understand the economic factors that drive sustainable development.
2. The Power of Macroeconomics: Economic Principles in the Real World by Coursera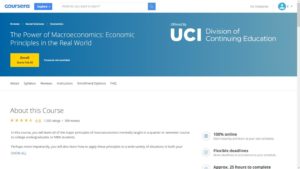 This Coursera course is offered by the UCI, and it's taught by an instructor from the Paul Merage School of Business. It takes around 25 hours to complete, and there are quizzes for you to work on in addition to the videos.
This course is aimed at non-economics professionals looking to gain insight into the macroeconomics of current events. The coursework is similar to what is taught to MBA students in a one-semester econ class.
You'll understand the basics of the Keynesian model as well as the Classical-Keynesian debate.
The Economic Way of Thinking
All Levels • 69 videos • 12.4 hours
3. The Economic Way of Thinking by Udemy
Here is another college-level econ course. Spanning 12.5 hours of video, this class covers some basic concepts, such as marginal costs and benefits.
While there are no formal requirements, the course is fast-paced and geared toward people who can keep up with the language of economics. After a quick look at markets and governments, the syllabus covers critical analysis of policy and mainstream economics. There are several current-day debates included in the course.
If you're ready to read up on the ethical background of economic decision-making, this might be the best choice for you.
Final Thoughts
It's possible to become proficient in economics by choosing the right courses and reading up on what interests you. Taking an econ course serves as a gateway of sorts in a great number of cases. You may wish to continue your studies by taking a course in game theory, global economics and so on. Economics is a relatively accessible field. As a result, many people learn it later in life. Completing an economics course now could be a great way to keep your options open if you're still in college or at the beginning of your career. Interested in more economics course check out our Macroeconomics and Microeconomics course pages.
Southern New Hampshire University Online
SNHU Online Offers:
Flexible schedules
Affordable tuition
Online tutoring
Access to electronic research materials
Specialized academic advising
Supportive online community