FREE Trial with Benzinga Pro happening right now!
Are you a student or software developer seeking to advance your knowledge of deep learning? By becoming a subject-matter expert, you can position yourself for lucrative opportunities and rapid career growth.
But how can you acquire the knowledge you need? Consider an online deep learning course. They're available at all skill levels and price points. So you shouldn't have trouble finding an option that works for you.
Find an Online University
Best Deep Learning Courses
Take a sneak peek at the best online deep learning courses:
What Makes a Deep Learning Course Great?
Ready to commence your search but aren't quite sure how to tell which deep learning courses are a good investment? Keep these considerations in mind as you explore your options.
1. Covers Machine Learning Basics
It's challenging to comprehend how deep learning works without understanding machine learning. Look for courses that offer a refresher on the basics before diving into more in-depth concepts.
2. Interactive and Includes Supplements
Does the instructor lecture for hours on end? Or does he or she allocate time in the lesson to offer demonstrations? The latter is a much better option and will help you fully understand how the strategies being taught are implemented in the real world. Supplements, including readings, projects and quizzes, are another bonus.
3. Led by an Experienced Instructor
Your instructor doesn't have to be the Einstein of deep learning, but he should have a solid understanding of how it works. He should also be well-versed in machine learning since deep learning is one of its primary subsets.
Our Top Picks
We've researched several deep learning courses to compile our list of top picks. The courses we chose are from Coursera, edX, LinkedIn Learning, Skillshare and Udemy.
They are organized by skill level — beginners, intermediate and advanced students. You will also find the enrollment fee and a description of each course to help you make an informed decision.
Deep Learning Course for Beginners
Start with these introductory courses if you're new to deep learning.
1. Learn Deep Learning Skill with Python and Keras for Dummies: The Complete Beginners Guide by Abhilash Nelson
Who it's for: Beginners
Price: Free
Learn the basics of deep learning technology with this free beginner course. It's designed to teach you foundational elements and advance your career.
The class includes 81 lessons jam-packed into 11 hours of video. It covers a host of critical deep learning components, including Python Basics, Theona Library installation, Keras installation, multi-layer perceptron concepts and neural networks. There are also multiple lessons on the Pima Indian model, the Iris Flower Multi-Class model, Convolutional Neural Networks and so much more.
It's led by Senior Software Engineer Abhilash Nelson. He holds a graduate degree in computer science engineering.
2. Introduction to Deep Learning with OpenCV by LinkedIn Learning (Formerly Lynda.com)
In a little under an hour, this beginner course will teach you the fundamentals of deep learning with OpenCV, a computer vision software. Led by artificial intelligence (AI) consultant, Jonathan Fernandes, the class is comprised of 4 modules:
Deep Learning with OpenCV
Image and Videos in OpenCV
Working with the Deep Neural Networks (DNN) Module
Working with Deep Learning Models
Lessons are delivered through video. Each module also includes a chapter quiz to test your comprehension.
Enrollment is included with a $29.99 monthly LinkedIn membership. Or you can enroll for free with a 1-month trial.
3. Deep Learning for Business by Yonsei University
Who it's for: Beginners
Price: Free
Offered by Yonsei University, Deep Learning for Business teaches the basics of deep learning and how to implement it in your company to boost outcomes. You will learn to create business strategies that facilitate technical planning on new machine learning and deep learning products.
The course begins with an overview of deep learning products and services, followed by a module on business with deep learning and machine learning. It also covers deep learning Computing Systems and Software, deep learning Neural Networks and deep learning with CNN and RNN. The course ends with a module on TensorFlow Playgrounds.
There's no cost to enroll and you can complete the course in 8 hours.
Instructor Jong-Moon Chung is a professor in the school of electrical and electronic engineering. He's also the director of the communications and networking laboratory.
Intermediate Deep Learning Courses
Are you experienced in machine learning and have deep learning knowledge? These intermediate courses may be a good fit.
4. An Introduction to Practical Deep Learning by Intel
Who it's for: Intermediate students
Price: Free
An Introduction to Practical Deep Learning is a free intermediate course from Intel that covers the most important concepts you need to know about the technology.
The class includes 5 modules:
Introduction to Deep Learning and Deep Learning Basics
Convolutional Neural Networks (CNN), Fine-Tuning and Detection
Recurrent Neural Networks (RNN)
Training Tips and Multi Node Distributed Training
Hot Research and Intel's Roadmap
Course material is delivered through video lectures and readings. There are also quizzes at the end of select lessons to ensure you grasp key concepts before moving on to other material.
The course is co-facilitated by Senior Principal Engineers Andres Rodriguez, Nikhil Murthy and Principal Engineer Hanlin Tang.
Deep Learning A-Z™: Hands-On Artificial Neural Networks
All Levels • 193 videos • 22.3 hours
5. Deep Learning A-Z™: Hands-On Artificial Neural Networks by Udemy
Are you interested in learning how to develop deep learning algorithms? Consider this Udemy bestseller to show you how to use Python. You'll discover the intuition behind artificial neural networks, convolutional neural networks and recurrent neural networks. The course also covers self-organizing maps, Boltzmann machines, autoencoders and so much more.
You'll have instant access to 188 lectures jam-packed into 22.5 hours of on-demand video, along with 33 articles to supplement your learning when you enroll for $199.99. You will also receive a certificate of completion when you reach the finish line.
The course offered by the SuperDataScienceTeam. It's co-facilitated by Kirill Eremenkio, a data scientist, and Hadelin de Ponteves, an AI entrepreneur.
Have a basic understanding of the Python programming language. You should also know how to complete mathematics problems at the high school level.
Advanced Deep Learning Courses
Do you use deep learning in the field and are searching for ways to enhance your knowledge? Consider these advanced courses.
6. Deep Reinforcement Learning in Trading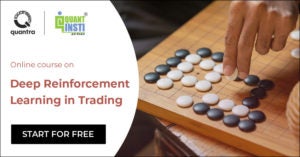 Who it's for: Advanced students
Deep Reinforcement Learning (DRL), is a type of Machine Learning (a combination of Reinforcement Learning and Deep Learning). It is rapidly gaining traction presently finding widespread applications that drive AI across various fields.
In trading, the DRL algorithm learns the strategy to maximise long-term rewards for traders in the stock markets and is thus highly sought after. A well-known expert, Dr Thomas Strake co-authors a 14-hour detailed hands-on course in Python with numerous visual, programming and reading aids that help you learn all about it.
An advanced course for advanced learners.
Advanced Deep Learning with Keras
Expert • 36 videos • 5.2 hours
7. Advanced Deep Learning with Keras by Udemy
Another stellar offering from Udemy, this course will teach you how to install and use Keras and Python to construct deep learning models. It is ideal for machine learning enthusiasts and software developers.
The enrollment fee of $124.99 includes full lifetime access to 5 hours of on-demand video and 1 downloadable resource. And the course is backed by a 30-day money-back guarantee if you're unsatisfied for any reason.
The class is presented by Packt Publishing, a leading provider of developer learning for over 15 years.
Have basic knowledge of machine learning and Python before signing up.
8. Applied AI with Deep Learning
Who it's for: Advanced students
Price: Free
Applied AI with Deep Learning is the 3rd course in the Advanced Data Science with IBM Specialization.
Chief Data Scientist Romeo Kienzler draws from his experience in the field to offer critical insights into deep learning. He covers several core topics, including deep learning frameworks, applications, scaling and deployment.
Beyond the video lectures used to introduce the material, you'll be required to complete readings and quizzes. The readings supplement the instruction provided in the lessons and quizzes help identify areas where you may need more work.
Enrollment is free, and you should expect to spend 18 hours working through the course material.
Choose the Right Deep Learning Course for You
No need to spend countless hours searching for the perfect deep learning course. Consider giving one of our free beginner recommendations a try if you're just starting out. An intermediate or advanced course from our top picks would be your best bet if you've moved beyond the beginner level.
It's a good idea to read reviews to gauge whether the course is interactive and led by an experienced instructor. It should also offer a refresher on the basics of machine learning to set the tone for an effective learning experience.
Southern New Hampshire University Online
SNHU Online Offers:
Flexible schedules
Affordable tuition
Online tutoring
Access to electronic research materials
Specialized academic advising
Supportive online community