Travel credit cards are highly rewarding if you live out of your suitcase or love to snag a free flight or upgrade.
Beyond keeping your wallet light of wads of cash, travel cards offer benefits such as cash back, discounts, hotel stays, airline miles, travel upgrades, airport lounge access and much more. Although these cards typically come with a joining or annual fee, the benefits often outweigh these charges.
Check out Benzinga's review to find the best credit cards for travel.
Best Credit Cards for Travel
Here are our top picks for the best credit cards for travel. Since specific deals often change seasonally, ensure you confirm specific rates, rewards and other terms before selecting your card.
Best for Premium Hotel Rewards: Hilton Honors American Express Card
If you love Hilton, the Hilton Honors card is a must-have. You can get 14 times the points on eligible Hilton purchases, 7 times points at U.S. restaurants, flights booked directly or through amextravel.com and car rentals booked with select companies. For all other purchases, you earn 3 times the points.
You can also enjoy complimentary Hilton Honors Silver status with your card. Or spend $20,000 on eligible purchases in a calendar year and earn an upgrade to Hilton Honors Gold status through the end of the next calendar year.
As a welcome bonus, you can get 75,000 points after you spend $1,000 in purchases on the card within your 1st 3 months.
Annual fee: $0
Regular APR: 15.74% to 24.74%
Welcome bonus: 75,000 bonus points
Best for Airline Rewards: United℠ Explorer Card
The United℠ Explorer Card is everything you want in a basic airline card with rewards and perks that more than make up for the annual fee.
You start with a sign-up bonus of 40,000 miles after you spend $2,000 on purchases in the 1st 3 months. You can earn 2 miles per dollar if you use the card at restaurants, hotel stays and other United purchases like flight tickets and beverages.
For other purchases, you earn 1 mile per dollar. You also get a free checked bag for you and a companion and save up to $140 per round trip.
Annual fee: $95
Regular APR: 16.49% to 23.49%
Welcome bonus: 40,000 bonus miles
Best for No Annual Fee: Wells Fargo Propel American Express® Card
The Well Fargo Propel American Express card is best for the starter traveler looking for travel benefits without an annual fee.
As a welcome bonus, you get 20,000 points on spending $1,000 in purchases during the 1st 3 months — a $200 cash redemption value. You also earn extra rewards in a host of common spending categories — restaurants, gas stations, transit, travel, streaming and more.
Annual fee: $0
Regular APR: 14.49% to 24.99%
Welcome bonus: 20,000 bonus points
Best for Earning Miles: Capital One® Venture® Rewards Credit Card
The Venture® Rewards card from Capital One® makes it easy for you to earn miles. You can earn unlimited 2 times the miles per dollar on every purchase, every day. Plus, you can transfer your miles to multiple leading travel loyalty programs.
You can also use your rewards through Amazon t for your online purchases. There's also no foreign transaction fee, so you won't pay a transaction fee when making purchases outside the U.S.
Annual fee: $95
Regular APR: 17.24% to 24.49%
Welcome bonus: 50,000 bonus miles
Best for Earning Points: Chase Sapphire Preferred® Credit Card
Chase Sapphire Preferred® is 1 of the best all-round travel credit cards. You earn points on travel and dining or from airfare, hotels and fine dining.
Some other benefits of the Chase Sapphire Preferred® include:
The ability to transfer your points to leading frequent travel programs at 1-to-1 value.
5 times the points on Lyft rides through March 2022. That's 3 times the points in addition to the 2 times points you already earn on travel.
25% more value when you redeem for airfare, hotels, car rentals and cruises through Chase Ultimate Rewards. For example, 60,000 points are worth $750 toward travel.
A welcome bonus of 60,000 points after you spend $4,000 on purchases in the 1st 3 months from account opening. That's $750 toward travel when redeemed through Chase Ultimate Rewards®.
Annual fee: $95
Regular APR: 15.99% to 22.99%
Welcome bonus: 60,000 bonus points
Credit Card Responsibility
Credit cards must be used responsibly. Credit cards can allow you to:
To make payments over time for items you need urgently
To make the most of the rewards and benefits
To build a positive credit history to boost your credit rating
Pick the card with benefits that suit your lifestyle and strategize your payment. Don't get a credit card for a lifestyle you can't afford. You may begin a dangerous path toward credit card debt.
Here are a few dangers of owning a credit card:
You tend to overspend
Let's face it, we tend to spend more if we use a card instead of cash because it's just a piece of plastic. Your credit limit can be deceptive as it might feel like you actually have that kind of money when you really don't.
Improper use can tank your credit rating
Credit cards are designed to help you build credit rating. If you use a credit card carelessly, it can affect your credit score. A bad credit rating means that lenders won't extend credit easily. It can then be difficult to get loans or your rates will be much higher.
Debt
Debt is a result of not being able to repay your balances in full every month. If you don't pay your balance in full, the remaining amount that you owe goes toward interest payments. This gets carried forward to the next month and the month after that — resulting in a snowball of debt.
How to Apply for a Credit Card
You can apply for a credit card in multiple ways — online, a paper application or by phone. There are typically 3 steps you should follow when you apply for a credit card.
Check your credit score
Most credit cards can be categorized based on a qualifying credit score. If you know your credit score, you can apply for products and credit cards you're likely to qualify for.
For example, if you have a bad credit score, you might want to choose a credit-building card that can help you achieve fair credit. Similarly, if you have a fair credit score, it may be difficult to get approval on a card that requires applicants with an excellent credit score.
Choose the card you need
There is a range of credit card cards that you can choose from depending on your needs.
For example, if you're a 1st-time applicant looking for a travel card, a card that does not require an annual fee would suit you best. But, if there's a card that offers benefits you would certainly use which outweighs the annual fee, then that card would be a better fit.
Fill out an application
Whether you apply online or by paper, the information required by card issuers is the same — personal information, income information and details of the authorized user (if any).
Once you submit your application, your credit card company will review it. If you're doing this online, you should find out the result within a few minutes. The results for a paper application will take much longer.
Choose a Travel Card Now
Travel credit cards can offer you valuable rewards. You can take advantage of temporary benefits or use a travel card for everyday expenses to build up points to redeem in the future. Start with our list of recommended travel credit cards to find your match today.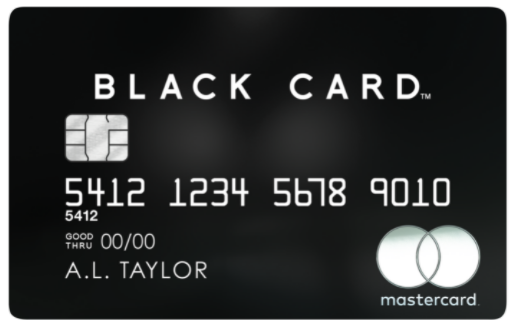 apply now
securely through Luxury Card's website
Disclosure: Terms and Conditions apply*
Annual Fee
Annual Fee: $495 ($195 for each Authorized User added to the account). Terms and conditions apply*.
1 Minute Review
There's something uniquely satisfying about the crisp click a weighty credit card makes when you set it down on the counter to pay. It just feels like luxury.
Weighing in at 22 grams (the heaviest cards out there), Luxury Card's heavy metal credit cards deliver a VIP experience to its cardholders 24/7. Unlike other executive-level cards, anyone can apply for 1 of its 3 cards instead of waiting for an invitation.
With premium rewards, industry-high airline and cash back value redemption, dedicated concierge-style customer service and more, the Luxury Card Mastercard® Gold Card, Mastercard® Black Card and Mastercard® Titanium Card will make you feel like a million bucks (even if you're still working on that 1st million).
Terms and Conditions apply.*
Specs
Annual Fee: Annual Fee: $495 ($195 for each Authorized User added to the account). Terms and conditions apply*.
Regular APR: 15.24% APR
Minimum Deposit: N/A
One Time Fee: N/A
Intro APR: N/A
Rewards: N/A
Welcome Bonus: N/A
Pros
Earn one point for every dollar spent
Industry-high reward redemption values
Top-tier customer care with Luxury Card Concierge
Flexible rewards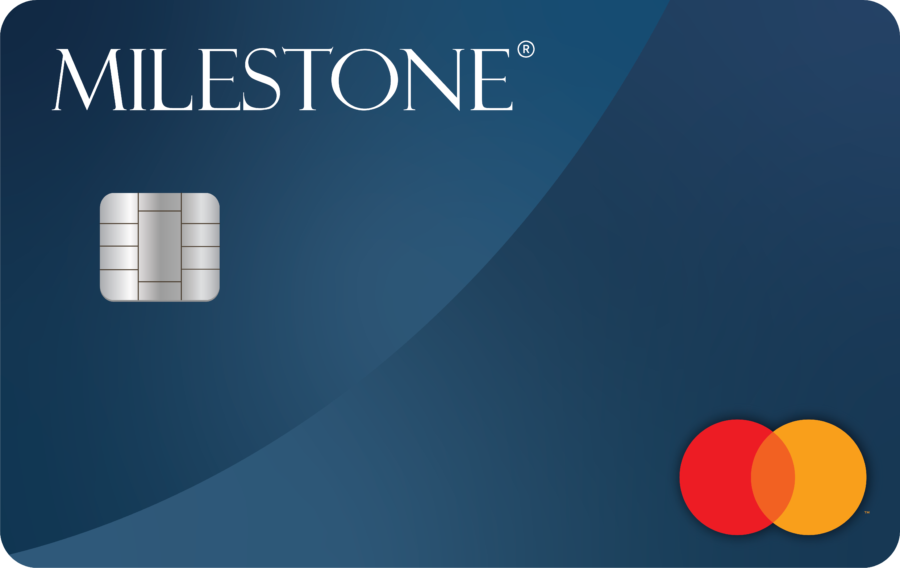 get started
securely through Milestone Gold Card's website
Annual Fee
$35 to $99 based on credit worthiness
1 Minute Review
The Milestone Mastercard comes from Mastercard. Mastercard, located in New York, works to integrate new technology with banking. The APR rates are around 24.9% for credit lines of $300. However, the card has no stated rewards or bonuses and charges higher APR fees with limited benefits.
Specs
Annual Fee: $35 to $99 based on credit worthiness
Regular APR: 24.90%
Minimum Deposit: No security deposit
One Time Fee: None stated
Intro APR: None stated
Rewards: N/A
Welcome Bonus: N/A
Pros
Reports monthly statements to three different credit bureaus
Offers 24/7 account access
No minimum security deposit
Allows people to be pre-qualified
Cons
Annual fees
No rewards or bonuses
Methodology
Benzinga analyzed over 60 credit cards to determine the top 5 for travel. The most important factors in determining the best credit cards are APR, annual fee and rewards. The credit card also has to report to all 3 credit bureaus.
Related content: BEST CREDIT CARDS FOR HOTELS