FREE Trial with Benzinga Pro happening right now!
Tired of dragging yourself out of bed each morning to head to a draining job? It's time for a fresh start, whether you're ready for a promotion or a new career.
Easier said than done — or so you think. There are hundreds of career development courses that can help you get unstuck and find new pathways.
Benzinga is here to help you find the perfect fit. Take a look at our top picks for the best career development courses online.
Featured Courses:
Quick Look: Best Career Development Courses
What Makes a Career Development Course Great?
There are so many career development courses to pick from — how do you know which are best? Look for options that meet these criteria.
1. Instructors with Proven Results
Is the instructor the real deal or only claims to be? Take a look at reviews from past students for instructor feedback. Has the information from the course helped them on their quest for a better role? Or have a bulk of the students struggled to get results?
2. Hands-On Exercises
You can't expect to level up your career without doing the work. The best career development courses offer hands-on exercises that require you to set goals and act on them right away.
3. Affordable
Some colleges and universities charge thousands of dollars for career development courses. You don't have to invest that much to get what you need. The best online courses are affordable — and some are free.
Our Top Picks
After several hours of research, here are the top career development course picks from Benzinga. Our selections are from LinkedIn Learning and Udemy and cater to all skill levels and budgets.
You'll find a description of each class and the enrollment fee to help you make the best choice.
Career Development for Beginners
New to the workforce, but want to start preparing yourself for better opportunities soon? Consider these beginner courses.
[2020] Career Hacking™: Resume, LinkedIn, Interviewing +More
All Levels • 150 videos • 6.6 hours
1. [2020] Career Hacking™: Resume, LinkedIn, Interviewing and More by Udemy
Whether you're a current student, recent college graduate or seasoned professional, this course is for you. You'll also benefit from the class if you're currently employed but desperately seek a career change.
[2020] Career Hacking™: Resume, LinkedIn, Interviewing and More is offered by Eazl and teaches proven techniques to help you get ahead in the workplace. It also includes lessons on methods to unlock the door to an abundance of opportunities in your career.
Grab a seat today for full lifetime access to 116 lectures jam-packed into 6.5 hours of on-demand video and 14 articles. The course also includes 84 downloadable resources to supplement your learning.
Make sure you have access to Microsoft Word, Pages or other word processing software when you enroll.
2. Professional Networking by LinkedIn Learning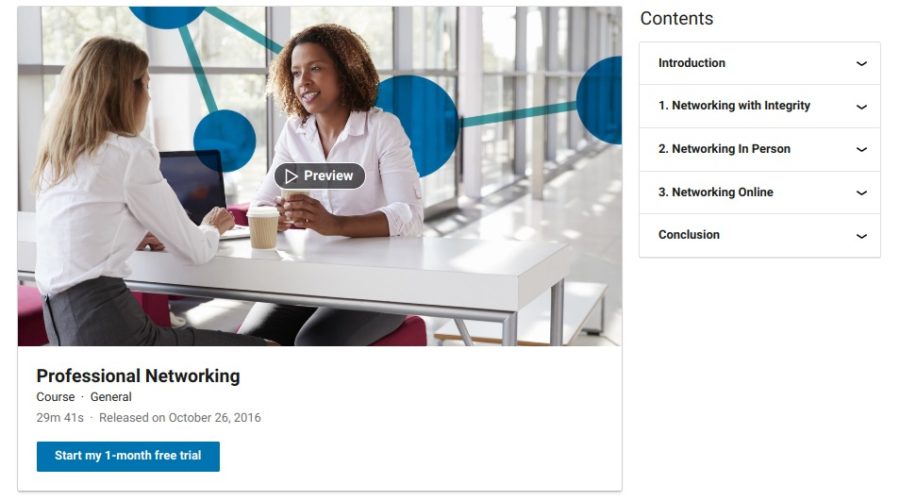 Networking doesn't have to be scary. Even if you're an introvert, Dorie Clark, keynote speaker and former presidential campaign spokeswoman, shares strategies to help you network with ease in this introductory course. She also explains why networking is so significant and how it can be used to propel you to the next level in your career.
The class is divided into 3 segments — Networking with Integrity, Networking in Person and Networking. They include lessons to help you prioritize contacts, build meaningful connections, evaluate networking events, host your own networking event, network through social media and more.
Enrollment is included with a $29.99 LinkedIn monthly membership. Or you can test drive the course with a free 1-month trial.
Soft Skills: The 11 Essential Career Soft Skills
All Levels • 611 videos • 31.2 hours
3. Soft Skills: The 11 Essential Career Soft Skills by Udemy
It's not always enough to be highly skilled and knowledgeable in the workplace. You need soft skills to help boost your career prospects.
This course offers a solid overview of soft skills to professionals of all levels, whether you're a recent college graduate or experienced professional in need of a refresher. Personal Development Instructor T.J. Walker will help you polish your soft skills so you can walk away from the course a better communicator, listener and overall employee.
You'll unlock 29.5 hours of on-demand video, 2 articles and 5 downloadable resources when you enroll today. You'll also receive a certificate of completion when you reach the finish line.
Intermediate Career Development Courses
Have a good understanding of what it takes to move up in the ranks? Dive into these intermediate courses to learn more about avoiding roadblocks, attracting top job prospects and negotiating job offers.
FuelForward® to the Career You Deserve
Intermediate • 8 videos • 0.9 hours
4. FuelForward® to the Career You Deserve by Udemy
Feeling stuck and unable to move forward in your career? If you're done everything you can, consider this highly-rated course from Udemy to help you find traction.
FuelForward® to the Career You Deserve is led by talent management strategist Vivian Blade. In the 8-lesson program, she shares 5 barriers that stand in the way of you and success. She also tasks you with creating a personalized career acceleration plan to help you take more effective action and boost your odds of success.
A seat in this course includes a 1-hour on-demand video lesson and 12 downloadable resources. You can enroll today with confidence knowing that the course comes with a 30-day money-back guarantee.
5. Negotiating Your Job Offer by LinkedIn Learning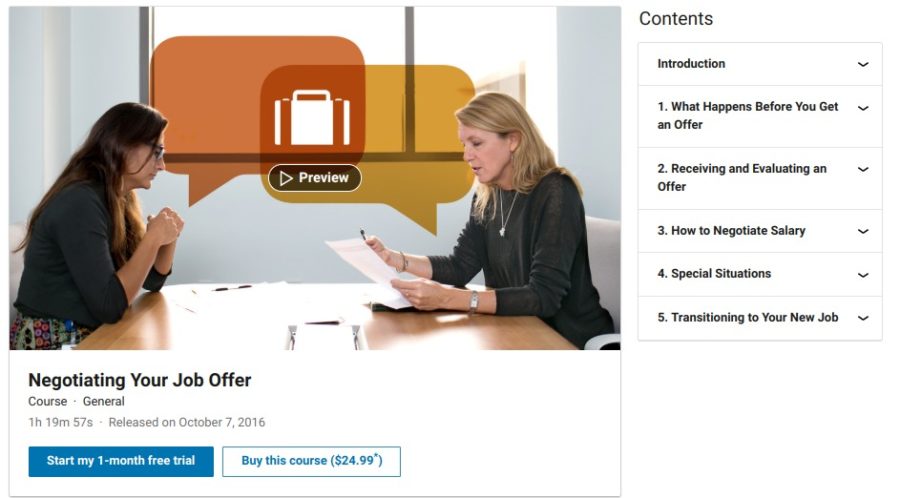 Who it's for: Intermediate students
Have a job offer on the table? Before you get overly excited and accept the first number the prospective employer throws out, learn to negotiate to get top dollar. If you have no idea where to start, this course from Christine DiDonato, founder of Career Revolution, will fill you in.
It only takes a little over an hour to complete and includes the following modules:
What Happens Before You Get an Offer
Receiving and Evaluating an Offer
How to Negotiate Salary
Special Situations
Transitioning to Your New Job
Register today for free if you have a $29.99 monthly membership from LinkedIn. You can also access the class for free if you sign up for a 1-month trial.
Get Your Dream Job Without Even Applying!
Intermediate • 15 videos • 1.5 hours
6. Get Your Dream Job without Even Applying! by Udemy
Imagine landing your dream job without applying for it. Sounds far-fetched, but there are ways to get noticed by your current and other employers without sending off hundreds of job applications.
Want the inside scoop on this little-known strategy? Grab a seat in this course today and let Inga Ezera, personal branding strategist, show you the ropes. She covers personal branding, strategies for leveraging social media and more.
The enrollment fee includes full lifetime access to 15 lectures condensed into 1.5 hours of on-demand video. You'll also receive 9 downloadable resources and a certificate of completion.
Advanced Career Development Courses
Seasoned employees feeling stuck and desperately seeking change will find these courses useful.
7. How to Be Promotable by LinkedIn Learning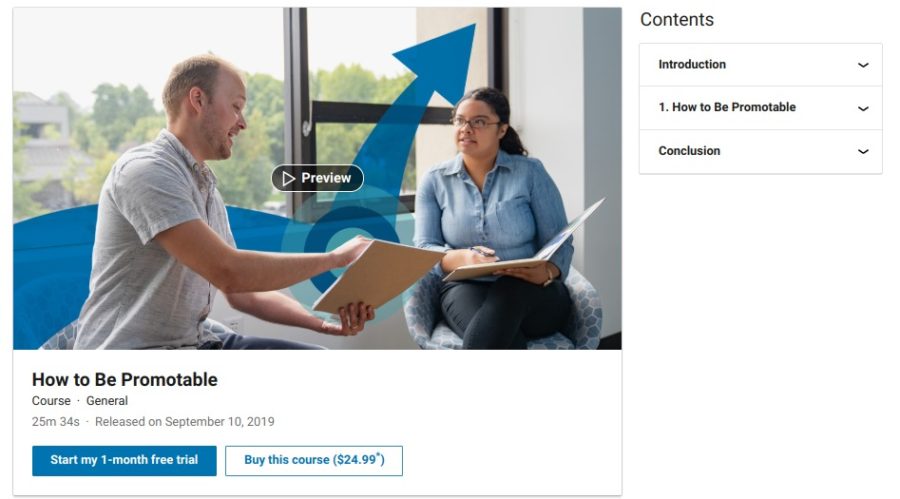 Who it's for: Advanced students
Maybe you desperately seek a promotion, but something significant causes your employer to shy away. Use the knowledge shared in this advanced course from LinkedIn Learning to reveal that negative "it factor" and work toward earning the promotion you deserve.

Facilitated by Aimee Bateman of Careercake.com, the class delves into what it really takes to get promoted and how to increase your odds. You'll also discover ways you can improve to meet your goal faster.
Enrollment is included with a $29.99 monthly LinkedIn membership, or you can pay $24.99 for the class. Prefer to test it out? Sign up for a 1-month trial.
8. Career Brand Development and Self-Coaching by SUNY

Who it's for: Advanced students
Price: Free
Offered by SUNY, Career Brand Development and Self-Coaching is a component of the career management specialization. Consider enrolling if you want to enhance your professional image to foster powerful relationships with decision-makers, impress prospective managers and land more rewarding opportunities.
Course material is delivered through videos, readings and quizzes. The 4-week class focuses on these key concepts:
Marketing and Branding the Skilled Self
Self-Marketing Strategies and Tactics
Personal Branding Strategies and Tactics
Expect to spend 2 to 4 hours per week working through the content.
9. Strategic Self-Marketing and Personal Branding by the State University of New York (SUNY)

Who it's for: Advanced students
Price: Free
Strategic Self-Marketing and Personal Branding is the 3rd course in the Career Brand Management Specialization from SUNY. The course teaches ways to use strategic management techniques and models on how you can enhance your skills portfolio.
The class begins with a module on harnessing the power of personal analytics for career branding. It then moves on to discussions on how you can analyze formal assessments, master self-assessment and put self-coaching to work.
Allocate 14 hours to work through the video lessons, readings and quizzes.
Choose the Right Career Development Course for You
You deserve a rewarding career that excites you. Consider a career development course from a list of our top selections. They're hands-on, affordable and self-paced. Each class is led by an instructor with proven results, so you'll receive a top-notch learning experience.
Master the art of trading with Benzinga's signature course, "How to Trade Stocks." Learn how to read charts and make winning trades in the market through simple, actionable strategies.
You'll learn from the following modules:
Why Trade?
Picking a Broker
Trading Strategies
Price Studies
Technicals and Indicators
Developing a Schedule and a Plan
Trading Psychology
Get Benzinga's actionable stock trading advice for only $47 and see your income skyrocket!