Business textbooks are an invaluable resource of knowledge for students and college professors alike.
From a student's perspective, finding good textbooks is the first step to acing exams. Plus, reading widely about your subject will help you later on in your career. If you find a really inspiring textbook, chances are that you'll be going back to it as you move up the business ladder.
As for professors, it's important to keep up-to-date with newly released textbooks. A good business textbook is also a great source of hands-on examples that can bring the theory closer to the students.
Quick Look: The Best Business Textbooks
What to Look for in a Business Textbook
Choosing the textbook that best fits your needs is not an easy task. There are thousands of business textbooks with flashy titles which claim to give you all the secrets for success. But to choose books which will make a difference in your career, you need to pay close attention to the author and the contents.
Accomplished Author
The first thing to consider is the reputation of the author. You can't go wrong with a business textbook from a professor who teaches at a prestigious college. Books that were penned by experienced business leaders are a good option too.
Enriched Content
The topics should all be supported with real-world examples and accurate statistics.At the same time, the textbook needs to be fun to read. Anecdotes, business trivia, and well-placed jokes can make the book impossible to put down.
You also need to consider interactive materials. If you like, you can go for textbooks that come with online resources, apps, or videos. This allows you to expand your knowledge and have a better learning experience.
Fair Price
Getting a fair price means a business textbook offers excellent value for money based on the factors described above. There are some bargains to be had, but be prepared to spend a considerable amount on a popular and comprehensive textbook.
The investment will be worth it, as a quality business textbook won't spend its days on the shelf after you read it. You are bound to revisit it for advice and motivation.
Our Picks for the Best Business Textbooks
Considering the factors described above, we've created a list of the best business textbooks you can order today. They're all available on Amazon and they are a perfect fit for students and professors alike. It shouldn't be hard for you to find the right option, even if you have a tight budget.
1. Understanding Business by Bill Nickels, Jim McHugh, and Susan McHugh
Understanding Business covers contemporary practices and all aspects that affect business in today's world.
It gives you a comprehensive overview of Brexit and compassionate capitalism. You'll also get a better understanding of social networking, products as service, bullying in the workplace, and more.
The authors are Bill Nickels, Jim McHugh, and Susan McHugh. Each author is a renowned expert with years of experience in business and education.
2. Business Foundations: A Changing World by O.C. Ferrell, Geoffrey A. Hirt, and Linda Ferrell
This textbook features 16 chapters, with the topics range from economics and business dynamics to securities markets and financial management. There are application exercises after each chapter, so it's easy for you to review the covered material.
O.C. Ferrell, Geoffrey A. Hirt, and Linda Ferrell are the authors of this book. They are college professors who specialize in marketing, finance, and business ethics.
3. Small Business Management: Launching & Growing Entrepreneurial Ventures by Justin G. Longenecker, Leslie E. Palich, J. William Petty, and Frank Hoy
Small Business Management provides you with the knowledge necessary to start, operate, and expand your venture. It focuses on contemporary examples, so you can understand how business theory applies in practice.
The textbook includes links to video resources and online activities, which allow you to sharpen your decision-making skills. The four well-respected authors are Justin G. Longenecker, Leslie E. Palich, J. William Petty, and Frank Hoy.
4. Business and Society: Stakeholders, Ethics, Public Policy by James Weber and Annie T. Lawrence
This textbook focuses on the complex relationships between society and business. It provides a comprehensive overview of how business strategies are formed, and it explains the basics of management and decision-making.
James Weber and Annie T. Lawrence are the authors of this textbook. Both authors are distinguished professors, employed at Duquesne University and San Jose State University, respectively.
5. Global Business Today by G. Tomas M. Hult and Charles W.L. Hill
The textbook consists of six parts that cover topics such as globalization and international business functions.
You learn about national differences in various systems and economic development. Special chapters are dedicated to international monetary systems, global marketing, and more.
Professor G. Tomas M. Hult coauthored the Global Business Today with Charles W.L. Hill. Both authors are leading academics in the field of international business and administration.
6. Business by William M. Pride and Robert J. Hughes
In 20 chapters, this book takes you through the fundamentals of business. You learn about social and ethical responsibility and the management processes.
There are special sections for human resources, marketing, e-Business, and social media.
William M. Pride, a professor at Mays Business School, wrote the textbook with Robert J. Hughes and Jack R. Kapoor.
7. Business in Action by John V. Thill and Courtland L. Bovee
With updated chapters, visuals, and questions, this textbook can help you master an introductory business course.
Business in Action has 6 parts, which cover all the basics of setting up and running a business. You get a comprehensive understanding of basic economics and business ethics. Special sections cover marketing, logistics, and the financial aspect of a business.
Award-winning textbook authors John V. Thill and Courtland L. Bovee wrote Business in Action. Professor Bovee has been teaching at Grossmont College for more than 20 years and Mr. Thill is among the leading business consultants in the US.
8. Entrepreneurship and Small Business Management by Caroline Glackin and Steve Mariotti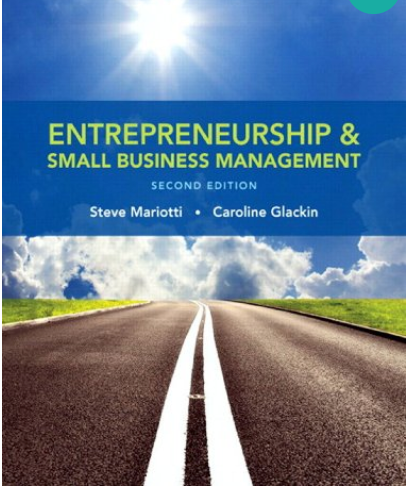 Entrepreneurship and Small Business Management is based on the Network for Teaching Entrepreneurship curriculum. This means it gives you a comprehensive knowledge of different business venture cycles, from concept to harvesting.
Caroline Glackin and Steve Mariotti, the award-winning authors, use plenty of examples from various industries to explain business concepts.
They also teach you how to build a successful business plan and manage a growing venture.
9. International Business: The Challenge of Global Competition by Donald A Ball, Professor Michael Geringer, Michael S. Minor, and Jeanne M. McNett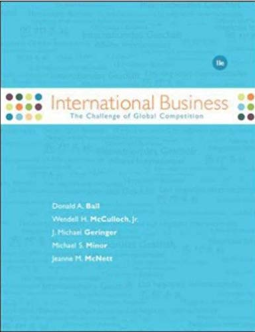 The textbook features 18 chapters and covers topics from international business challenges to international financial management and accounting. There are special sections about global supply chain management and best export-import practices.
The latest edition of International Business gives you access to an interactive business simulation, so you get to test your knowledge in a virtual scenario.
International Business was authored by four experts with years of experience in global business. They are Donald A Ball, Professor Michael Geringer, Michael S. Minor, and Jeanne M. McNett.
Finding the Right Textbook for You
Each textbook on our list provides you with examples and simple tests/quizzes to help you strengthen your knowledge. Some even come with an interactive application to track your progress.
They cover a range of topics from business basics to the problems you might face on the international business scene. The list also includes textbooks for students who wish to start investing and building their own business.