Want to jump straight to the best? Diversyfund is definitely the best real estate investing platform for most people.
With record-low interest rates and home prices set to drop from June highs, we are in a unique opportunity for real estate opportunists in the COVID era. But buyers are swooping in just as quickly as houses become available. Forward inventory for June is at 1.5 months rather than the normal 6. It remains to be seen if developers can keep up with demand as they deal with social distancing.
Do not make the mistake of thinking that you need cash to participate in this market. If you come in loaded, you are definitely at an advantage. But new technologies, processes and legislation give you the ability to leverage your cash in ways that were not possible before. Here are 6 ways that you can put yourself into real estate regardless of your financial, temporal or educational limitations.
Strategy 1: REITs
One of the first strategies in any real estate investing for beginners course should be about the real estate investment trust (REIT). A REIT is one or more companies specializing in real estate that produce income, like apartment buildings or commercial skyscrapers.
You do not need the money to buy a skyscraper to invest in one. You don't even need a down payment. Investing in the appropriate REIT pools your money with that of other investors to collectively finance the building. You may already invest in a REIT indirectly through your 401(k). REITs own more than $3 trillion in assets spread through 500,000+ properties in the U.S.
You may also invest in publicly-traded REITs through the stock market. Two of the biggest are American Tower (NYSE: AMT) and Simon Property Group (NYSE: SPG). Returns average around 11% per annum.
Strategy 2: Passive Real Estate Investing
Passive real estate investment is attractive to many people who want the returns of real estate without the responsibility of being a landlord. If you have cash or you are moving out of a property, you can use it to profit from consistent rent payments from a tenant. New technology allows you to do this from a distance — you can hire a professional property manager to handle the day-to-day operations.
Investing passively allows you to increase your net worth and use your properties for other purposes. If your property manager keeps your units filled, you can often offset many ownership costs through rent. You can do all of this without the need to study the ins and outs of being a landlord, which can be a full-time vocation. Most experts think that you can get a 8% rate of return per annum on a rental property. This does not include any appreciation you may enjoy during your ownership tenure.
Strategy 3: Commercial Real Estate
Commercial real estate is facing headwinds as companies work around the social distancing orders and suggestions of their municipalities. Some experts believe that companies will continue the practice of telecommuting. There is certainly some viability to that theory — occupying an office space exposes a company to a number of costs and liabilities that can get very expensive very quickly.
The retailers you hear about going bankrupt — JCPenney, Brooks Brothers, True Religion, Pier 1 — all have something in common. They were already big companies with the inability to be agile. Upstart retailers who are coming in at the bottom still need space. Production facilities still require people in proximity to each other, and people are eventually going to crave professional company. If you are buying at the bottom, you will still have plenty of tenants to choose from once the pandemic ends. You don't have to push the insane numbers of a GNC to be profitable, and that's your advantage.
Strategy 4: Buy and Hold Investment Properties
The buy and hold strategy works in real estate as well as in stocks. Many experts believe that early investing in real estate should be long-term investment properties. Investors who try to time the market and flip properties with no experience usually find themselves taking losses. It is usually much better to build a portfolio with a few core properties, learn how to collect rent and grow your other investments from these core holdings.
Buy and hold properties also give investors a chance to benefit from the effect of time on real estate value. Compounding capital gains over time beats any short-term return. You also learn how to take care of a property, work with contractors and maybe even repair a leaky faucet.
Strategy 5: Active Real Estate Investing
Many experts believe that you should get started in real estate investing through a buy and hold property, but fix and flips can be a great move for energetic investors with some experience building up a home. These active investments are quickly bought, upgraded to a certain level and sold for a profit. If you don't go in thinking to get rich quickly, you can make quite a living creating homes for people who want move-in ready property.
You need to be a top-flight deal hunter to do well in the active market. From the initial buy to the last paint job, you will be negotiating a discount. Every penny you pay out means a penny off of your potential profits. You will also need a good team around you — an appraiser, inspector and contractor — and they don't come cheap.
Getting started in this market can be difficult. Banks lend to people with experience, and you may not have any experience to begin. Make sure your credit is excellent and you have the down payment for a traditional loan with money for closing costs and upgrades.
Strategy 6: Crowdfunding
If you have a few thousand dollars and an itch to invest in real estate, crowdfunding may be a good choice for you. Like a REIT, the crowdfund pools investor money together, often from smaller contributions. Your startup costs are low and you don't have to worry about optimizing your credit score or borrowing tons of money to get involved.
Crowdfunds are not subject to the same stringent regulations as REITs. They give everyone access to the market, but due diligence is required. Because you'll be working with many other investors without expertise in real estate, you must be sure not to follow the herd when you invest. The good news is that investing properly gets you the same type of profit — around 10% per annum on your money — as the other real estate investment strategies mentioned here.
Best Real Estate Crowdfunding Platforms
If you want to invest passively combining your money with other investors, crowdfunding is a relatively new but powerful tool. Look through the crowdfunding platforms here to begin your search.
Best Brokers for REITs
If you want a more traditional type of collective investment, joining a REIT may be for you. Here are a few of the best brokers for REITs.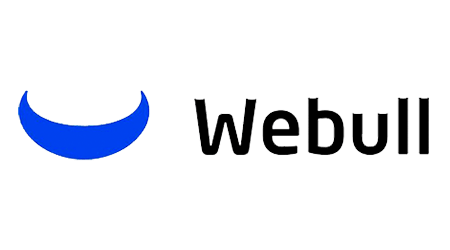 Best For
Intermediate Traders and Investors
1 Minute Review
Webull, founded in 2017, is a mobile app-based brokerage that features commission-free stock and exchange-traded fund (ETF) trading. It's regulated by the Securities and Exchange Commission (SEC) and the Financial Industry Regulatory Authority (FINRA).
Webull offers active traders technical indicators, economic calendars, ratings from research agencies, margin trading and short-selling. Webull's trading platform is designed for intermediate and experienced traders, although beginning traders can also benefit.
Webull is widely considered one of the best Robinhood alternatives.
Best For
Active traders
Intermediate traders
Advanced traders
Pros
Commission-free trading in over 5,000 different stocks and ETFs
No account maintenance fees or software platform fees
No charges to open and maintain an account
Leverage of 4:1 on margin trades made the same day and leverage of 2:1 on trades held overnight
Intuitive trading platform with technical and fundamental analysis tools
Cons
Does not support trading in mutual funds, bonds or OTC stocks

1 Minute Review
This publicly listed discount broker, which is in existence for over four decades, is service-intensive, offering intuitive and powerful investment tools. Especially, with equity investing, a flat fee is charged, with the firm claiming that it charges no trade minimum, no data fees, and no platform fees. Though it is pricier than many other discount brokers, what tilts the scales in its favor is its well-rounded service offerings and the quality and value it offers its clients.
Best For
Novice investors
Retirement savers
Day traders
Pros
World-class trading platforms
Detailed research reports and Education Center
Assets ranging from stocks and ETFs to derivatives like futures and options
Cons
Thinkorswim can be overwhelming to inexperienced traders
Derivatives trading more costly than some competitors
Expensive margin rates
Moving into Real Estate
Your job for the next few hours is to research the financial vehicles you have at your disposal to invest in real estate. This is one of the most attractive markets we have seen in a long time, and there is definitely no precedent for it. Even if you don't make a move immediately, now is the time to start learning.
Accelerate Your Wealth
DiversyFund accelerates your wealth creation by reinvesting cash flows from the properties — the DiversyFund Growth REIT is a public non-traded REIT designed to build wealth by investing in multifamily real estate and intends to build wealth over an approximate 5-year timeline. You don't have to be an accredited investor to invest in Diversyfund. Open a Diversyfund account today.