General Mills Boards The 'Ancient Grains' Marketing Train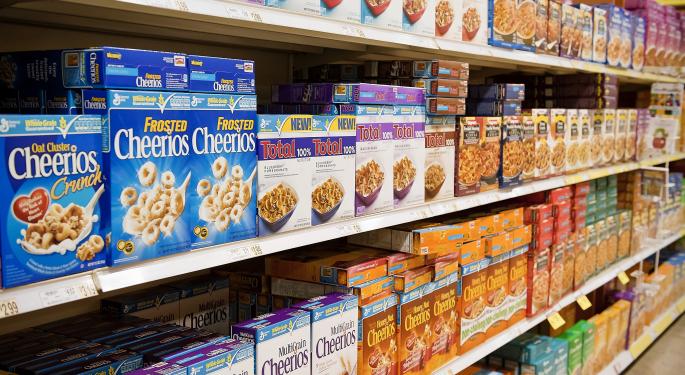 In January 2015, General Mills, Inc. (NYSE: GIS) will begin selling a new variation on its Cheerios brand that will contain the usual oats as well as quinoa, spelt and KAMUT brand khorasan wheat. These grains are unified not by their healthful qualities, but by their age: They are all considered to be "ancient grains," meaning they've been eaten for a long time.
That claim is perhaps a dubious one, as Vauhini Vara of The New Yorker pointed out in an article published last month. As she wrote, "Whether the word 'ancient' is appropriate depends on how you define the term: people tended not to eat grains at all until the advent of farming, several thousand years ago. The rise of ancient grains is, above all, a feat of marketing."
Nonetheless, is General Mills introducing a new, healthier cereal that health-conscious eaters can get excited about?
Related Link: Ancient Italian Grain Flour Introduced In New York City
The Phrase 'Ancient Grains' Has A Healthy Connotation
Benzinga spoke with Chris Weiler, published author and performance expert to athletes and companies such as Wrigley and Mars, to get his take on the new Ancient Grains Cheerios.
"There is nothing magical or nutritionally special about so called 'ancient grains,'" Weiler said. "The only magic involved is the sleight of hand 'Big Foods' foists on the consumers perceived wants, by using ambiguous terms such as natural and ancient grains. Even Alan Cunningham, marketing manager of the cereal division of General Mills, states that its Cheerios featuring ancient grains is no healthier than regular Cheerios. Get this, it actually has less fiber and more sugar."
Indeed, Cunningham, marketing manager for innovation in the cereal division of General Mills, has said nearly the same thing. Discussing ancient grains, Cunningham told The Wall Street Journal that, "General Mills has found that grocery shoppers equate the words alone with healthy, simple, nutrient-dense food."
Steve Marschner, a senior research and development manager at General Mills, said that making Cheerios more nutritious "wasn't the motivation for this product." Indeed, the nutritional information of the new cereal line prove this: Original Cheerios have three grams of fiber and one gram of sugar per serving, while ancient grains have two grams of fiber and five grams of sugar.
Related Link: Will Organic Food Lines Help General Mills, Inc.?
General Mills Not Alone
WSJ cited another General Mills spokesman who drew attention to Nielsen data to explain the ancient grains movement: The number of foods that feature the phrase "ancient grains" on their packaging has increased by 50 percent since last year.
At this point, General Mills seems to be the biggest company out there using those words, but smaller companies and brands are already leveraging their marketing power.
Costco Wholesale Corporation's in-house brand, Kirkland Signature, sells, among other products, ancient grains granola. The organic grower, manufacture and distributor Cascadian Farms also sells an ancient grains granola. Crunchmaster packs seven ancient grains into crackers.
View Comments and Join the Discussion!
Posted-In: Alan Cunningham Ancient Grains Cheerios Chris Weiler comments Steve MarschnerTop Stories Media Best of Benzinga