Bitcoin Will Triple In Value Or Lose 90% — Depending On Who You Ask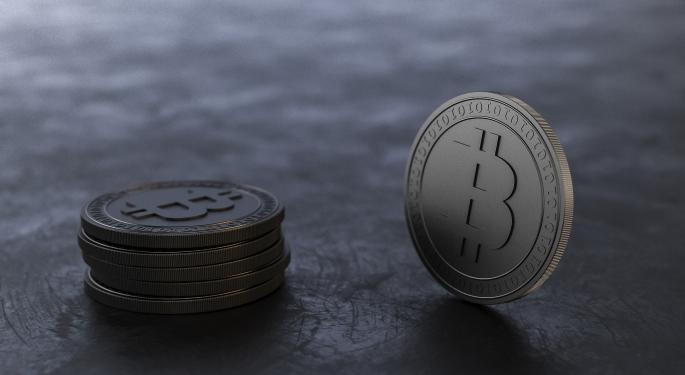 The price of bitcoin soared more than 1,000 percent in 2017 but has lost around 40 percent of its value since peaking close to the $20,000 per coin level. Needless to say, expert forecasts for the digital currency's performance in 2018 and beyond range from plummeting 90 percent to a tripling in value — if not more.
The Experts
Bespoke Investment Group's Dan Ciotoli and Bleakley Advisory Group Chief Investment Officer Peter Boockvar.
Ciotoli: Inevitable Crash Will Pave The Way To Growth
Bitcoin ended 2017 with a "big run-up" in prices, which prompted many "get-rich-quick investors" to cash in on their profit and exit the space, blockchain analyst and software engineer Ciotoli told CNBC on Tuesday. The large rush of investors deciding to take their profit has resulted in an "inevitable crash," Ciotoli said. But the price of bitcoin appears to have established a bottom of around $9,000 per coin and has since recovered north of the $11,000 level, he said.
The main catalyst to support an upward move in the digital currency will be "bitcoin denominated commerce," he said. In other words, the bitcoin space will continue to be used more in day-to-day transactions.
But the spread of bitcoin adoption relies on the success of the Lightning Network, which is expected to be rolled out this year and is expected to make bitcoin transactions faster and cheaper. This could help boost the price of bitcoin as high as $30,000, Ciotoli said, although this does represent a decrease from his prior 2018-ending estimate of $45,000 per coin.
The downside case to bitcoin should not be ignored completely, he said.
"If I don't see people actually able to use bitcoin to say 'buy Starbucks' or something, I'd be worried that people would slowly lose interest," he told CNBC. "[If that happens] the price kind of levels off or even goes down."
Boockvar: $1,000 To $3,000 Won't Be A Surprise
Taking the other side of the trade, Boockvar is calling for a burst in the cryptocurrency market that could send the price of bitcoin crashing to the $1,000 to $3,000 level in 2018.
Simply put, the price of bitcoin and other digital currencies soared due to easy money policies from central banks across the world, Boockvar told CNBC. But as central banks across the world are moving to increase interest rates, the price of bitcoin will "roll over and collapse," he said.
"You have to wonder if we never heard of quantitative easing, would there have been cryptocurrencies?" Boockvar said.
On the positive front, the total size of bitcoin isn't notable enough to impact the $19-trillion U.S. economy, he said. The stock market could be initially impacted from a crash in bitcoin, although this would be due to psychological reasons, as the fundamental strength of the economy remains unchanged, Boockvar said.
Price Action
Data from Coindesk showed bitcoin trading lower by 3.67 percent at $10,980.61 midday Thursday.
Related Links:
Stripe Jumps Off Bitcoin Bandwagon, Citing Fewer Payment Use Cases
How 50 Cent's 'Animal Ambition' Helped The Rapper Earn $8 Million Worth Of Bitcoin
Posted-In: Bespoke Investment Group Bitcoin Bleakley Advisory Group CNBCCryptocurrency Top Stories Markets Media Best of Benzinga
View Comments and Join the Discussion!