Buffett Say He's In Good Health, But Confirms First Step In Succession Plan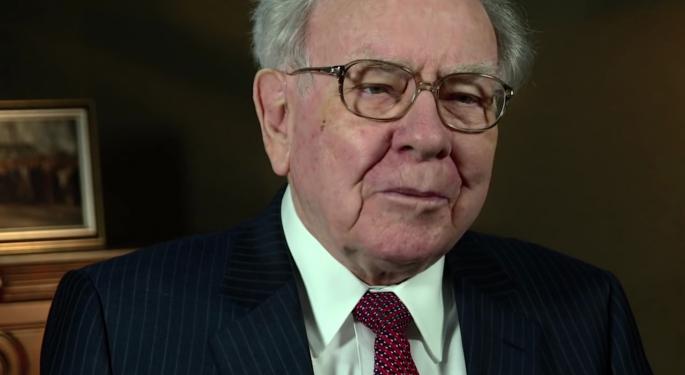 Legendary billionaire investor Warren Buffett announced Wednesday he has appointed Gregory Abel and Ajit Jain to Berkshire Hathaway Inc. (NYSE: BRK-A) (NYSE: BRK-B)'s board of directors as vice chairs. Naturally, many investors jumped to the conclusion that the 87-year old is now planning to scale back his involvement in Berkshire.
What You Need To Know
Speaking to CNBC's Becky Quick, Buffett said he is in "remarkably good health," although at 87, his endurance isn't quite what it once was. Buffett has "slipped in all these various ways," he said, joking he "wasn't much to start with."
"The amount of slippage has been fairly minor just because I started at a low base," he said. "I feel terrific and I love what I do."
The appointment of Abel and Jain as vice chairs means "nothing in terms of physical change" and "no change in our office," Buffett said. Nevertheless, the appointment is very much "part of a movement to succession over time."
Why It's Important
Buffett and his right-hand man, 94-year-old partner Charlie Munger, hinted in the firm's 2014 letter to shareholders they have already identified who should succeed Buffett as CEO, CNBC said. But Buffett continues to be vague on details and offered few new hints in his Wednesday interview.
"When I'm not CEO there will be another CEO," he said. "There will be a CEO and how that CEO organizes things will be up to him."
What's Next?
Buffett made it clear that there is no immediate change to Berkshire's business, but this isn't stopping Wall Street analysts from looking to the future.
"The stock is likely to drop, perhaps substantially over an extended period when Warren Buffett steps down, although this could ultimately present a buying opportunity because the underlying fundamentals should continue to improve and the board could repurchase significant amounts of stock if the shares fell below 1.2x book value," CNBC quoted JPMorgan analyst Sarah DeWitt as saying in a September note.
Related Links:
What Will Berkshire Look Like Post-Buffett?
11 Quotes To Teach You How To Invest Like Ben Graham, The Man Who Taught Warren Buffett
Photo from Wikimedia.
View Comments and Join the Discussion!
Posted-In: Ajit Jain Becky Quick Charlie Munger CNBC Gregory Abel Warren BuffettMedia Best of Benzinga