Feeding 10 People For Thanksgiving Hasn't Been This Cheap Since 2013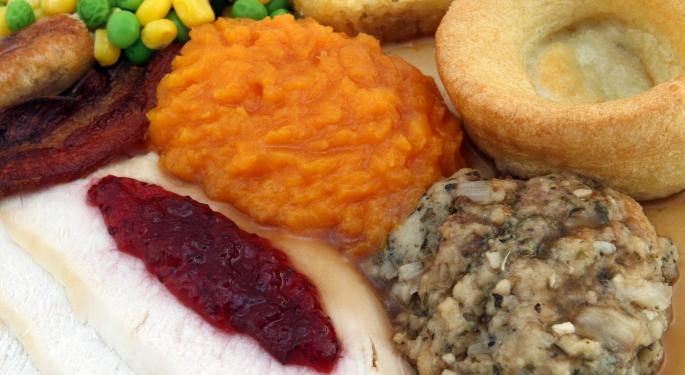 Thanksgiving is almost here and the cost to host your loved ones for a holiday meal will cost less than $5 per person.
What You Need To Know
Consumers on average will spend $49.12 for a turkey and all the sides this holiday season, the American Farm Bureau Federation said in a report. By comparison, the same meal would have cost $49.87 last year and marks the second consecutive year of declines. In fact, for the first time since 2013, wholesale turkey prices are sitting below $1 per pound and many regions are selling turkeys for as low as 39 cents a pound.
Turkey prices have fallen due to an "abundant supply" which "says a lot about the U.S. farmer and the harvest they produce every year," CNBC quoted John Newton, the federation's market intelligence director.
Why It's Important
Investors that have exposure to food related stocks have reason to be concerned with declining turkey price which could pose a risk to the bottom line.
"This year overall has been a more challenging year in general," Jay Jandrain, COO of Butterball told CNBC. He said there's been "too much supply out there [of turkeys] and an oversupply of protein in general."
But the "challenging year" for turkeys was also observed across "protein in general," he said.
Also important to note, some grocery stores could be selling turkeys at a loss in order to attract foot traffic to their stores so they can recoup the loss in higher margin items. For example, the price of pumpkin pie mix, whipped cream, fresh cranberries, and cube stuffing have all risen from a year ago.
Nevertheless, consumers saving a few extra dollars is always a welcome event.
What's Next?
Investors could find some comfort with Jandrain's statement that there is an increase in demand for higher selling protein items, like antibiotic-free and organic products.
"We're looking for additional opportunities to meet consumer needs in providing those additional offerings, also."
Related Links:
Thanksgiving Shopping Goes Global
View Comments and Join the Discussion!
Posted-In: American Farm Bureau Federation Butterball CNBC Jay Jandrain John Newton poultry ProteinMedia Best of Benzinga