Cramer Says The AMD Party Is Over, Calls Out Twitter Trolls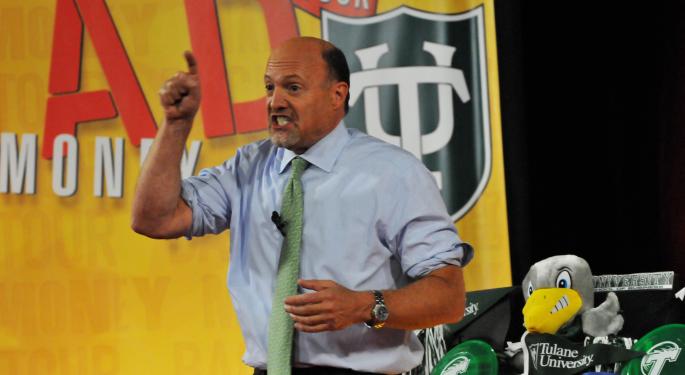 Can Jim Cramer move stocks? Some of Twitter's trolls think so and are blaming the CNBC personality host for Advanced Micro Devices, Inc. (NASDAQ: AMD)'s declines.
AMD, a company that hasn't been able to "get the right chips in the right hands at the right prices," reported earlier this week "sub-optimal" third-quarter earnings, Cramer said during his daily "Mad Money" show Thursday. In fact, Cramer always joked that the only reason AMD continues to exist is to prevent Intel Corporation (NASDAQ: INTC) from operating as a near monopoly.
Party's Over?
"As long as AMD stuck around, Intel can say, 'Hey we aren't a monopoly. We have a competitor that is trying to sell computer process,'" Cramer said.
While AMD has done a good job in branching out of data center with the assistance of a new management team, its stock has soared from $2 last year to $14, ahead of its earnings report this week, Cramer said. But this is where the "party ended," as it isn't clear how well its new products are selling although it may be safe to assume that it's products fall notably short of its competitors, especially NVIDIA Corporation (NASDAQ: NVDA).
Trolls
Cramer has been consistent in his view that Nvidia will crush its competition, including AMD. To his surprise, many trolls on Twitter are blaming Cramer for perhaps exasperating AMD's stock losses and even accuse him of shorting AMD's stock — something he is contractually forbidden from doing.
"When I see a host of people saying AMD is going down because Jim Cramer says negative things about it ... I need to warn you about something," Cramer said. "This is the particular kind of behavior I do not like. This is called 'homer behavior' — raw, home-team boosterism that lacks any sort of objectivity or rigor and has no place in this stock market."
This is the kind of behavior that not only has no place in the stock market but an easy way for investors to lose money, he said. Investors need to root for their favorite sports team — certainly not stocks.
Shares of AMD were down about 3 percent on Friday.
Related Links:
Post-Earnings, What To Do With AMD Stock
A Quick Breakdown Of AMD's New Ryzen Mobile Processors
________
Image Credit: Tulane Public Relations, CC BY 2.0, via Wikimedia Commons
Posted-In: CNBC Mad Money Trolls Twitter Trolls Jim CramerTop Stories Media Best of Benzinga
View Comments and Join the Discussion!