White House 'Shenanigans' Represent A Buying Opportunity: Cramer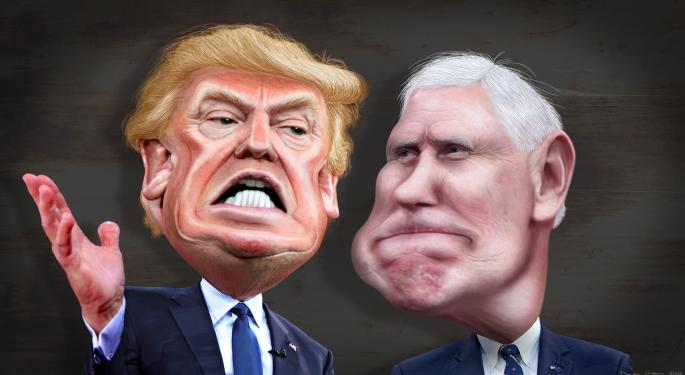 All the "shenanigans" coming from President Trump and the White House should scare investors away from the stock market, right? Wrong and quite the opposite, at least according to CNBC's Jim Cramer.
All the "shenanigans" from Washington represent a "pretty terrific buying opportunity," Cramer said during his daily "Mad Money" show Wednesday. This is what the brief history of Donald Trump's presidency has shown and nothing has changed. Specifically, many investors get "anxious" about Trump's off-the-cuff comments on the drug industry or North Korea and think this is the final stages of the "calm before the storm."
But as "anxious" investors exit their stocks other buyers will be happy to step in and add to their positions or initiate new ones at discounted prices, Cramer said. This logic still holds true today and there are plenty of examples to look at.
For instance, Trump went on the offensive against Boeing Co (NYSE: BA) in December 2016, and investors who panicked and sold their stake are now missing out on owning the top-performing Dow stock so far in 2017.
Stocks like Johnson & Johnson (NYSE: JNJ), Merck & Co., Inc. (NYSE: MRK), and others move lower on the president's comments that drug companies are "getting away with murder" but yet again this provided an attractive buying opportunity for those who didn't get "anxious," Cramer said.
"With a few exceptions like the bear markets in oil and retail, when you see a pullback in this market — you've got to go take it," he said.
Related Links:
What's Next For Boeing, The Dow's Biggest Winner Of 2017?
Fund Manager: When It Comes To Tax Reform, Investors Need To Be 'Thinking About The Changes Under The Hood'
_______
Image Credit: By DonkeyHotey (Donald Trump and Mike Pence - Caricature) [CC BY-SA 2.0 (https://creativecommons.org/licenses/by-sa/2.0)], via Wikimedia Commons
Posted-In: CNBC Donald Trump Mad MoneyFutures Politics Markets Media General Best of Benzinga
View Comments and Join the Discussion!