Bill Ackman's New Question To ADP: Why Is Revenue Productivity Lower Versus Competitors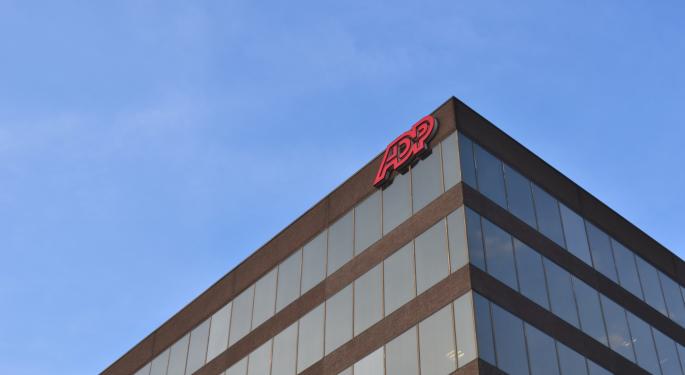 Billionaire investor Bill Ackman's activist campaign against Automatic Data Processing (NASDAQ: ADP) has been well publicized and at times not so friendly. As Ackman continues to make the case for why he should be given representation on the board he issued another open question to the management team.
Why is that ADP has lower labor productivity compared to all of its peers, he challenged the company to answer in an interview with CNBC's Jim Cramer. Specifically, the company generates approximately $160,000 in revenue per employee, which is notably short of competitors who average $224,000 per employee.
This is concerning because ADP has "enormous scale" versus competitors so if anything, the company should have more efficiency not less, he added.
ADP's competitors are showing a competitive advantage but this doesn't have to be the case. For example, 25 percent of ADP's business competes directly with Paychex, Inc. (NASDAQ: PAYX). The rival company's CEO Marty Mucci told Cramer earlier in the week that it is able to generate strong margins by investing in technology and keeping expenses "out of the business."
Related Link: Bill Ackman On How To Improve ADP: 'There Is A Lot Of Hand-Holding'
The problem is getting the message across to ADP that mimicking the success of its competitors should be considered, Ackman added. ADP's management team, led by its CEO Carlos Rodriguez, who acts "cordial" in private conversations but "behaved otherwise" in the media.
"When the founder is around and in the boardroom, you've got a major shareholder there, companies don't lose their way," Ackman said. "It's typically after the founder steps off the board, retires, passes away ... [that] the board becomes more professionalized. There's no one in the boardroom that owns a lot of stock in the company. And they get a little complacent."
Finally, Ackman's $2.3 billion position in ADP puts him "dollar-for-dollar" with the company's other investors and his ideas and vision can help all investors achieve the ultimate goal of increasing profitability.
Related Link: Bill Ackman's Pershing Square Sticks To Its Guns On Call For Changes At ADP
_________
Image Credit: By Raysonho @ Open Grid Scheduler / Grid Engine (Own work) [CC0], via Wikimedia Commons
View Comments and Join the Discussion!
Posted-In: activist investor Bill Ackman Carlos Rodriguez CNBC Mad MoneyHedge Funds Media General Best of Benzinga