One Of The Biggest Global Owners Of US Treasuries Is Apple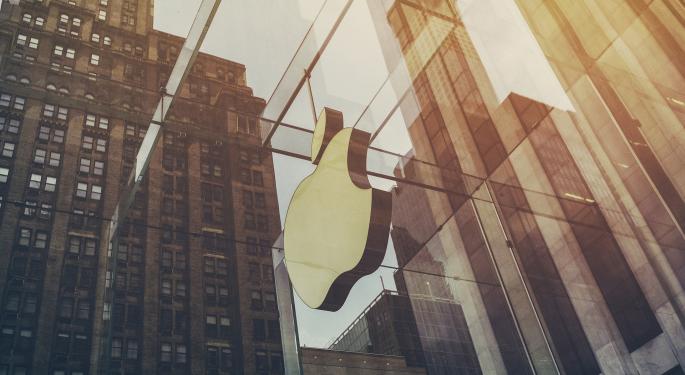 When Apple Inc. (NASDAQ: AAPL) says it's sitting on $261.5 billion in cash, it isn't technically accurate as some of the holdings are in investible securities -- and not just parked in a savings account at a local bank.
In fact, Apple owns $52.6 billion worth of U.S. Treasury securities, $20.1 billion of which are short-term in nature and $31.35 in long-term marketable Treasury securities, according to a CNBC report. Even more interesting is the fact that Apple is the 23rd-largest holder of treasury in the world and the only company among the biggest 35 holders.
Japan is still the largest holder of U.S. Treasury at $1.1113 trillion, followed by China at $1.1022 trillion. Ireland is a distant third at $295.8 billion, followed by Brazil and the Cayman Islands at $269.7 billion and $266.1 billion, respectively.
Fellow "FAANG" member Amazon.com, Inc. (NASDAQ: AMZN), owns just $5 billion in U.S. government or agency securities, CNBC added.
Meanwhile, as of just a few months ago, Apple owned $148 billion worth of corporate international debt, which makes it the world's biggest unofficial fixed-income mutual fund. Apple's international cash would be subject to a 35 percent tax rate if it were to repatriate foreign capital so instead Apple is investing in bonds with a three- to five-year duration.
It's not known what quality of bonds Apple chooses to invest in, but common logic would dictate it's allocated to higher-quality instruments that are at least AA-rated.
Related Links:
Apple Has So Much Cash In Reserve It Could Buy 10 Snap Incs, Almost 20 Twitters
Posted-In: Apple Cash CNBC FAANG US TreasuryMedia Best of Benzinga
View Comments and Join the Discussion!