The Benefits Of The Gold ETF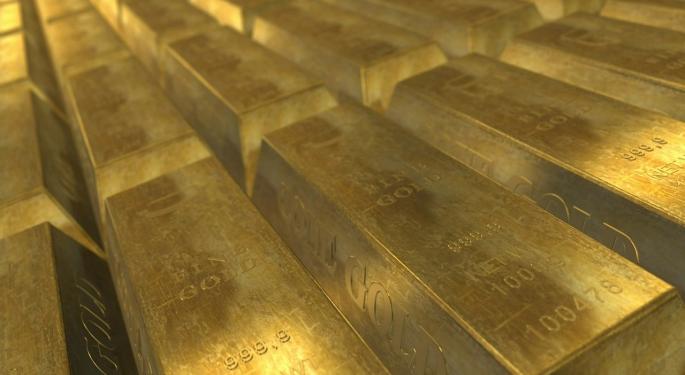 Investors looking to add gold to their holdings have few options. They can buy physical gold bars and store it in their homes, but a more convenient option would be to buy an exchange traded fund that closely mirrors the day-to-day fluctuations of gold prices.
State Street's gold managed ETF, SPDR Gold Trust (ETF) (NYSE: GLD) is backed by $34 billion in physical gold investments, which makes it an easy venue for investors to invest in gold, George Milling-Stanley said.
Now might be a good time for investors to add gold to their portfolio as the commodity appears poised to test its "resistance" levels of $1,350 and $1,400 per ounce, Milling-Stanley, State Street Global Advisors' head of gold strategy, said during Wednesday's CNBC "Squawk Box" segment. This is the more likely scenario versus the price of gold testing downside levels which typically happens in conjunction with a Federal Reserve rate hike -- an event that isn't expected until December, if not later.
"[The Fed] has also made it clear [rate hikes] will be data driven which means we won't get rate rises unless we start to get inflation coming into the numbers," he said. "And if we get higher inflation accompanied by higher interest rates then we are still in low negative real rates in this country. And zero yield (i.e gold) is always going to beat negative yield."
Milling-Stanley suggests that investors allocate anywhere from 2 to 10 percent of their entire portfolio to gold investments, but his personal preference is 5 percent.
Related Links:
Going For The Gold With A New Gold Miners ETF
Posted-In: CNBC George Milling Stanley Gold gold pricesCommodities Markets Media ETFs Best of Benzinga
View Comments and Join the Discussion!