Larry Fink Oversees More Money Than Any Other Human: Here Are His 7 Golden Rules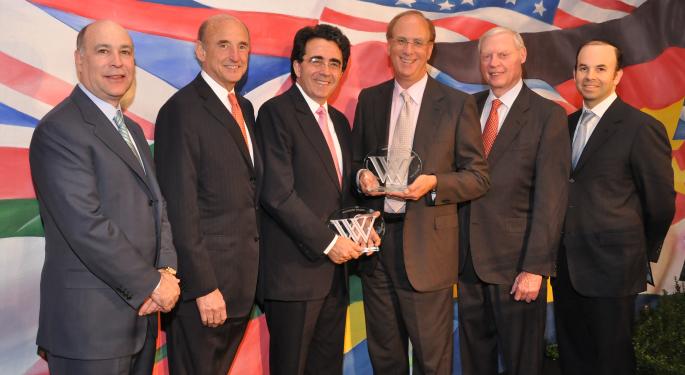 BlackRock, Inc. (NYSE: BLK)'s Larry Fink oversees trillions of dollars in assets under management, which is presumed to be more than any other human. Needless to say, he picked up a few tips along the way since he helped take BlackRock from eight executives in 1988 to now managing more than $5 trillion.
According CNBC, Fink has seven key tenets that he lives by.
1. Forget About The Short Term
According to Fink, short-term stock swings should be ignored in favor of the longer-term story. Fink also discourages companies from taking action to boost their stock in the short term from stock buybacks and dividend announcements.
2. Expect change
Fink believes everyone should be open to embracing changes, and his company is no exception. He even described BlackRock as a "start-up with the ability [to] leverage the benefits of scale."
3. Don't Resist Change
As a follow up to the point above, Fink not only expects change to happen, but acts on that change when necessary. For example, BlackRock isn't afraid to make use of automated trading and other artificial intelligence technologies.
He emphasized the fact that traditional methods of analysis involving human decision could be replaced with technology and data sciences to make better decisions.
4. Learn Something Every Day
A simple task: Spend at least one hour a day learning something new. But on days where a person has more spare time to study — do it.
5. Cutting Costs
Fink doesn't believe cutting costs is a suitable way to grow a business. Instead of slashing expenses, Fink prefers acquiring companies with cultures it can learn from, not generate synergies from.
6. Culture And Passion Is Important
Fink believes in setting a positive culture in the workplace. Once this is implemented, then passion will happen almost naturally.
"Passion comes from focusing on our responsibility to our clients — the teachers, firefighters, students and retirees who entrust us with their pensions and retirement savings," Fink was quoted as saying in a 2013 essay. "What's the greatest predictor of business success? Not intelligence or talent — but passion."
7. Successor Plans
Fink's last tenant isn't necessary transferable to regular investors. Nevertheless, the 64-year-old executive is in no hurry to find a successor to take over as CEO when he eventually retires. The reason? He doesn't want discouraged candidates who didn't land the CEO title to "check out mentally."
Related Links:
What Success Is Made Of: Investors, Execs And Entrepreneurs Talk Routines And Role Models
5 Daily Habits Highly Successful People Can't Live Without
_______
Image Credit: By Wilson Center (Wilson Center) [CC BY-SA 3.0 (http://creativecommons.org/licenses/by-sa/3.0) or GFDL (http://www.gnu.org/copyleft/fdl.html)], via Wikimedia Commons
Posted-In: CNBC Education Top Stories Success Stories Be Your Own Boss Media Personal Finance General Best of Benzinga
View Comments and Join the Discussion!