Berkshire Could Hoard Cash And Complete 4 Different $100 Billion Deals In The Next 10 Years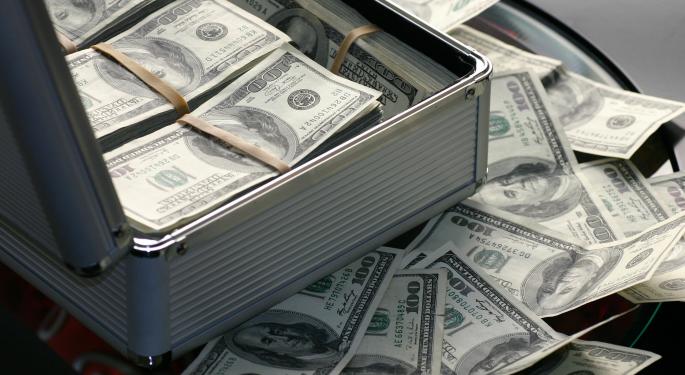 Apple Inc. (NASDAQ: AAPL) isn't the only entity to be sitting on hundreds of billions of dollars of cash. Legendary billionaire investor Warren Buffett's Berkshire Hathaway Inc. (NYSE: BRK-A) (NYSE: BRK-B) currently holds $95 billion in cash and can't find proper use for the funds.
Speaking as a guest on CNBC's "Squawk on the Street" segment, Wedgewood Partners' CIP David Rolfe noted that Buffett hinted that the current market environment makes it "tough" to put his cash to use. Nevertheless, Buffett doesn't want to continue hoarding cash to the point where it balloons to $150 billion in a few years or up to $400 billion in 10 years from now.
But given the difficult environment in finding a deal that passes all of Buffett's requirements, Berkshire is shaping up to be "very very different" over the next five- to 10-year period.
In fact, Berkshire could wait 10 years and complete four different $100 billion deals, or three $150 billion deals.
Berkshire Has A Problem
Regardless of what Buffett does, Rolfe believes there is a capital allocation "problem" at Berkshire, and the solution wouldn't please Buffett.
First, Rolfe thinks that Berkshire should start paying investors a dividend — something Buffett has historically opposed.
Second, Rolfe argued Berkshire should increase its share buyback program. This would imply the stock's book value would increase from 1.2x book value to a fairer value range of 1.5x to 1.6x. Again, this is something Buffett would prefer not to do but at the end of the day his "hand is being forced as we speak."
The last component of Rolfe's wish-list for Berkshire would be something that Buffett may or may not approve of increasing its stake in Apple by a factor of three or four.
Related Links:
Warren Buffett Tells Value Investors To Resist The Temptation To Speculate
View Comments and Join the Discussion!
Posted-In: Berkshire Berkshire Hathaway CNBC David Rolfe Squawk on the Street Warren BuffettNews Media Best of Benzinga