Morgan Stanley Sees 30% Upside For Stocks; 'Mr. Wonderful' Disagrees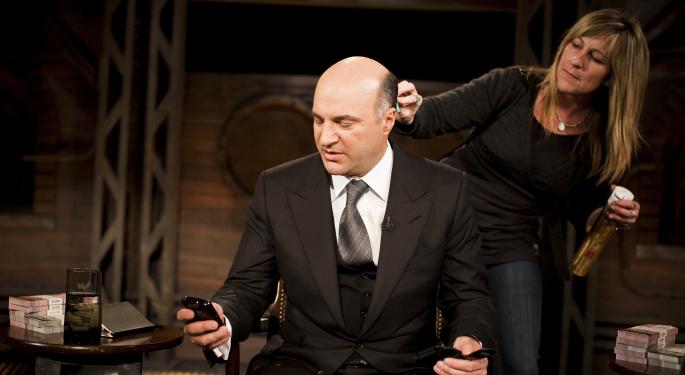 Analysts at Morgan Stanley came out this week with a bold call and expects stocks to soar up to 30 percent in a "bull case" scenario with a base case scenario upside of 15 percent. The reason for the call is simple: the end of a bullish cycle is "often the best."
The analysts cited the stock market's run in 1999 and 2006–2007 as evidence that a similar outcome would be seen soon. But Kevin O'Leary, "Shark Tank" personality, entrepreneur, and candidate to lead Canada's Conservative party, thinks this is a "mistake."
Speaking as a guest on CNBC's "Halftime Report" segment on Monday, O'Leary thinks that the analysts' 12-month forecast is the first mistake and should have factored in an expected return over a longer time period.
6 To 8 Percent More likely
O'Leary believes a more appropriate return would be 6 to 8 percent as the energy sector will prove to be a "big disappointment" as the current rig count is on track to end the year at historical highs. He also shot down the financial services, noting that the sector won't see any of the necessary support to move higher from the White House until 2018.
O'Leary further emphasized that to reach the analysts' targets every sector needs to be on fire and the market can't afford for any one sector to lag. In fact, both the energy and financial services account for more than 10 percent each of the overall market and neither sector will grow 15 percent over the next 12 months.
"I'm thinking you are lucky to get 6 to 8 percent," he said. "It takes a lot of 'cajones' to call 15 percent gains from where we are now — call it 18.5–19 P/E and say don't worry there is more gas in that piston. I don't see it. I think that is a big mistake."
Related Links:
Here's Why The Current Stock Pullback Is 'Healthy'
Raymond James' Chief Investment Officer Is Calling An End To The 'Trump Rally'
_______
Image Credit: Provided by and used with expressed permission from Kevin O'Leary, permanent jpg location here.
Posted-In: CNBC CNBC Fast Money Kevin O'Leary Morgan StanleyMedia Best of Benzinga
View Comments and Join the Discussion!