How Walt Mossberg Changed The Way We Think About Apple, Google And Others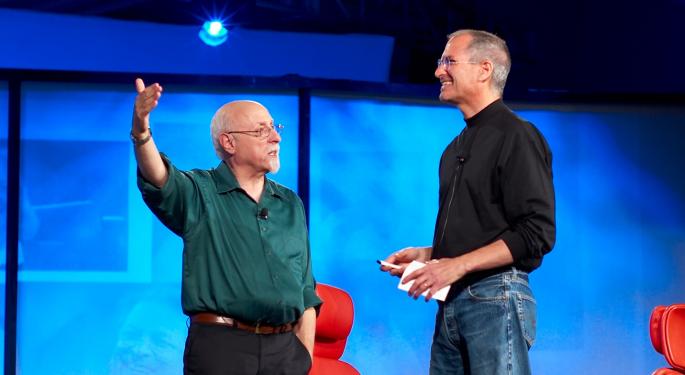 Walt Mossberg, a name synonymous with tech reporting, has decided to hang up his boots after a career spanning over 47 years. He made a name as a make-or-break reviewer of technology products, to whom many people looked before finalizing tech purchase decisions.
Booting Into A Journalistic Career
After graduating from the Columbia University Graduate School of Journalism, Mossberg joined the Wall Street Journal in 1970 as a reporter and worked there through 2013. He started his career with the Journal at its Detroit bureau and subsequently moved to the Journal's D.C. office, covering subjects ranging from international to national politics.
Upgrading To Tech Reporting
Mossberg was then vested with the responsibility of handling his own Personal Technology column full time in 1991. This column appeared every Thursday in the Journal from 1991 through 2013.
He also wrote the Mossberg's Mailbox column on Thursdays and edited a column titled "Digital Solution," which appeared on Wednesdays and was written by Katherine Boehret.
Mossberg along with his former WSJ colleague Kara Swisher conceptualized, produced and hosted the Journal's annual D: All Things Digital conference in Carlsbad, California.
The attendees include creative, forward-thinking, insightful leaders in the digital world, ranging from CEOs to industry legends to young innovators. Unlike the usual conferences, which would be predominated by presentations and speeches, D would have Mossberg and Swisher interviewing speakers live onstage.
The All Things Digital web publication was started as an extension of the conference in 2007 by Mossberg and Swisher and carried the former's columns and the latter's blog among other things. It was owned by the Dow Jones & Company, which is now part of News Corp (NASDAQ: NWSA).
Duo Goes Solo...
However, when the duo failed to renew their contract with the Dow Jones in September 2013, they moved out and started Recode, based in San Francisco in January 2014. Recode was subsequently acquired by Vox Media in May 2015. Mossberg also began to contribute to weekly columns in the Verge, also owned by Vox Media.
Currently, he is an executive editor and columnist at the Verge, an editor at large and columnist at Recode and co-host with Nilay Patel of Ctrl-Walt-Delete, a podcast launched in September 2015.
Mossberg And Reviewing Prowess
Mossberg extensively covered product releases of celebrated companies such as Apple Inc. (NASDAQ: AAPL) and Alphabet Inc (NASDAQ: GOOG) (NASDAQ: GOOGL). He had spent a great deal of time with Apple cofounder Steve Jobs, an Apple Insider press release said.
"Walt's relevance and power wasn't just that he was the most influential product reviewer in the world of personal technology–a legend–it was that he was the best one. Really, he was the only one that mattered. He wasn't just judging your work, positive or negative, he was telling the truth about it. Whether you liked it or not, his opinion was fact," Vox Media CEO Jim Bankoff said in a thank you note to Mossberg.
In an article in the New Yorker titled "Everyone listens to Mossberg," Ken Auletta said how Mossberg recommended America Online, AOL, which is now part of Verizon Communications Inc. (NYSE: VZ), in 1992 for its simplicity and superiority over competition. This helped the service gain traction. The New Yorker article quoted a few instances of his reviews moving the products/services:
Handheld device Palm saw its sales surge in 1996 when Mossberg referred to it as a "breakthrough product."
Blip.tv's viewership got a 25 percent boost in the first 24 hours after he commended the site for its web-based TV shows.
Google's then CEO Eric Schmidt referred to Mossberg as a man who has a good nose after visiting him for getting his insights.
Other Media Appearances
Among his other media appearances are:
CNBC (weekly).
Web video reports.
PC World's Digital Duo, a computer program aired on PBS Stations.
The Swansong
Mossberg is set to step out of the spotlight and into his sunset years in June after the 2017 Code Conference, which he had co-founded in 2003.
"I didn't make this decision lightly, or hastily, or under pressure. It emerged from months of thought and months of talks with my wise wife, my family and close friends. It wasn't prompted by my employer, or by some dire health diagnosis. It just seems like the right time to step away. I'm ready for something new," Mossberg said.
Related Links:
It's Not You: Recode's Mossberg Says TVs are Still Too Complicated
Elon Musk On Apple Car: 'A Missed Opportunity,' But Will Be Here By 2020
_______
Image Credit: "Walt Mossberg and Steve Jobs at All Things Digital 5," By The original uploader was Joi at English Wikipedia - Transferred from en.wikipedia to Commons., CC BY 2.0, via Wikimedia Commons
View Comments and Join the Discussion!
Posted-In: Apple Insider CNBC Ctrl-Walt-DeleteNews Events Tech Media General Best of Benzinga